One episode of Masterchef (UK) has successfully gotten Malaysians, Indonesians, and Singaporeans to unite on one thing that we have long incessantly quibbled over – food.
This after a judge from the show criticised a Malaysian contestant, one Zaleha Kadir Olpin for cooking rendang that is not crispy.
This was what she presented to the panel:
[caption id="" align="alignnone" width="671"]
Screenshot via Youtube (the link has since been taken down)[/caption]
Nasi Lemak with sambal prawns and chicken rendang, following the given theme of something that is "inspired by a personal or a family favourite".
The dish is close to her and her daughters' hearts, but it didn't quite move the judges as she expected, and she found herself eliminated by the end of the episode, according to local media reports.
[related_story]
Judges' comments
The original YouTube video of the episode was taken down, but you can still watch it on Dailymotion here (Zaleha's segment appears from 21:57):
[caption id="" align="alignnone" width="1080"]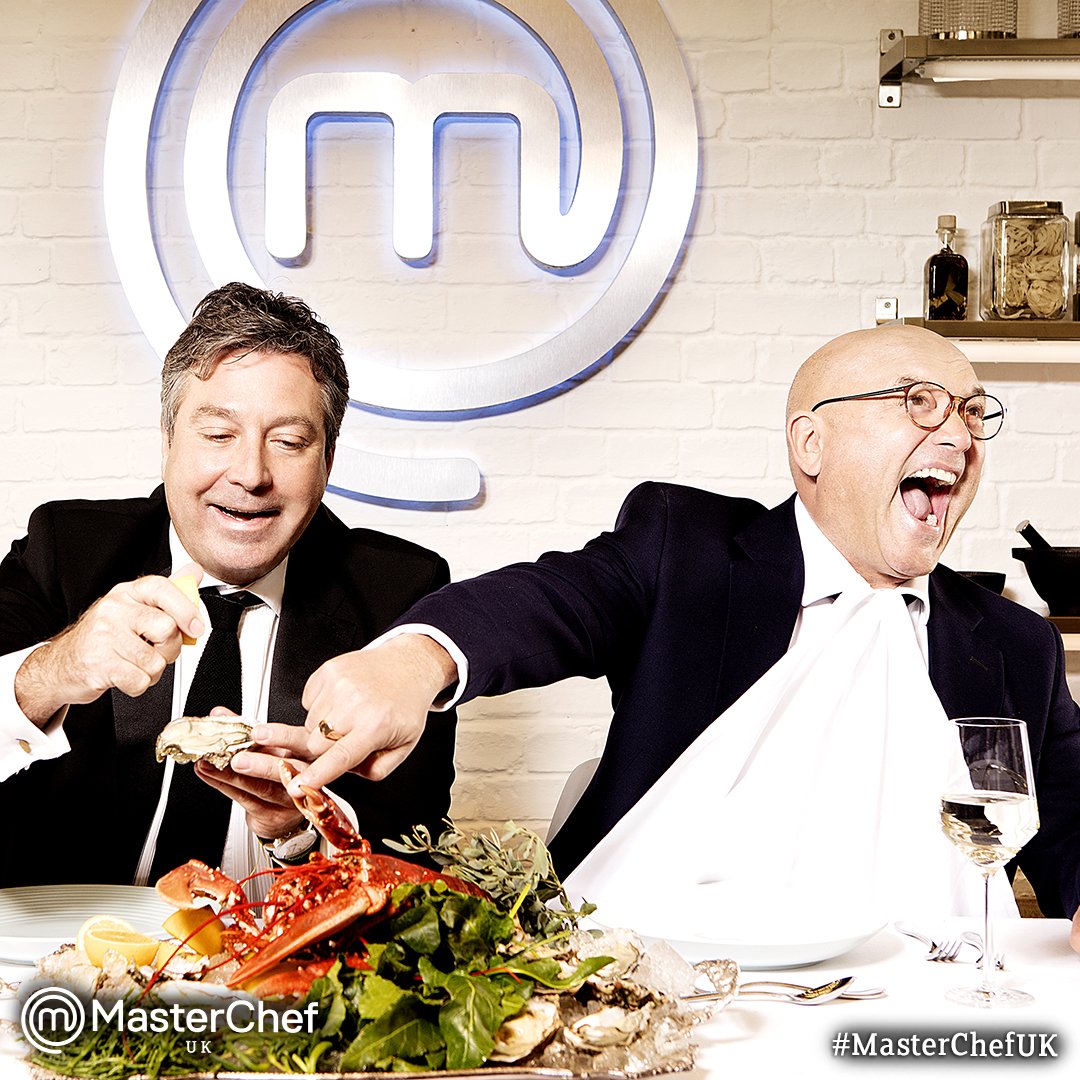 The two judges, John Torode and Gregg Wallace. Photo via Twitter[/caption]
In case you're saving data, here are the comments made by the judges after tasting her food:
Gregg Wallace (bald judge): "Like the sambal with the sweet prawns, 'cause the sambal itself is sweet, love the idea of salty-flavour coming from those crispy fried anchovies. That is intense. I like your rendang flavour, that is like a coconut sweetness. However, the chicken skin isn't crispy, it can't be eaten, but all the sauce is on the skin I can't eat.

John Torode (judge with hair): "I think the chicken rendang on the side is a mistake. It hasn't had enough time to cook to become lovely and soft and fall apart. Instead, the chicken itself is just tough and not really flavoursome.
They also reiterated their points when evaluating the contestant's dishes:
Gregg (bald judge): "What disappointed me was the chicken skin wasn't cooked. And the flavour of the rendang sauce was on the skin."

Torode (judge with hair): "Zaleha for me made great nasi lemak. the coconut rice, the sambal with the chilli, with the prawns.
Internet triggered
The judges' comments didn't sit well with the internet.
Most had a problem with a white man telling a Southeast Asian how to cook their traditional cuisine: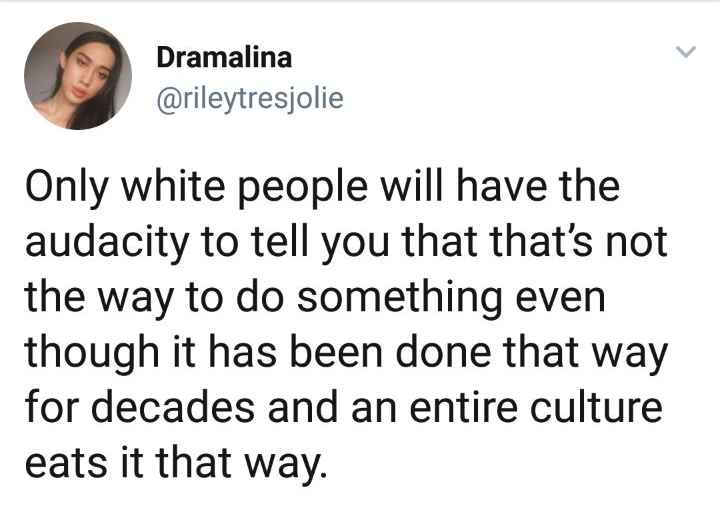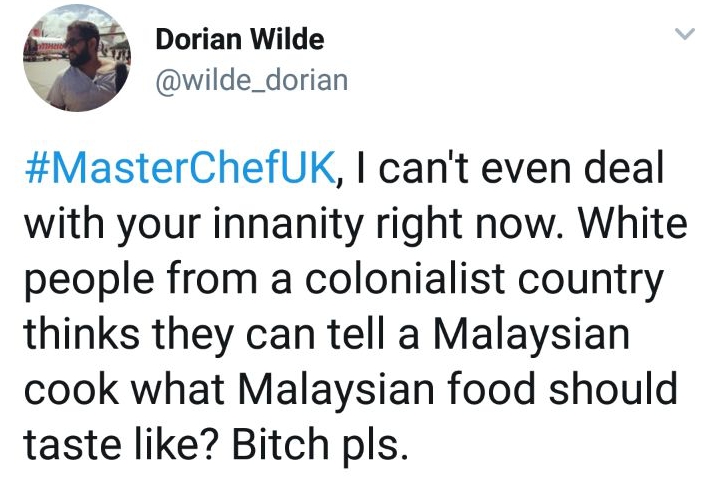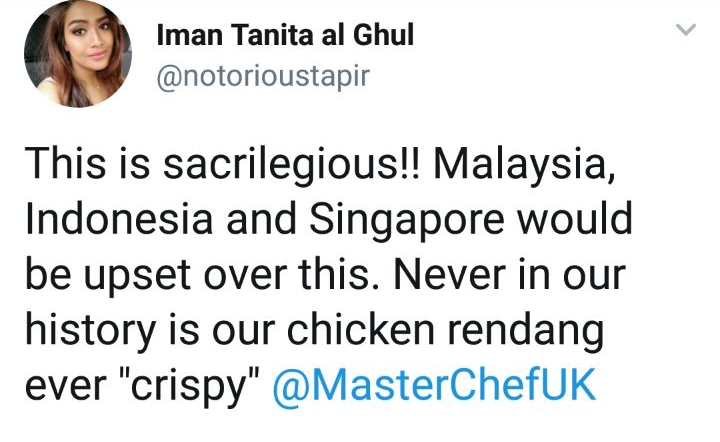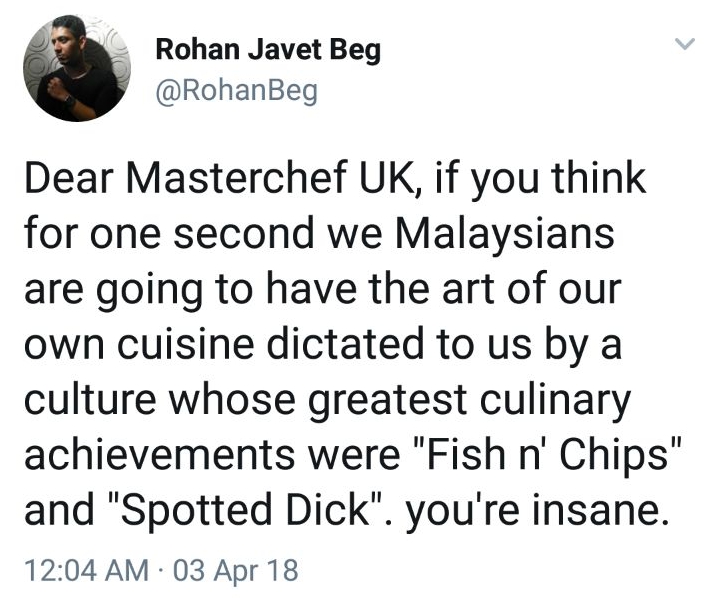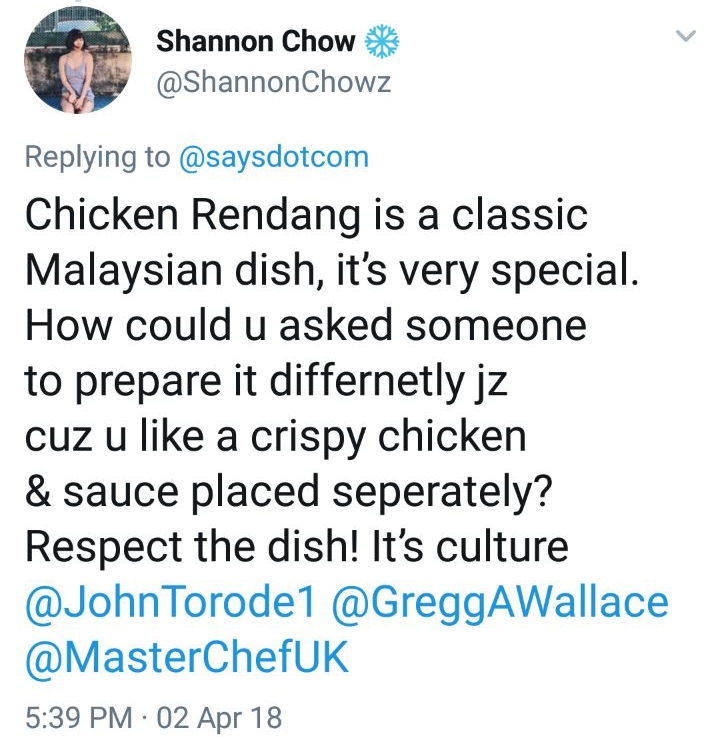 One judge quite familiar with Malay cuisine
Now, putting Wallace's strange comment aside, the other judge John Torode said the chicken rendang was a mistake because it "hasn't had enough time to cook to become lovely and soft and fall apart".
Here's where we should share with you that perhaps unlike Wallace, Torode is actually quite well-acquainted with Malay cuisine.
He fronted a show called "John Torode's Malaysian Adventure", an entire series dedicated to discovering Malaysian food and teaching viewers how to prepare a little bit of Malaysia in the comfort of their own kitchen.
In the course of making that show, Torode also got a lot of experience making rendang with locals, including "Aunty Aini" — the same Malaysia-based restaurateur that Gordon Ramsay learnt from.
In this episode from Torode's show, he cooks rendang in Langkawi:
In another video, Torode declares that he loves it too.
So perhaps the criticism and angry tweets weren't directed at what he said per se, although Malaysia's Chef Wan did tell the New Straits Times:
"Yes, John (Torode) did voice his opinion right as the chicken needed to be rendered a bit more for it to be much softer but not till fell apart!

That is over-cooking the chicken rendang! Go understand how to cook a traditional rendang and tell him I challenge him and see if he gets his skin crispy."
Be that as it may, it looks like Torode isn't particularly keen on pacifying angered Malaysians, Indonesians, and Singaporeans, if his biting responses to the angry tweets are anything to go by: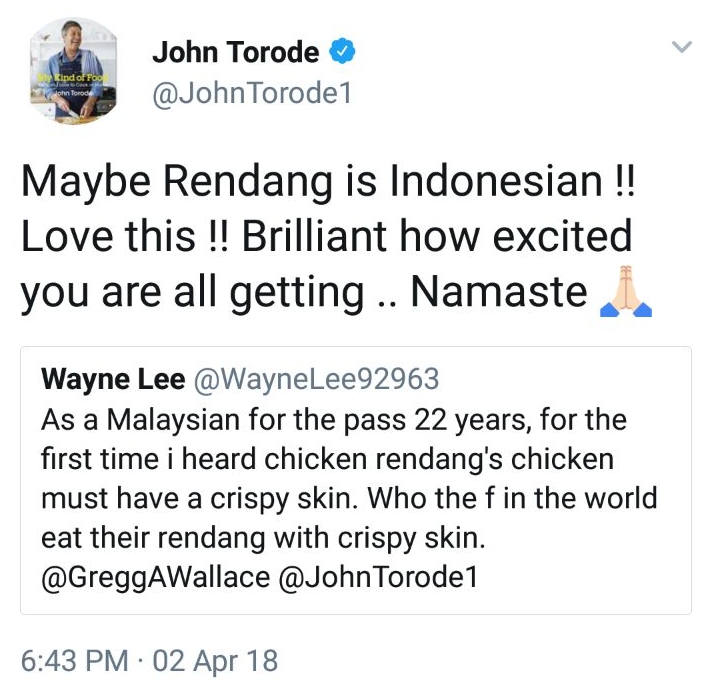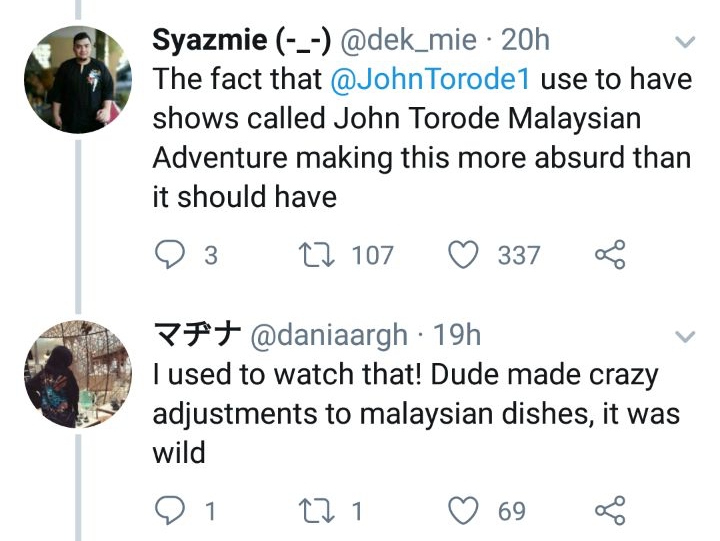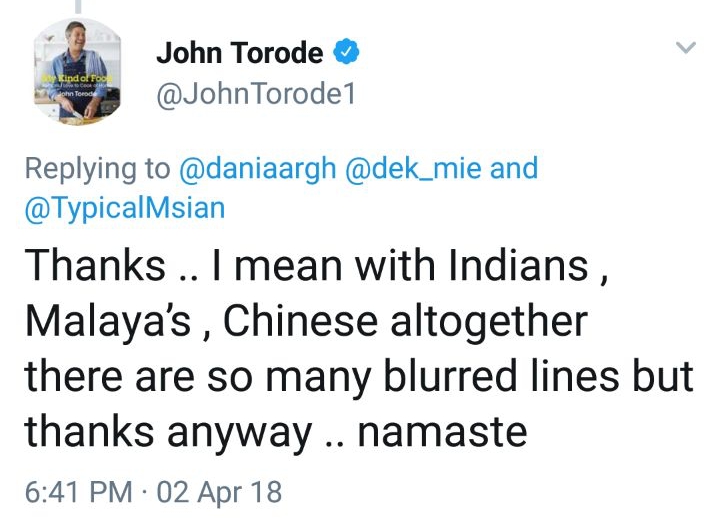 Just so we're clear,
1) rendang isn't supposed to be crispy; nor is it supposed to be so soft that it falls off the skin; and
2) "namaste" isn't a greeting we use around these parts.
And here's something else that's clear from all this: Zaleha must be having the last laugh, doing rendang her way at her Bristol-based establishment Malaysian Kitchen Supper Club, which reportedly has been sold out since the debacle. 
Rendang.
Top photo adapted via Zaleha's Instagram page
If you like what you read, follow us on Facebook, Instagram, Twitter and Telegram to get the latest updates.