By now, most businesses should know that ungracious replies to negative Facebook reviews is a big no-no, for obvious reasons.
Just take a look at these past incidents where F&B establishments went viral for all the wrong reasons:
But it seems like even at this point, there are some who still haven't received the memo.
Responds by calling customer a "crying baby"
FORT by Maison Ikkoku is a Japanese restaurant that known for their 12-course omakase (a meal chosen and prepared by the chef).
On Mar. 12, a customer named Benedict gave the restaurant a one-star rating on both the Maison Ikkoku and FORT by Maison Ikkoku Facebook page.
This is the one on the main restaurant's page, which the social media manager replied to:
However, the customer has removed his post some time on April 11, so here are screenshots of the original post, with his identity redacted: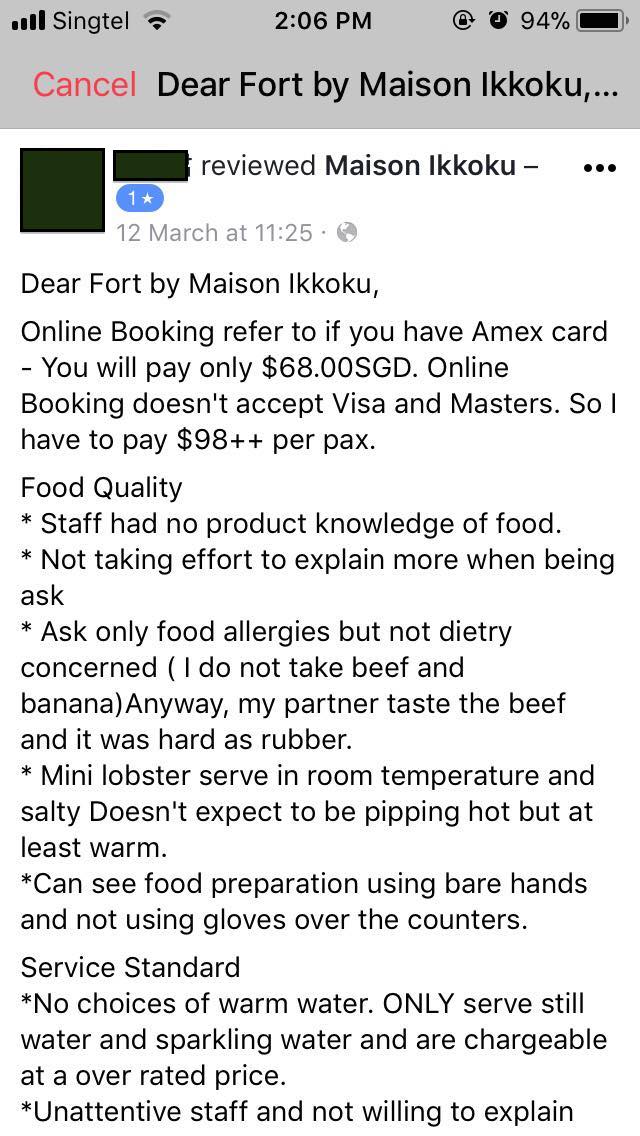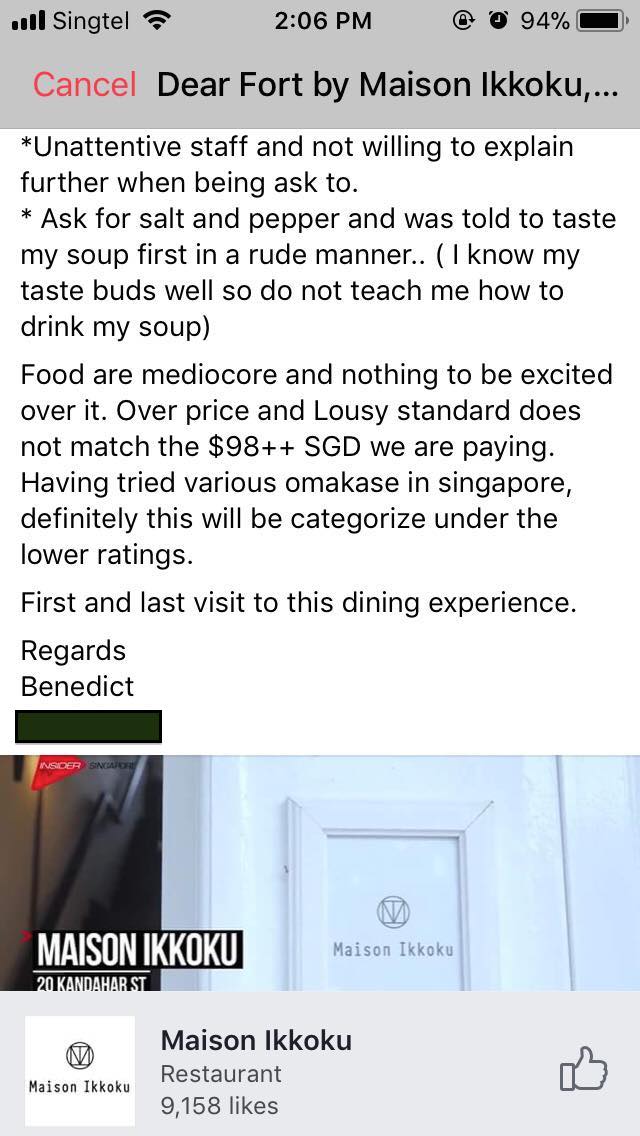 The name he signed off with — Benedict — is different from his Facebook username.
[related_story]
Since the post is a pretty lengthy one, here's a quick summary of his complaint:
- Benedict started by noting that he paid S$98++ instead of S$68 as he did not have an Amex card, which would have entitled him to the lower price. 
- Poor service standards: he said staff had no product knowledge, didn't explain the dishes properly, and were rude and inattentive. He also claims they had told him t0 taste his soup first when he asked for salt and pepper.
- Sub-par food quality: beef turned out "hard as rubber", and mini lobster was salty and served at room temperature.
- Bare, ungloved hands used in food preparation.
- Only still and sparkling water available (Benedict wanted warm water), at a price he deemed to be too high.
- Overall, he said, not worth the price tag.
Primary school-level retort
On April 7 (almost a month since Benjamin posted the review, by the way), Maison Ikkoku posted the following reply: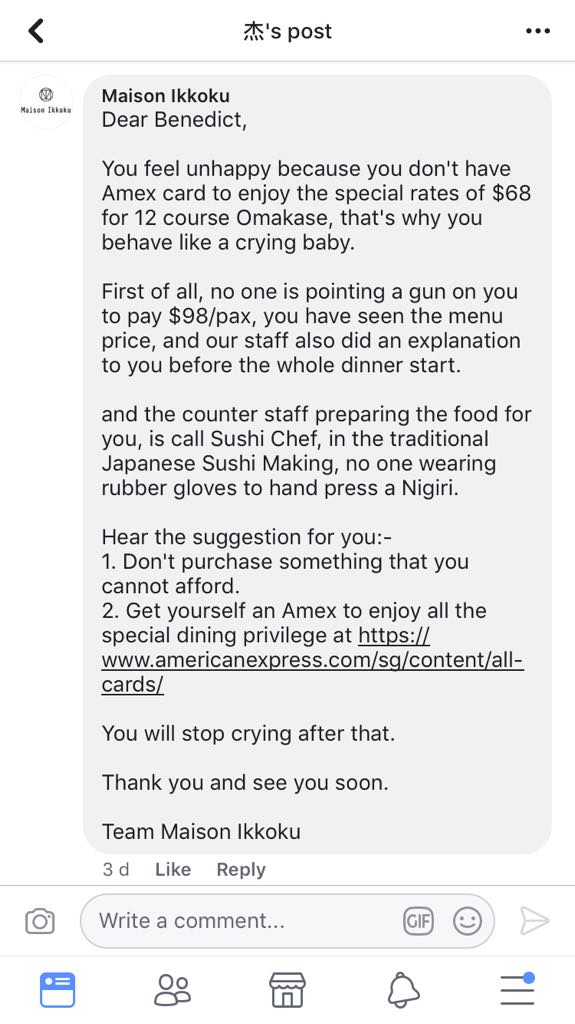 And here's a basic summary of the reply:
The restaurant called Benedict a "crying baby" because he does not own an American Express card and could not enjoy the special dining rate of S$68.

They also told Benedict that no one forced him to go for the omakase, and defended themselves by saying they had made the price expressly clear.

Schooled their customer on the art of sushi-making.

A subtle advertisement for American Express cards.
At time of writing, the post does not have any reactions or shares (miraculously enough).
"Pls don't come back!"
Benedict then replied on the same day: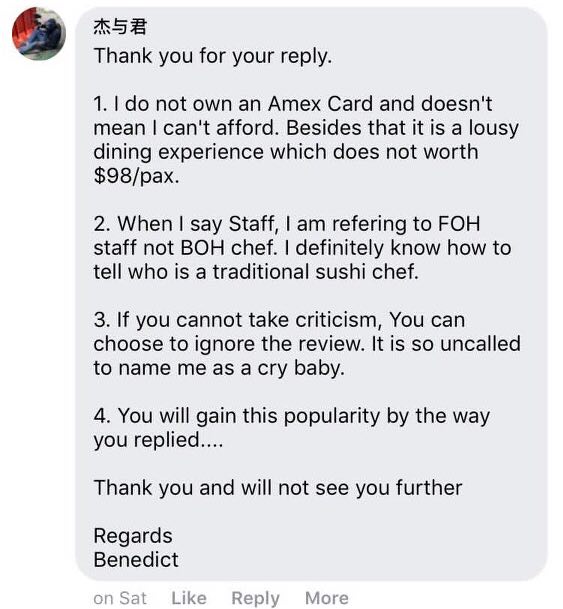 Here's what he said, in case you can't see the screenshot:
"Thank you for your reply.

1. I do not own an Amex Card and doesn't mean I can't afford. Besides that it is a lousy dining experience which does not worth $98/pax.

2. When I say Staff, I am refering to FOH staff not BOH chef. I definitely know how to tell who is a traditional sushi chef.

3. If you cannot take criticism, You can choose to ignore the review. It is so uncalled to name me as a cry baby.

4. You will gain this popularity by the way you replied....

Thank you and will not see you further

Regards

Benedict"
Ouch.
The end? Hardly.
Here's what the restaurant said in response (their previous comment ended with "Thank you and see you soon"):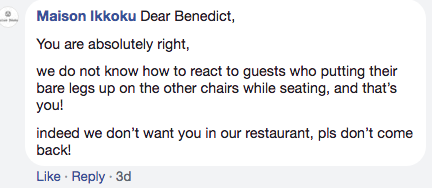 ¯\_(ツ)_/¯??
But wait. There's more.
More mind-boggling replies
As it turns out, Benedict's case isn't an isolated incident.
On April 6, one Serene Yeo left a two-star review because a "blonde hair wait staff" with "low EQ" had affected her dining experience at Maison Ikkoku:
If you can't see it: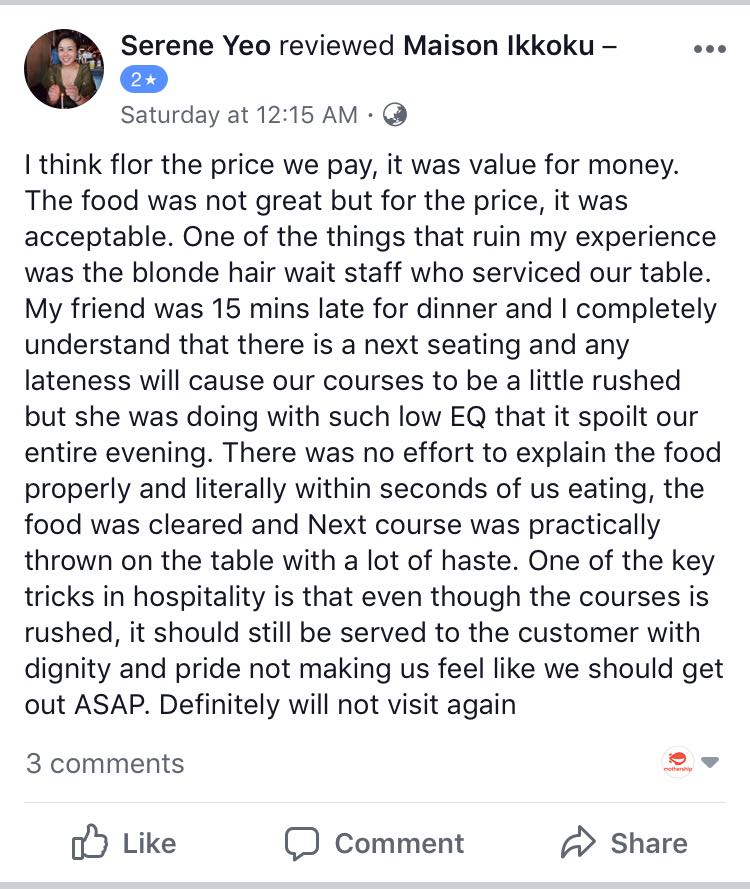 To this, Maison Ikkoku replied with the list of food that they served Yeo: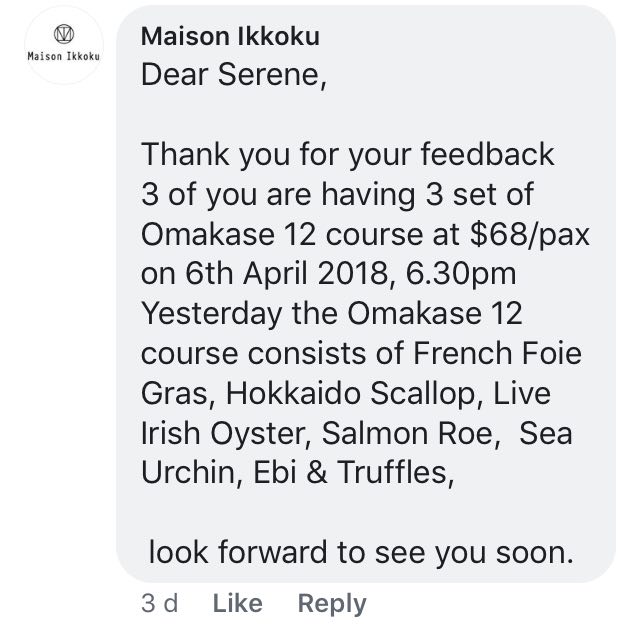 We're just as confused as Yeo, who also questioned the reasoning behind their reply: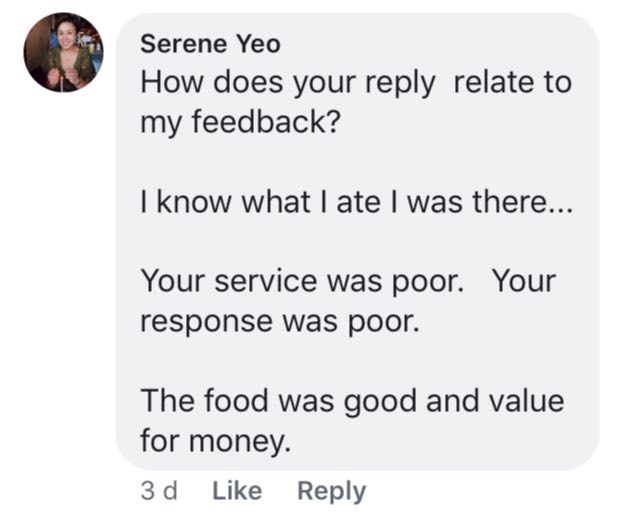 And then the restaurant apologised, not for their baffling reply, but because they forgot to mention another dish that they served her: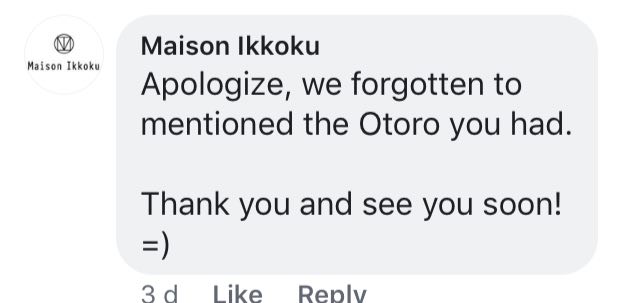 BUT WAIT.
That's still not the last incident.
Accusing another customer of asking for free coffee
On Nov. 27, 2017, another customer posted about her unpleasant experience with the service staff there: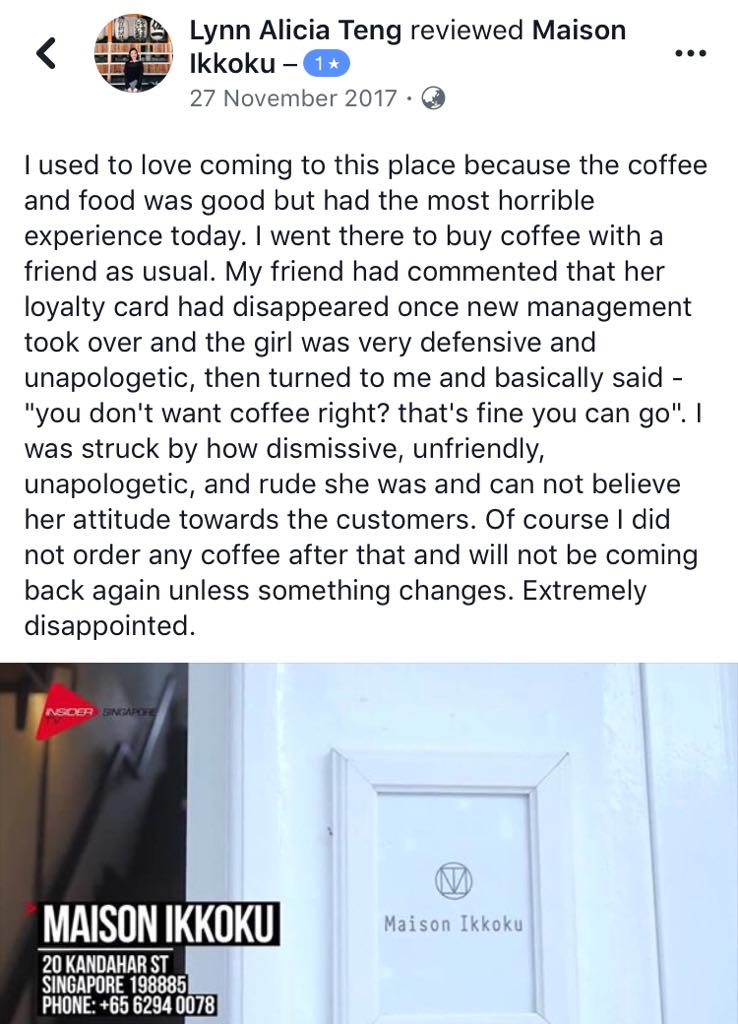 And so the management behind Maison Ikkoku took it upon themselves to reply, in caps, no less:

And the customer even went to the trouble of explaining what the management had done wrong: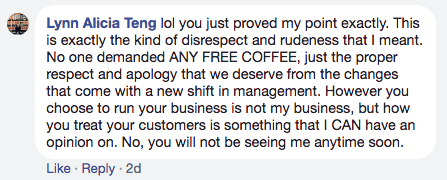 We're not sure why the social media restaurant is replying with such reckless discourtesy in this day and age, but if it's a bait to go viral it's working, we suppose.
Top image via Maison Ikkoku's Facebook page
If you like what you read, follow us on Facebook, Instagram, Twitter and Telegram to get the latest updates.