Will Mahathir Mohamad run into a Johor roadblock on his road to the Prime Ministership?
On April 7, Tunku Ismail Sultan Ibrahim, the Crown Prince of Johor, took to Facebook to express his thoughts about the upcoming general election.
The post is rather long, so we've summarised it for you:
The Crown Prince is a neutral person whose top loyalty is to the Sultan and people of Johor.

Some people might be unhappy with the current Barisan Nasional government.

But, the best path forward for Johor and Malaysia is to improve the government from within, instead of "bringing it down."

There was an individual who "damaged" UMNO and previously challenged the authority of the royal family in Johor, and he is not to be trusted.
Restrictions on the royals
The Crown Prince referred to Mahathir in his post:
"I won't forget the year 1992. Back then I was a small and naughty kid in school. My teachers will say, "Do not play a fool, you are royalty, if I were to report you to Mahathir, you are done for."
In 1992, when Mahathir was Prime Minister, he introduced a Bill to curb the privileges and powers of Malaysia's royal families, following the controversial Douglas Gomez incident.
Gomez, a hockey coach, was allegedly assaulted by then-Sultan of Johor, Mahmood Iskander Ismail and some of his men.
Previously, Malaysian royals were immune to prosecution and any critics of the royals could be charged with sedition. But following the Bill's passage into law in March 1993, that all changed.
It also introduced limits on the royals' ability to issue pardons, and commoners could freely criticise the royals (except for questioning their legitimacy).
Said the Crown Prince of Mahathir:
"I hope the people are not easily fooled by a forked tongue individual. At the moment he is not trying to save the country, he is more worried of what will happen to his children in the future."
[related_story]
The Private Adam incident
The other main bugbear referred to by the Crown Prince in his post was the Private Adam incident. He said:
"Same goes for the story of Private Adam, where my late grandfather, Almarhum Sultan Iskandar was not given a chance to defend himself. Back then we did not have the luxury of the internet and all media were controlled by the government.

The media reported that Private Adam apparently "ran amok" when he got news that his brother was murdered by the Sultan of Johor."
In Oct. 1987, a soldier named Adam Jaafar fired his rifle in downtown Kuala Lumpur, killing one man and injuring another.
Adam surrendered, but a rumour later emerged that he was crazy with grief because he had a sibling who was murdered by the then-Sultan of Johor. Whether it was a brother or a sister depended on who you asked.
Continued the Crown Prince in his post:
"Last year I met an individual from Kedah who told me that he met with Private Adam who told him how he was forced for 10 straight days in a dark cell by policeman and confess that the Sultan of Johor had killed his brother.

This is how low the highest government's leadership then is willing to go to have absolute power in this nation."
According to former crime reporter Syahril A Kadir, who wrote a book about the incident, he actually met with Adam, who denied that the Sultan had murdered his sibling.
But it remains unverified whether or not Adam was forced to slander the Sultan while in police custody.
Change from within
The Crown Prince acknowledged a few times in his post that change was needed, but he seemed to be saying that replacing the government and the changing the status quo entirely was not advisable.
He said:
"I do not (support) any political party, but in order to change a country's fate and improve the system, it is not by bringing down a government. We need to change it from the inside."
He also used a nautical metaphor, assuring the readers that he and his father the Sultan would guide the "skipper" of the national boat:
"Our neighbouring countries and I believe that if a ship has been sailing fine for many years but has an issue due to its skipper, do not fix it with a new engine. We stay on the same ship and guide the skipper to where we want to go...

Don't change the boat if the engine is not broken, don't even change the skipper but allow HM The Sultan of Johor and I guide the skipper for you."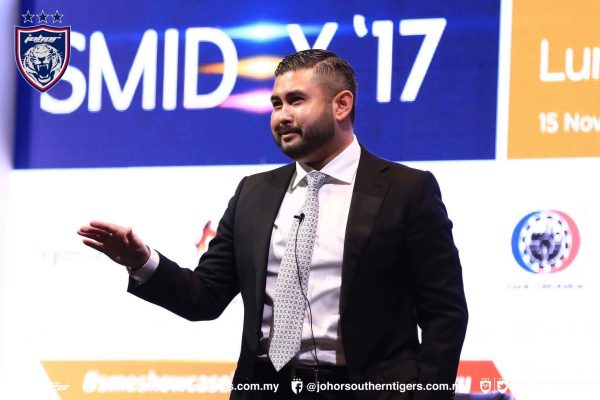 Don't agree
Although the royal family is popular in Johor, some of the comments on the Facebook post made it clear that not everyone agreed with the Crown Prince.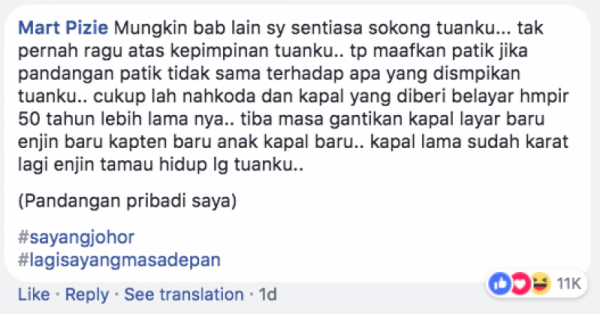 Translation:
"Perhaps in another matter I would support your highness, I never doubted your leadership. But forgive me if my view is not the same as your highness. It is enough that the captain and the boat has sailed for 50 years already. It's time to replace the ship, new engine, new captain, new ship. The old ship has rust in the engine again, your highness, and does not have long to live.

(These are my views.)

#LoveJohor

#AlsoLoveTheFuture"
Or this: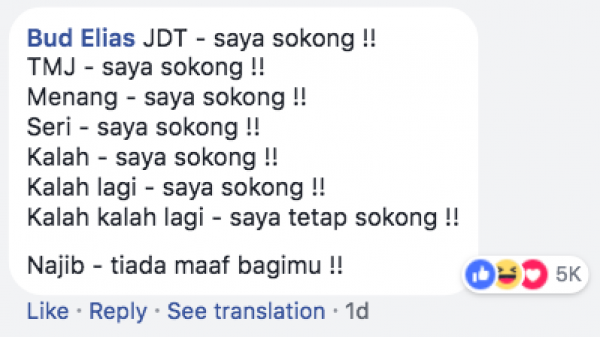 Translation:
"Johor Southern Tigers - I support!

The Crown Prince - I support!

Win - I support!

Glory - I support!

Lose - I support!

Lose again - I support!

Keep losing - I will still support!

Najib - No sympathy for him!"
Not taking sides
This prompted the Crown Prince to write another Facebook post on April 8, clarifying that he was not taking sides:
"I gave my sincerest opinion for what I think is best for my state. It was my personal opinion and being in my position I do not support any political party or individual...

 I did not say I support Tun Mahathir, Dato Seri Najib or anyone else. I am a straight forward person. Before, when Dato Seri Najib made a mistake, I stood and said something and when Tun Mahathir had issues, I stood and said something. I am not on anyone's side and I am not supporting anyone."
However, he explained a little bit about why he wrote the first post in the first place:
"I only disagree when a person who had a crisis with Johor in the past tries to take over Johor! Because this is my state. A state my father, grandfather and ancestors have protected whenever there is a crisis. Is it that easy for the people to forget about those crises?"
Still, the Crown Prince emphasised that the people of Johor had the right to voice their opinions and choose whoever they wanted as their leaders.
If Mahathir does pull off an increasingly-unlikely victory and become Prime Minister, there could be some fireworks to come.
Top image adapted from Mahathir Mohamad and Johor Southern Tigers' Facebook pages.
If you like what you read, follow us on Facebook, Instagram, Twitter and Telegram to get the latest updates.