April 2018 has been a saga-filled month for influencers in Singapore.
Influencers have been accused of getting involved with an alleged multi-level marketing (MLM) selling scheme:
And on another occasion, having their work ethic questioned:
So, it comes as no surprise that yet another incident tainting influencers has sprouted up from nowhere, as evidenced by a thread on HardwareZone forum, this time involving an influencer named Rachell Tan (known on Instagram as @pxdkitty).
Investment in durian sanctuary in Malaysia
Tan, who usually posts beauty and lifestyle content, as well as updates on her daily life, has over the past few weeks been urging her followers to invest in a durian sanctuary "project" located in Malaysia.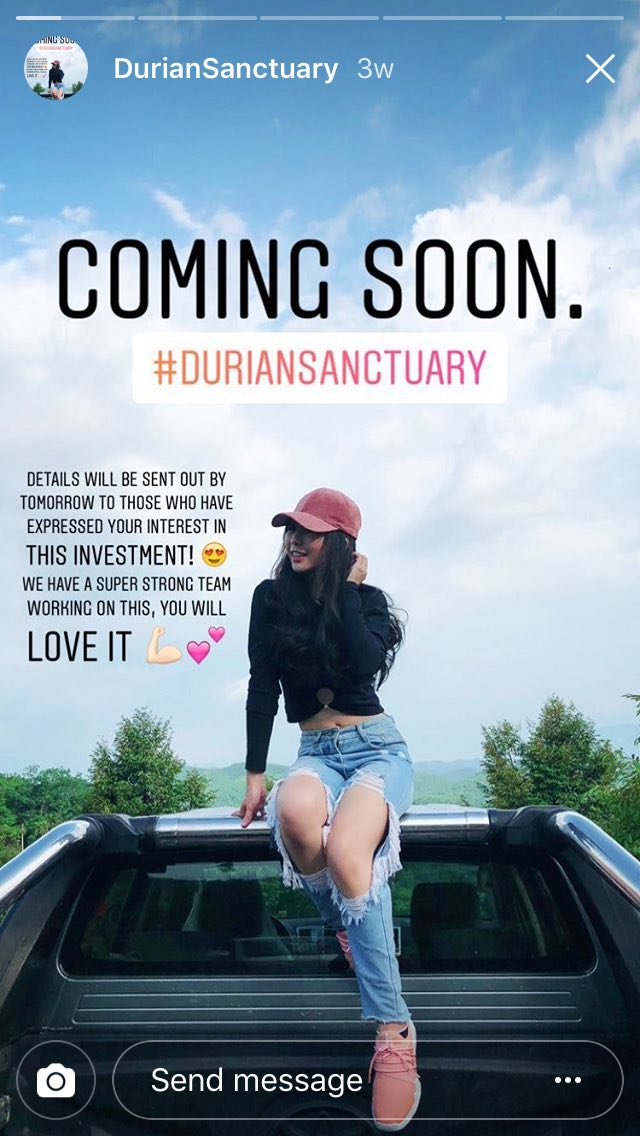 "Details will be sent out by tomorrow to those who have expressed your interest in THIS INVESTMENT! We have a super strong team working on this, you will LOVE IT"
How the scheme works
According to information Tan posted to her Instagram account, the "#duriansanctuary" project involves a one-time investment of exactly S$1,796.62 (or between RM4,000 and RM5,000, possibly before GST, according to this website) that will pay for the cost of one durian seedling.
Tan estimates the total returns ("for reference", apparently) an investor could receive from this to be S$44,000 over a period of some 50 years, with a yearly cheque delivered to the investor that can be cashed in.
Yup, this is the expected return: Once the investment has been made, the investor is "set to receive a cheque" (although the amount specified in this cheque isn't stated) every June, up till 2068.
The company that owns the plantation, called Mirach HP Limited, will then do the heavy work of cultivating, harvesting, and selling the durians.
Promotion on Instagram stories
It started on April 8, when Tan posted the following photo that first mentioned a #duriansanctuary "project":
https://www.instagram.com/p/BhSu31hF49R/
More information on the venture was saved to Tan's Instagram highlights -- stories that you can archive and display on your profile without them expiring -- titled "DurianSanctuary".
The section included an FAQ (frequently-asked questions) section, where Tan starts by explaining that her father is a consultant on the project.
The influencer said she is helping him with emails, and has personally also invested in the project as she "trusts [her] dad":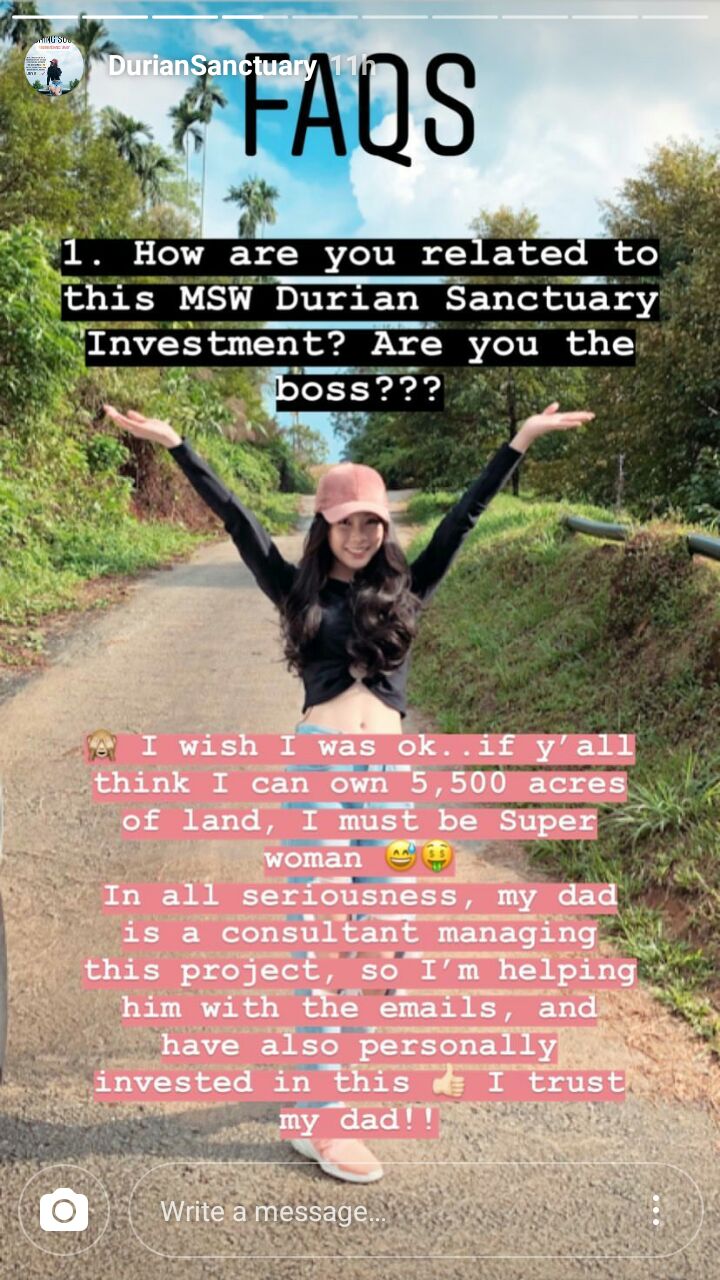 She also made available for viewing the minimum investment and potential returns: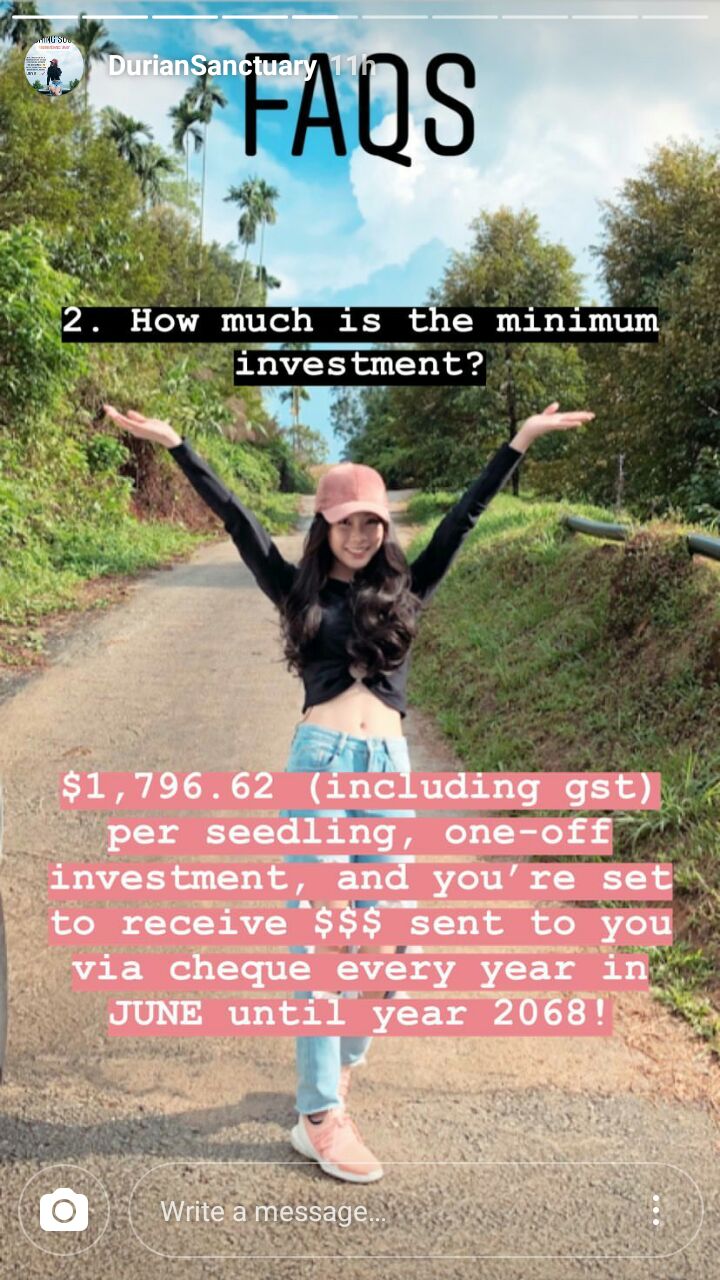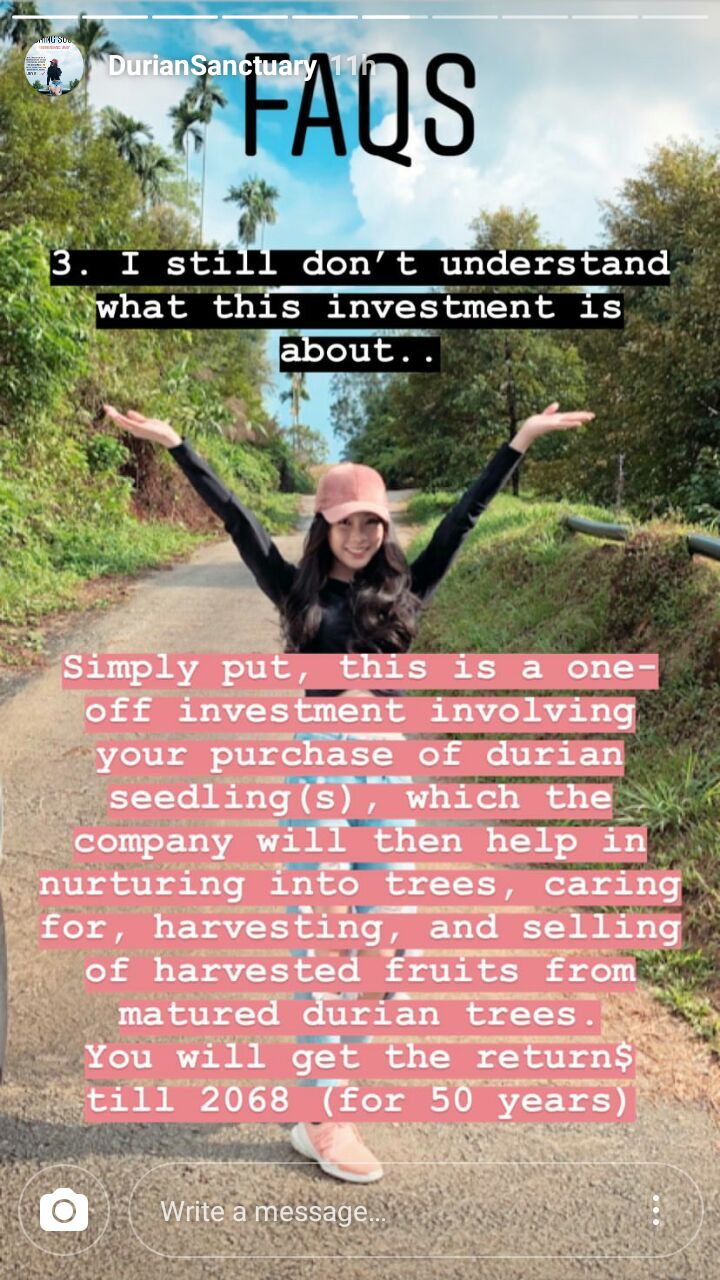 And according to this Insta story, the returns come from selling the fruits that are harvested from the trees.
Lack of crucial information
However, some information that a potential investor might be interested to know doesn't appear to be included.
For a start, a typical durian tree takes between four and five years to bear fruit.
By extension, this is presumably the same period that will be needed before the durian sanctuary can start earning profits.
Tan claims that returns are "guaranteed" for the first five years, before the tree (you might have paid for) hits maturity: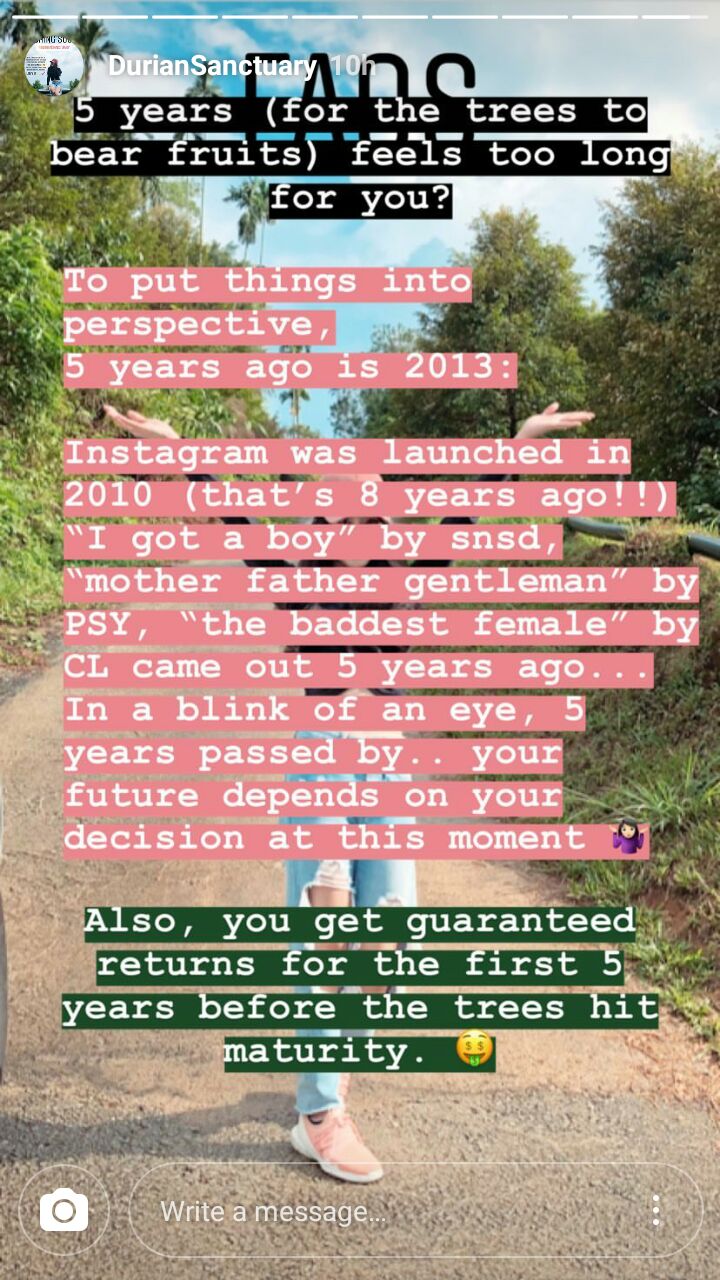 However, Tan does not mention how much the yearly returns -- for the first five years, or beyond for that matter -- will amount to.
The same statement also implies nothing is guaranteed after the first five years.
Eyebrows raised
Despite the tempting claims of yearly cheques, an "estimated" S$44,000 in returns ("for reference") for a one-off one-thousand-plus-dollar investment, some folks discussing it online are already doubting the investment: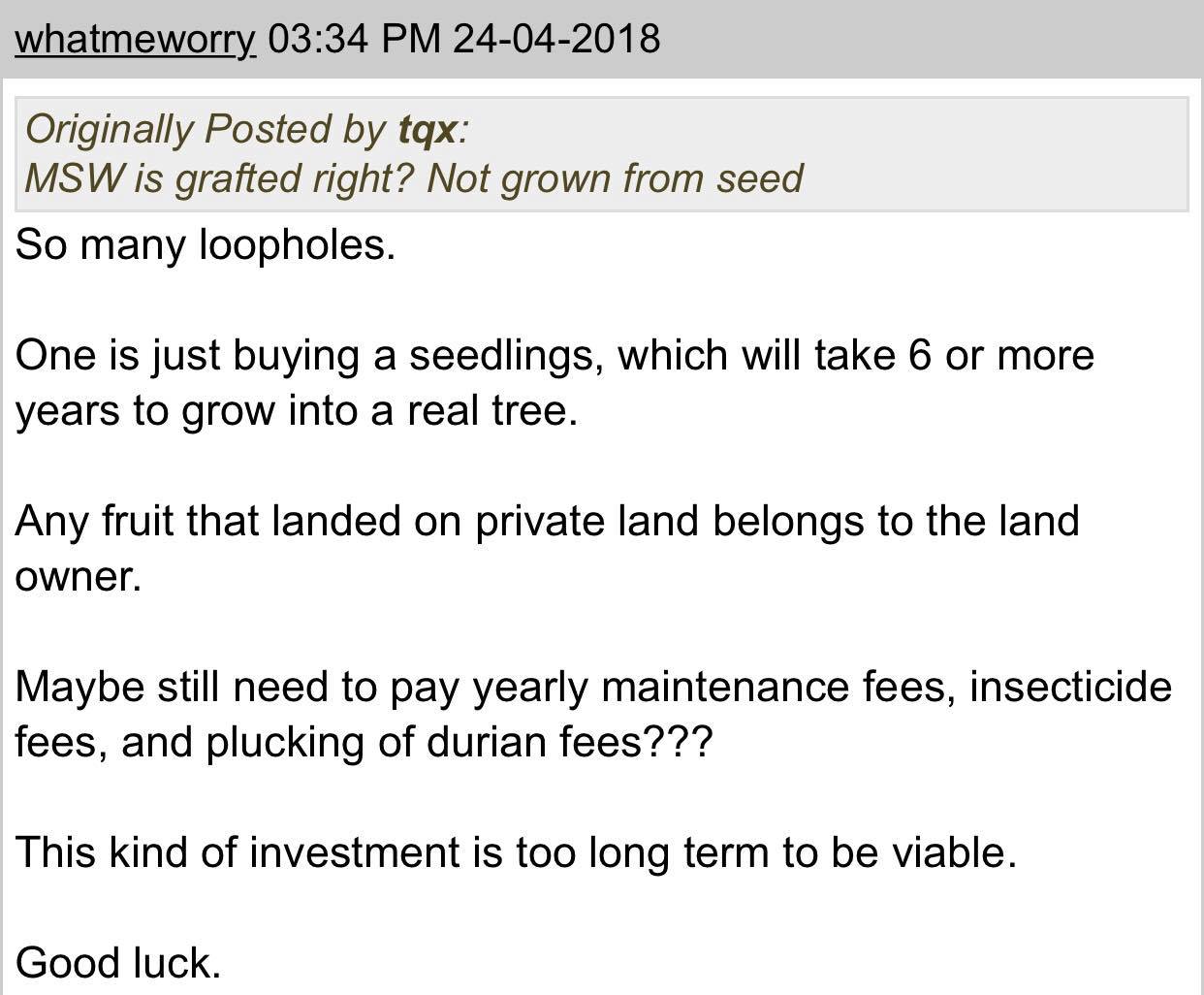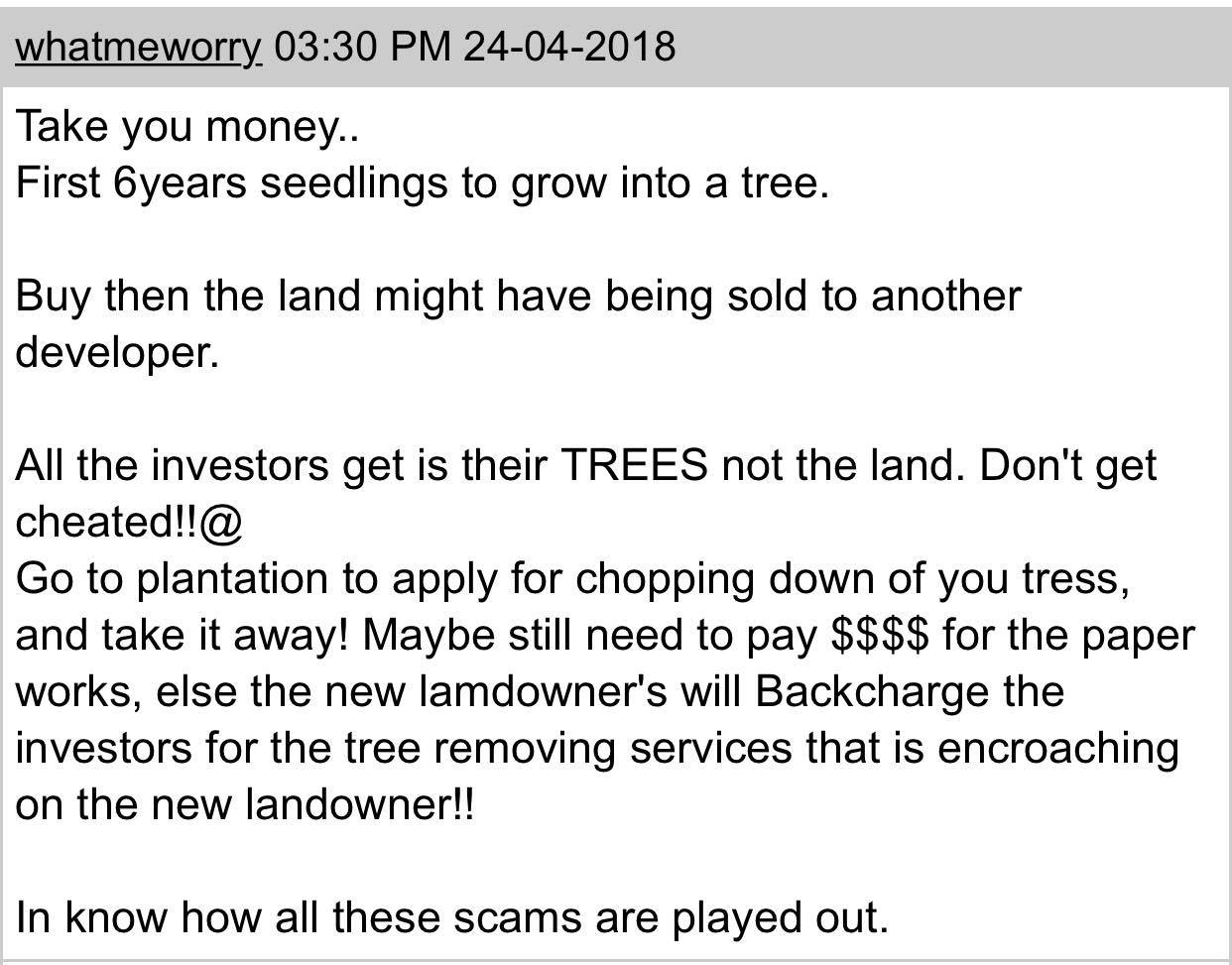 "lj (male anatomy)

from seedling to bearing fruits need a few years leh

in between still can take money?"

"sounds too good to be true."

"10 years minimum before durian tree flowers a fruit.

10 years no ROI how to so fast June 2019 get profit for investors?"
Highlights go missing from profile
Interestingly, all of the Instagram highlights posted pertaining to the project -- even though they have no expiry period unlike Insta stories -- have at some point been deleted from Tan's profile.
There remains just one under the highlight named "DurianSanctuary":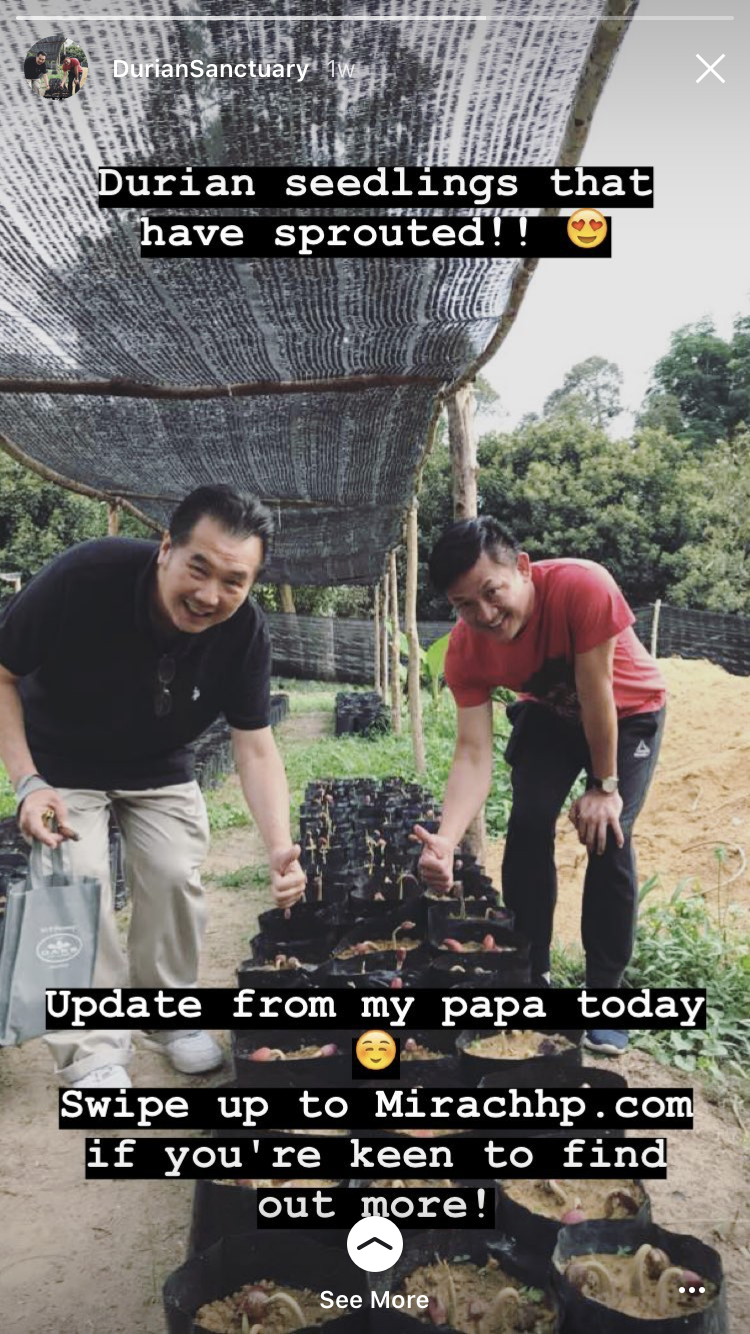 In a previous screenshot, she had also invited her followers to contact her via direct messaging for more information.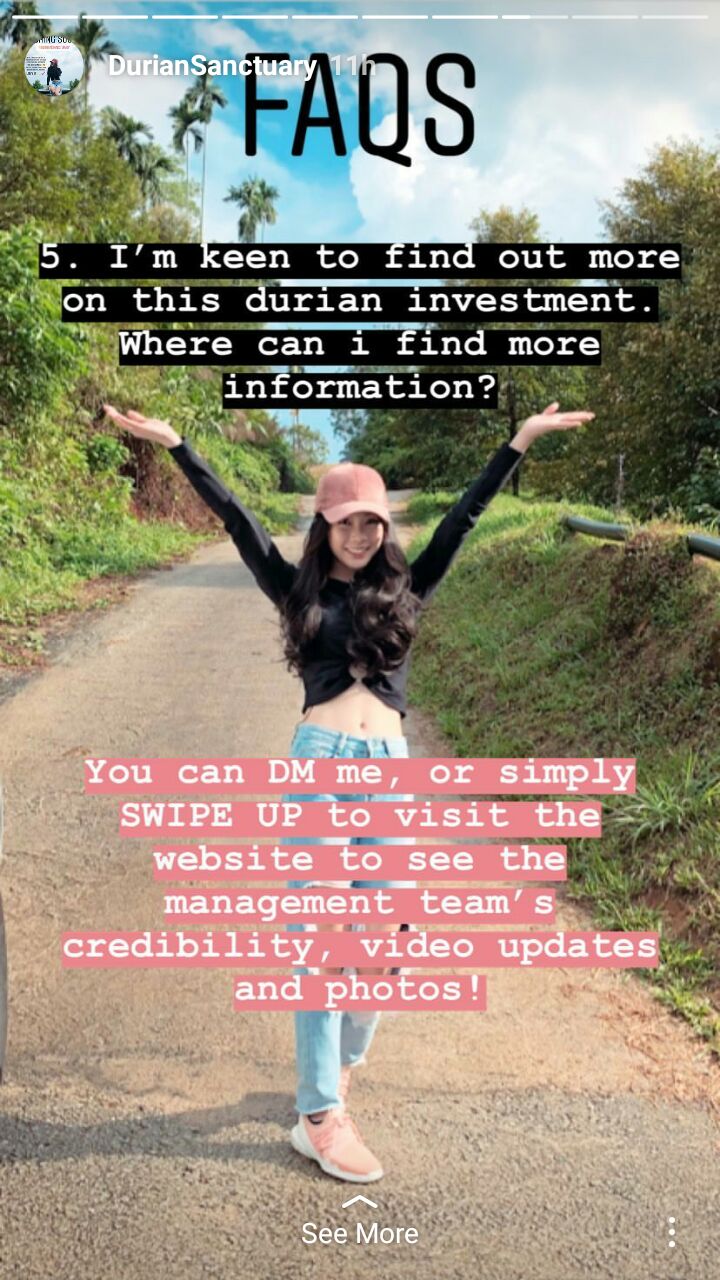 As mentioned previously, Tan said she is "just helping (her father) with the emails".
Here's what appears to be the fine print
Some of the details Tan left out in her Instagram promotional efforts appear to be revealed in what looks like a screenshot extract of a contract found on a HardwareZone post.
It allegedly confirms that the guaranteed returns on investment into a durian sapling are valid only until 2023, and it amounts to a total of only RM1,700 (S$575.64). 

We did the math: The difference (also known as, shortfall) between the capital and guaranteed returns is about RM3,300 (S$1,117.27).
In other words, that's five years of sunk cost with pennies on the dollar coming back to you, followed by an unpredictable future.
And from the looks of it, the company may not be liable for loss or damage caused by uncontrollable factors (e.g. natural disasters) that may affect the yield of the durian saplings -- especially after 2023.
This, if true, would naturally put any investor hoping to turn a profit at high risk.
How does the company make money
So, it only sounds like a good deal with the details and fine print left out.
But to clarify with detractors who are doubting the investment, Tan continued to elaborate on how the company makes profit: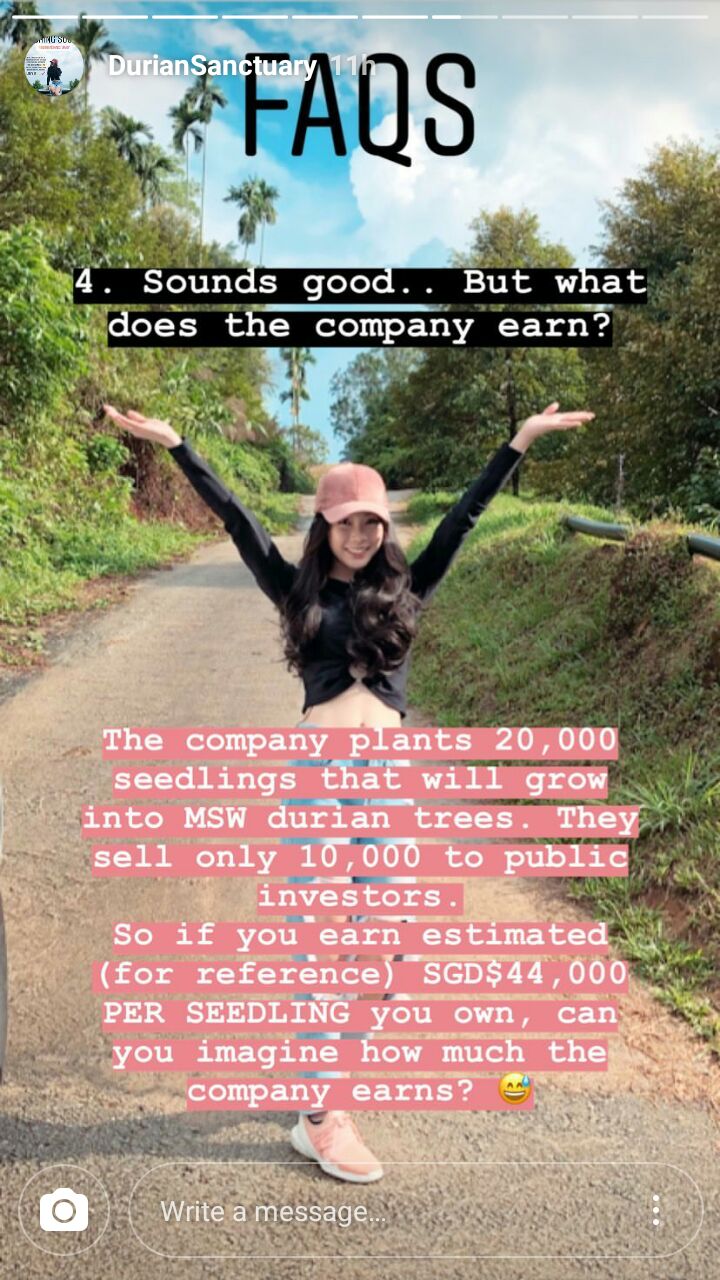 Out of some 20,000 durian seedlings that will be planted, Tan claims, only half of it is sold to public investors.
The rest, she says, are owned by the company.
Based on Tan's "estimation" that an investor can earn a cool S$44,000 per seedling purchased, extrapolating the figure by her suggestion implies the company stands to gain S$440,000,000 in total -- although of course, this notwithstanding the company's likely-not-included sunk costs (e.g. land, maintenance, equipment, fertiliser, manpower, etc.).
"a HUGE DEAL that you don't want to miss"
To further reassure any potential investors who might be sceptical, Tan also devoted a story to sharing her "personal thoughts" on this "HUGE DEAL" that "you don't want to miss".
Comparing this "investment" to the thousands of dollars people put into salon and slimming packages without knowing if they will be effective, Tan argues that "there will always be people who love MSW (mao shan wang) durians" and this "involves a durian plantation you can visit"
Therefore, she says, she knows she will not lose any money as the merchants can't "take the whole mountain and run away".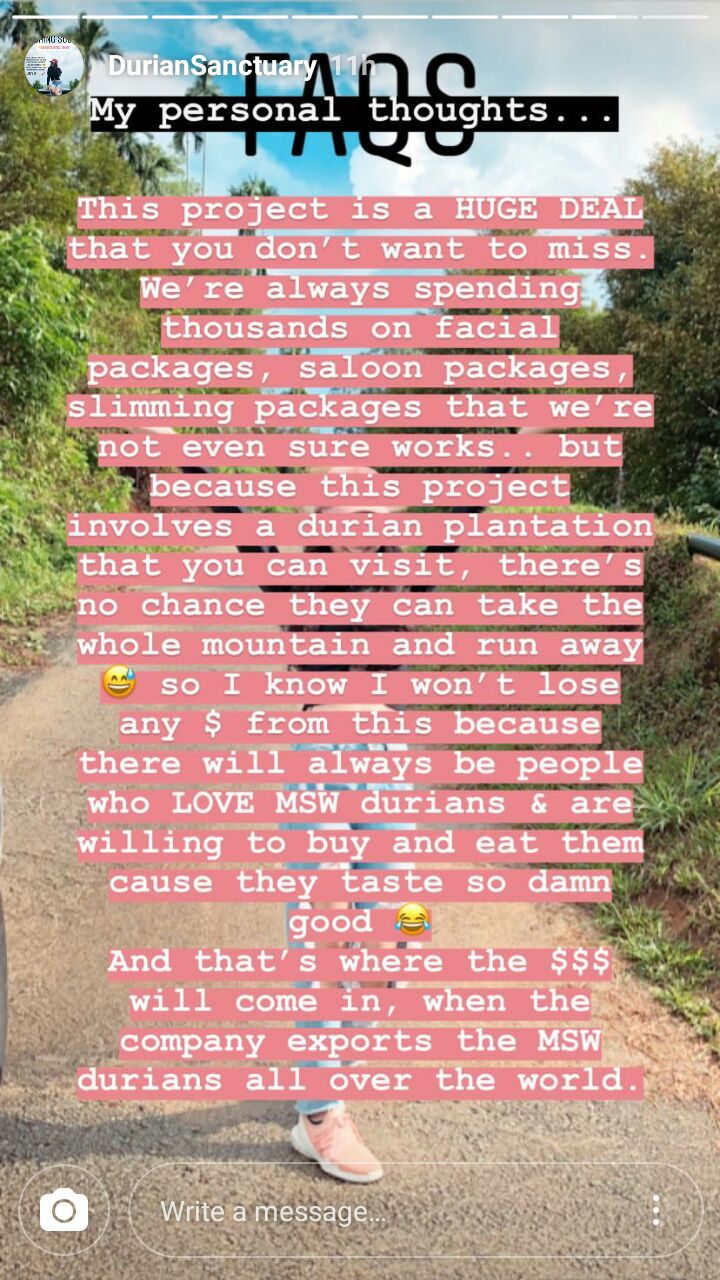 Mirach HP Limited
According to their website, Mirach HP Limited is primarily engaged in the durian cultivation business, focusing on the operation and management of durian orchards in Malaysia.
The 5,500 acres plantation for this project is located in Kelantan, Malaysia.
The company offers seedlings at two different price points to invest in: RM4,000 and RM5,000.
And according to its website listing, the former is sold out while the latter is "going fast".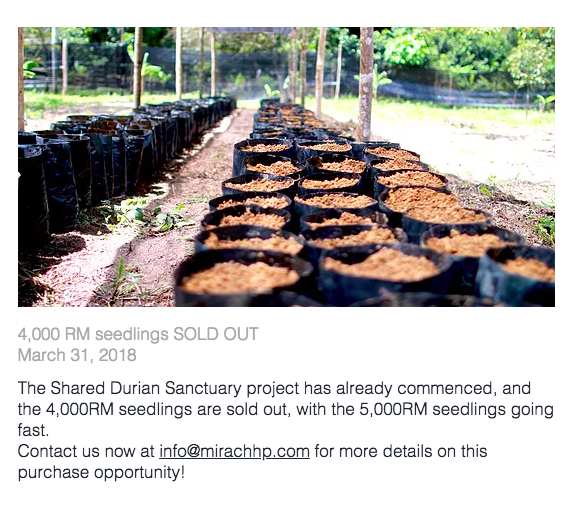 Durian Sanctuary seems to be the Mirach HP's very first project.
While we're not sure what industry Mirach HP Limited falls under, it seems to be affiliated to these two Singapore-registered companies:
Mirach Energy Limited, which deals with financial service activities, and

Mirach HP Management Pte Ltd, which happens to be a consultancy firm that was, according to a website called SGP Business.
The latter seems to be a newly-registered company, given that it has not filed any financial statements.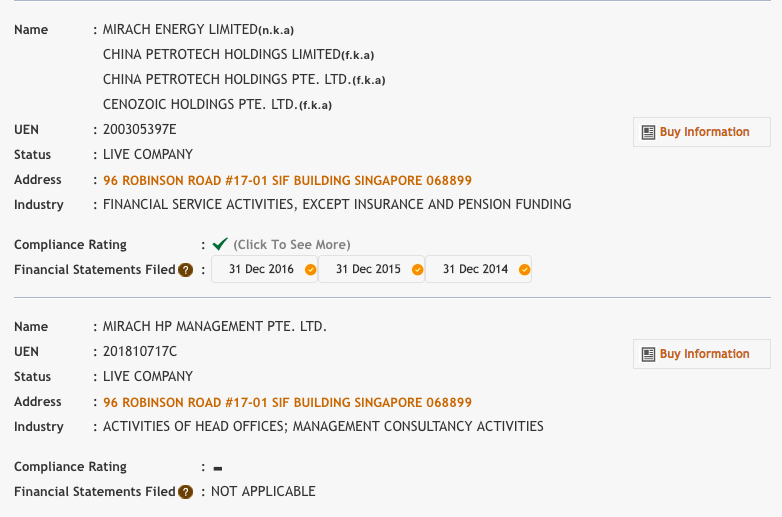 [related_story]
FYI: Financial advisory services can only be done by licensed financial advisors
In Singapore, the marketing of any collective investment schemes, including unit trusts, is considered a financial advisory service under the Financial Advisers Act, found on the Monetary Authority of Singapore (MAS) website.
This means that only licensed financial advisors can promote investment products or provide advice to others in relation to the products.
Issuing reports or analysis and arranging for contracts is also prohibited.
If an investment product was bought from an unlicensed financial adviser, the matter should be reported to MAS immediately.
The matter will be investigated by the Commercial Affairs Department if there is any breach of the law.
Overseas investment risks
Here's something else you should know: The Financial Advisers Act will not be enforced in this instance, as the project takes place in Malaysia.
Additionally, since Mirach HP Limited is a registered company in Malaysia, it is governed by Malaysian law.
Therefore, if anything goes wrong, the case can only be settled in a Malaysian court.
And that will be a whole other ball game.
Top image via @pxdkitty's Instagram page
An exclusive deal for Mothership readers:

If you like what you read, follow us on Facebook, Instagram, Twitter and Telegram to get the latest updates.