A group of four Singaporean women — two of whom were supposed to celebrate their pre-wedding hen's night — discovered they were victims of a WeChat scam after finding themselves unceremoniously locked out of their one-night room booking at the Marina Bay Sands (MBS) hotel.
Strangely enough, this was some hours after they had enjoyed the hotel's facilities with the access card they had been given when they checked in.
It turns out that the seller that they had bought the room from, as well as the "staff" that had shown them their room, were not even employed with MBS to begin with.
One of the women in the group named Soh Wan Wei took to Facebook to share their experience of the most mind-boggling hen's night she had ever been through, culminating in an evening update on Monday that she and her friends have filed a police report over what happened.
Booked room via WeChat
The hen's night party was supposed to happen on Saturday, April 21, 2018.
Prior to the date, Soh wrote that her friend's husband had booked a room for the girls via WeChat, a Chinese messaging and social media application.
This was done at a "special rate" of S$420, with an early deposit of S$200.
MBS's rates online show that a direct booking with the hotel starts from S$549 per night, suggesting a price difference of at least S$129.
The WeChat contact, who they believed was affiliated with MBS, then told them to reach out to another staff once they've arrived at the check-in time of 2pm.
Unfortunately, that ended up to be all that was enjoyable about their experience.
[related_story]
1st red flag: Delayed check-in, & not doing so at the counters
The first challenge they faced was a delayed check-in process.
According to Soh, she and one other friend had arrived at the hotel at 2pm, as agreed-upon previously with their WeChat contact.
However, they were told by the "runner" assigned by the WeChat contact to meet them to wait for about 30 minutes.
But it was only about an hour and a half later that the "staff" (the runner) eventually appeared and escorted them to a room on the 31st floor, giving them two access cards to the room.
The transaction was completed when they paid the runner the remaining S$220.
Soh then accessed the hotel's sauna facilities on the 55th floor with the keycards for close to three hours, while her friend returned to the room.
The facilities are supposed to only be available for hotel guests or patrons who have signed up for personal training or yoga sessions/packages.
[related_story]
2nd red flag: Access cards stopped working after close to 5 hours
Two other friends joined the duo at around 7pm, and the group decided to get dinner to eat in their room.
However, they faced another problem close to an hour later, after buying their food back: Soh and her friends couldn't get into their hotel room despite trying both the given access cards.
As all their belongings were stored in the room, they began to panic and called both the front desk receptionist and the WeChat contact who sold them the room.
Final straw: Discovered they were not actually registered guests with MBS
To their surprise, the front desk receptionist told the girls that according to their system, the room currently has no registered guests.
The last guest at that room had checked out three days ago.
Unfortunately for them, the receptionist couldn't do anything to help them with their problems. 
So instead of having dinner in the comfort of their room as they had planned, the group had no choice but to spend the next hour eating dinner at the lift landing of the 31st floor (although Soh was quite light-hearted about it). 
WeChat contact and person who helped with check-in procedures were not MBS staff
Between 9pm and 10pm, a member of MBS's management staff approached them and told them that they had not made a legitimate booking with MBS after all.
That was when they found out that their WeChat contact actually acted as a middleman, while the woman who gave them the access cards and brought them to the room they were not actually registered with was not an actual staffer employed by MBS.
The group was told that such booking methods were prohibited.
Sadly, MBS couldn't help them despite the shocking revelation, as the women did not have a contractual relationship with the hotel:
"They (MBS) said obviously, the whole issue is none of MBS business because the four of us do not have any contractual relationship with MBS, which is true technically and which I can accept." 
In the end, they were escorted up to the room at around 10pm by an actual MBS staff to collect their belongings.
And not wanting to waste their time, the four went ahead to "karaoke the night away."
"Two of us were visibly upset and shocked, of course. And the other two were sort of amused. (No prizes for guessing how I felt LOL). But the party must still go on mah..."
MBS has been "professional"
Soh said a representative from MBS contacted her on Monday, April 23, to give her a clearer picture of the unfortunate situation they faced.
"I want to highlight that the MBS staffs have been really professional and thoughtful in the entire situation."
The hotel has also commented on Soh's post: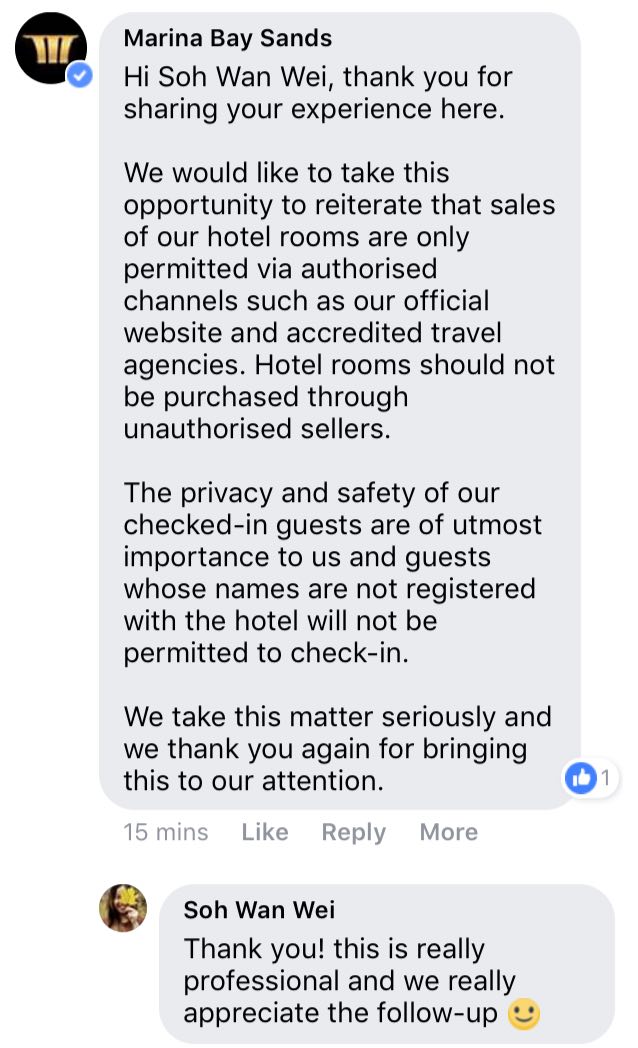 However, Soh said she and her friends regret not being able to enjoy the perfect hen's night they had planned:
"The only regret the four of us has is that we will never get to redo our hen's night as planned ever again in our whole life, which is a huge pity!"
MBS investigating
In response to Mothership.sg's queries, a spokesperson form MBS says that they "take this matter seriously" and are "investigating this case further".
This is their statement in full:
"We would like to take this opportunity to reiterate that sales of our hotel rooms are only permitted via authorised channels such as our official website and accredited travel agencies. Hotel rooms should not be purchased through unauthorised third-party sellers. We take this matter seriously and are investigating this case further. Marina Bay Sands will not hesitate to take appropriate measures against persons who illegally resell our rooms. This includes banning them from booking our hotel rooms in the future and barring them from our property."
We do, however, have a lingering question: How did the sellers even get access to the room in the first place?
Here's Soh's Facebook post in full:
Top image via Thinkstock Images
If you like what you read, follow us on Facebook, Instagram, Twitter and Telegram to get the latest updates.