Prime Minister Lee Hsien Loong was at the Commonwealth Heads of Government Meeting (CHOGM) in London last week (April 19-20), but all the Singapore media wanted to know about was details about the cabinet reshuffle.
PM Lee's confirmation that the cabinet reshuffle will be announced this week sparked speculation regarding the cabinet musical chairs. Certainly, this is of particular interest to the 145,000 public and civil servants who face the prospect of reporting to different bosses at the end of this week.
So what can we expect of this much-talked-about cabinet reshuffle?
Here are three quick thoughts.
1. Yes, there will be more 4G leaders helming ministries, but the shuffle is unlikely to be as extensive as PM's "epochal" 2011 cabinet reshuffle.
The eye-catching headlines from the media, including a Sunday Times' frontpage headline "Cabinet reshuffle to involve almost all 16 ministries: PM" and a Channel NewsAsia report ("Cabinet reshuffle to involve almost all ministries; will be announced next week: PM Lee") , may have raised expectations that the cabinet reshuffle is going to be an earth-shaking one.
Our take? That's unlikely to be the case.
Certainly, the changes are likely to be the most extensive since the last General Election three years ago.
In his first cabinet reshuffle after GE2015, PM Lee opted for experience, retaining most of the existing Cabinet Ministers. He highlighted that they would "provide steady hands" and mentor "the younger ministers and help to ensure a smooth and successful transition".
PM also acknowledged that his Cabinet (37 office holders) at the beginning of this term of Government "is a transition team, so it is bigger than usual".
[related_story]
But having a cabinet reshuffle that involves almost all ministries is very different from having a cabinet reshuffle that involves the change of almost all ministers.
The Cabinet reshuffle after the "new normal" GE 2011 was massive -- 11 out of 14 ministries had new ministers helming them.
One of the reasons for the extensive change was the departure of five ministers. And we're not even talking about then-Senior Minister Goh Chok Tong and the late Minister Mentor Lee Kuan Yew.
Two ministers -- Foreign Affairs Minister George Yeo and Minister Lim Hwee Hua -- lost their parliamentary seats at the 2011 polls, and three ministers retired -- Deputy Prime Minister Wong Kan Seng (in charge of Home Affairs), as well as Ministers Mah Bow Tan (then in charge of National Development) and Raymond Lim (who headed Transport).
It is likely that there will be fewer departures in this round of Cabinet reshuffle, compared to GE 2011.
According to The Straits Times's sources, three third-generation ministers are expected to retire:
- Trade and Industry (Trade) Minister Lim Hng Kiang,
- Manpower Minister Lim Swee Say, and
- Communications and Information Minister Yaacob Ibrahim.
More importantly, existing 3G ministers such as
- Defence Minister Ng Eng Hen,
- Transport Minister Khaw Boon Wan,
- Law and Home Affairs Minister K Shanmugam and
- Foreign Affairs Minister Vivian Balakrishnan
are expected to continue running the ministries that involve national security (Defence, Home Affairs), international relations (Foreign Affairs), and high political sensitivity (Transport and Law).
2. Promotions, promotions, promotions.
Over the weekend, the Chinese evening papers have provided significant speculation from political observers on which younger 4G office-holders are likely to be promoted.
For instance, political observers quoted by Lianhe Wanbao speculated that four senior ministers of state --
- Indranee Rajah,
- Chee Hong Tat,
- Janil Puthucheary, and
- Koh Poh Koon,
-- stand a high chance of being promoted.
The four are part of the group of 16 4G leaders who issued a public statement on Jan. 4, indicating that they are "conscious of their responsibility" regarding leadership succession:
Law don and former Nominated Member of Parliament Eugene Tan from Singapore Management University shared similar sentiments, telling Shin Min Daily News that Chee and Indranee, in particular, stood high chances of helming the likes of the Ministry of Health.
3. The future of the 3 PM front-runners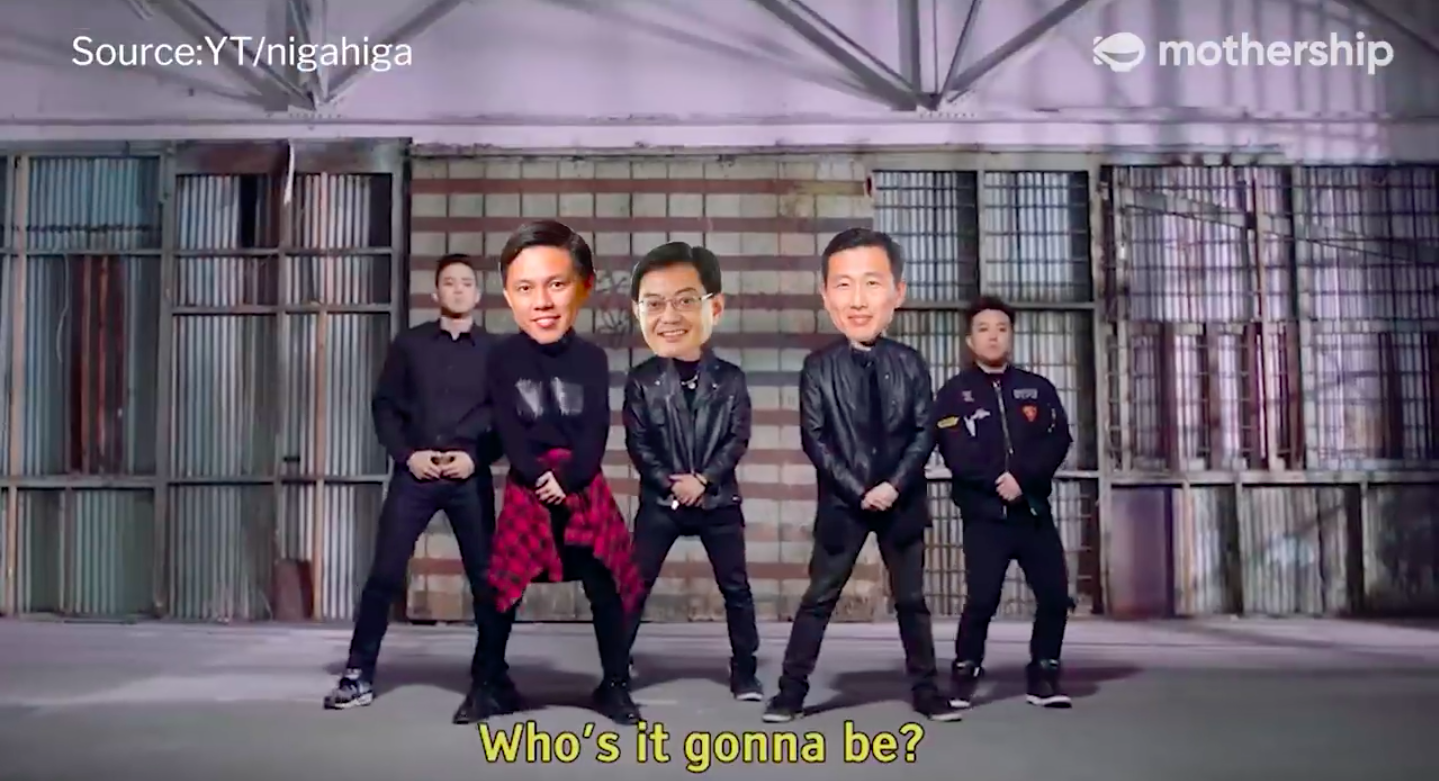 - Heng Swee Keat
One of the more significant remarks made about the Cabinet reshuffle last week was what Finance Minister Heng Swee Keat said during a media briefing about the progress of Singapore's economic transformation (Wednesday, April 18).
This was what he told Channel NewsAsia,
"I'll be very happy to continue my job as finance minister. There are many things that we need to do as I announced in the Budget".
Instead of saying that he would serve at the pleasure of the PM, Heng had clearly indicated his preference, in an attempt perhaps to quash the rumour reported in ST that "there is talk he could thus take on a Ministry of Defence role".
- Chan Chun Sing
Contrast Heng's response to what Chan Chun Sing said in what is likely to be his valedictory May Day Message media briefing as the labour chief.
"Where I go, what I do is the Prime Minister's prerogative, so if there's any change, wait for the Prime Minister's announcement." Straits Times, April 19
Chan was also managing the likelihood of his impending departure, saying in the same media briefing that the labour movement is not a one-man operation, but a collective one.
Now, as political observers are likely to already know, a change of leadership at the NTUC is imminent.
Lianhe Zaobao had earlier reported (on Jan. 19) that members of NTUC's Central Committee were asked to give their support to Education Minister Ng Chee Meng being elected as Deputy Secretary-General, thus paving the way for Ng to be the next NTUC Secretary-General — the latter being Chan's current position.
And Chan's future? According to ST's sources, "Chan, who is now the labour chief, is expected to take over as Trade and Industry Minister".
- Ong Ye Kung
One of the most intriguing front-page covers over the Cabinet reshuffle speculation weekend is the one provided by Shin Min Daily News, on its Saturday edition: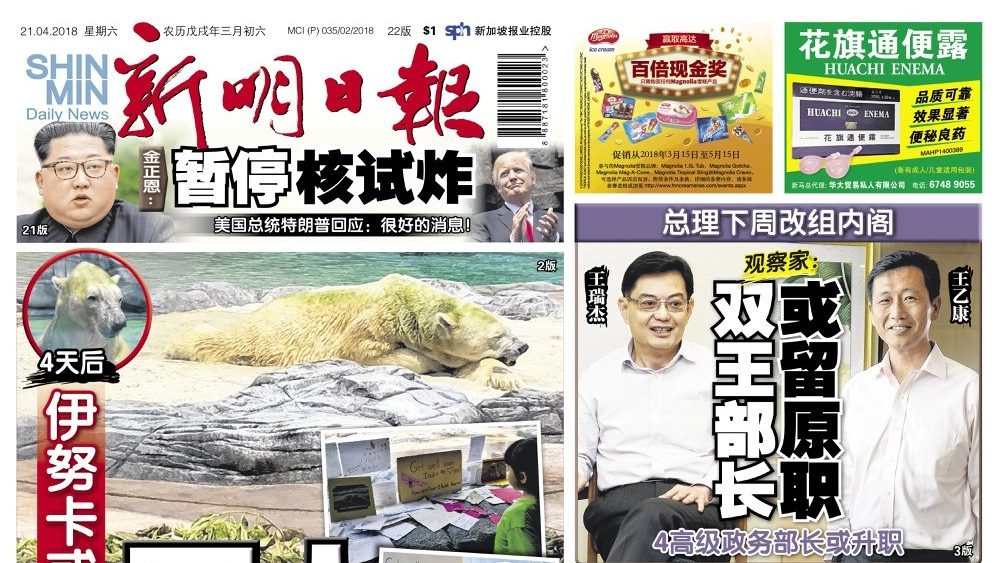 As the surnames of Ministers Heng and Ong are both referred to as "王" in Mandarin, SMDN asked whether both Ministers 王 would remain in their portfolios.
A week ago, ST reported that some political observers said "Ong, the Education Minister (Higher Education and Skills) and concurrently Second Defence Minister, would benefit from a stint in the Ministry of Finance".
But at the same time, it also noted the possibility that "he could take on the full weight of the Education Ministry".
In TODAY's reporting, the paper noted that political watchers are divided on whether Ong will retain his education portfolio.
One observer (ex-MP Inderjit Singh) said Ong could take on a new portfolio, such as foreign affairs, while another pundit (Nanyang Technological University political scientist Woo Jun Jie) said Ong possesses "the credentials of a potential Finance Minister".
And here's where we see PM Lee's dilemma with Ong.
Does he think Ong will be better equipped to lead Singapore as a 4G leader with a different portfolio (Finance, Foreign Affairs) or with a deeper ministry experience (Education)?
After all, Ong, in his role as the Minister for Education (Higher Education and Skills), is already making policy waves as the SkillsFuture minister.
Perhaps we could read into PM Lee's hint — where he mentioned that some key ministers will have their portfolios adjusted, but will "basically stay in places where they still need time to continue to develop initiatives which they have started".
Maybe he was referring to Ong as one of these?
And since PM Lee only has a few heavyweight portfolios to manoeuvre, he can only adjust the job scopes of his 4G PM front-runners with a promise of something different in the near future.
And the only way he can make bigger moves with the three of them is with more time.
In other words, this reshuffle, from the perspective of the 4G PM front-runners will be a reshuffle indeed — not so much a change of portfolios, but perhaps the purchase of more time.
Top file photo of PM Lee in 2015 by Sharmaine Chan for Mothership.sg
If you like what you read, follow us on Facebook, Instagram, Twitter and Telegram to get the latest updates.