Now this is one incredibly frustrating case.
Numerous Malaysians -- and possibly quite a few Singaporeans -- have been affected in what appears to be a mass scam involving tabletop board games.
These board games were manufactured after funding pledges were made for them via Kickstarter.
For the uninitiated, Kickstarter is a crowdfunding website that brings money-backed projects and products to life.
Tabletop board games aren't exactly cheap to make, so Kickstarter becomes a common platform for indie or small board game companies to generate funding for a project.
Hobbyists then snoop out promising games on Kickstarter, pledge money for the board game to materialise, and in-turn, become "backers".
Bulk orders
Group orders or group pledges are often a way to cut the cost of shipping board games from the Americas or Europe to Southeast Asia.
At times, a group or retail pledge means that people would be getting additional discounts or perks, so that's a double plus.
This is where Boarders Tabletop Games Studio come into the picture.
KL-based
For a while, Boarders was a tabletop gaming cafe based in Kuala Lumpur.
It was helping those who were interested to pledge towards certain board games to combine their orders into a group pledge. Boarders helped to forward the shipping of the games in bulk.
Kind of acting like a middleman.
So far, Calvin Wong, a Malaysian podcaster with Ding and Dent Podcast has written extensively on this particular controversy on Boardgameprices.com.
He was also one of the people who ordered board games via Boarders but has not received his products.
This was despite the fact that Boarders did service customers satisfactorily during earlier group orders. In fact, Boarders was also the principal Southeast Asian distributor for several other board games.
However, trouble started brewing late 2017, when Boarders' only physical presence via the cafe closed down.
Wong has also stated through an interview in a podcast that customers had started to complain to Boarders about their late orders, which, while wasn't uncommon for certain Kickstarter projects, was the beginning of more troubling events.
Made off with games and money
One games publisher, Mighty Boards, was due to ship out their Asian shipment containing their board game, Petrichor, but announced via a message on March 27, that while Boarders had picked up the package, it had stopped any contact with Mighty Boards.
The cargo package is worth USD20,000 (S$26,217) in market value, and is now considered stolen and lost. The middleman is assumed to have the goods but is not dispatching it.
We have some unfortunate news to share on this matter. Boarders Tabletop Cafe' received the packages with the games, however they have stopped contact with us immediately after picking up the package. We have been trying to reach them through various means, however it seems that it is unlikely that we will get to them, and we are considering this cargo (along with our downpayment for fulfillment) as stolen by Boarders Tabletop Cafe', and therefore lost.

We are in contact with various other companies and people who are affected by this to see how we can react to this unfortunate event. We are not the only creator being affected by Boarders right now.

This is quite a tough nut for us, we have lost almost 20,000 USD in market value to this event. But, DO NOT WORRY, the backers are not the ones who will be paying for this. Asian backers will still get their games.
Other board game makers affected
Other Kickstarter-based board game companies that customers had backed via Boarders have voiced out on the matter since, such as Nemesis by Awaken Realms: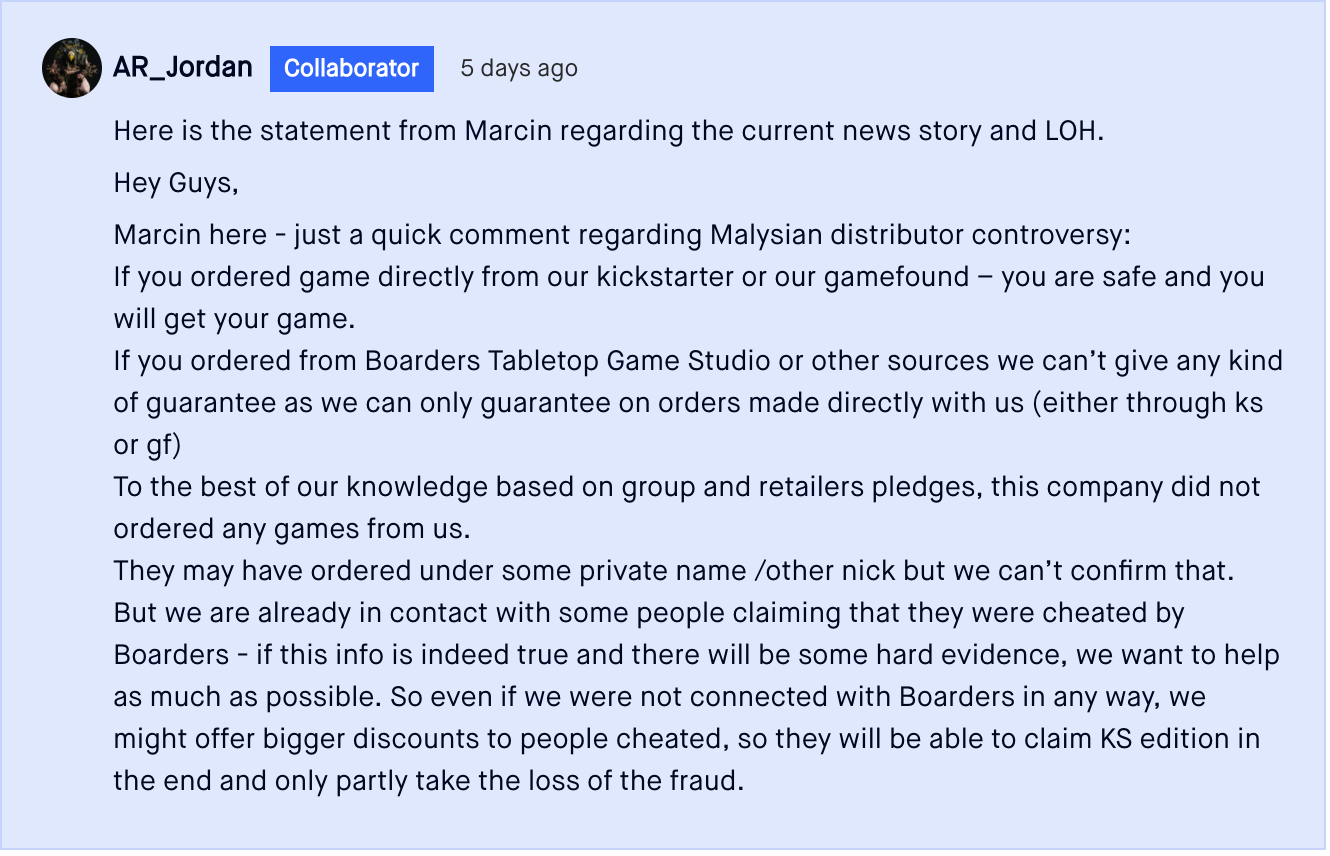 Brass ~ An Industrial Revolution by Gavan Brown of Roxley Games, clarified that they are not set up as distributors for the area:

This particular company, Mindclash Games, even recalls a period of time where they had worked closely and successfully with Boarders: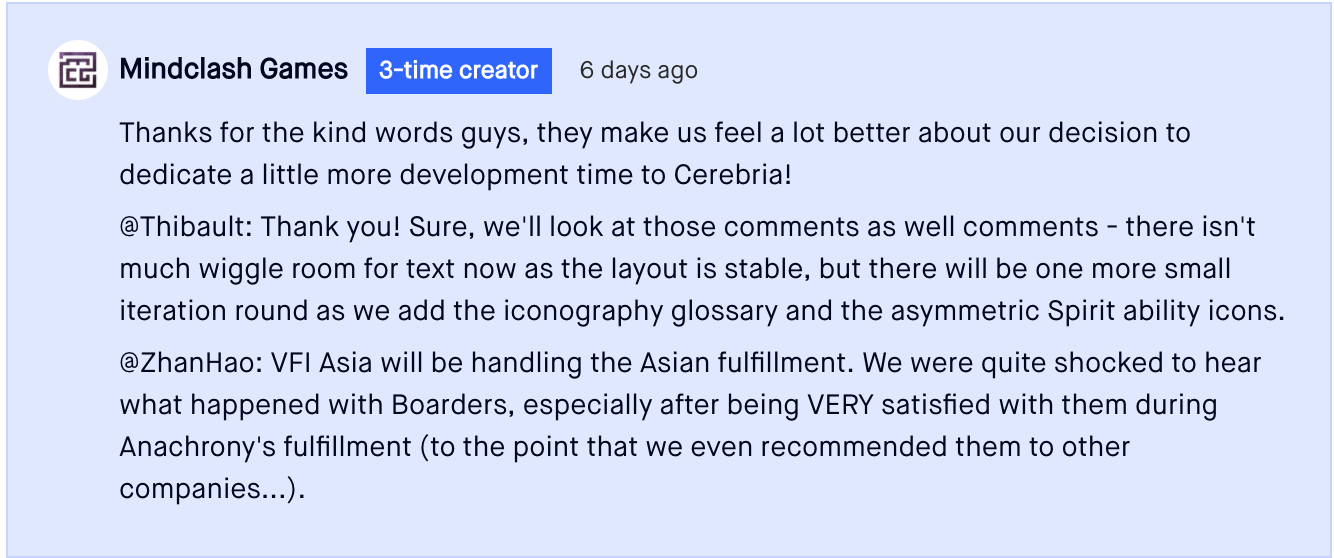 Trouble started January 2018
According to Wong's interview, there were initially updates on the issues regarding the delivery of the games, and some customers still managed to get their game successfully before December 2017.
However, as January came by, more and more customers within the WhatsApp group chat got angry as their messages were ignored despite being seen by Christopher Yong, one of the people behind Boarders.
Wong himself had tried to contact and set up meetings to collect his game but those fell through, and so did many others who had so desperately tried to contact the company and/ or Yong.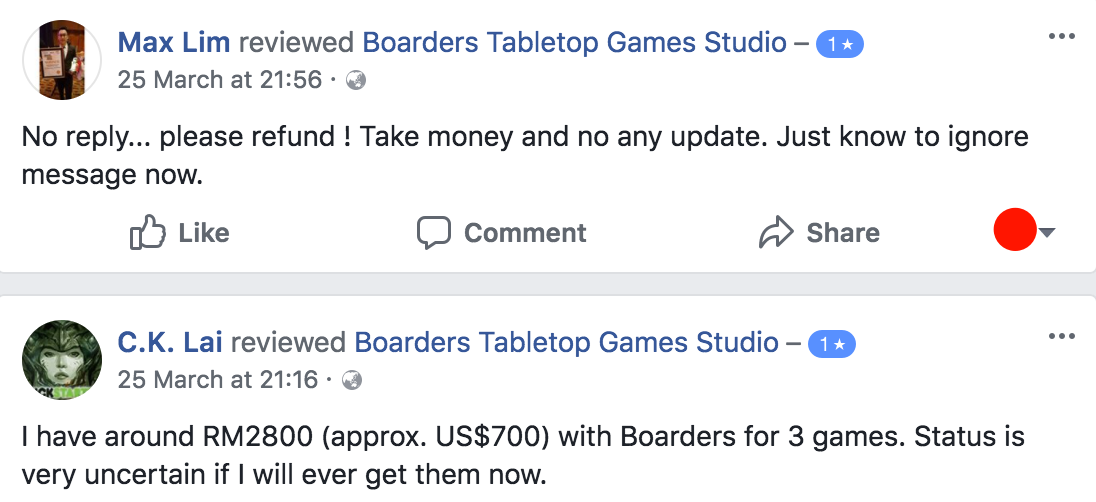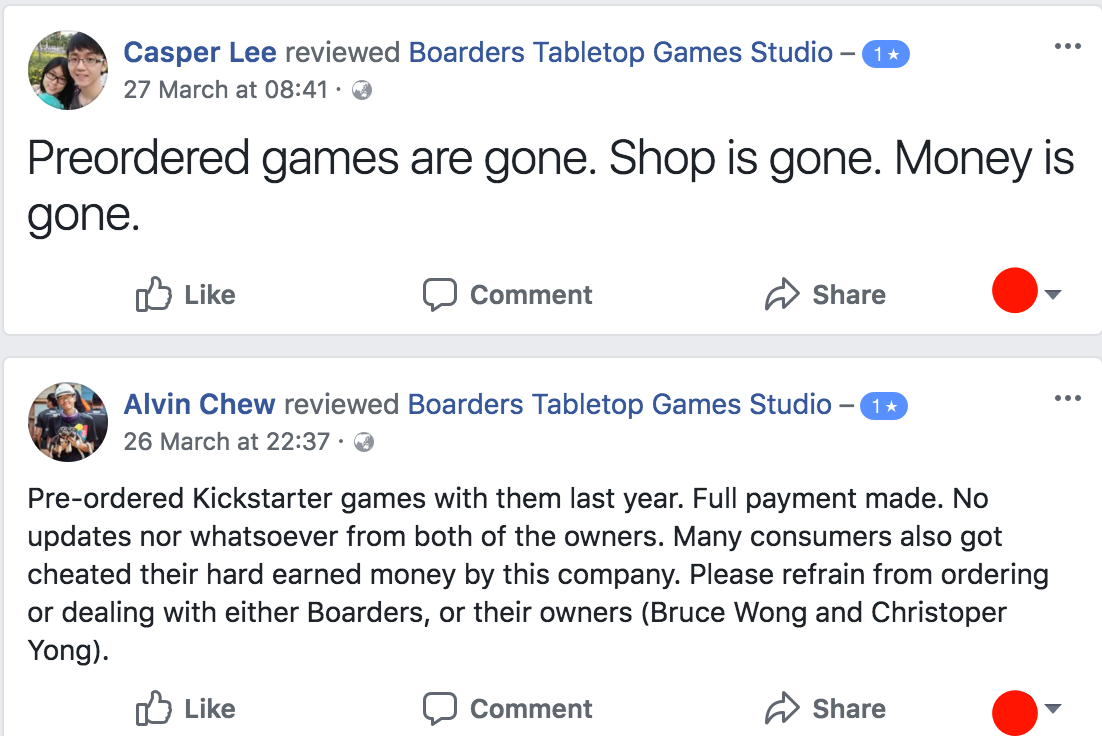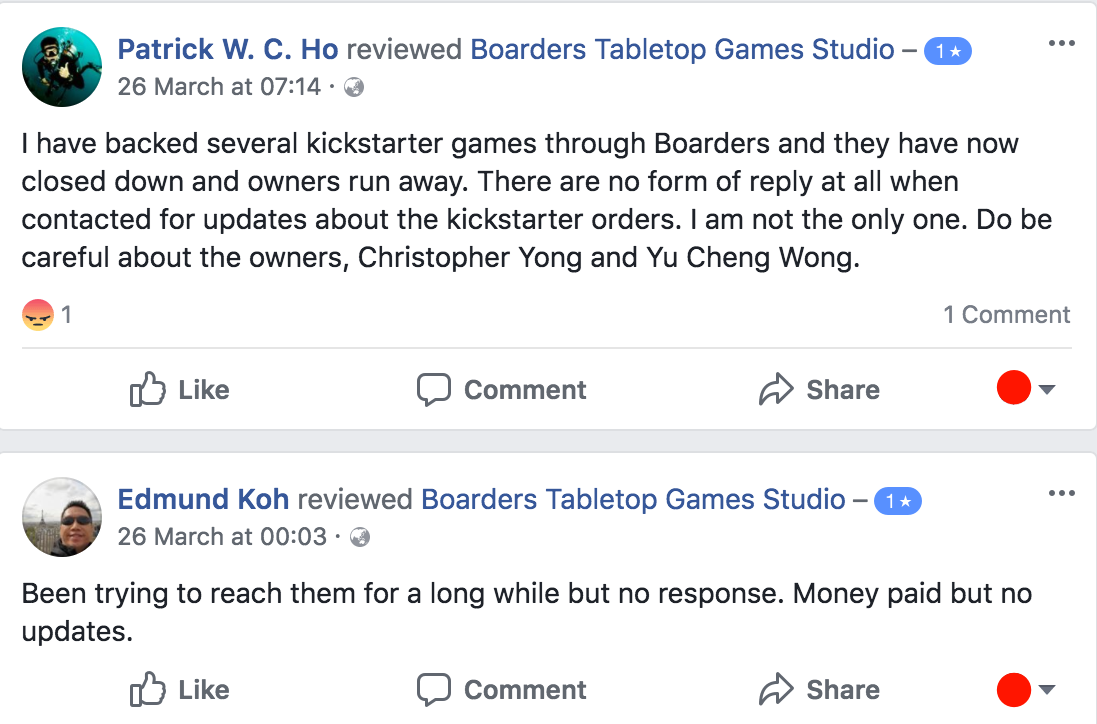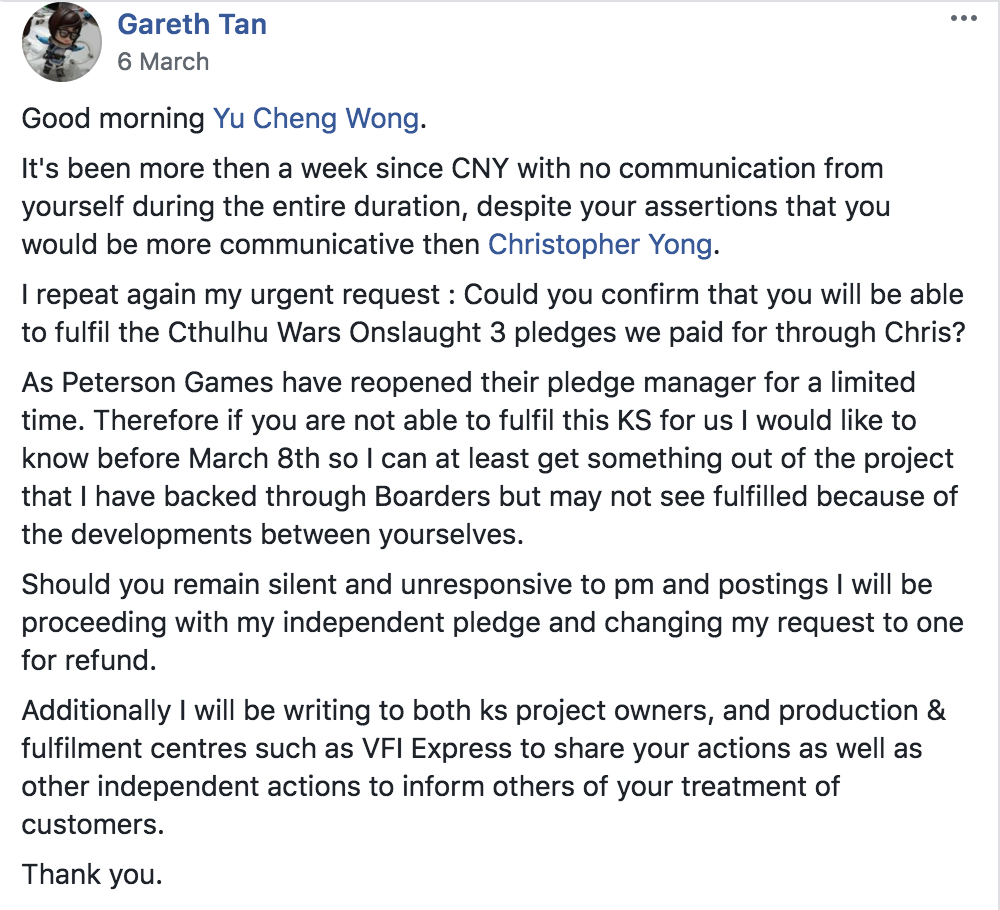 Singaporean connection?
The Singapore connection was more than just gamers not getting their games. As reported previously, the company appears to have a connection to Singapore.
In fact, one of the most popular Kickstarter board game projects, Gloomhaven, had mentioned that Boarders have a warehouse in Singapore.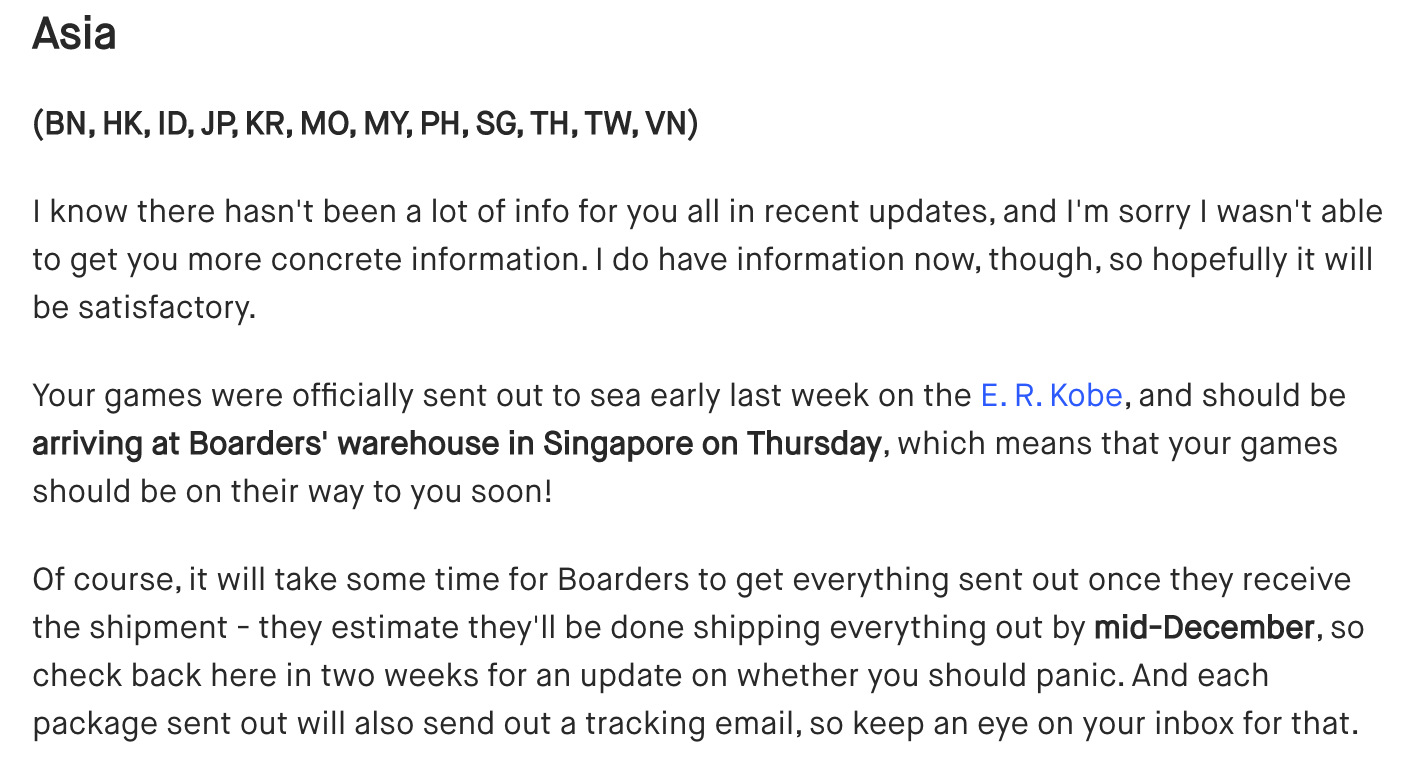 In Wong's article and interview, however, he writes there were still many who haven't received their copies including him, though some had supposedly gotten theirs via a meet up at a McDonald's parking lot.
Indeed, according to the Accounting and Corporate Regulatory Authority(ACRA) website, one can see that a company of the same name is live and located in Seletar Road.

[related_story]
What next?
Even though this issue is mostly affecting Malaysians for now, the implications can be global.
This is so as online transactions are set to become more commonplace, and the tendency for group orders or bulk-buying and forwarding to cut costs become more frequent a practice.
The process to commit the owners of Boarders to legal action will demonstrate just how frustrating and obstacle-filled it can get -- transnational boundaries, notwithstanding -- which could serve as a sampler of how all future online purchasing disputes pan out.
Moving forward, should you use someone or a company as a forwarder or middleman, you may consider the following questions:
Is there some form of guarantee that can be made by the forwarding company or contact?

Is it ultimately safer to pay more for a direct pledge or direct shipping, to guarantee the delivery of the product or your money back?

Will delays and issues with your middleman, especially without a guarantee or written terms, be eventually not worth the discount?
In any case, we hope that customers who bought their games via Boarders get the recourse they are seeking.
Or, at the least, the game they were seeking.
Top image via Boarders Table Top Games Studio's Facebook
If you like what you read, follow us on Facebook, Instagram, Twitter and Telegram to get the latest updates.