Ismail Akbar Abdullah is a masseur who lost his sight at a young age after suffering from a fever.
About two months ago, he lost his wife to cancer.
One passer-by, Mudrique Kay, found out and posted online the conversation he had with Ismail, and called on other Facebook users to raise awareness about the masseur's business:
Although deeply saddened by his wife's passing, Ismail continues to work as a self-hired masseur as a means of livelihood.
Having done so for the past 11 years, he is well-known — and well loved — in the neighbourhoods he operates in.
In a show of support for the masseur, Kay's post has gathered more than 1,200 shares.
Works 7 days a week
Everyday, Ismail sets up his booth either at Sengkang or Bedok and provides a variety of massages, including shoulder, back, and leg massages.
He charges low prices of S$8 to S$24 for his services: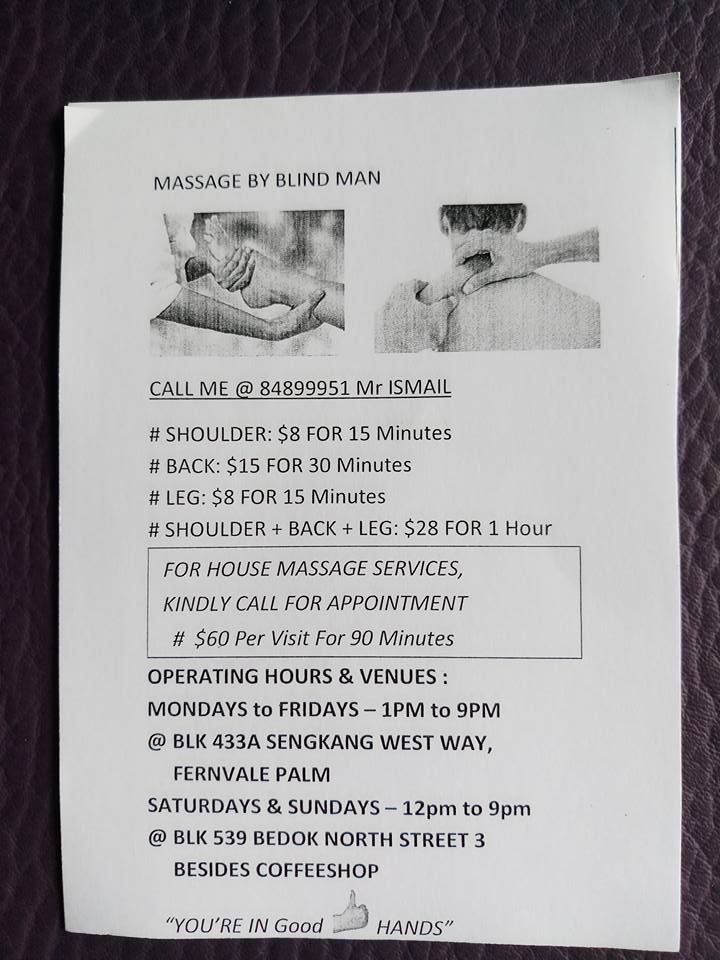 He can be found at Block 433A Sengkang West Way during the weekdays, and at Block 539 Bedok North Street 3 (beside Sheng Shiong Supermarket) during the weekends.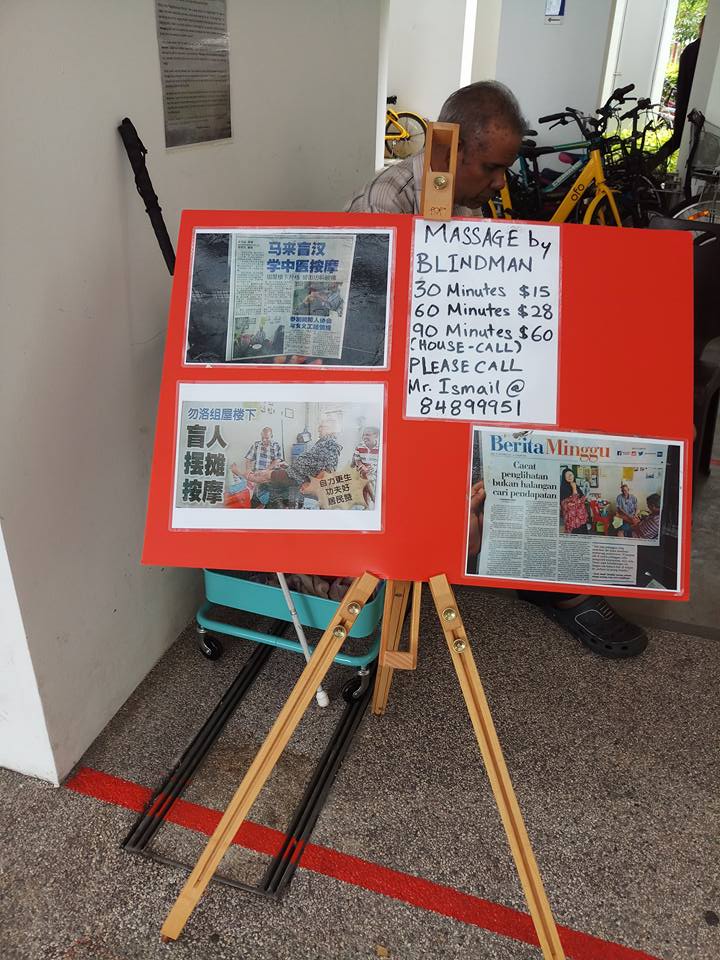 House massage services are also available upon booking.
Starting out
Ismail started out in 2007 by asking residents in the Bedok area if they were interested in his massage services.
At that time, he charged only S$2 to attract customers and intended to save all of his earnings for his and his wife's retirement.
His customer base has since grown, and he now services between three to 20 customers per day.
In 2016, Joseph Schooling also donated free Grab rides to Ismail so he can save on transportation costs. The free rides are worth S$7,300 in total.
[related_story]
Massages by the visually-impaired
Ismail is just one of the visually-impaired individuals in Singapore who have remained optimistic and adapted to the challenges faced.
There are many others like him who stay gainfully employed through providing massage services.
For instance, Blind Massage Services at Tanjong Pagar Plaza employs blind or partially sighted individuals.
The Singapore Association for the Visually Handicapped has also started an initiative called the Mobile Massage Team where a group of qualified, visually-handicapped masseurs operate a massage centre at their premises in Toa Payoh.
Top photo from Ismail Massage Services and Mudrique Kay's Facebook
If you like what you read, follow us on Facebook, Instagram, Twitter and Telegram to get the latest updates.