For fans of the Marvel Cinematic Universe, April 2018 is a very special month.
Avengers: Infinity War, the culmination of a decade's worth of Marvel movies, will be released.
Of course, the marketing campaign for such a huge movie is also huge. The stars of the Marvel movies travel around the world to drum up support and interact with the fans.
And during these events, some fans and journalists get treated to a very special preview screening of Infinity War.
Joe and Anthony Russo, the directors of Infinity War, know full well that some viewers might be too eager to spill the beans on what they've seen.
So on April 3, they put up this message on Twitter warning the lucky few not to spoil anything for their fellow fans. You can see it below:
https://twitter.com/Russo_Brothers/status/981164646236274688
Simple right? If you watch the sneak preview, don't tell anyone what you've seen so as not to spoil it for other fans.
For context, Thanos is the name of the big purple alien that shows up in Infinity War to kick ass, and apparently, he's not a fan of spoilers.
Everyone can hear you
Well it looks like one Singaporean media personality didn't get the memo.
On April 15, Marvel held a press conference at the Marina Bay Sands' Convention Centre.
Stars Benedict Cumberbatch (Doctor Strange), Robert Downey Jr. (Iron Man), Karen Gillan (Amy Pond/Nebula), executive producer Trinh Tran and director Joe Russo attended the high-profile event.
Now keep in mind that the press conference was live-streamed, and lots of people from all over the world could watch it. Channel NewsAsia uploaded a video to Facebook, which you can see below:
At about the nine minute mark, someone calling herself Jill from Kiss92 asks a question.
(Editor's note at 1130hrs on April 16: Even though you can clearly hear the two spoiler-laden questions from Jill from Kiss92 in the live video, we have decided to edit out the spoilers so as not to ruin the experience for other fans.
But if you don't care about spoilers and want to hear the questions for yourself, it starts at about the nine-minute mark in the video.)
Said Jill:
"Hey guys, good morning. So I actually had -- oh I'm Jill from Kiss 92 -- I had a bunch of questions after watching the fan clip last night, right. Two things, like, couldn't go to sleep because of these two things."
She then proceeded to ask one question based on a crucial plot point in the previous Marvel movie, Captain America: Civil War.
And her second question was a follow-up, related to the first, and also spoiler-heavy.
But in her long and rambling spiel, she managed to ruin at least four different plot points for Marvel fans in just one minute.
That's kinda impressive, when you think about it.
[related_story]
Girl do you even Marvel?
But Russo and Tran performed an even more impressive double dunk on Jill following her questions.
Russo explained that she would already know the answer to her first question if she actually watched Captain America: Civil War, which wasn't that long ago and a vital chapter in the Marvel Cinematic Universe.
Tran pitched in, saying:
"Didn't anyone watch Civil War?"
Fans in the audience started clapping and cheering at those responses.
But the fans online were none too impressed as well.
Comments started coming in on the live video, calling Jill out for her gaffe: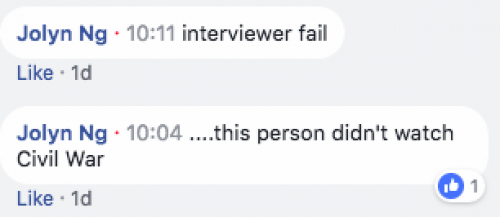 And other fans called Jill out for the spoilers.

Presumably Jill has now incurred the wrath of Thanos himself and now our island is doomed.
Top image by Rachel Ng.
If you like what you read, follow us on Facebook, Instagram, Twitter and Telegram to get the latest updates.