It was a whirlwind of events on March 26 that left Uber Singapore staff feeling "lost".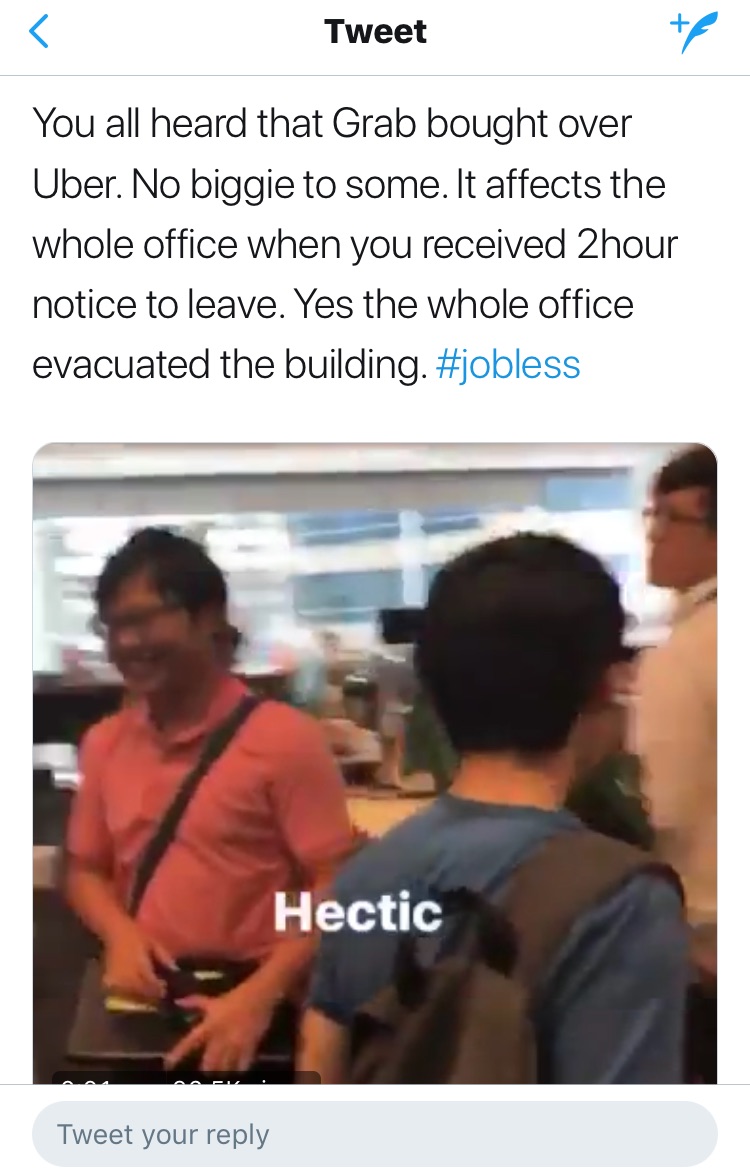 Confused office employees
The person who tweeted the above (now privatised) informed us that he has been a telesales specialist on contract with Uber for about a year.
"So far we've felt lost, and there's not much help… no news of (any) severance package or whatsoever; we were told we were free to look for other jobs."
According to him, there were about some 100 telesales specialists who were left without information, apart form the instruction to pack and go.
An Uber staff that Mothership contacted also claimed that the hasty clearing of the Uber office was done at Grab's request but this was refuted by Grab's Head of People Operations Ong Chin Yin who said that Grab is "committed to finding a permanent home" for all of Uber's 500+ displaced employees across the Southeast Asia offices.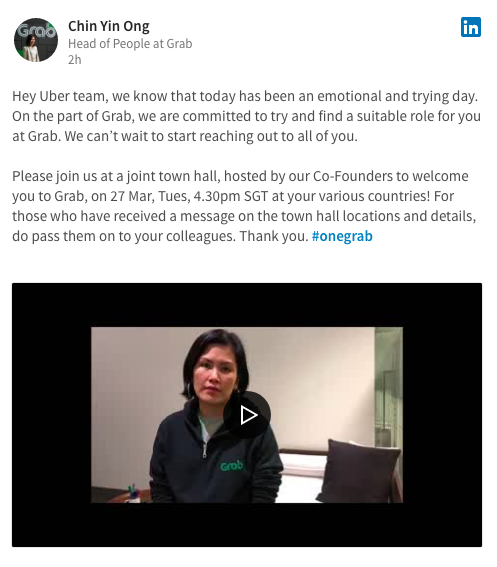 Drivers left in limbo
Aside from office employees, Uber drivers were also left scratching their heads.
Drivers who have contracts with Lion City Rental (a car rental subsidiary of Uber) were in for a rude shock when Lion City Rental suddenly posted a Facebook update that their physical offices were "closed until further notice".
As part of their contractual agreements when renting cars from Lion City Rental, these drivers are not allowed to drive for a company other than Uber. 
Other Uber drivers who had previously been banned from Grab were also unsure if they would be allowed back to Grab.
Grab has now clarified that these drivers can submit an appeal to Grab.
Some ComfortDelGro taxi drivers were also caught in the storm of confusion.
Since January 2018, ComfortDelGro partnered Uber to include the former's fleet in Uber's ride-hailing service. Naturally, as part of the agreement, ComfortDelGro taxi drivers were not allowed to use the rival app, JustGrab.
However, with the news of the sale, ComfortDelGro sent out a mass message to 23,000 hirer-drivers to "delete the Uber driver app", causing drivers to wonder what they can use now to get businesses.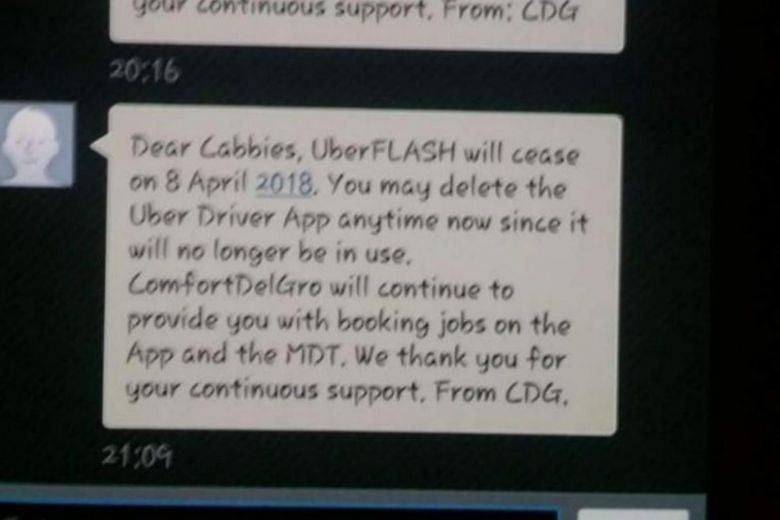 [related_story]
All Uber employees across the Southeast Asian offices have been put on paid leave for three months while Grab tries to find a suitable role for them (both full-time and contract employees) in the company.
Having said that, Ong qualified that there is no guarantee that all Uber employees will find the right fit in Grab, or accept the offer that Grab will make.
The Ministry of Manpower (MOM) has also assured workers that they are "following the situation closely" and able to provide employment assistance services to any of the affected employees via the Workforce Singapore and NTUC's Employment and Employability Institute. 
Workers who face employment-related disputes can approach the Tripartite Alliance for Dispute Management for assistance.
Townhall meeting on March 27
In order to plug the information gaps, Grab held a townhall meeting on March 27 to reach out to affected Uber full-time employees. While employees were assured that they will still have jobs offered to them at Grab, The Straits Times observed that some Uber staff were visibly upset and depressed with the news.
Staff who are contracted to Uber via agencies (i.e not full-time staff) were not invited to the townhall meeting however Grab has said that it will work with the agencies managing these contract staff to place them in suitable roles.
Grab also assured drivers that it will honour the contracts that drivers signed with Lion City Contracts until they expire. Additionally, Grab confirmed in a media statement on the same day that all Uber drivers who have contracts with Lion City Rental can accept bookings from Grab.
Confusion could have been avoided
However, all of these assurances came after the fact that Uber employees and drivers in Singapore were left in the lurch for half a day without news. The series of events that played out since March 26 could have very well been avoided with proper planning and communication with staff before the public announcement.
Speaking to Channel NewsAsia, Ong justified that Grab does not "have the email addresses of Uber employees" which is why the company could not reach out to the affected employees on March 26 (the day of the announcement of the sale to the public itself).
National Trades Union Congress assistant director-general Ang Hin Kee, in particular, admonished Uber for its failure to provide timely updates to their affected drivers as well as direction and clarity on their future options. Below is Ang's statement in full:
"Grab's acquisition of Uber business in Southeast Asia has caused much anxiety amongst the affected drivers. Both the National Taxi Association (NTA) and the National Private Hire Vehicles Association (NPHVA) are extremely disappointed by how there were no due notice given by Uber to their drivers, leaving many feeling uncertain and worried about their livelihoods. Both associations have tried to contact Uber office, but to no avail. While the associations understand that Grab has been actively engaging affected drivers, we hope that a clearer direction can be given by LCR and Uber on the options that they have pertaining to the platforms that they can use. NPHVA is currently in talks with Grab to see if all affected drivers can crossover smoothly to Grab with no major impact to their source of livelihood. Cabbies who were previously using Uberflash are also affected, and they would like to know if they can take on JustGrab jobs in the future now that the Uberflash option is gone. With that in mind, both associations are also checking with LTA to explore developing a regulatory sandbox to allow all cabbies or private hire drivers to have full access to all the apps and platforms available to reach commuters.

As it is, both associations have approached the Land Transport Authority and the Competition Commission of Singapore, and have raised concerns of drivers with them. Regardless of the outcome of this acquisition or if there would be any future alliances among fleet and apps operators, drivers and commuters must be able to access options and choices. Separately, looking at how rapid the industry is developing, it is more important than before that the authorities look at reviewing the landscape and the regulations for private hire operators and have measures in place to ensure that interests of our commuters and drivers are protected.

For affected employees who wish to seek employment assistance, they can approach NTUC's e2i (Employment and Employability Institute) for placement or training opportunities. If they require assistance on employment disputes, they can seek help from the Tripartite Alliance for Dispute Management."
As said by Ong, March 26 was indeed an "emotional and trying day" for Uber employees, but it would have been less so if both companies made an effort to smooth out the transition for their employees in the midst of such a hasty sale.
If you like what you read, follow us on Facebook, Instagram, Twitter and Telegram to get the latest updates.