From time to time, we may observe people spitting in public, but it's slightly rarer to actually be caught doing so.
So on Saturday, Mar. 3, there was noticeable reaction when a picture of a notice of fine for spitting in public was uploaded to a public Facebook group.
Called "FDW in Singapore (working conditions forum)", it appears to include both locals and foreigners who work here. Quite a few also appear to be foreign domestic workers (that's what FDW stands for, by the way).
But anyway, we can't tell from the details on the notice sheet (some have been redacted by the uploader) that it was a foreigner, or even a foreign domestic worker who was issued the fine, but the offence appears to have happened on Thursday, March 1, near a Burger King outlet along Paya Lebar Road.
Here's the picture of the notice: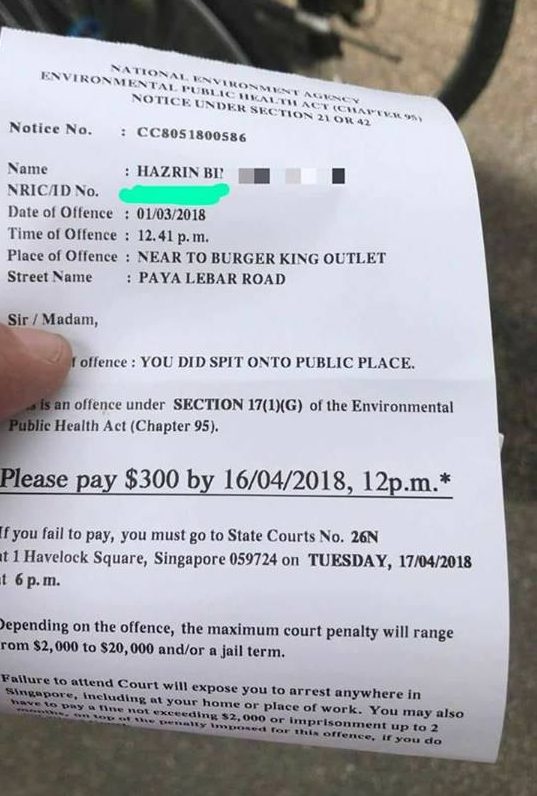 According to the Environmental Public Health Act, those who spit or expel mucus from the nose at a public place could be fined a maximum fine of S$1,000, even if it is the person's first time being caught. In this case, the person appears to have been fined S$300.
Foreign workers respond
Interestingly, instead of jumping to the offender's defence or support, commenters on that post, many of whom appear to be foreign workers here, were quite firm about conveying reminders to obey Singapore's law:

"in Singapore is very clear country, you can't littery around CCTV are in every corner this is the Singapore law follow the law or will be.

So don't throw anything or pick up anything, so must pay the money"

"That is Singapore rules..Must obey singapore rules. Sorry to tell u this but everyone must need to follow singapore rules."

"Now very strict sg.. they nver wear police uniform like sibilant same normal wear last month my friend catch the police my friend try to smoke in public.. Just take only cigarette his pocket then police catch.. Violation $300"
Citing the example of public urination, one commenter also brought up the fact that law enforcement is far less strict back in the countries they may come from. However, things are different in Singapore where laws are actively enforced — even adding they are good for deterrence: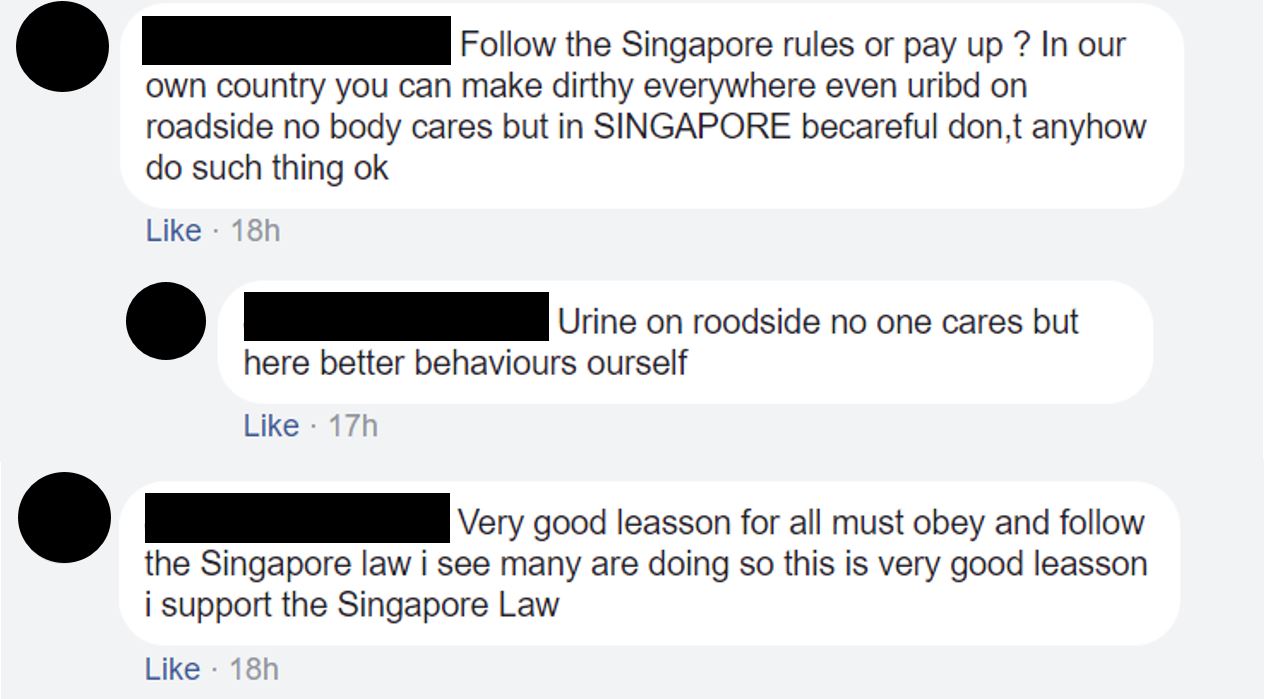 "Follow the Singapore rules or pay up?In our own country you can make dirty anywhere even urine on the roadside nobody cares but in Singapore be careful don't anyhow do such thing ok"

"Urine on roadside no one cares but here better behaviours ourself"

"Very good lesson for all must obey and follow the Singapore law I see many are doing so this is very good lesson i support the Singapore law"
[related_story]
Not just about the money
With our country's system of strict laws and enforceable penalties, it comes as no surprise that we now take ourselves for granted as a "fine city".
Just two months ago, a Bangladeshi worker was fined S$2,000 for plucking leaves from a tree at Botanic Gardens.
While the hefty fine is a good enough reason to follow the law, some comments also expressed the view that one should always follow the laws of the country they are in.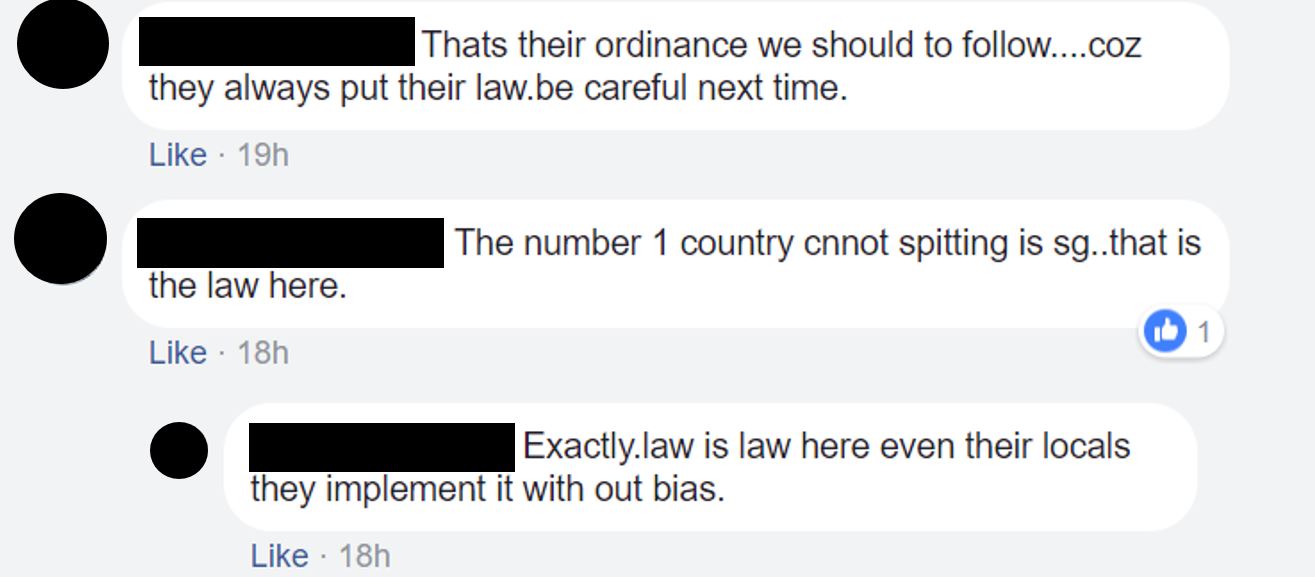 "That's their ordinance we should to follow...coz they always put their law. Be careful next time."

"The number 1 country cannot spitting is sg...that is the law here."

"Exactly. law is law here even their locals they implement it without bias."

"Just followed up the rule.... Because is not our country"
Not bad.
Top photo adapted from Shutterstock and Facebook post
If you like what you read, follow us on Facebook, Instagram, Twitter and Telegram to get the latest updates.