A Girl and A Bald Traveller is a travel blog by a Singaporean couple.
They share about their adventures around the world, often focused on roads less travelled, such as Tanzania, Zimbabwe, Botswana, Georgia, Portugal, Ukraine and Belarus.
And then one fine day, the bald guy pretty much had enough of people boasting about the strength of the Singapore passport but not fully utilising it.
So, he did a post listing his reasons why Singaporeans aren't using their passports fully.
Here's a quick summary of the article:
Many Singaporeans make excuses that they can't travel more because of money issues, but the writer argues that Singaporeans can afford expensive devices and items, along with and eating out at expensive restaurants.

Singaporeans are supposedly also too tied down to their commitments, which is to "study, graduate, get a job, get a car, get a partner, get a flat, have a family, retire, then die".

Our mindset towards countries skews towards touristy, comfort zone places, which the writer feels stems from Singaporeans "white supremacy inferiority complex"

Singaporeans are mostly ignorant about other countries, thinking that certain ones are still at war or largely unsafe. 

Singaporeans are Instagram "whores", swarming to areas that are popular and to be seen at. 
Hard truths or condescending?
Some of the views expressed have gotten under the skin of readers, as they are overbearing, such as the following:

The writer also makes some somewhat condescending statements, such as "our passport is more useful in the hands of an African refugee":

And yes, he mentions his Rolex watches.


It's not their fault
It is true that some Singaporeans who mention wanting to travel end up making excuses about why they cannot do so.
It is also true that there are places that people don't usually travel to that turn out to be pretty amazing, such as Uzbekistan, for example.
However, it might be a little rich to fault Singaporeans for not using a passport the way they "should" be using it.
Readers feel shamed for not travelling so widely by not using their strong passport which was "given to them by default".
After all, not all Singaporeans like to travel, and may indeed have other priorities in life, which means travelling is not the number one thing to tick off their to-do list.
Additionally, while we can't explain buying a S$400 wallet, certainly people don't just buy iPhones after considering a trade-off between a holiday. For some, a good smartphone helps with their work responsibilities, or other needs in life they prioritise above travelling.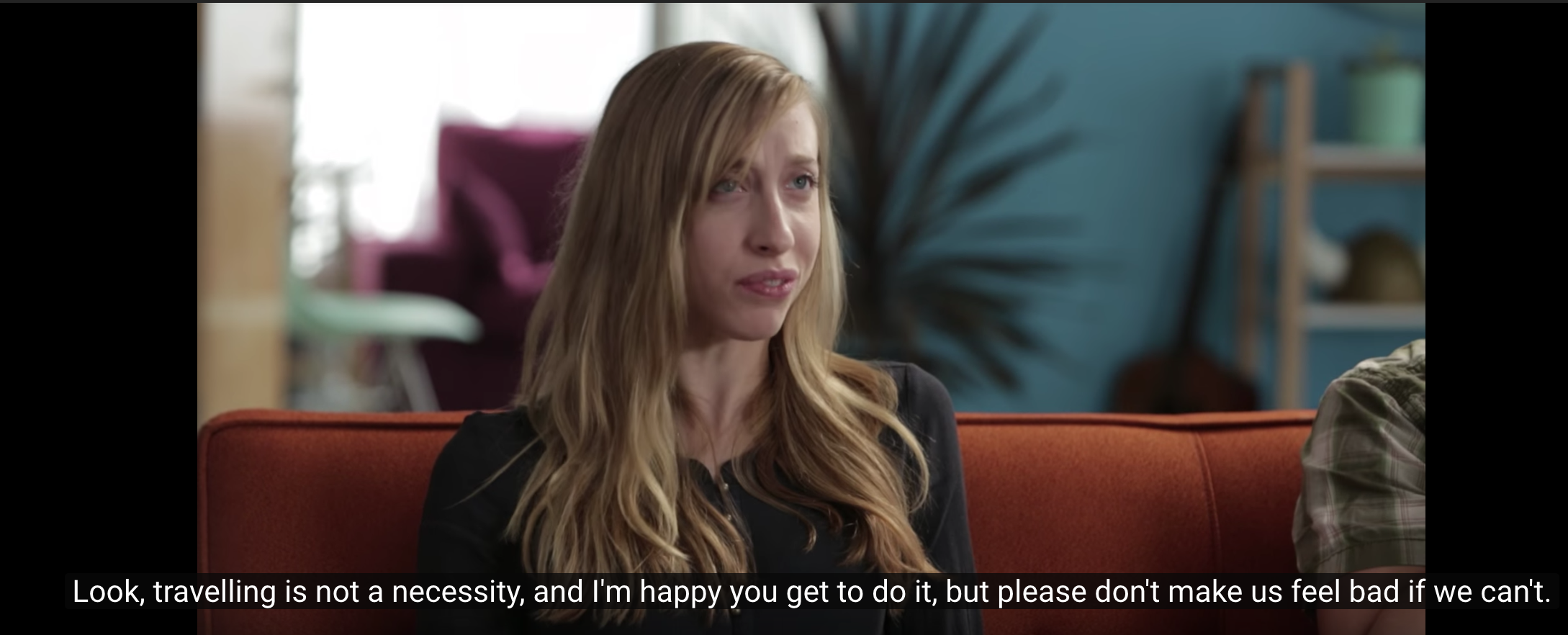 [related_story]
Internet people respond
While some agree the post contains salient points, they also noted that it is a mix of self-praise and not-very-convincing conversion spiel: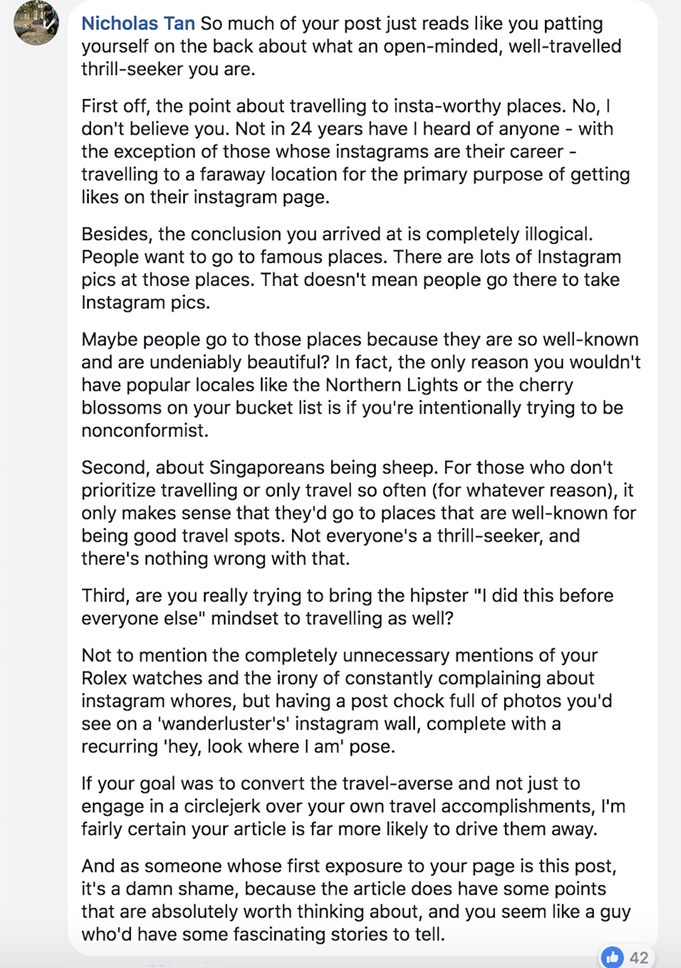 The writer has since responded, standing by his tone and style of his writing: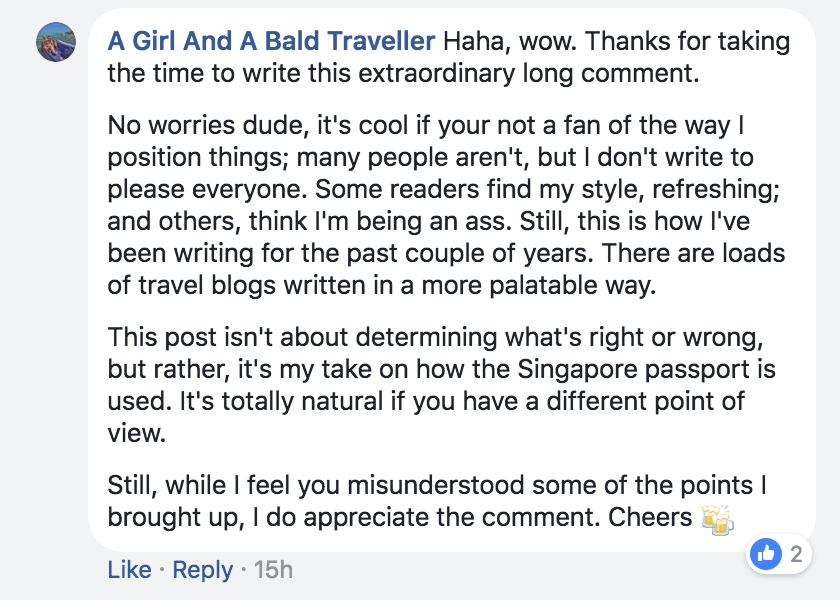 Others pointed out that his post was rather egotistical, and while Singaporeans don't prioritise travelling as much as he does, there was no need to portray it as such a crime.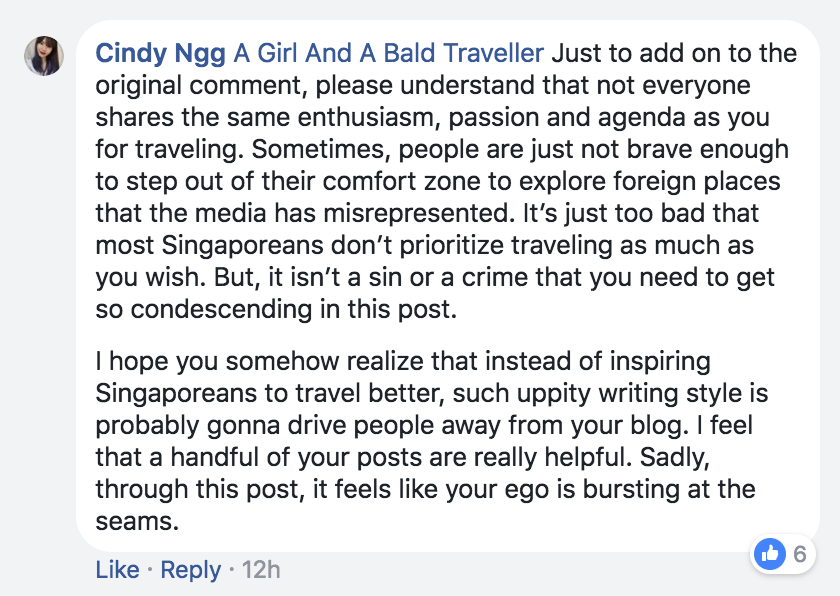 And some more defence: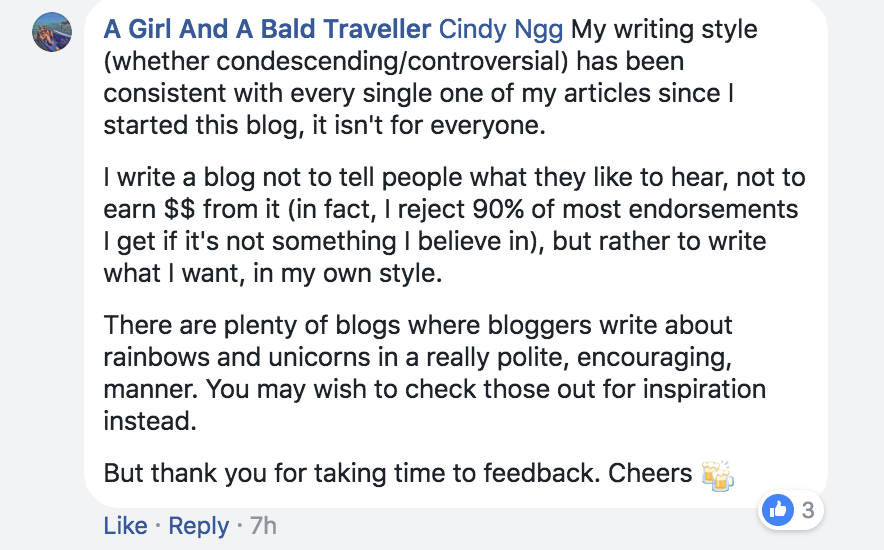 He doesn't seem to care if it makes him sound bad either: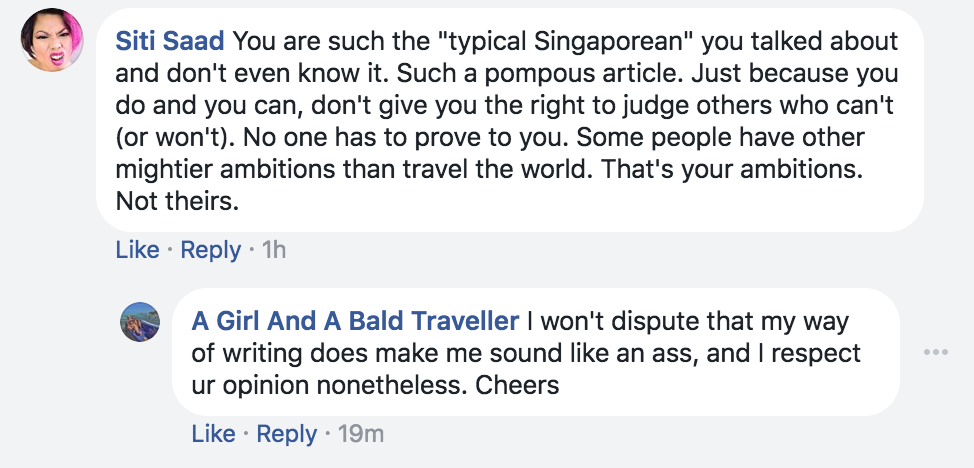 And more criticisms:
Regardless, the post has a following of people who think that what was said resonated with them.
In any case, you're free to travel wherever you want and however you want, but whether you'll be deemed to be just like the rest of the sheeple by a certain well-travelled Singaporean, that's another story.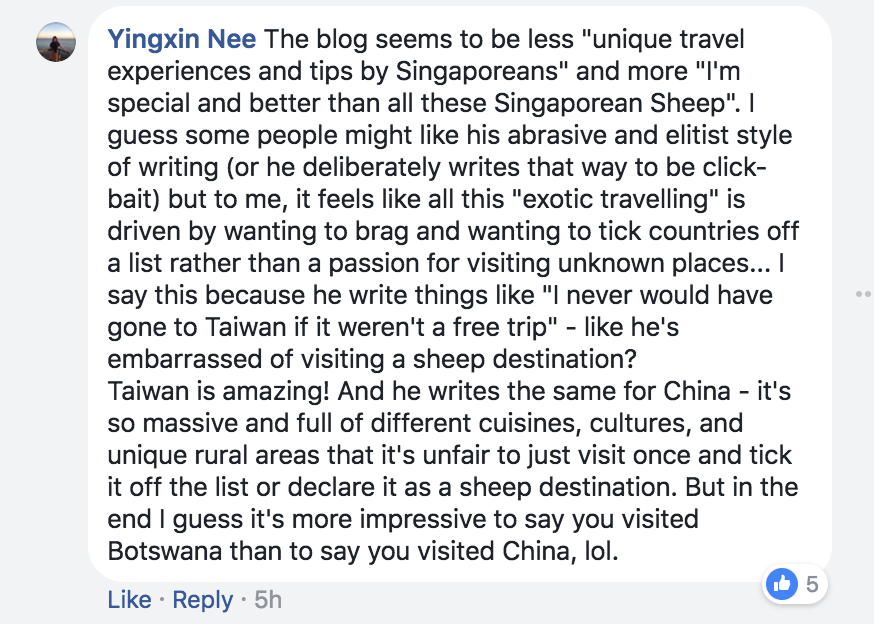 The latest update, two days after the post was published, is that the post has temporarily been taken down following the backlash: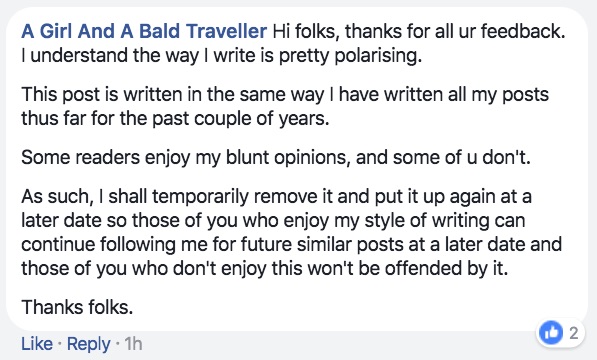 Top image via A Girl And A Bald Traveller's Facebook page
If you like what you read, follow us on Facebook, Instagram, Twitter and Telegram to get the latest updates.