People with infirmities in Singapore, you can heave a sigh of relief.
Sengkang Health (SKH), comprising the general and community hospital, and medical centre, is finally opening in 2018.
A much-needed hospital
SKH will have 1,400 beds and is meant to ease the bed crunch problem at public hospitals, a pre-existing condition in Singapore since the early 2000s.
As a result, certain procedures and facilities have been introduced over the years to ensure beds are available for those who really need them.
For instance, Tan Tock Seng Hospital (TTSH) has periodically closed its doors to non-critical ambulance cases and diverted these patients to other hospitals.
Changi General Hospital also had to take over a ward of 33 beds from the neighbouring St Andrew's Community Hospital.
Bed crunch a hot-button issue
A shortage in supply of hospital beds is not a new problem.
It surfaced as one of the hot-button issues during the 2011 General Elections, together with population growth and public transport woes.
On March 4, 2011, a mere two months before the General Elections, then-Minister for Health Khaw Boon Wan announced the government's plans to build a new general hospital in Sengkang.
In his speech, Khaw said:
"Dr Lam Pin Min will be pleased to know that a new general hospital will come up in his constituency to serve the residents living in the north east. The new Sengkang General Hospital will be located next to the Cheng Lim LRT station. It will also be within walking distance to the Sengkang MRT station, which is in Mr Charles Chong's constituency. "
General hospital in every region
SKH was part of the government's vision to have a general hospital in every region.
In the north, there was the newly-opened Khoo Teck Puat Hospital (2010) and in the west, there was Jurong General Hospital and Ng Teng Fong General Hospital that opened in 2015.
There were no government hospitals in the north-east until now.
Before SKH, north-east residents were mostly served by Changi General Hospital in Simei in the east.
SKH is meant to serve the residents of Sengkang, Punggol, Hougang and Pasir Ris.
Completed ahead of schedule
According to the announcement made in 2011, SKH was supposed to open by 2020, given the lead time of six to seven years to design and build.
It was completed ahead of schedule and is set to open by the second half of 2018.
The hospital will add 1,000 beds for the General Hospital and 400 beds for the Community Hospital.
The purpose of the Community Hospital is to provide a supporting role in healthcare by offering medical services for patients who require a short period of continuation of care.
[related_story]
Alleviating bed shortages?
As of 2016, there were over 10,000 beds for acute hospitals.
According to this graph, the bed occupancy rate for different hospitals between March 4 to 10, 2018 showed only a small buffer.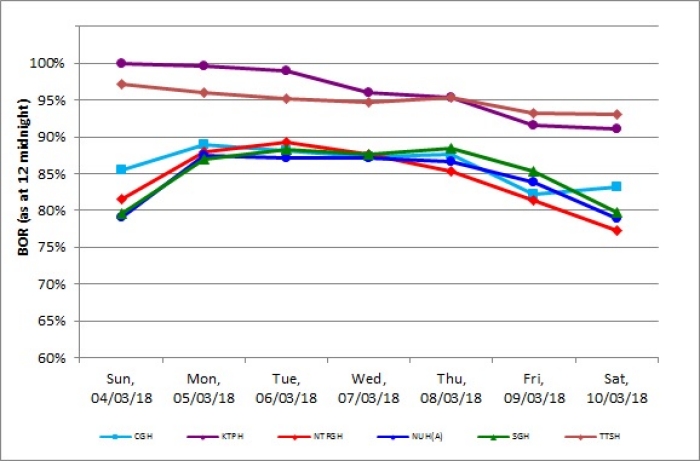 Bed occupancy rates above 80 percent are considered very high.
Currently, our bed occupancy rates generally still hover at 80 percent or above.
With the addition of SKH, the 1,000 beds are expected to contribute to an added 10 percent capacity for public hospital beds in Singapore.
Top photo from Facebook.
If you like what you read, follow us on Facebook, Instagram, Twitter and Telegram to get the latest updates.