Barack Obama, the 44th president of the United States of America, was in Singapore on March 19, 2018.
Gave lecture
As part of his post-presidency lecture circuit gig, Obama spoke at the Shangri-la Hotel Island Ballroom at the invitation of the Bank of Singapore, a subsidiary of OCBC Bank.
Some 1,000 of the private bank's clients and guests from all around the world were in attendance.
Obama, 56, spoke about his life journey, climate change and his vision for the next generation during the hour-long closed door session.
It was moderated by former Nominated Member of Parliament and communications consultant Viswa Sadasivan.
It is not known how much Obama is paid by the bank in Singapore, but the New York Times said his speaking fees have gone up to US$400,000 (S$529,000) per speech.
The bank had previously invited Nobel Prize recipients and economists Paul Krugman and Joseph Stiglitz, to address its clients.
Obama in photos
Prime Minister Lee Hsien Loong last met Obama at Apec 2016 in November that year. They had dinner and caught up during this second year of the Trump administration:
Obama also tweeted about his lecture here:
In Singapore with young people who are advocating for education, empowering young women, and getting involved all over Southeast Asia with a profoundly optimistic commitment to building the world they want to see. https://t.co/so4Uqouu8M

— Barack Obama (@BarackObama) March 19, 2018
He challenged his audience to give money, time and other resources to better the lives of others -- which is what his Obama foundation is doing globally.
Former US Ambassador to Singapore, Kirk Wagar, was back in Singapore to meet Obama.
https://www.instagram.com/p/Bggs5dtn-nt/
Young Asean leaders meeting with the greatest orator of our time: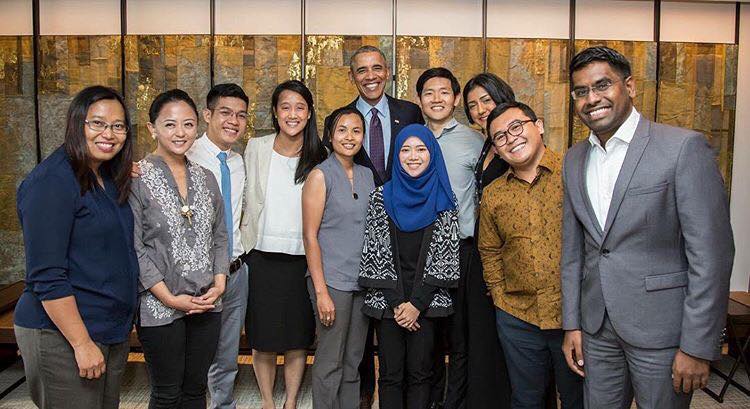 LinkedIn-worthy.
If you like what you read, follow us on Facebook, Instagram, Twitter and Telegram to get the latest updates.