The Singapore Police Force's annual crime brief was released on Feb. 3, 2018.
It revealed that the largest amount cheated in a single case last year was -- get this -- a mind-blowing S$6 million.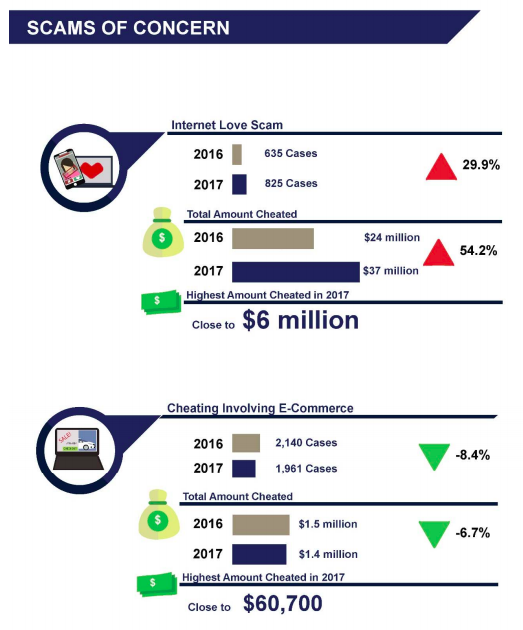 Internet love scam crimes increased 29.9 percent to 825 cases in 2017.
In 2016, it was 635 cases.
The total amount cheated also increased 54.2 percent to the tune of some S$37 million in 2017.
E-commerce scams remain a concern
Number of reported cases remain high even though statistics revealed that e-commerce scams decreased by 8.4 percent to 1,961 cases in 2017.
In 2016, there were 2,140 cases.
The total amount cheated last year was at S$1.4 million in 2017, down from S$1.5 million in 2016.
The largest amount cheated in a single case in 2017 was some S$60,700.
Tips from the Police on how not to get scammed
1. Internet Love Scam:
• Be wary of strangers who befriend you online. They may not be whom they
claim to be.
• Do not send money to people you do not know well, especially if you have
not met them in person.
• Be in control of your emotions and meet all requests for money with a cool
head, knowing that it may be a scam.
• Call the Anti-Scam Helpline at 1800 722 6688 to check, if you receive any
message or call from someone claiming to be in trouble overseas and
urgently needs you to send money.
2. Cheating involving E-Commerce:
• Exercise extra caution when you come across unrealistic bargains for
concert tickets, apparel, hotel stays and electronic products.
• Always check the buyer's or seller's track record. Buy only from reputable
vendors and sellers.
• If advanced payments are required, use shopping platforms that provide
arrangements to only release your payment to the seller upon your receipt
of the item.
Overall crime came down. Yay.
The overall crime stood at 32,773 cases in 2017, a 1 percent decrease from 33,099 cases in 2016.
Crimes such as robbery, snatch thefts, housebreaking and motor vehicle and related thefts were at an all-time low.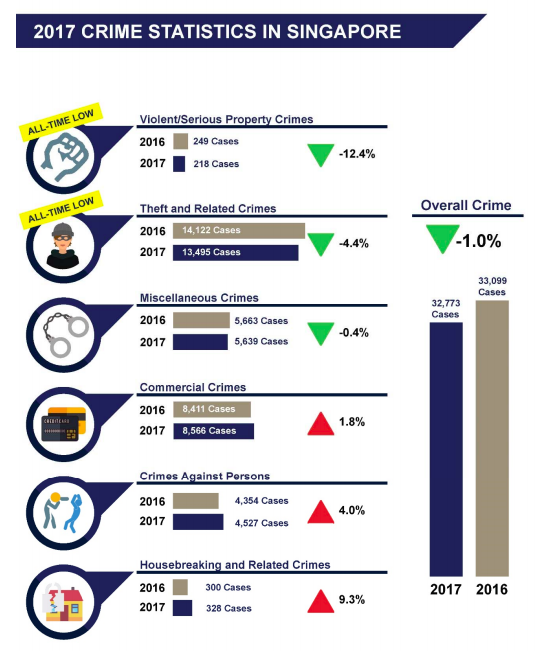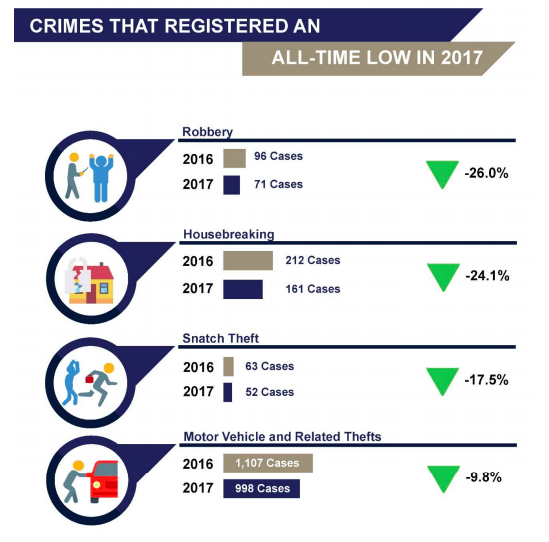 You can read the full crime statistics report on the
Singapore police force site
.
If you like what you read, follow us on Facebook, Instagram, Twitter and Telegram to get the latest updates.