The mark of a good hotel is how accommodating it can be when guests make special requests.
Sometimes, guests might need a little extra something if they have a physical condition, or if they are travelling with young children.
But sometimes, you just want to open the door to your hotel room and be greeted by the sight of Academy Award-nominated actor and living legend, Jeff Goldblum.
An unusual request
A Reddit member, who goes by the username of cornwallis1 posted this thread on the "Funny" subreddit, titled "Jeff Goldblum Request Escalates Quickly".
The Redditor, cornwallis1, whose real name appears to be Elliott, booked a stay at the Singapore Marriott Tang Plaza Hotel in Orchard area for himself and his wife in February 2018.
He emailed the hotel with some basic information -- and made a very special request.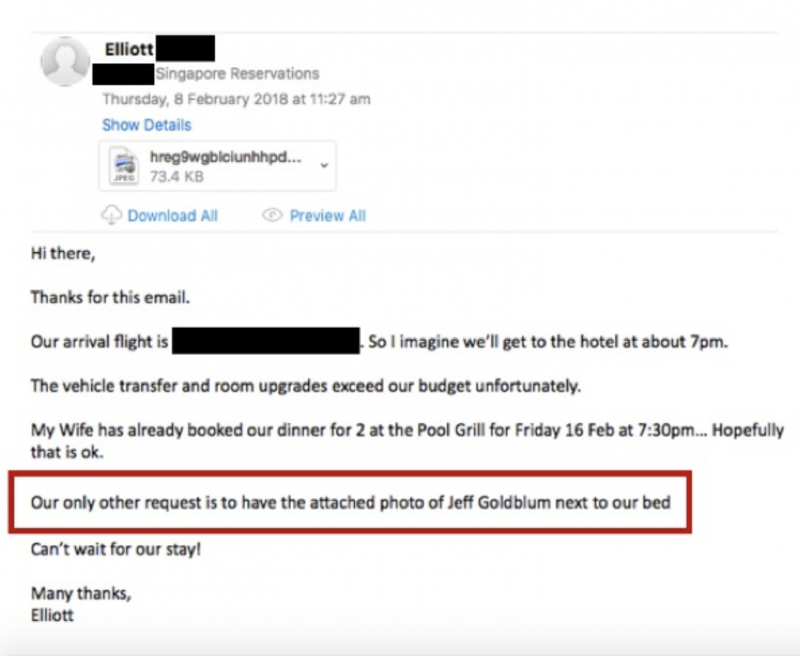 [related_story]
The picture of the Jurassic Park star he included was this one: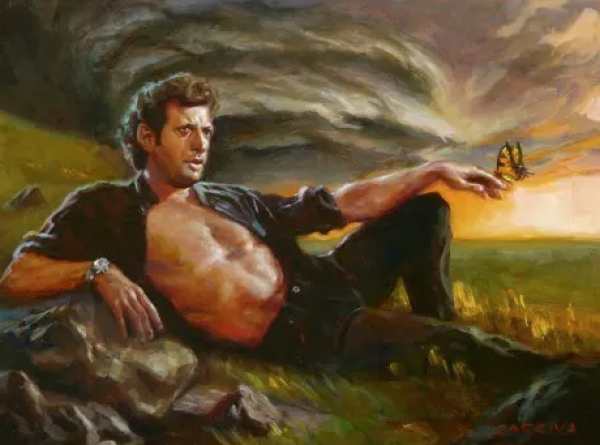 Sure, why not?
Now you would be forgiven for thinking that Marriott Singapore Tang Plaza would simply brush off this rather strange request.
But when Elliott landed in Singapore and got to his room, he was greeted by this magnificent sight: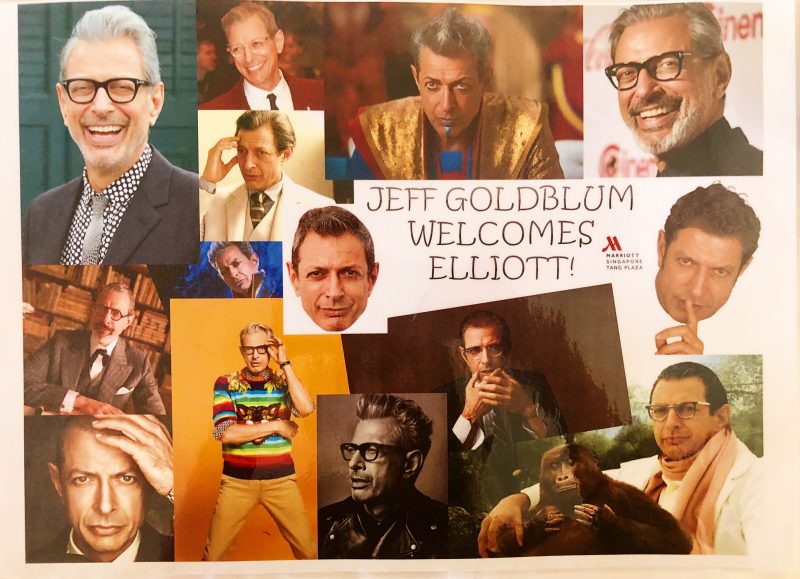 The hotel staff had prepared a collage of Goldblum goodness and left it on his pillow.
But they didn't stop there.
According to Elliott:
"I arrived at the hotel to see a "Jeff Goldblum Welcomes Elliott" collage on my pillow. Nice.

I returned to my room later after a few drinks and kept discovering Jeff Goldblum photos. In the hall. On top of the TV. On the bathroom mirror."
The staff truly went above and beyond, making sure that Elliott and his wife would be able to see the Thor: Ragnarok star no matter where they were in their room.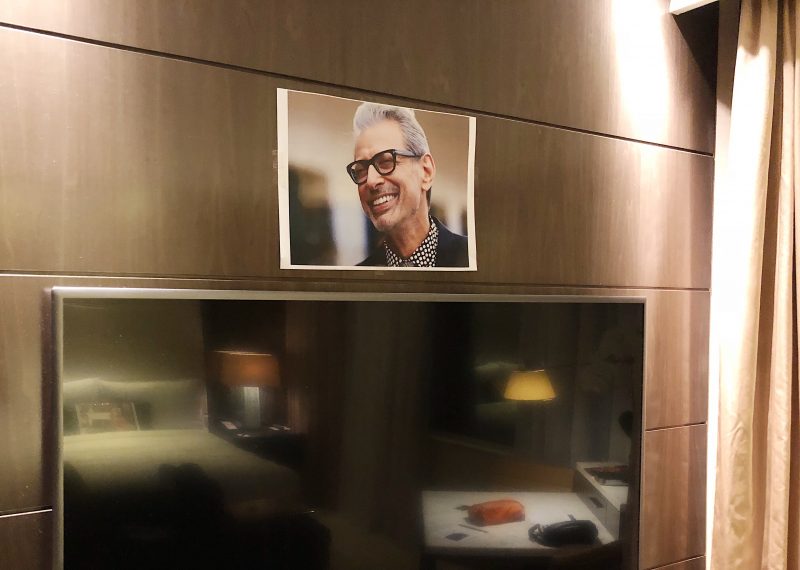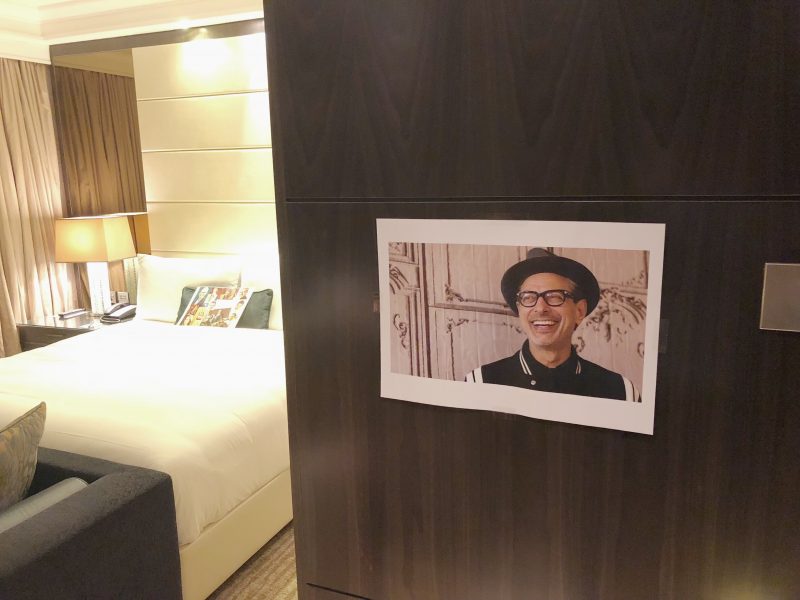 Imagine making a bathroom trip and seeing the Independence Day star smiling down on you.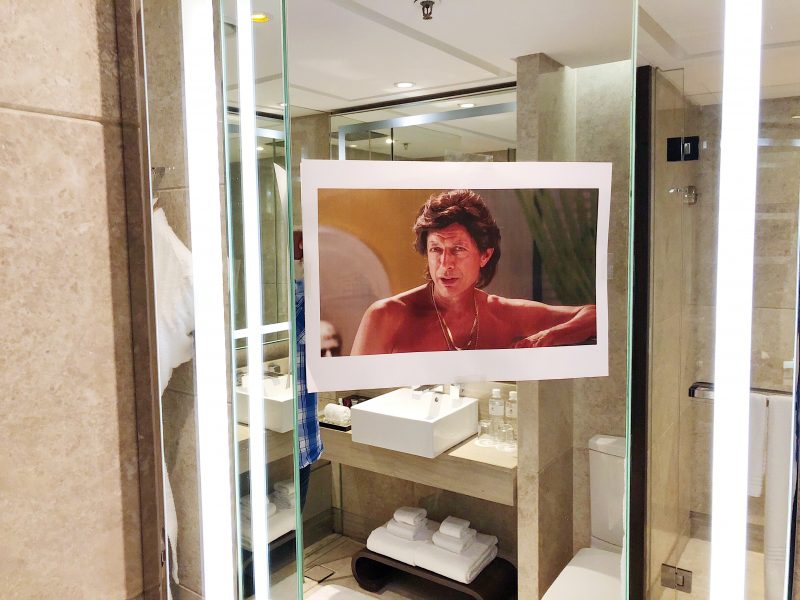 On a technicality
When contacted, Singapore Marriott Tang Plaza Hotel confirmed that Elliott did make a reservation and he did make the request, which the hotel's personnel were happy to help with.
Aryani Khalit, an assistant guest relations manager, said:
"It was indeed our associates who placed the photos in the room for our guest prior to his arrival. We do hope that the guest did enjoy the photos and it has made his stay a more memorable one."
Although Elliott was happy with the care and attentiveness of the hotel staff, he did point out one small error that they made:
"Although they technically failed because the one photo I had asked for didn't appear anywhere, I'll take it. Well played, hotel."
However, one can argue that too many Goldblums is better than too few.
Here are some interesting articles you should check out next:
Regular S'poreans are best & worst line of defence against new threats
Quiz: What kind of Chinese New Year gift are you?
Top image from Imgur
If you like what you read, follow us on Facebook, Instagram, Twitter and Telegram to get the latest updates.