It could be a major threat to Singapore's economy or just another pie-in-the-sky idea, but there's a new twist in the tale of Thailand's Kra Canal project.
On Feb. 11, the Thai government spoke out publicly on the project for the first time in a long while.
According to Bernama, the Thai government officially does not have a policy on the Kra Canal, nor is it one of their priorities. Said government spokesman Lt. General Sansern Kaewkamnerd:
"There are still other 'problems' in the area, therefore they (the other problems) must be prioritised."
Sansern added that Prime Minister General Prayut Chan-o-cha had insisted that his government did not view the Kra Canal as a priority.
New waterway
The Kra Canal is a proposed man-made canal that will link the Indian Ocean to the South China Sea.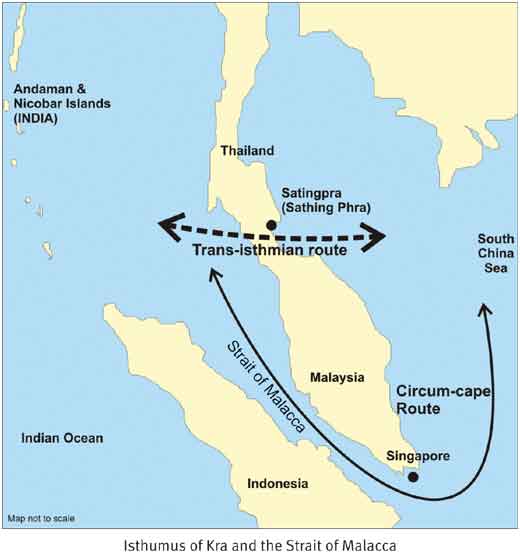 As you can see from the map above, the Canal would represent a quicker option for ships traveling from the Middle East en route to China, bypassing Singapore completely.
That is, if it ever gets built.
[related_story]
Public response to private individuals?
The report also mentioned that Sansern's statement was made in response to a "movement" led by influential figures in Thailand who are interested in seeing the project come to fruition.
This could be in reference to a group of ex-military, government-linked Thai individuals who formed a group called the Thai Canal Association for Study and Development (TCA for short).
In Sep. 2017, the TCA organised a conference in Bangkok, which was attended by businessmen with ties to China.
However during the event, some members of the TCA said that a feasibility study had to be conducted first.
The group has been urging Thai citizens to share their thoughts about the project online.
However, Sansern specifically urged people living in southern Thailand to exercise caution regarding messages about the project as it could be misleading for the public.
According to Sansern, the government is still weighing the pros and cons of the canal.
Other problems
Sansern's euphemistic mention of "other problems" and his statement to Southern Thais in particular could be a reference to the separatist movement in Southern Thailand.
Although the number of violent incidents has decreased in recent years, there was a recent bomb attack in a market in the Southern province of Yala on Jan. 22, 2018.
A large scale infrastructure project like the Kra Canal could be a high-priority target for a separatist attack. And even if it is completed, it would split the country in two and physically separate the troubled Southern provinces from the rest of Thailand.
Perhaps that's why it's not seen as a high-priority for the Thai government for now.
Here are other interesting articles to check out next:
Noob learns to code for three hours, tries to replicate Mothership as fake news site
Quiz: What kind of Chinese New Year gift are you?
Random trivia about Changi Airport you never needed to know
Top image by LILLIAN SUWANRUMPHA/AFP/Getty Images.
If you like what you read, follow us on Facebook, Instagram, Twitter and Telegram to get the latest updates.