An expecting mother who is also a dog owner, was told off after she sought help to re-home her dog.
Instead of having her appeal for help declined politely, she was told to give up her baby instead.
The situation
The expecting mother, Joyce Wong, who already has a son, owns a three-and-a-half year old mongrel.
This is according to a post in a private Facebook group named Pets Up For Adoption (Singapore), which was shared with Mothership following a tip-off.
Wong laid out the details of her situation:
For the past two-and-a-half years, she and her husband own a three-and-a-half year old mongrel dog.

She supposedly adopted it via Save Our Street Dogs (SOSD) Singapore's Project ADORE, which helps HDB flat owners to adopt dogs.

She has a young son of about six years old, and she's expecting another baby soon.
Territorial dog
However, even though Wong's dog is healthy, playful and friendly, it can be very "territorial" at home.
She said her son had been bitten three times by the dog in the past, and he had to be taken to hospital for treatment for his injuries.
In response, she supposedly spent thousands of dollars to send her dog for behaviour training with three different trainers.
With a new baby on the way, Wong expressed concern that the baby might crawl into the designated boundary set aside for her dog and might be injured.
To prepare for her new child's arrival, she and her husband decided to re-home the dog instead.
Help please
Wong said she first sought help from friends, relatives and pet-lovers websites, including SOSD.
While "trying her luck", she came across a group named, "Exclusively Mongrels Limited", and sent a message to the person in charge.
This is the conversation, with Wong's messages showing a grey background: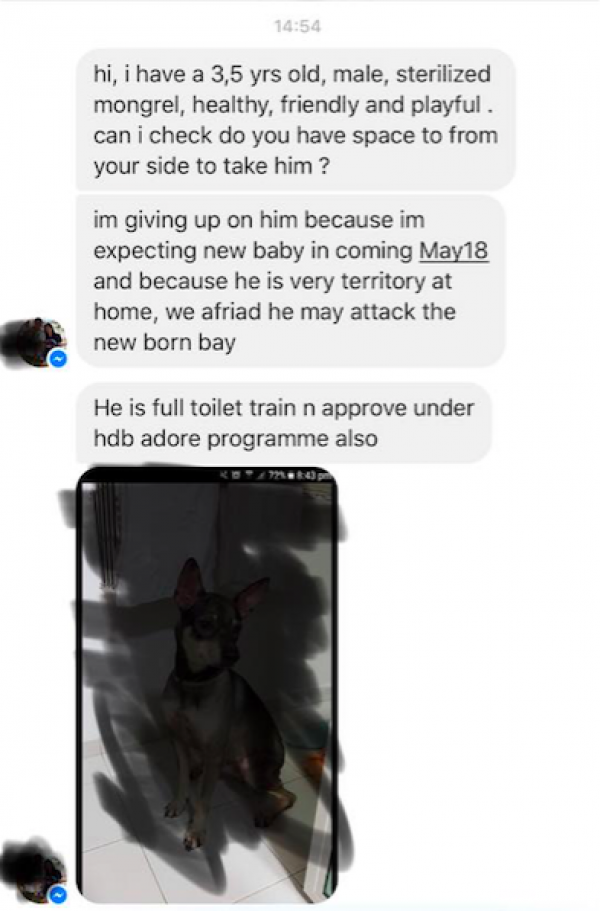 That's when things got feisty.
The person in charge appears to be a Jason Ong, whose Facebook profile states that he is the Director of Exclusively Mongrels Limited, a non profit organisation dedicated to promoting the welfare of mongrel dogs.
In response to the queries, Ong suggested that Wong should "rehome the baby instead":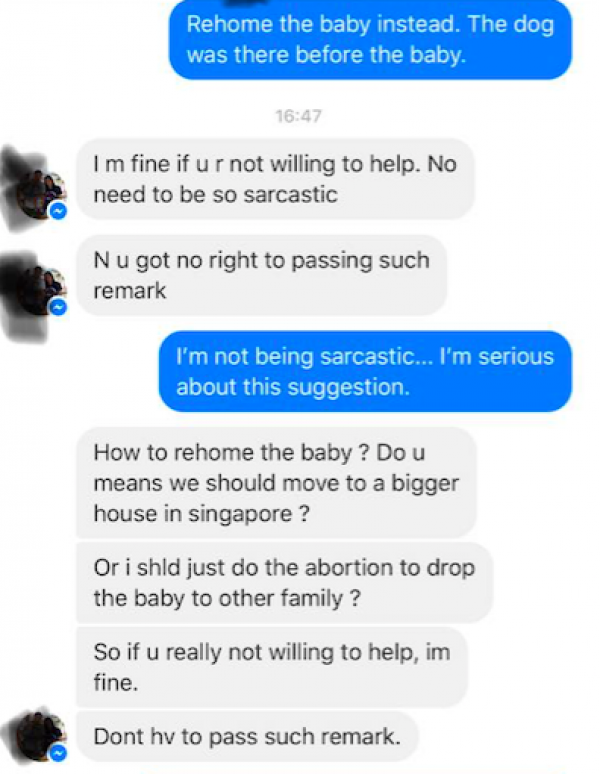 Ong countered by saying he would give up the baby for adoption instead. He also called Wong a "self-centred brat" and said she had no "sense of responsibility":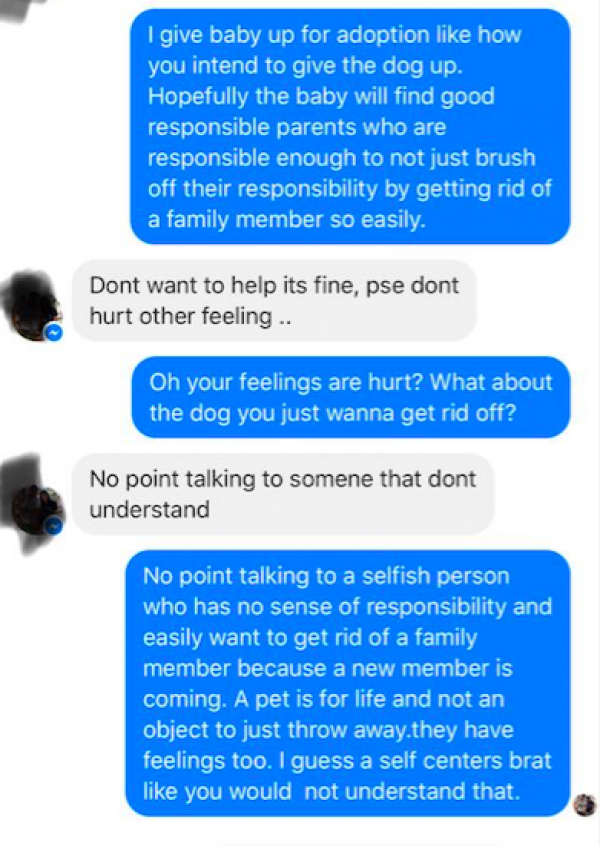 Ong added that he would be happy to help Wong re-home her dog, if she was "terminally ill" and "dying":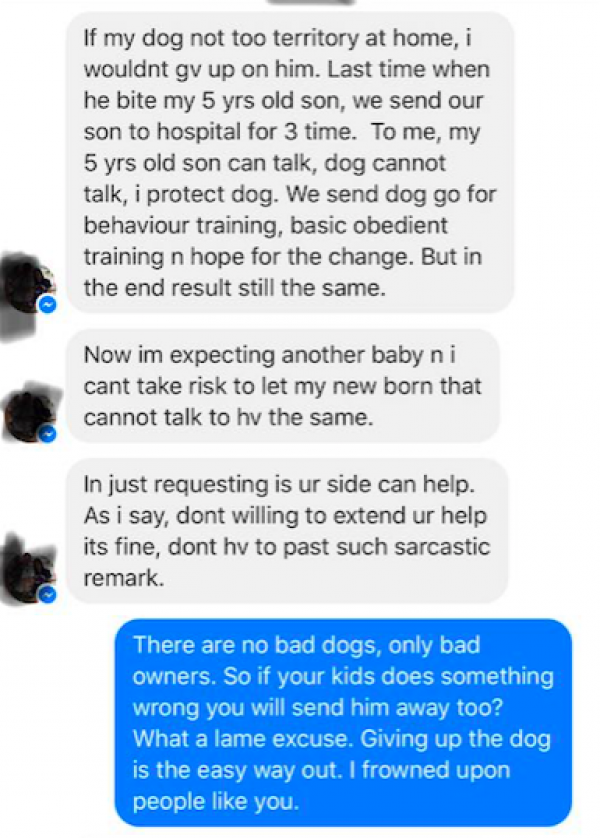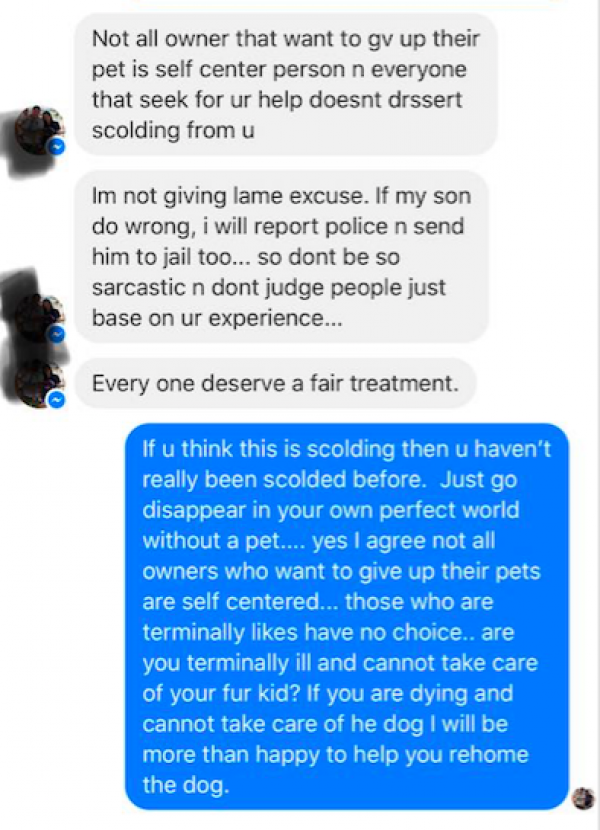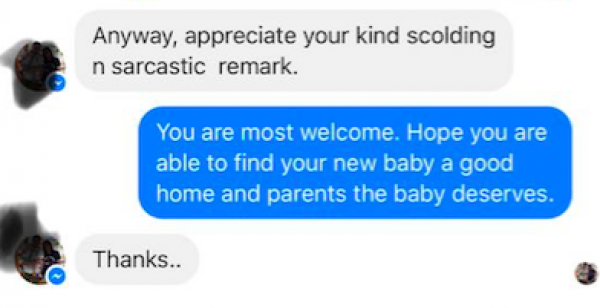 Ong then posted screen shots of his conversation with Wong on Facebook with the caption, "Burn bitch burn!!!!!"
[related_story]
Heavy responsibility
There are real concerns over dog owners abandoning pets in Singapore.
Dogs that have been re-homed too many times may end up having difficulty trusting people and are more stressed out.
However, if what Wong described is true, the fact that her dog has bitten her son three times in the past has given her legitimate cause for concern.
Even though territorial dogs can receive training to tone down their behaviour over time, time and effort to do so are a luxury with a new addition to the family.
With no help forthcoming from Exclusively Mongrels Limited, Wong has supposedly turned to other pet groups for help.
Top photo via SOSD Singapore
If you like what you read, follow us on Facebook, Instagram, Twitter and Telegram to get the latest updates.