A young man who claimed to have hit his girlfriend publicly after drinking was seen holding a hand-written sign beseeching members of the public to slap him, presumably as punishment: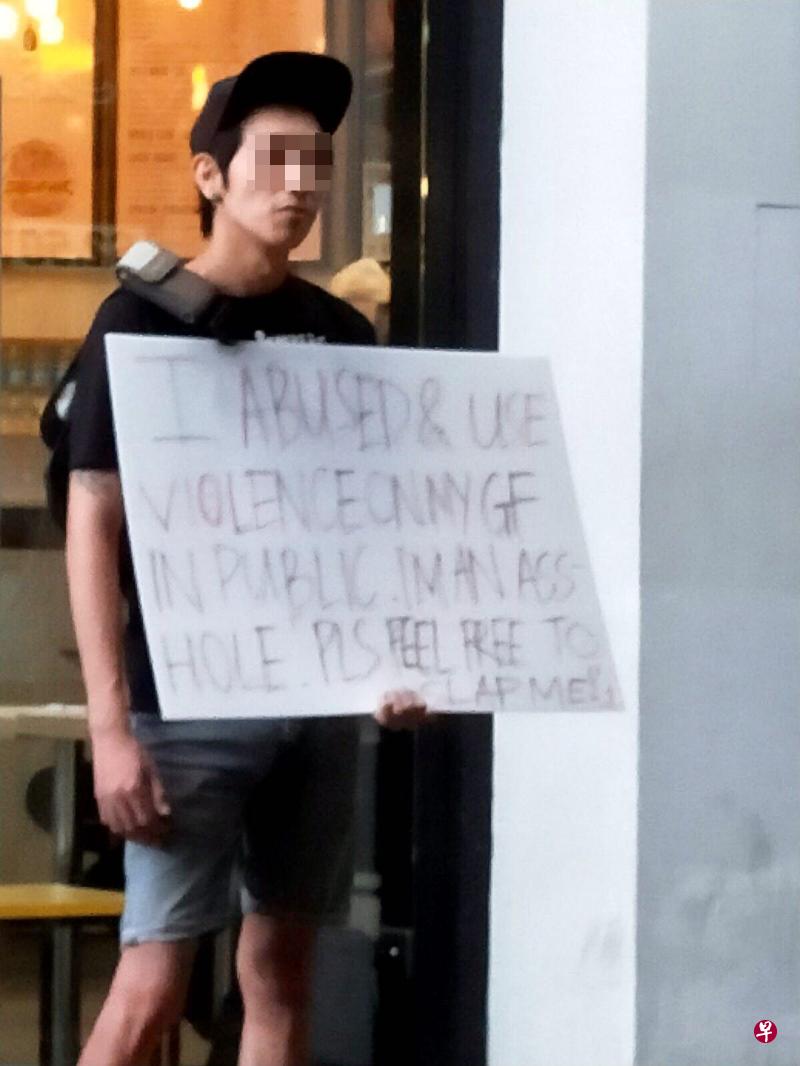 The sign reads "I abused and use violence on my gf in public. I'm an asshole. Pls feel free to slap me!"
According to Shin Min Daily News (SMDN), the incident occurred on Dec. 29, around 2pm at White Sands Mall in Pasir Ris. The spectacle lasted for around five hours.
[related_story]
Girlfriend seated nearby in the vicinity
A reader of the Chinese Daily known as Ms Wu, 49, observed the young man standing outside the mall during the evening peak hour. Close to two dozen people had gathered around and watched him with curious eyes but he was indifferent to the public scrutiny.
Wu relayed that the young man was "quite handsome" and spoke English with a western slang. He wore a black T-shirt, denim bermudas, a baseball cap, and had a tattoo on his right arm.
When questioned by Wu, the young man reiterated what was written on the sign and expressed his regret, as well as his desire to seek forgiveness from his girlfriend.
He also disclosed that his girlfriend seated nearby in the vicinity throughout his act, but declined to reveal any additional information.
No one dared to slap him
Based on what SMDN found out from Wu and shopkeepers nearby, no one dared to walk up and slap the young man despite him standing there for five hours.
Members of the public interviewed by SMDN criticised his act as childish.
If you like what you read, follow us on Facebook, Instagram, Twitter and Telegram to get the latest updates.