Revered as India's Father of the Nation, Mohandas Karamchand Gandhi was the iconic leader of modern India's successful independence movement against British colonial rule.
Dubbed with the honorific Mahātmā (Sanskirt for venerable), he was a unique leader, who did not advocate the use of violence, such as armed revolutions or military coups, to gain control -- unlike revolutionary predecessors before him.
[caption id="" align="aligncenter" width="322"]
Gandhi. Source: Wikipedia[/caption]
Instead, Gandhi employed non-violent civil disobedience to lead India to independence from the British.
His philosophy against violence and retaliation is summed up in the following quote that is often attributed to him:
"An eye for an eye only ends up making the whole world blind"
Through his charismatic leadership, India gained its independence on Aug. 15, 1947.
Gandhi's method of non-violent resistance has inspired the likes of U.S. civil rights leader Martin Luther King Jr., and anti-apartheid activist and former President of South Africa, Nelson Mandela.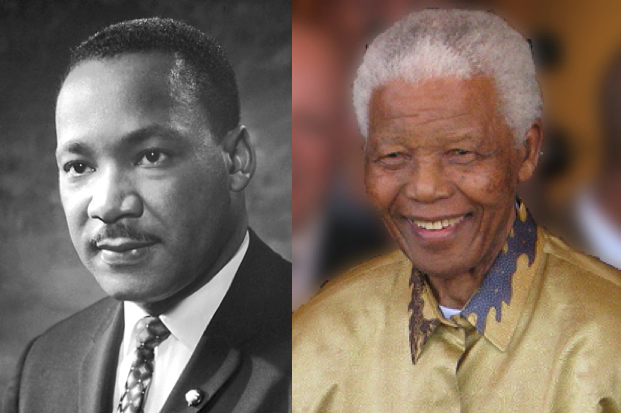 Assassinated 70 years ago
Despite his immense popularity, however, Gandhi also had his share of detractors.
One of them assassinated him in New Delhi on Jan. 30, 1948. This year marks the 70th anniversary of the incident that shocked the world.
The lone gunman, Nathuram Godse, shot Gandhi three times at point-blank range.
Godse, was a Hindu extremist, blamed Gandhi for the violence and suffering that erupted when the British partitioned the Indian subcontinent into Pakistan and India.
Gandhi's ashes were sent to Singapore in 1948
Gandhi's death was mourned by many all over the world. His body was cremated, and his ashes were divided up into several urns and sent to various parts of India and the world, including Singapore.
According to a Straits Times report on Feb. 18, 1948, an Indian government official in Singapore named J A Thivy made a request to Gandhi's son, Devadas Gandhi, to send his father's ashes to Singapore.
Thivy's request was made on behalf of the Indian community leaders in Singapore who had suggested it to him.

The ashes arrived in Singapore on the night of March 15, 1948 at Kallang Airport on a Malayan Airways flight, instead of the Cathay Pacific flight in the article below.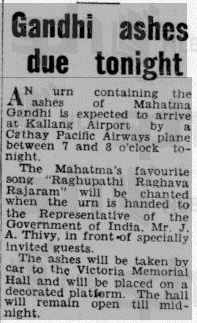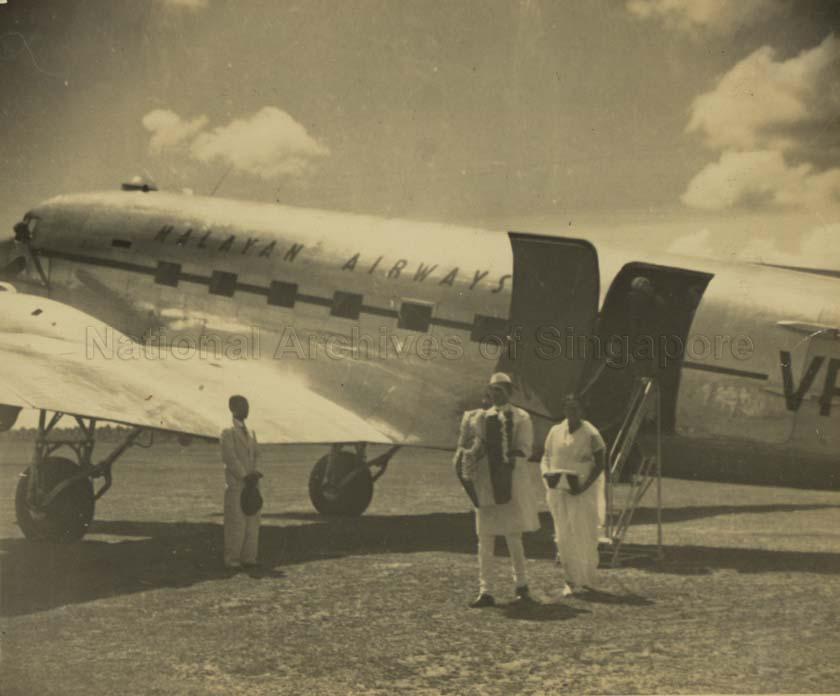 There was a procession for the ashes upon arrival.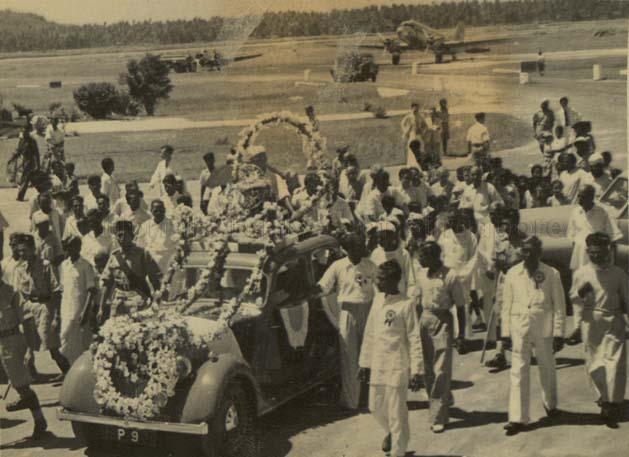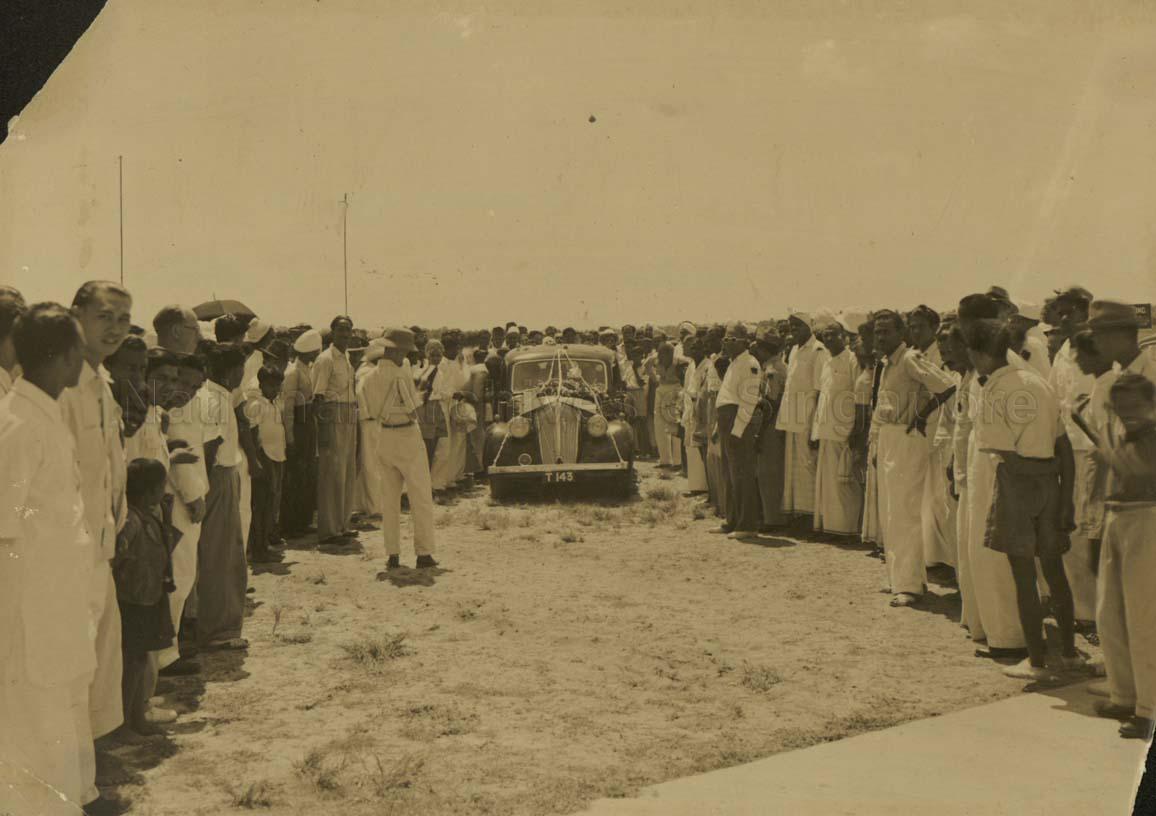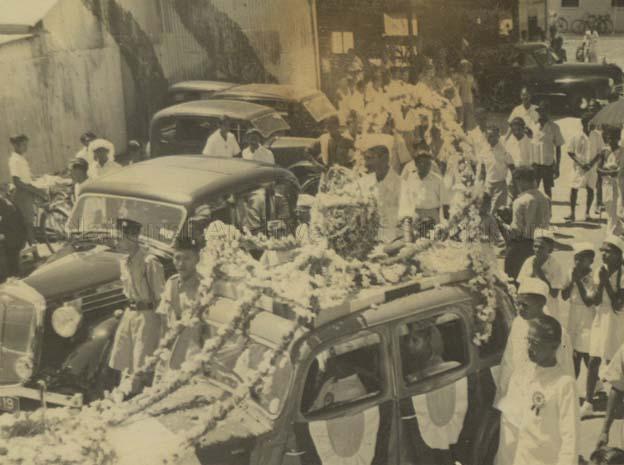 [related_story]
Many in Singapore paid homage
Gandhi's ashes were placed at the Victoria Memorial Hall for people to pay tribute to the Indian leader.
Singapore was still very much a British colony at the time, and its own struggle for independence from the British was just beginning.
Perhaps inspired by Gandhi and his movement for Indian independence from the British, and driven by Singaporean nationalism awakened by the Japanese Occupation that had just ended about three years before, locals from all walks of life and communities flocked to pay tribute to Gandhi.
There seemed to be a certain multiracial characteristic among the mourners too, with Indians, Malays, Chinese, and Europeans all paying their respects in front of Gandhi's ashes.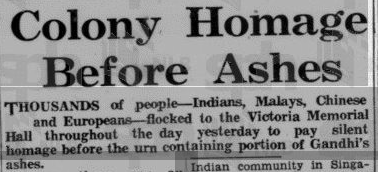 Among them was an Indian beggar who walked all the way from Seletar.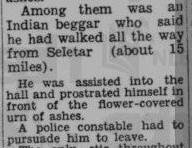 The then British Governor of Singapore, Franklin Gimson, also "stood with bowed head before the urn".
It might seem awkward for Gimson to do so, considering that as Governor of a British colony, he was paying homage to a man who had spent his life in a struggle to gain his country's independence from the British.
Take note of how carefully worded the headline in the Singapore Free Press report below is, highlighting that "Governor sees Gandhi urn", instead of "Governor pays respects...". It is an insight to the awkwardness of the whole situation.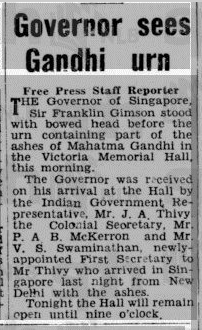 Similarities to Singapore in recent times
Interestingly, apart from the multi-racial characteristic of those who paid their respects to Gandhi's ashes in Singapore, there are also seems to be other aspects that would remind one of the present times.
For example, representatives of various religions in Singapore performed prayers before the urn of ashes.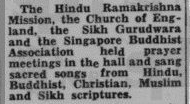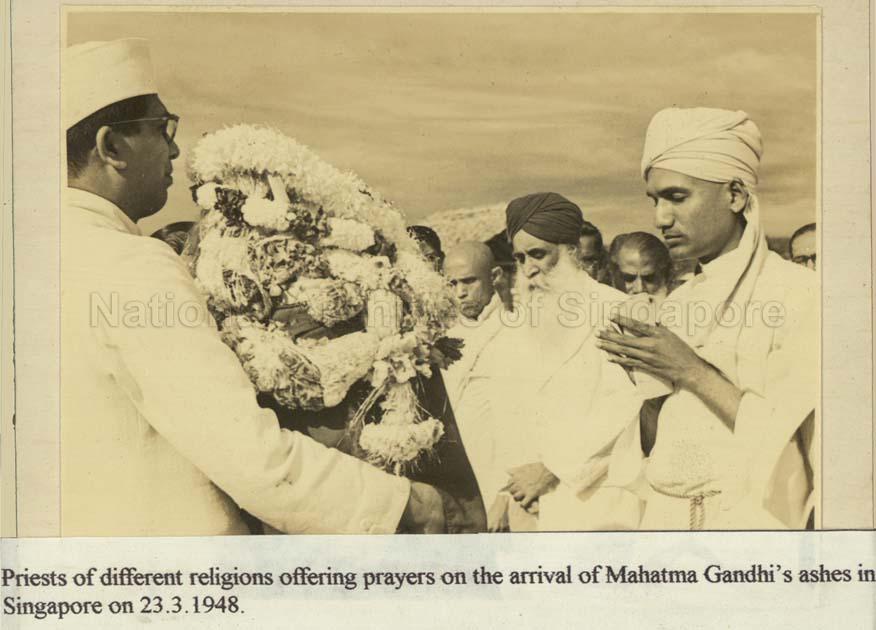 Seems rather familiar, doesn't it?
There's also this: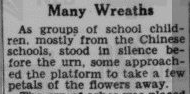 Then there's this:

The orderliness to pay respect to a revered leader reminds one of how Singaporeans carried themselves when they queued and waited patiently in an orderly manner to bid farewell to founding prime minister Lee Kuan Yew in 2015.
Gandhi's ashes immersed into waters off Singapore's coast
On March 28, 1948, some of Gandhi's ashes in Singapore were ceremonially scattered at sea near Clifford Pier, and about two miles (3.2km) off Connaught Drive.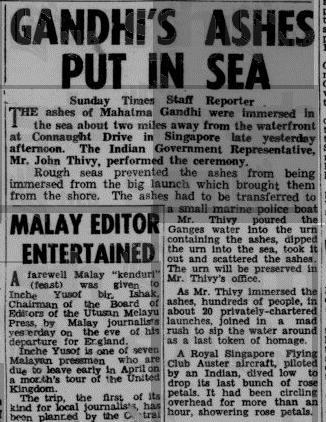 The event was witnessed by "tens of thousands" people.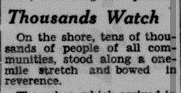 Here are some images of the event.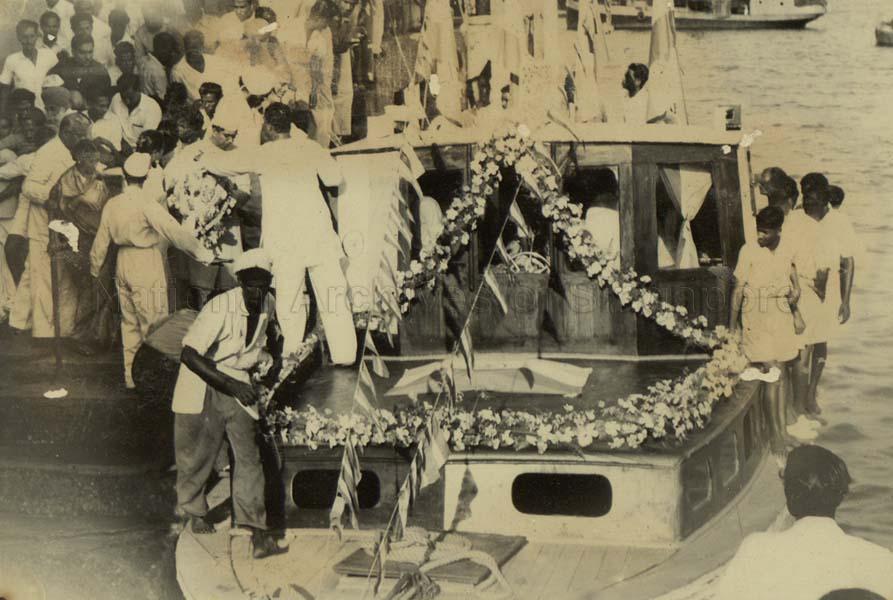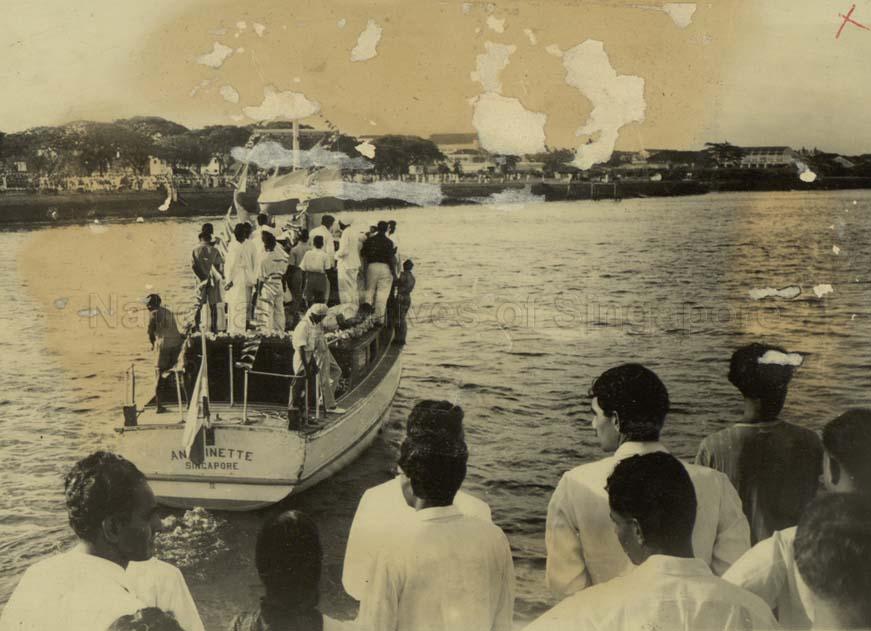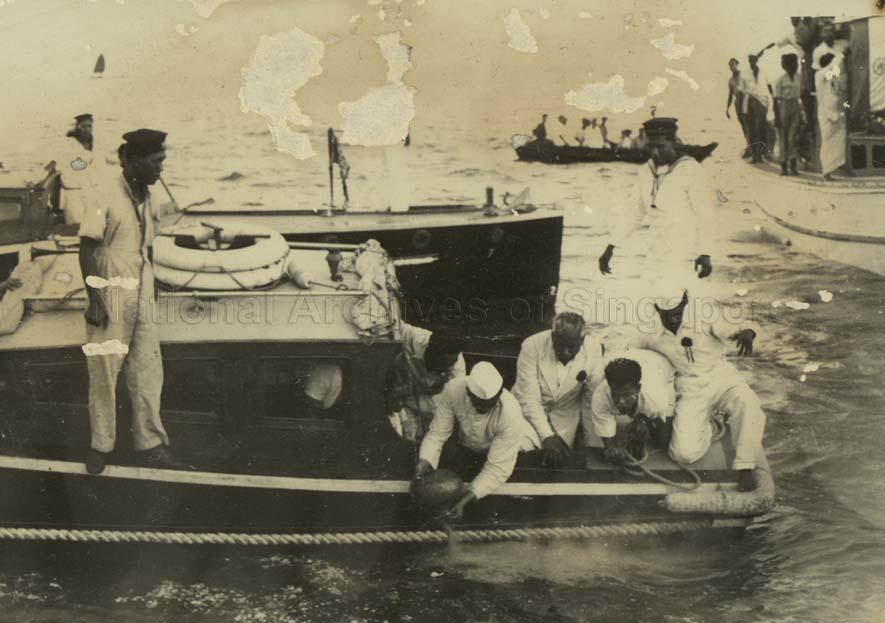 The scattering of Gandhi's ashes marked the first and last time Gandhi ever came to Singapore.
Top image adapted from NAS and Wikipedia
If you like what you read, follow us on Facebook, Instagram, Twitter and Telegram to get the latest updates.