New week, new F&B saga.
Fantasy Desserts, a dessert shop in Orchard Gateway, has threatened to sue a Singaporean woman customer over a two-star review.
What happened?
The entire back-and-forth between the customer and establishment first came to light on Jan. 28, 2018.
The customer, Celena Ho, posted on Facebook screenshots of conversations that took place:
In case you can't see it: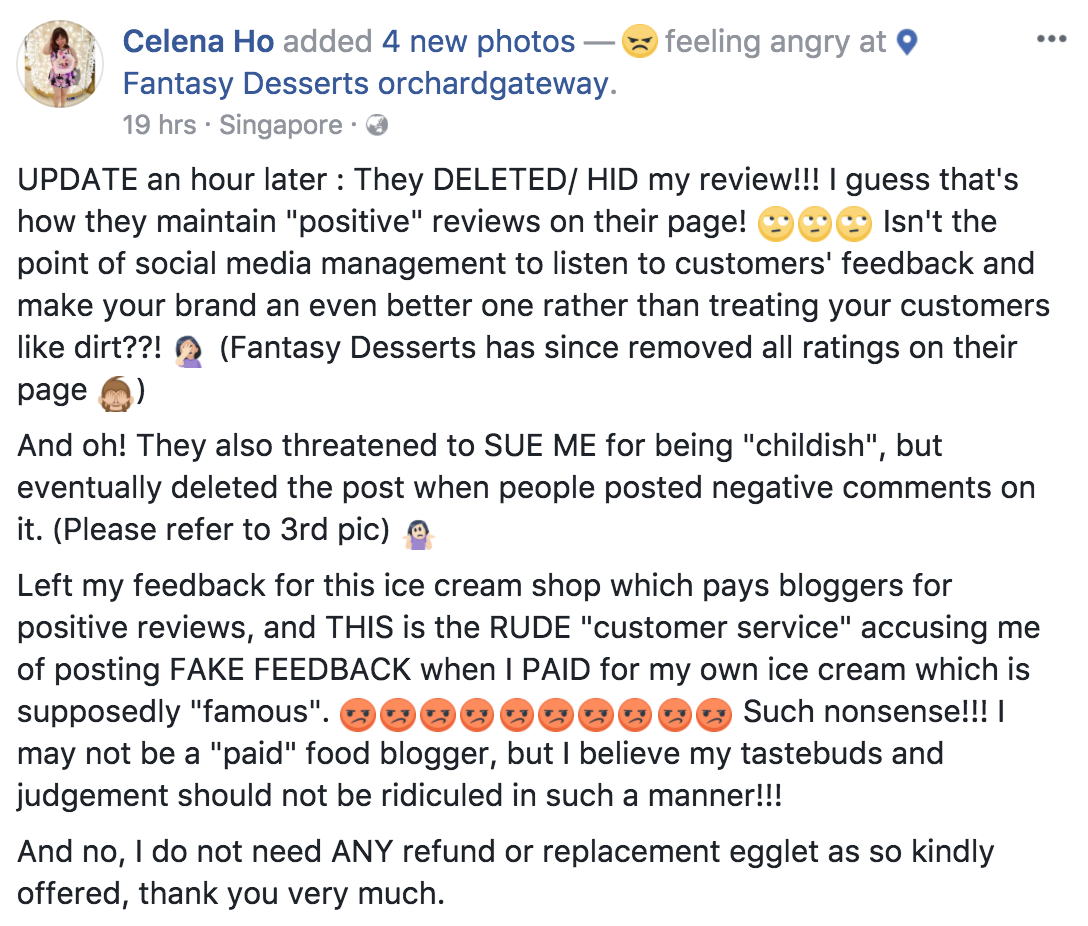 According to Ho, this was the item she ordered, which cost S$10.90: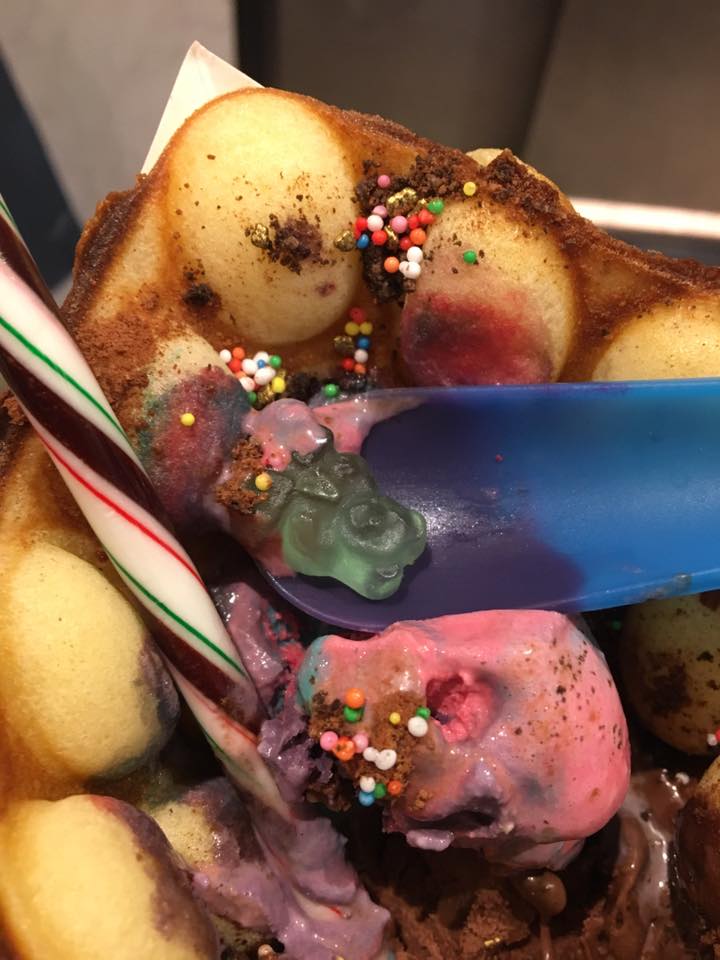 Ho acknowledged that the ice cream was already slightly melted when the photo was taken, but said the egglet was "soggy and mushy" when served.

And this was the review Ho left on the page, which explained why the dessert wasn't worth the price she paid: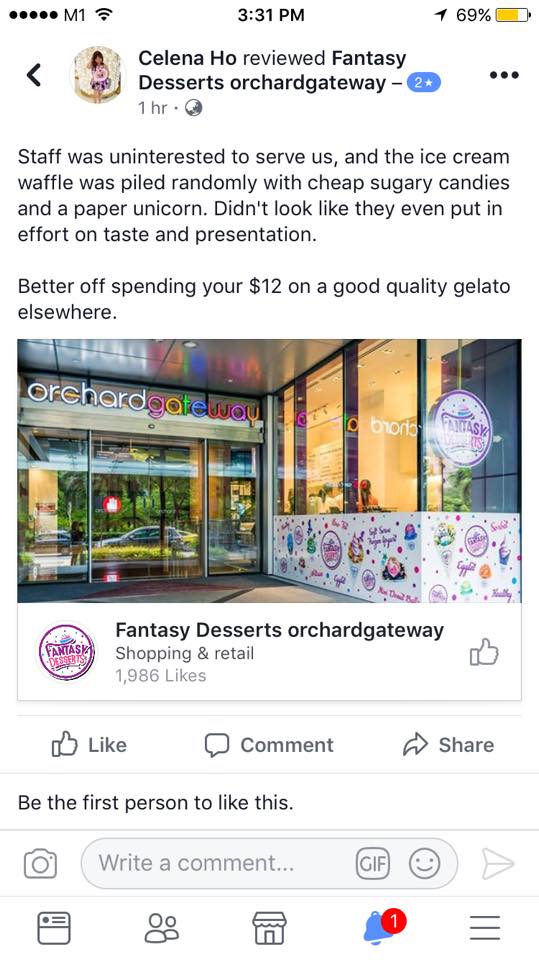 [related_story]
Accused of writing fake review
In response, the shop accused Ho of writing a review that was fake as she had gotten the price wrong: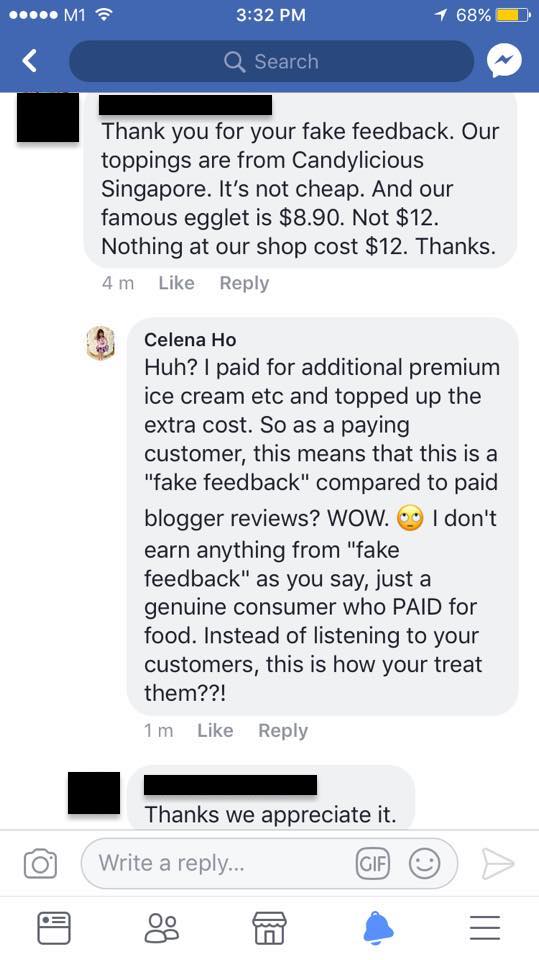 The initial responses from the shop's management were made from a personal Facebook account.
Subsequently, Fantasy Desserts threatened to sue Ho for "ruining a company's reputation" and called her review a "childish act":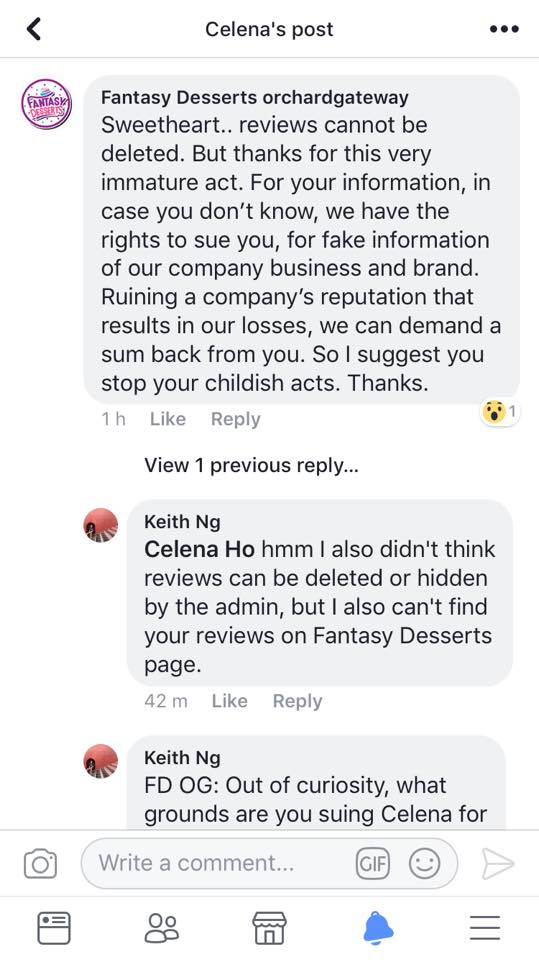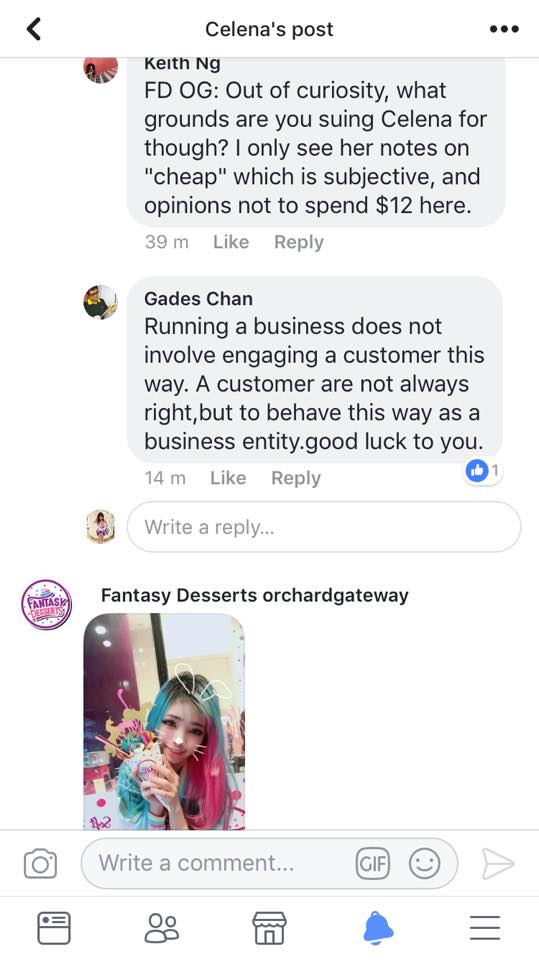 Fantasy Desserts apologises and advertises in the same comment
Fantasy Desserts then clarified the matter on Ho's Facebook post itself with multiple comments.
These comments can be broken down to two main points:
1) They explained why they thought Ho's review was "fake":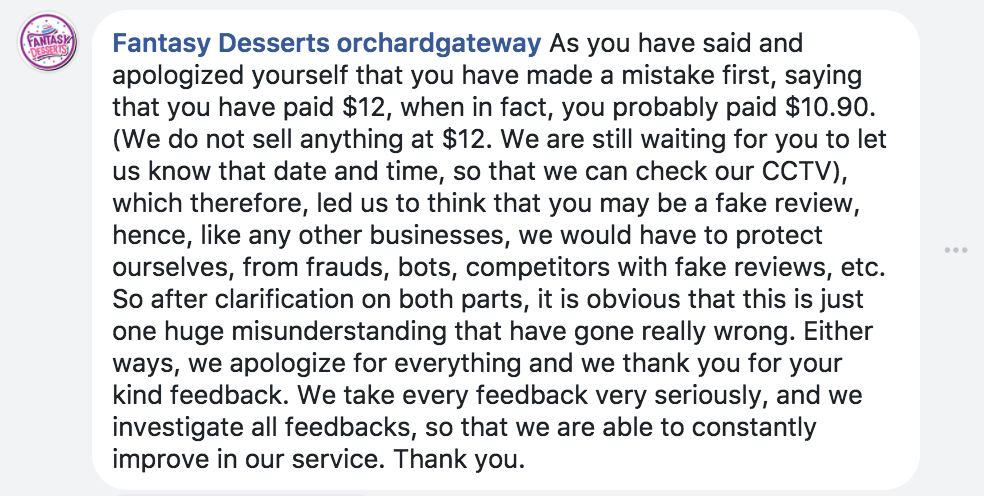 It was mainly because Ho said she paid S$12 when the shop did not sell anything at that price.
Ho then clarified that she made a mistake, and the actual price she paid was S$10.90:

Nonetheless, Fantasy Desserts continued to ask for Ho's time and date of patronage in order to check the CCTV footage and investigate the matter: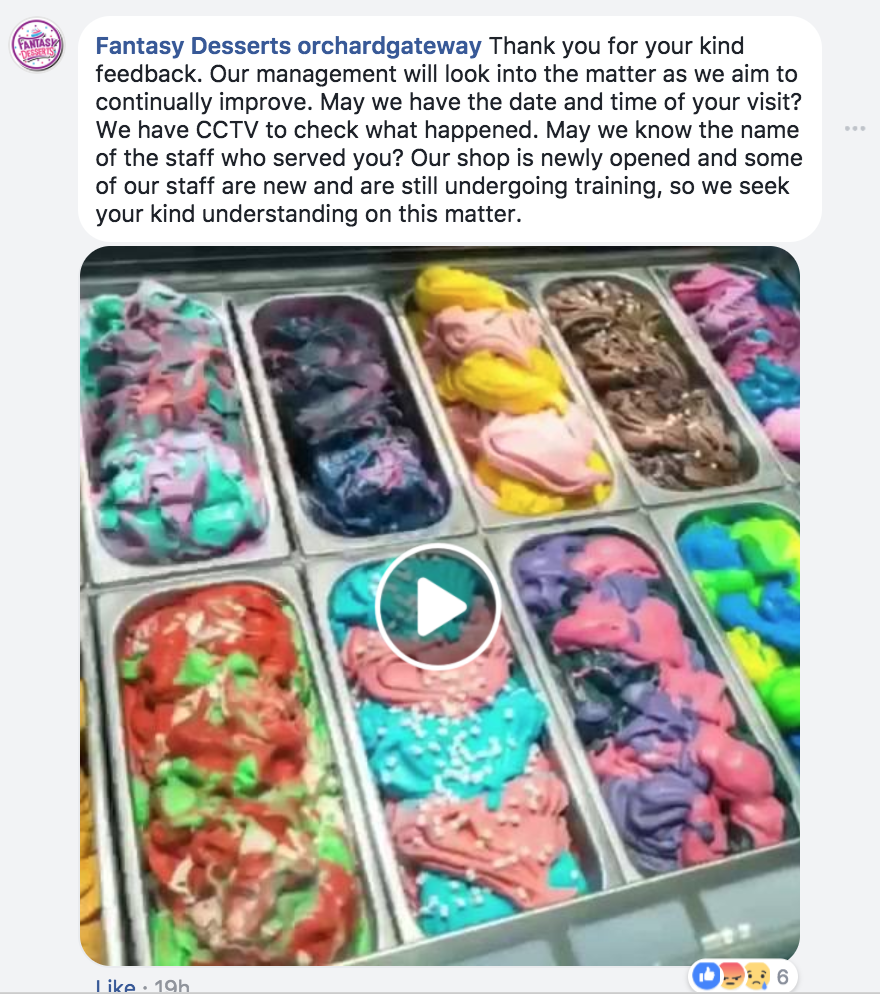 2) Shop apologised, but also advertised
In the above post asking for Ho's time of patronage, Fantasy Desserts shared a video that promoted their store in the same comment.
In another vaguely apologetic comment, the shop also shared a promotional video: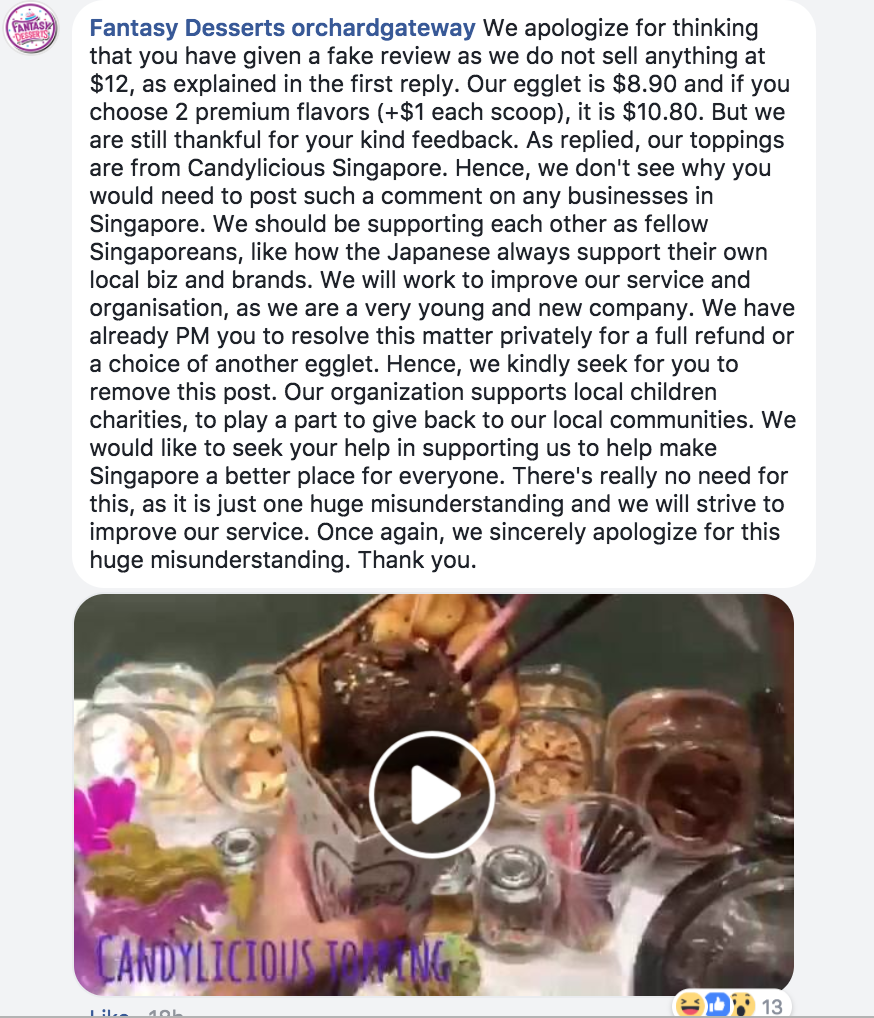 Their comment, in summary: 
1) They thought there was no need for Ho to post that review -- she should support fellow Singaporeans.
2) They have already messaged Ho to offer a refund/ another egglet.
3) They hope Ho will remove her post, and cited their involvement with local charities.
4) Sincere apologies.
5) Promotional video.
¯\_(ツ)_/¯
Top image from Celena Ho's Facebook
If you like what you read, follow us on Facebook, Instagram, Twitter and Telegram to get the latest updates.