China used to smile at everyone in the past, trying to please everybody.
But now that it has grown so much stronger both economically and militarily under Chinese President Xi Jinping, besides 'carrots', it's also using 'sticks' sometimes when it comes to dealing with other countries.
For those who noticed China's growing assertiveness, this observation shouldn't come across as a novelty on Chinese foreign policy under Xi.
But to hear it directly from a Chinese foreign policy expert is still somewhat surprising.
Jin Canrong, Professor of the School of International Studies at Renmin University of China, made this candid admission at the Regional Outlook Forum (ROF) 2018, the flagship event of ISEAS-Yusof Ishak Institute which was held on Jan. 9.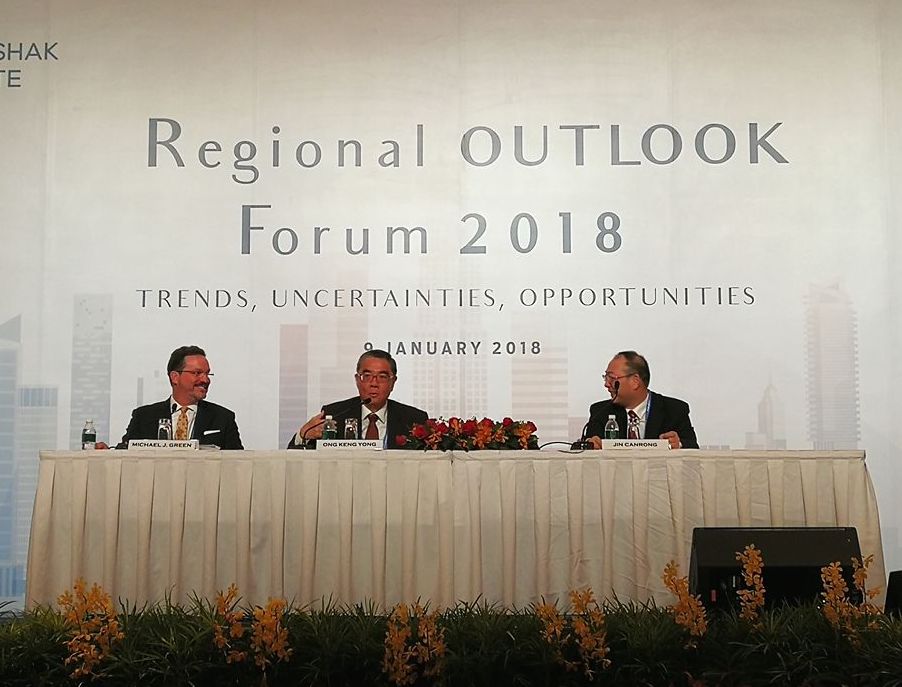 He was responding to a question posed by Singapore's Ambassador-at-Large Dr. Tommy Koh about the changes in Chinese foreign policy under Xi Jinping as compared to the long-standing approach prescribed by the late paramount leader Deng Xiaoping.
From carrots to sticks
To give you some context, this is his answer (transcribed for the most part):
In China, among Chinese scholars, we have different opinions what's the real meaning of 'new age'. Some people believe our current leader gave up Deng Xiaoping's 'low-key' strategy - like my colleague at Qinghua University, Yan Xuetong.

But more people believe our leader partly inherited the 'low-key' strategy...

I think I agree with (the latter). We made some changes, but the current leader (Xi Jinping), he changed something, but he also inherited something.

...

Xi stressed that China is still in the early stage of socialism. He also stressed another fact that China is still the biggest developing country in the world.

And it's still a promise to be loyal to the strategy of 'peaceful development'.

One change is that China used to define itself as a regional power. Now it's no longer a regional power, it's a world power. 

...

Second, we changed the style of Chinese (foreign) policy. China used to have a reactive approach — always wait for America to take the lead, to initiate something.

But now China has changed from reactive to proactive...

In practice, this means that China will take the initiative. Actually in fact, we've initiated so many good ideas.

...

(Before Xi Jinping,) China's foreign policy used to just focus on 4 parts: To deal with big powers, to deal with the neighbourhood, with developing countries, and international organisations.

But now we have 4 new practices.

One is the One Belt, One Road. Another is to protect the overseas national interests of China. Third is soft power, to tell China's story to the outside world. Fourth, very important, China is now trying to take the lead in global governance.

China used to be passive in global governance, but now China is very active in global governance. 

...

As for China's attitude towards our neighbourhood, I think the spirit is still trying to have a good neighbourhood, but the approach to deal with it has changed.

(China) used to show a smiley face to everybody, try to please everybody. 

But now I think China's approach has become more complicated.

It used to be just carrots, but now sometimes (we use) sticks. 
China's foreign policy during Deng's era
Deng was known for his dictum that became part of a famous description of China's foreign policy:
Bide its time, hide its brightness, not seek leadership, but do some things (taoguang yanghui, bu dang tou, yousuo zuowei)
It can also mean to "keep a low profile", or as Jin refers to — the 'low-key' way.
It was reported that Deng used the phrase in 1992 during his "Southern Sojourn" in a discussion with his subordinate about China's future development:
We will only become a big political power if we keep a low profile and work hard for some years, and then we will have more weight in international affairs.
This strategy can be said to be part of Deng's "24-Character" guideline for China's foreign policy from the early 1990s:
Observe calmly; secure our position; cope with affairs calmly; hide our capacities and bide our time; be good at maintaining a low profile; and never claim leadership.
Chinese leaders after Deng stuck close to this strategy, resulting in consistency in foreign policy from the 1980s through to the 2000s, with Jiang Zemin making it a central tenet of Chinese foreign policy for more than 10 years.
China's foreign policy in the new era under Xi
However, this changed when Xi became the new president of China.
During the Chinese Communist Party's 19th National Congress on Oct. 18 last year, Xi heralded the dawn of a "new era of socialism with Chinese characteristics", or zhongguo tese shehui zhuyi.
Western commentators such as Financial times and The Washington Post said that his speech — his most important one in 5 years — which included the phrase "great rejuvenation" a total of 27 times, indicated a shift in China's foreign policy.
It was widely interpreted that China will no longer maintain the low global profile that Deng had urged, and that Xi is trying to signal a focus on China as a "strong country" or "great power".
From its ever increasing military expansion and display of its military prowess, to perceived growing assertiveness in the South China Sea, it is clear that China is diversifying its approach to foreign policy from just 'carrots' in the Deng and subsequent eras to 'sticks' as well in the new era under Xi.
What remains to be seen is how other countries adapt and accommodate a rising China.
Top image adapted via here, here, here and here
Related Articles:
If you like what you read, follow us on Facebook, Instagram, Twitter and Telegram to get the latest updates.