National marathoner Soh Rui Yong retained his SEA Games marathon crown in 2017 while wearing a running vest with holes he personally cut into it by himself.
Gold medal winning ways
The 26-year-old had asked for the sponsored singlets, preferably with holes lasered in them, to help him cope with the heat and humidity in the Malaysian capital of Kuala Lumpur where the SEA Games race was held in August.
But he was told this was not possible owing to a lack of technology.
In the spirit of DIY, Soh cut the holes manually by himself for ventilation purposes.
And he proceed to win the gold medal, effectively retaining his champion status having won the event two years ago in 2015.
Not entirely pleased
However, a little trouble apparently brewed.
Soh alleged that his decision to cut holes into his running singlet angered Singapore Athletics (SA) technical director Volker Herrmann.
The hole-cutting antics resulted in Herrmann shouting at Soh before the start of the SEA Games marathon race.
Now, Australian sporting apparel brand 2XU has terminated its sponsorship with the national sports association.
SA officials were reportedly told of the decision on Dec. 8, 2017.
2XU were reportedly displeased that national marathoner Soh had cut holes in his singlet for the SEA Games marathon.
Soh has since publicly responded to this decision: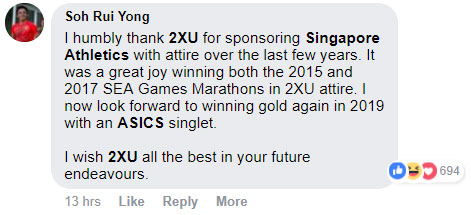 Sponsorship over the years
2XU provided the national track and field athletes' attire for the 29th Games in Kuala Lumpur.
In 2013, SA and Key Power International, which imports sports apparel from brands like 2XU and Brooks, had inked a three-year sponsorship deal worth about S$150,000 in kind annually.
Both brands provided apparel for national athletes during the 2013 SEA Games in Myanmar and the 2015 SEA Games in Singapore.
The deal was renewed from 2016 to 2018.
The total value in kind came up to more than S$300,000, with 2XU providing attire for Singapore's track and field athletes over the last two years.
Even though the sponsorship has abruptly ended, a representative said 2XU would continue to support Singapore's sportsmen and women through local events including marathons, triathlons and other fitness initiatives.
Mass-produce holey singlet, please
But the more obvious initiative remains: Why not replicate the exact same holes Soh had cut into his gold medal-winning singlet and mass produce that particular top for all and sundry to wear in various sizes?
A slogan can even be crafted for this holey shirt campaign: More holes, more golds.
If you like what you read, follow us on Facebook, Instagram, Twitter and Telegram to get the latest updates.