Do you remember having a cringe-worthy phase when you were younger?
A group of kids in Singapore might just not forget about it when they get older.
If you're not on Twitter or exposed to the unsavoury side of it, let's just say what probably started out as harmless fun spiralled into drama hitting the K-pop fandom in all the wrong places.
Fun went wrong
So, it all started when 13 girls in Singapore decided to form a girl group, inspired by various Korean girl groups that are all the rage now.
They filmed and uploaded a video, framed as their debut, in which they introduced themselves, their age and role in the group.
While they began and ended their introduction in Korean, they also spoke in English and had (some) Chinese subtitles.
It's not known if the group had an official Twitter account, but we do know they have an official Instagram page, which was reportedly following all 13 members on Instagram.
Their YouTube video was then taken down, only to be re-uploaded by those who have seen it.
But it came too late as fellow K-pop fans picked up on their video and started ridiculing them.
Beaunite who? I only know Beautex. pic.twitter.com/xYA18rYoWd

— crys🧸 (@wonwoez) December 5, 2017
BEAUNITE IS A WHOLE SINGAPOREAN XMM KBOO MESS OH MY GOD THIS IS THE SHIT I GO THROUGH EVERYDAY

— ✩ bestest boy 🍇 ✩ (@jungkookreally) December 4, 2017
https://twitter.com/apeachydaliet/status/937687295410323456
https://twitter.com/fairiyjihoon/status/937718700043468802
I CRINGED WATCHING BEAUNITE'S INTRODUCTION VIDEO HAHAHAHAHHA ONE OF THEM IS CALLED KOOKIE AND IS THE MAKNAE HAHAHAHAHAH LOLOLOLOL AND ONE IS CALLED TAEXIN AND ANOTHER IS CALLED BABY G IDK THEIR NAMES ARE ALL SO WEIRD

— BACK FOR GOOD (@changbinator) December 4, 2017
KDKDKSKS I JUST FOUND OUT BEAUNITE IS FROM MY COUNTRY IM KMS don't embarrass us please we dont need this level of headassery

— athミ☆ (@adoretaes) December 5, 2017
https://twitter.com/njmlq/status/937659357273010176
Someone even made a parody account of K-pop news site Allkpop, satirising Beaunite's debut as one that would shake up the industry:
https://twitter.com/aIlkqop/status/937890697809506304
https://twitter.com/aIlkqop/status/937714232241528832
[related_story]
Debut: A serious word
Fans also took offence with the way the group used the word "debut", which upon looking at the numerous tweets, suggests that with the effort and training K-pop idols undergo before they can make their debut on the scene, these girls from Singapore were nowhere worthy of saying that they were "debuting".
https://twitter.com/HxnsDxnixl/status/937795482327293952
beaunite honestly made singaporeans look bad,,,, like at this kind of age and yall doing some kboo shit and saying you debuted /without any trainings or debut songs/

— rene ☀️🌥 CHECK PINNED (@leekwon96) December 4, 2017
https://twitter.com/supernovabaek/status/937932540739960832
https://twitter.com/moonbyyls/status/937956267636559872
https://twitter.com/aeyeolgi/status/937714741887123456
Not the first
It's not as if it's Singaporeans' first ever attempt at K-pop.
Singapore had a K-pop group called Skarf, made up of both Koreans and Singaporeans. It was a short-lived attempt and two years after their debut in 2012, the band dissolved.
But at least, in official terms, they went through everything a K-pop group needed to undergo.
https://twitter.com/aeyeolgi/status/937716105031774208
https://twitter.com/aeyeolgi/status/937716454153109504
Just child's play?
The overblown reactions of K-pop fans toward the girls probably comes with the understanding that K-pop is a serious business.
But in all likelihood, the girls in Singapore were just trying to have some fun.
Perhaps Beaunite started as a parody of the tropes that make up a K-pop girl group, self-aware that whatever they're doing is a far cry from what their idols have gone through to get to where they are.
But to add fuel to the fire, supposed screenshots of their Insta stories say otherwise:
jokes aside @ beaunite honestly please go and have the real trainings then come back tell us your survived? your survived for one day? huh 1 day ??? sorry my produce 101 people they trained for 7 years thats almost half of your age pic.twitter.com/lW73h2vzuW

— aoti (@aotiiix) December 4, 2017
https://twitter.com/jollyhoonz/status/937696590331912192
OUR LEADER UKNEE HAS SPOKEN ‼️

LEAVE 😤 BEAUNITE 😤 ALONE 😤 pic.twitter.com/1IUJvoqx2h

— BEAUNITE (@BEAUNITE_SG) December 4, 2017
Supposedly better known Singaporeans have also stepped in, with the likes of Dee Kosh and Benjamin Kheng putting in a word:
To all you Kpop fans asking me to bash that beunite group that's just having some fun. Y'all are disgusting. These are literally kids just "playing Kpop" just how you used to play doctor when you were young.

— Dee Kosh (@TheDeeKosh) December 5, 2017
off topic, but i legit read it as Beauntie #BeAuntie

— Benjamin Kheng (@benjaminkheng) December 5, 2017
Concern
While most are pretty much aware that these girls didn't know better, some are concerned whether the negative backlash would have some sort of repercussions on the young girls aged between 13 and 17.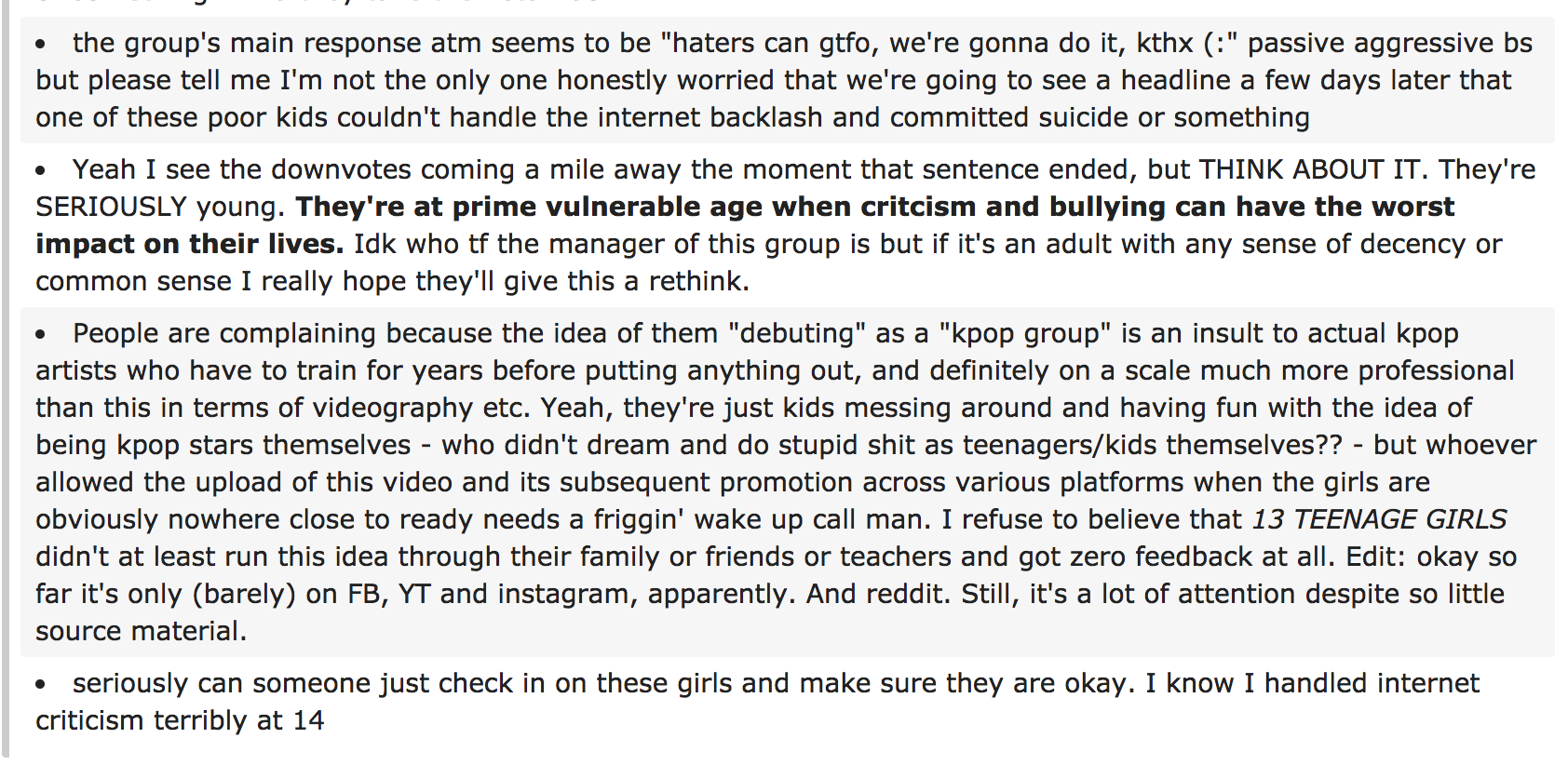 Okay JOKES ASIDE will people stop asking beaunite to K*LL THEMSELVES????

— chenfang | uni (@jihancheoIs) December 4, 2017
https://twitter.com/yjhpng/status/937726871348719616
https://twitter.com/peachybaebae/status/938191201865424896
We've reached out to the group for comment.
Top image via Beaunite's YouTube video
Here are a few unrelated articles you should check out next:
We match each of your colleagues to a Body Shop Christmas gift to make your life easier
We secretly took AR photographs of our colleagues. It was fun
If you like what you read, follow us on Facebook, Instagram, Twitter and Telegram to get the latest updates.