[UPDATE at 9:55pm: AVA confirms it is aware of this case and is investigating it.]
Dog owner Elizabeth Ting went on a holiday with her family and dropped her nine-year-old pet toy poodle, named Mocha, with a boarding centre at Bukit Panjang Plaza on November 25.
Unfortunately, according to Ting, when her helper picked Mocha up on December 3, the dog was limping and had an injured left hind leg. A day later, when she herself returned, she said she found he had almost lost his voice.
In a Facebook post on Saturday, Ting said she called up the store's manager, whom she names as one Dennis Ng, who allegedly claimed it was a "minor injury he got when he was scratching the cage and it'd heal in a few days".
Her queries on Mocha -- the yellow discharge from Mocha's eyes and Mocha's loss of voice -- were also brushed off by Ng.
A complete dislocation
Ting writes that her folly was in listening to Ng's assurances — three days later, she took Mocha to a vet in Clementi, who informed her, after conducting an X-ray scan, that his left hind leg was completely dislocated from its socket.
You can see the clear dislocation in these X-rays she attached to her post, where the bone juts out from the side marked "L":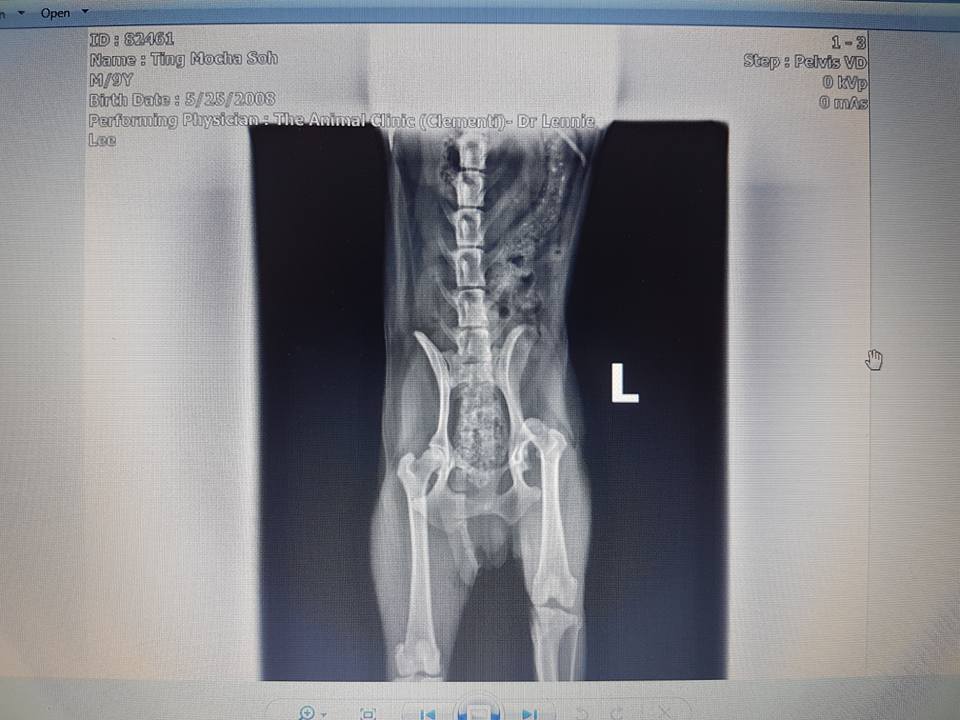 It's even clearer in this close-up, where you can also see that it actually makes Mocha's left leg shorter than his right: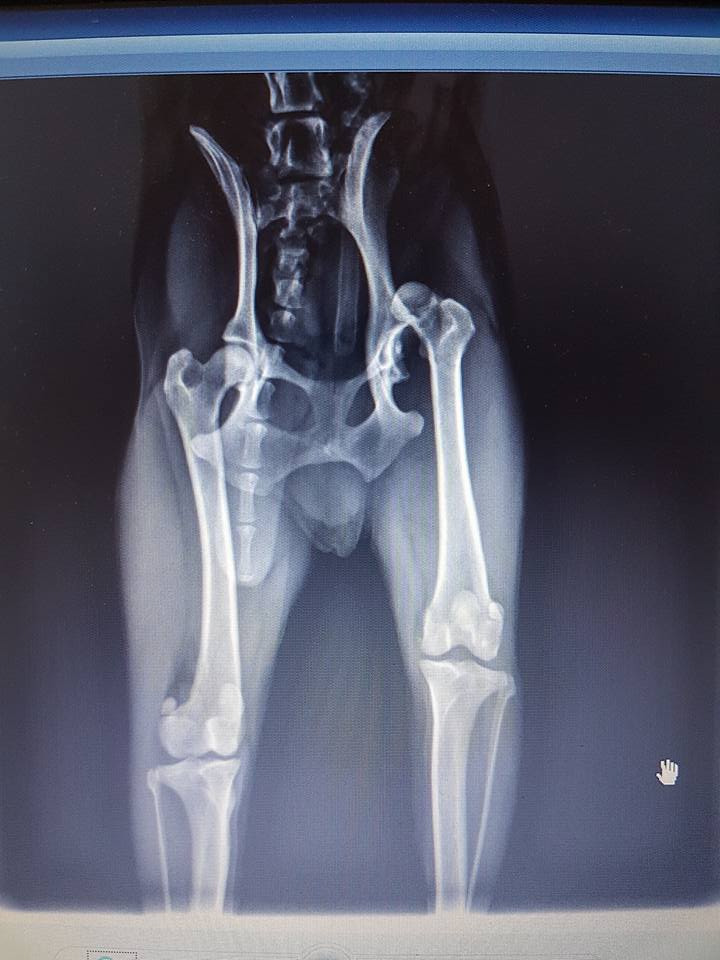 As if this situation wasn't horrible enough, the vet recommended surgery after not being able to push the dislocated bone back in place — Mocha's muscles around the joint had stiffened by that point — and so Ting brought Mocha into surgery, where it was found that he had also suffered a fracture around his hip bone.
She wrote, regarding what she learned from the two vets who treated Mocha:
"Dr Lee (the vet) told me quietly that such joint dislocation didn't happen easily. To cause such an injury, there must be great impact like he fell from a very high place. I couldn't imagine the excruciating pain Mocha had suffered (joint dislocation, without pain killer and GOD KNOWS FOR HOW LONG)...

Again, Dr Hsu confirmed that to sustain such injury, there must have been trauma to it."
[related_story]
Owner allegedly plans to close his shop
According to Ting, she confronted Ng in person at the shop about what happened to Mocha.
Here's what she wrote about his response:
"He denied responsibility (as expected), gave lots of justifications and suggested that Mocha's injury was caused after he left the shop (and probably by my helper)..."
Ting and her husband then went to the mall's management to request to review the closed-circuit camera footage recorded outside the shop that day — sure enough, a member of the mall's staff informed them Mocha was limping on his right hind leg as he exited the shop with Ting's helper.
"So nothing to deny already right? But the boss still refused to admit that Mocha was injured under his care. We told him that we were going to file a police report on suspected dog abused and he simply told us that he intended to close down his shop anyway. No apologies, no attempt to investigate, no intention to assume responsibility."
Ting also told Mothership she had learnt that Ng's lease with the mall was expiring soon as well.
She also shared that she had previously boarded Mocha together with a dog belonging to her sister back in 2009 or 2010, and the two were picked up without incident — except for the fact that the shop's staff failed to bathe Mocha during his stay.
"But we thought it was a small matter and this time around I got my sister to call to remind him to shower for Mocha before returning him to us."
Questions remain
Ting wrote that thankfully, the vet who operated on Mocha assured her that his walking should return to normal in the long run.
She also shared with us that the good news is, at least Mocha is eating better, is slightly more active and is showing signs of recovery from the surgery.
The issue of what happened during Mocha's stay there — and here, she notes, is where Ng claimed his store's closed-circuit TV cameras were spoilt — remains unresolved. Ting hopes to find witnesses who might have observed anything amiss when visiting the shop during Mocha's stay from November 25 to the evening (6-7pm) of December 3.
She says she has also filed a complaint to the Agri-food and Veterinary Authority about the case.
A spokesperson for the AVA told Mothership that the agency is aware of the case and is investigating it.
Meanwhile, however, angry social media users here have wasted no time berating the company for their alleged misdeeds, leaving a flurry of one-star reviews on their rather empty Facebook page: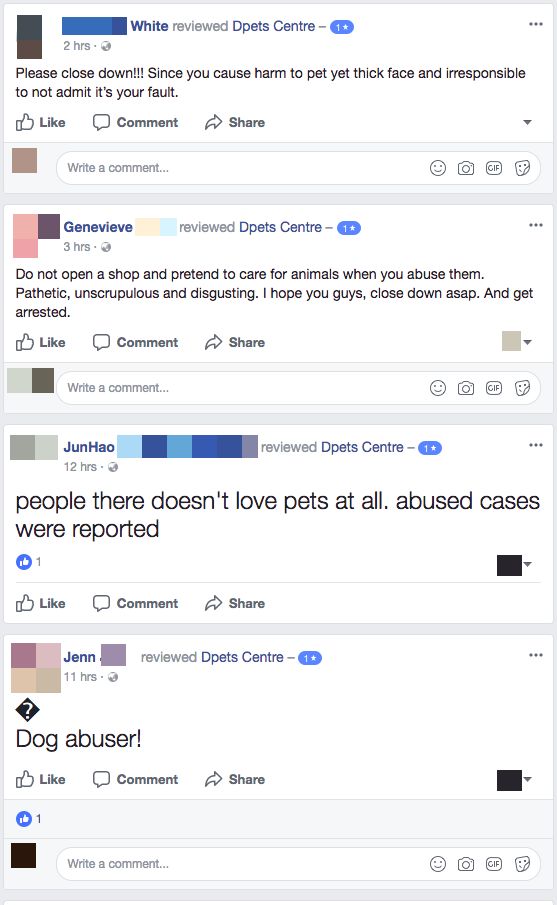 Mothership has contacted Ng and Dpets Centre for more information and for their response to these allegations, and will update this story if we hear from them.
You can read Ting's full post here:
Top photos via Elizabeth Ting's Facebook post
If you like what you read, follow us on Facebook, Instagram, Twitter and Telegram to get the latest updates.