A Chinese daredevil fell to his death while attempting to take an "extreme" selfie.
The fall was captured on video, and the clip quickly spread on popular Chinese social media platform Weibo after Beijing Youth Daily first shared it.
This was despite the deceased family's plea for it not to be made public.
The incident was reported on several Chinese and Hong Kong news sites.
The unfortunate incident took place at the 62-storey Huayuan Hua Centre, one of the tallest buildings in Changsha, the capital of Hunan province, on Nov. 8.
Fell from a building
In the video that captured his fall, he can be seen hanging on to the parapet of a building while his legs hung loose in the air.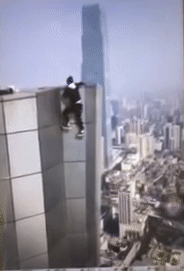 He climbed up to safety twice before lowering himself down by the side of the building again.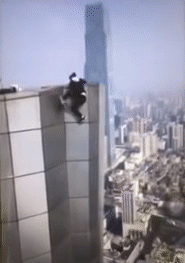 Unfortunately, his hands slipped and he fell from the building.
The video was captured on Nov. 8, against the backdrop of other high-rise buildings and skyscrapers.
It was reported that the stunt he was filming would earn him RMB100,000 (S$20,000) from a sponsor.
Speculation
Netizens had started speculating about his death after he stopped posting more pictures.
It was not until Dec. 6, almost a month after his last picture was uploaded, that his death was confirmed by a friend.
Police said that Wu had fallen around 10 metres down onto another rooftop initially and didn't die immediately.
However, no one was able to find him as he was at a secluded location. He later succumbed to his injuries after some time.
He was only found the next morning by a window cleaner.
Netizens pity the loss of a young life
Wu's death created a stir among the Chinese online community.
While most netizens were shocked by the accident and pitied him, there were some who remained unsympathetic and blamed his death on his foolishness.

Translation: It was just a matter of time before an accident happens. RIP.

Translation: RIP. It's a pity that what you did was meaningless.

Translation: (He) had courage but lacked steel-like physical strength, and became tired after trying to pull himself up twice. He was reckless and overestimated himself. What a pity!

Translation: Very educational.

Translation: Hope he didn't crush any innocent passerby.
[related_story]
Extreme selfies won him many fans
The 26-year-old man was Wu Yongning, and was from Changsha, Hunan prefecture, China.
He originally made plans to get married with his girlfriend.
Before focusing on taking such "extreme selfies" as his main income, he was a stuntman and an extra in some short film productions.
It was reported by Chinese news site The Paper that he got into such extreme stunts as a means to earn money for his mother's medical fees.
Within a few months of uploading his heart-stopping pictures, he gained a million followers and became massively successful on social media.
He had claimed to be the first in China to attempt such stunts without taking any safety precautions.
Here are some of the photos that won him his numerous fans: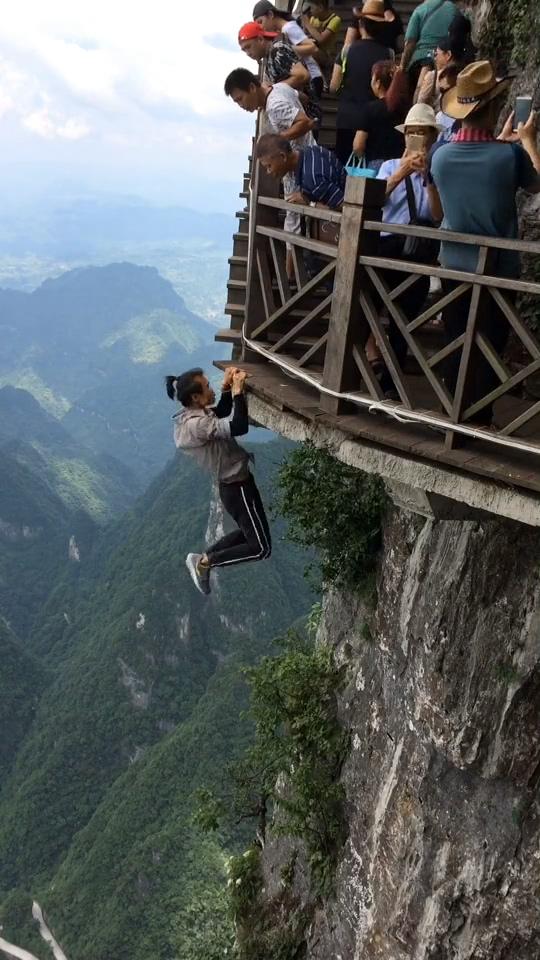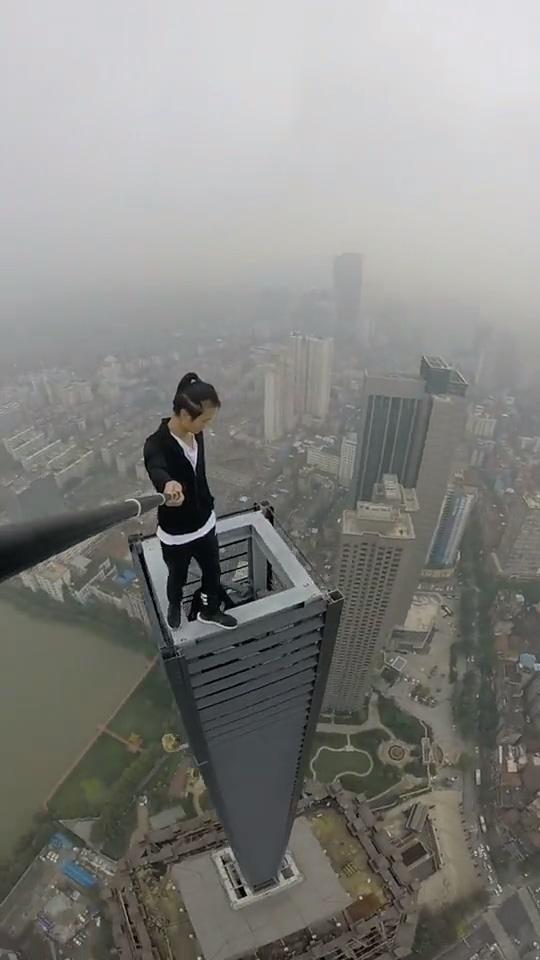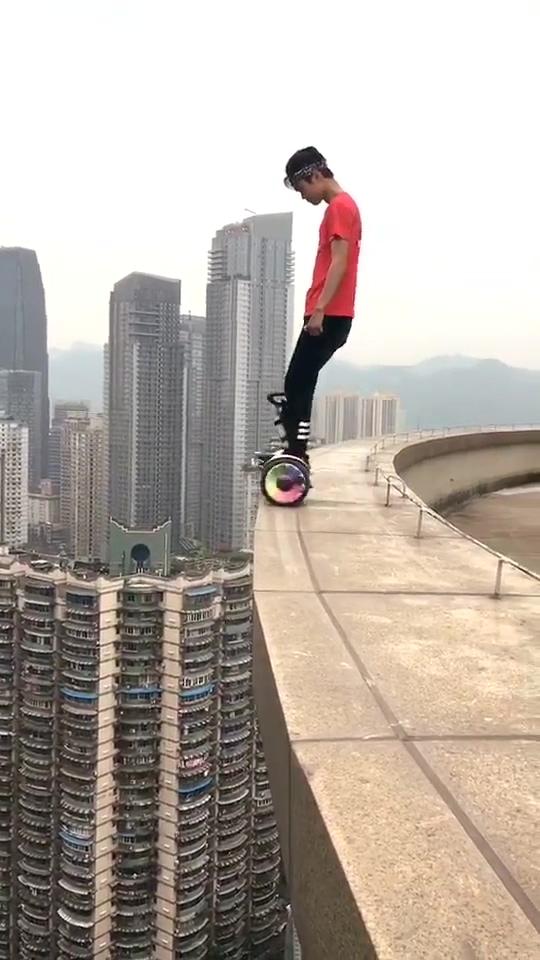 This is the last picture he uploaded on his Weibo page.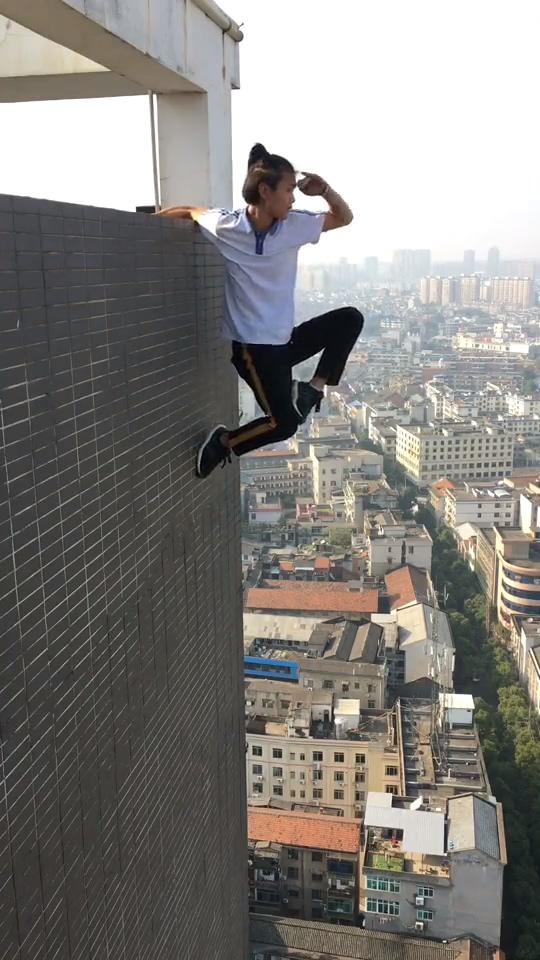 You can watch the video in which he fell to his death here:
[video width="640" height="360" mp4="https://static.mothership.sg/1/2017/12/chinese-daredevil-falls-dies.mp4"][/video]
You can also watch some of his daredevil stunts here:
[video width="1280" height="720" mp4="https://static.mothership.sg/1/2017/12/daredevil-china-stunts.mp4"][/video]
Related story:
Top image via YouTube
Here are a few unrelated articles you should check out next:
How likely are you to survive a terrorist attack?
We match each of your colleagues to a Body Shop Christmas gift to make your life easier
We secretly took AR photographs of our colleagues. It was fun
If you like what you read, follow us on Facebook, Instagram, Twitter and Telegram to get the latest updates.