Viral videos of CPR performed on child
Videos of CPR performed on what appears to be a drowsy, semi-conscious child has been widely circulated on Facebook.
The original post was shared more than 20,000 times within three days after it was posted online on Nov. 14.
CPR video
This was one of the videos, where a man, presumably the father of the child, could be seen rapidly pumping the chest of the girl:
[video width="224" height="400" mp4="https://static.mothership.sg/1/2017/11/cpr.mp4"][/video]
The video was accompanied by a accusatory post by a woman, Tricia Ang, who claims to be the child's mother.
The woman alleged that a doctor at KK Women's and Children's Hospital (KKH) has been negligent in overseeing the case.
Here's what happened, according to Ang:
- They arrived at KKH on Nov. 13 night and waited for three to four hours.
- Doctor Peter Wong then told Ang that her child's condition was not serious, and would have to wait for another two to three hours as there were more urgent cases.
- She was advised to seek medical attention elsewhere if she did not want to wait.
- What Ang did afterwards was unclear from her post, but the events of the video occurred the following morning around 11am.
This is her original post, which appears to have been removed:
In case you can't see the text:

Unfortunately, some members of the public jumped on the bandwagon and started verbally abusing the doctor as well:



KKH staff speaks out
However, someone who claims to be a staff at KKH has spoken out about the incident, to explain the child's condition and also provide the public with some insight of his work environment.
You can read his full post here:
In case you can't see it: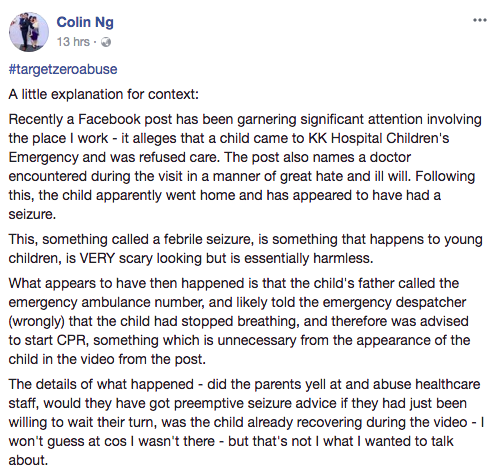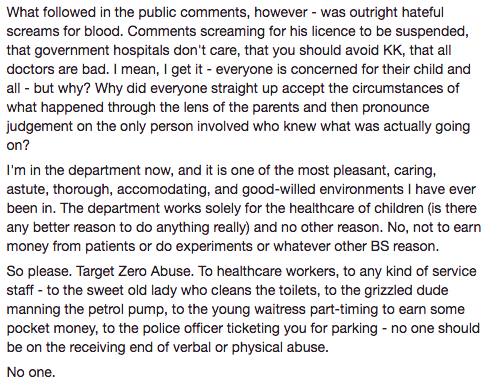 [related_story]
Suspected febrile seizure
Essentially, what the child was experiencing is called a febrile seizure, which is a seizure associated with high body temperature (i.e. fever).
Such seizures commonly occur in children between the ages of six months and five years, and usually last less than five minutes.
If not caused by underlying health problems (e.g. meningitis), the child recovers quickly with no lasting side effects, as there will generally be little risk of neurological problems or epilepsy.
The CPR was unnecessary at that point in time.
Ng also describes his department as one of the most "pleasant, caring, astute, thorough, accommodating, and good-willed environments" he's been in.
Another healthcare provider speaks out
And it seems that at least one more personnel agrees with Ng's assessment, taking the opportunity to share the perspective of healthcare provider and his experience with verbal abuse.
You can read his post here:
Screenshots of the text: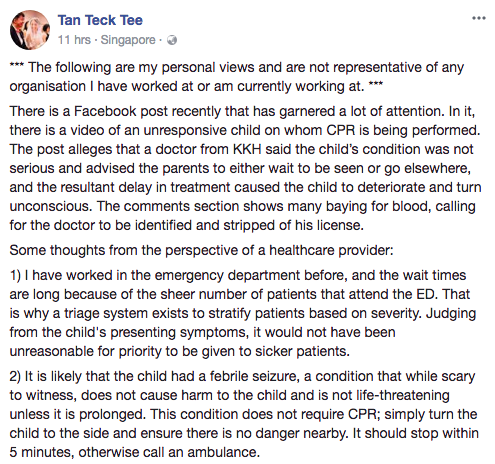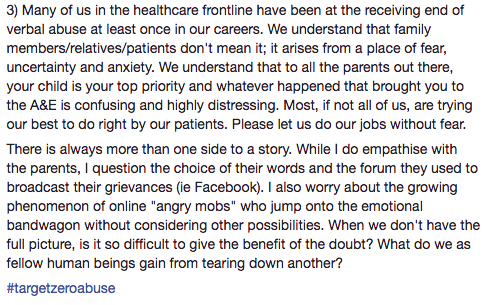 If you like what you read, follow us on Facebook, Instagram, Twitter and Telegram to get the latest updates.