Joseph Wong emerged as the top student in Singapore for his GCE 'N' Level examinations in 2010.
Naturally, he was overjoyed.
This achievement was the fruit of his labour, as he had to overcome obstacles having been diagnosed with autism.
His happiness was cut short though after he received his results, when he had to give interviews to local media that included those with Channel 5 and Channel 8.
Wong, who is 23 this year, made this revelation in a Facebook post on Nov. 3.
Passion for visual effects and game design
Originally, in response to questions on what he wanted to do in the future and who he wanted to thank, Wong mentioned about his passion for visual effects and game design.
He also mentioned wanting to thank his hero, Master Chief from the Halo video game series.
However, these answers would never make it into the final media reports.
This is because his teacher allegedly made him vet his responses to the media.
Wong claimed that his vice-principal then had told him that he was "better off respecting our founding fathers and being a doctor", even though Wong had mentioned to her that he wanted to be like the late Monreak "Monty" Oum, a self-taught animator and writer, whose credits include the Red vs Blue and RWBY series, under internet production company Rooster Teeth.
[related_story]
Harsh Reality
However, Wong's intention was never to bash the mainstream media or his teachers and vice-principal in his post. 
He said his intention for posting his story was more of a cautionary tale for the next kid who might find himself or herself in his position.
Speaking to Mothership.sg, Wong clarified that he hoped his message was clear, having noticed that people were taking the post to "fuel their hostilities with the government rather than what was intended."
He said:
Some people are agreeing for the wrong reasons. I want to say that this post summarises a hard lesson I learned about reality. To say the teachers were the ones who requested the edit not the reporters -- it was a conflict of interest and I understand where they come from. I am upset about the incident, but I blame neither the teachers nor the reporters. The teachers just wanted their first-ever scholar to have very high aspirations, while the reporters were just doing their job. To note Channel 5 and 8 did not censor me, they just didn't give me a chance to say what I wanted to say.
Message was for parents with special needs kids
Wong further added that his story was originally posted to an Australian parental group for special needs kids, as part of his discussion of preparing children for the harsh reality they have to face in the outside world.
He was prompted to share his story as he witnessed a trend in parenting behaviour within that particular parental group. 
He said he saw many of these parents keeping their children to the "safest daily routine they can control", so as to shield their autistic children from breakdowns.
Wong said:
[My story] was part of a series of posts I made due to concerns of how some parents in the group were raising their autistic kids, sheltering them from everything negative about reality and that worries me. I wanted to talk about how harsh reality can be and how their kids had to be prepared for it and not protected from it, [as] they can't be protected forever.

By not finding ways to make them independent and fend for themselves, they are not doing their children justice. I understand some of the children will not be capable of it, regardless, if they are severely limited, but parents should try and not immediately assume.

A lot of these routines have been against the advice of their psychologists and some of these cases are very dangerous.

Autistics such as myself tend to lock ourselves in an area of limited interest and repeat the same routine very rigorously. Any deviation leads to distress.

At early childhood, if the children are not capable of self-exploration, parents need to have their children get comfortable trying new things, or at least get them the experience of doing so.

If not, later in their life, they will be severely limited or lived so long in a routine maintained by their parents [and] they cease to function independently.

With regards to the response he's received from the parents, Wong said the parents do know where he is coming from.
Taking control
As mentioned, Wong has no intention of the post inciting a witch hunt against anyone, or wanting it to become an avenue to criticise the government and the reporters involved in the incident.
This is despite the actions of the teachers and vice-principal still disappointing Wong.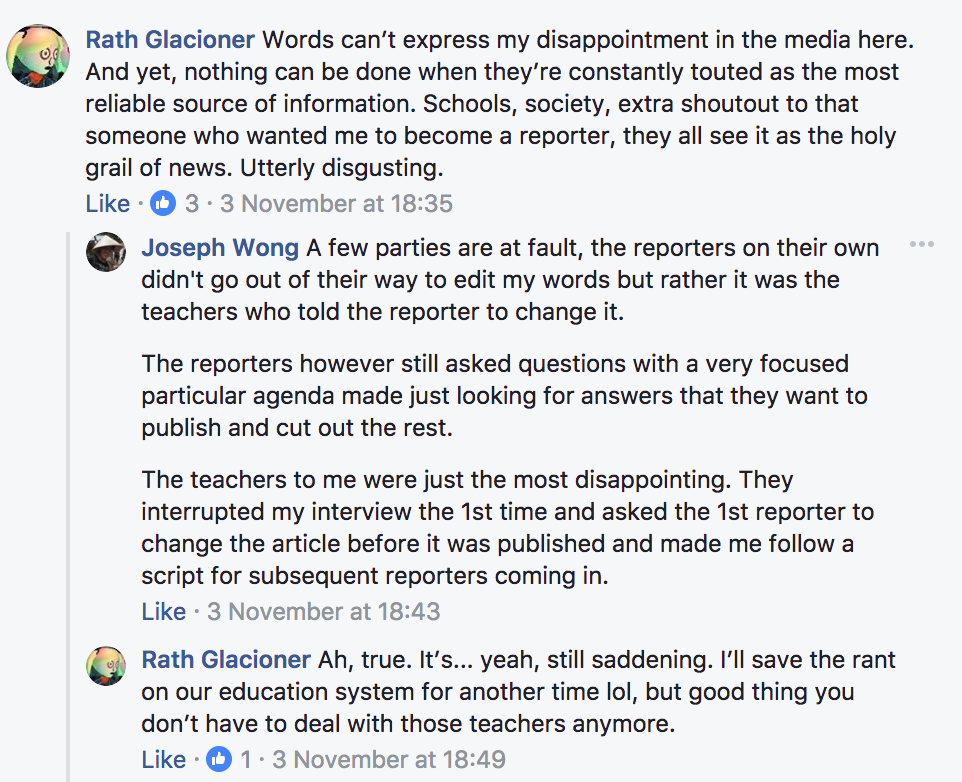 But what's the next person in Wong's shoes to do to avoid the same pain and trauma?
Wong's advice for the next student in his position is to simply walk away from such a situation or simply give their comments independently via an alternative medium, such as a video conference:
If another child faced what I faced, I would advise him to simply walk away.

That way the school can take credit and talk about themselves without him/ her as the medium for their agenda, [and] both parties can say their piece independently without conflict.

There was another scholar that year who tied with me and that's what he did, he was overseas and abstained from comments with his school and got his cert via mail.

He later as well gave his comments about it via video conference.
Is this a coping method for the harsh reality he wants parents of kids like him to be prepared for? To Wong, it's more of taking control of the situation rather than coping with it, per se:
I won't really say [it is a] coping [method] but more of having control over the situation. Coping comes when consequences set in and you are doing your best to mitigate the circumstances, but prior to that I would say always put yourself in a position to be in control, and if you can't, its time to take a step back.
About reporting
On the media's side of things, Wong understands that the reporters were simply doing their job. While he said he does not know the media well enough to advocate a concrete solution, he would advise them to not change their reporting, even when under pressure to conform to expectations:
I believe media outlets have a certain audience they need to address.

There's something in the news they report that makes people come back, [and] in some cases its because the news site is trusted. But in a lot more its simply because it affirms their own beliefs in things and in so they align themselves with the outlet.

If a news agency wants to be truly neutral I would advise them to take the words as it is and not be pressured to change them due to authority. I understand however at times this is necessary. For outlets that tend to align to a particular group, I would say there isn't any harm just not reporting the news at all if it goes against or is detrimental to their retention of the audience.
Ultimately, Wong is understanding of why things happened as they did, even though the incident impacted him greatly: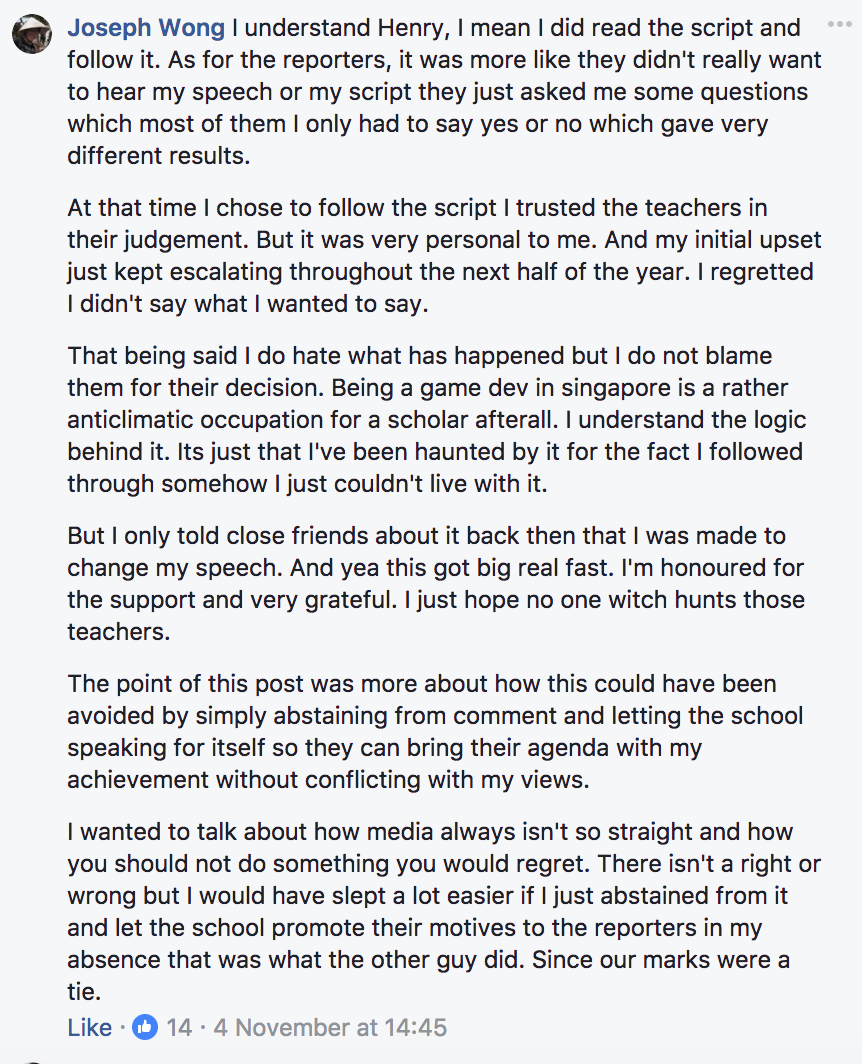 Top image adapted via tjevans on Pixabay and Joseph Wong's Facebook post
If you like what you read, follow us on Facebook, Instagram, Twitter and Telegram to get the latest updates.