One former SMRT CEO is pretty good at tai chi.
In case you don't know, tai chi is a martial art from China practiced all over the world for self-defence and its physical health benefits.
Saw Phaik Hwa
Saw Phaik Hwa, who was the CEO of SMRT from Dec. 2002 to Jan. 2012, is a practitioner.
[caption id="" align="aligncenter" width="520"]
Image via[/caption]
Saw stepped down as SMRT CEO in 2012 after two major train service disruptions in Dec. 2011, which left passengers stranded.
She was a controversial figure, who has been blamed for problems regarding our MRT system.
Shortly after she departure from SMRT, she set up a personal blog in March 2012, which no longer exists.
But according to the internet archives, Saw has a penchant for tai chi.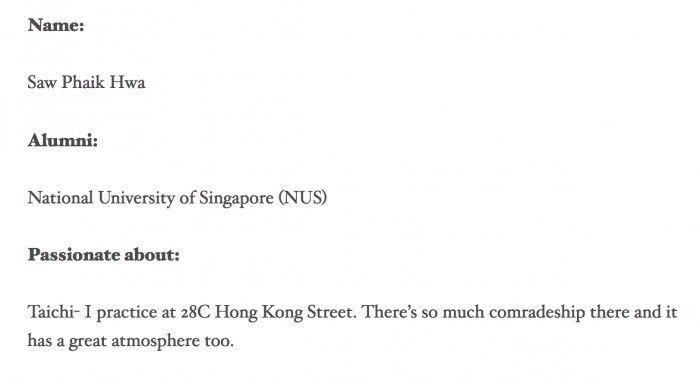 A quick look at the address gives us the name of the Singapore Jian Chuan Tai Chi Chuan Physical Culture Association.
But Saw is not just an ordinary dabbler in the ancient art of tai chi. She is in fact pretty good at it.
Certified instructor
She's mastered the martial art to such an extent that she is a certified instructor, having learned from Grand Masters and earning the right to tutor others how to perform tai chi.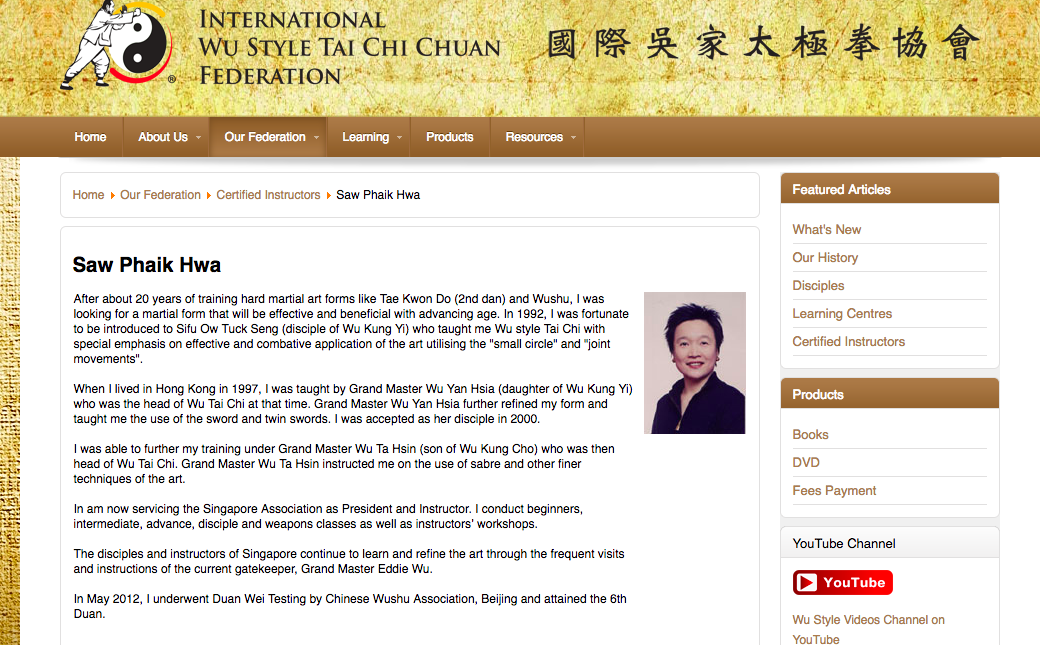 According to Saw's entry at the International Wu Style Tai Chi Chuan Federation's online database:
"After about 20 years of training hard martial art forms like Tae Kwon Do (2nd dan) and Wushu, I was looking for a martial form that will be effective and beneficial with advancing age. In 1992, I was fortunate to be introduced to Sifu Ow Tuck Seng (disciple of Wu Kung Yi) who taught me Wu style Tai Chi with special emphasis on effective and combative application of the art utilising the "small circle" and "joint movements".

When I lived in Hong Kong in 1997, I was taught by Grand Master Wu Yan Hsia (daughter of Wu Kung Yi) who was the head of Wu Tai Chi at that time. Grand Master Wu Yan Hsia further refined my form and taught me the use of the sword and twin swords. I was accepted as her disciple in 2000.

In am now servicing the Singapore Association as President and Instructor. I conduct beginners, intermediate, advance, disciple and weapons classes as well as instructors' workshops.

...

In May 2012, I underwent Duan Wei Testing by Chinese Wushu Association, Beijing and attained the 6th Duan."
[caption id="" align="aligncenter" width="400"]
Source: International Wu Style Tai Chi Chuan Federation[/caption]
[related_story]
Although Saw claimed that she serves as one of the school's instructors, she isn't listed among them on the school's own website. Perhaps she's too busy these days, serving on the board of SMU's trustees.
Still, if you want a crash course in tai chi, you might embark on an epic quest to seek out Saw and ask her to be your master.
Top image from Wikimedia Commons and International Wu Style Tai Chi Chuan Federation.
If you like what you read, follow us on Facebook, Instagram, Twitter and Telegram to get the latest updates.