It's October again -- the time of the year where people will pay to get scared at events such as Halloween Horror Nights (HHN).
But the real horror happens when you realise the tickets you have purchased on Carousell were all part of an online scam.
How did it happen?
While one Singaporean Mandy Teo did not get scammed, an image of her identification card (IC), however, was used as reassurance for buyers to certify the scammer's "authenticity".
width="500">
Lost IC was stolen
Teo claims she lost her IC last year and has recently replaced it in 2017.
However, she believes that the Carousell fraudster had found her old IC and kept it for his/ her malicious intent.
Scammer's modus operandi
The scammer was selling a variety of items including HHN express tickets.
When a potential customer was feeling sceptical about the sale, the Carousell fraudster was ready to whip out Teo's identification card and guilt-trip the buyer.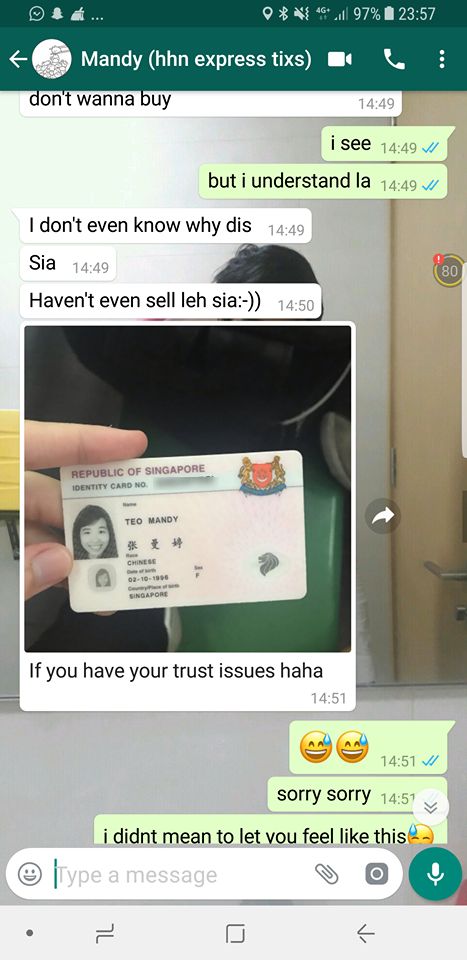 New account
While the Carousell account has since been reported and suspended, the scammer created a new account on Oct. 7, 2017, selling only "Ed Sheeran Live in Singapore 2017" concert tickets.
The scammer again used the premise of revealing Teo's IC to gain trust.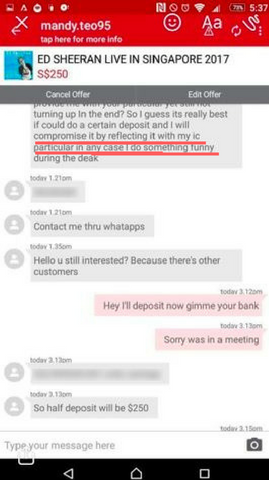 Refused to meet up
In another case, the fraudster showed suspicious signs when refusing any requests to meet up, and relented only when he/ she received a partial deposit.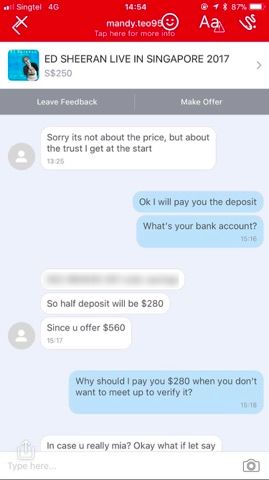 Once again, the scammer used the stolen IC to gain the buyer's trust.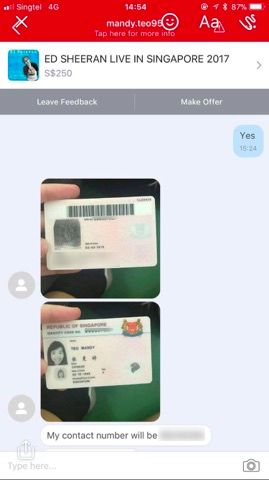 According to Teo, at least three people have contacted her after she published her Facebook post to inform her that they have been scammed by the imposter, one of whom lost S$325.
Teo has since lodged a police report.
[related_story]
More scam reports than last year
According to a media report, there have been at least 35 reports of scams with relation to the HHN event -- an increase compared to a total of 30 cases for the event last year.
Hopefully, this will be a lesson for us to be warier when doing online purchases.
Top image courtesy of Mandy Teo