Buying stuff online is risky business.
Turns out, selling stuff online is as well.
And if you happen to use the Gumtree website, one of Singapore's more active online classified ads website, look out for this new scam.
Gumtree buyer scammer
According to a tip-off by a Mothership reader who is selling items on Gumtree, a person claiming to be an interested buyer had pretended to do a bank transfer to compel her -- as the seller -- to send the item overseas claiming payment has been made.
Here are the details of how she was nearly scammed by the conman:
The seller posted an ad on Gumtree offering a Samsung S7 Edge phone for sale, and was contacted by an interested buyer named Aaron Bennet.
Step 1: Ask to purchase phone
Bennet said he wanted to purchase the phone for someone else in the US, and provided an address.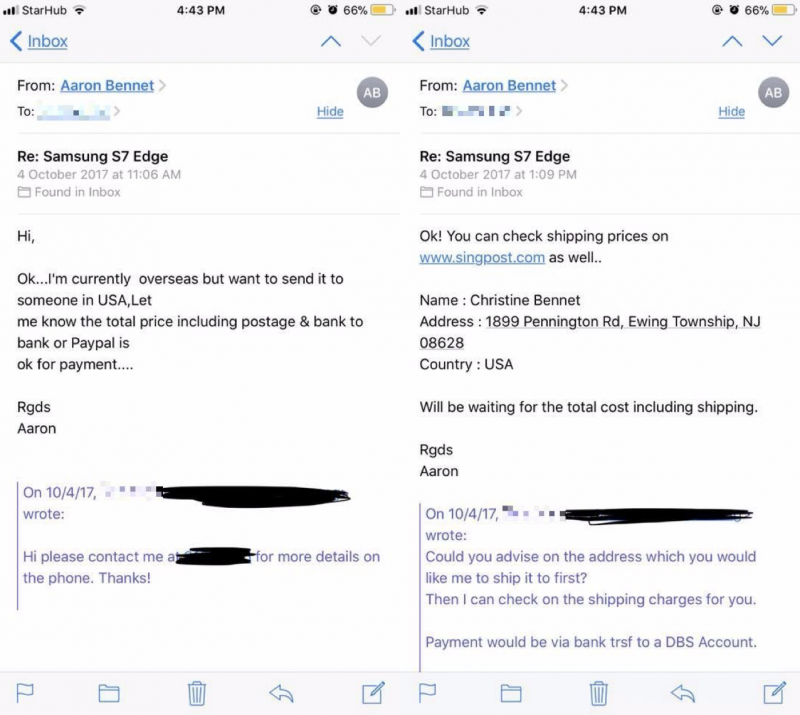 Out of curiosity we checked out the address on Google Maps, and it bears a strong similarity to a murder shack.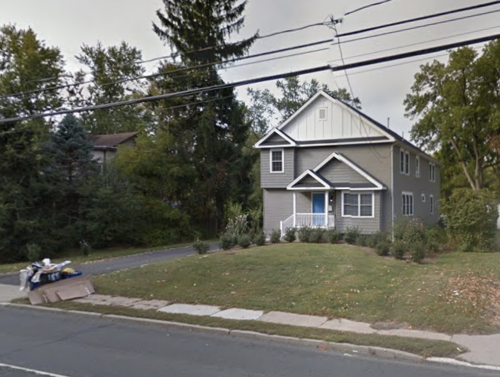 Step 2: Send fake email from "CitiBank" that "proves" he paid the money
Bennet then enacted the next part of his scam, saying that he had made the payment to CitiBank and asked for the phone to be shipped out.
To confirm the payment he'd allegedly made, he said that CitiBank would send her an email confirmation. And she did get an email.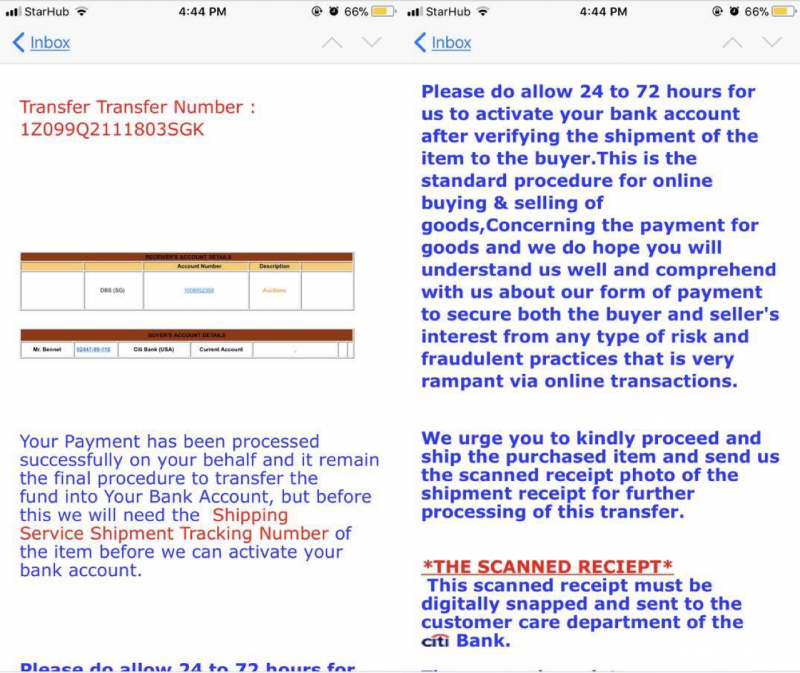 Now anyone who's spent more than two hours on the Internet will immediately pick up on a number of red flags in this suspicious email, including its criminal use of bright, garish colours, clashing fonts, and horrible grammar.
Our contributor thought so too, and contacted CitiBank to check if the email address used (Citi-Bank Group, [email protected]) was legit.
They got back to her and said it was not.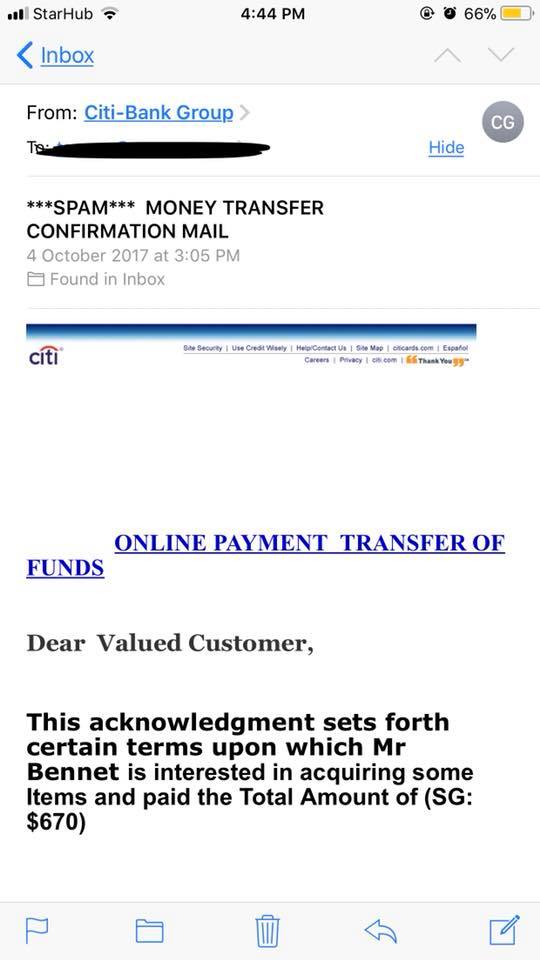 Step 3: Ask for item to be shipped out so that "CitiBank" can release the money
The final part of this ingenious plan saw Bennet asking for the item to be shipped to the address he provided. And in order for CitiBank to send out the money, the seller would have to provide the tracking number to prove that she did ship out the phone.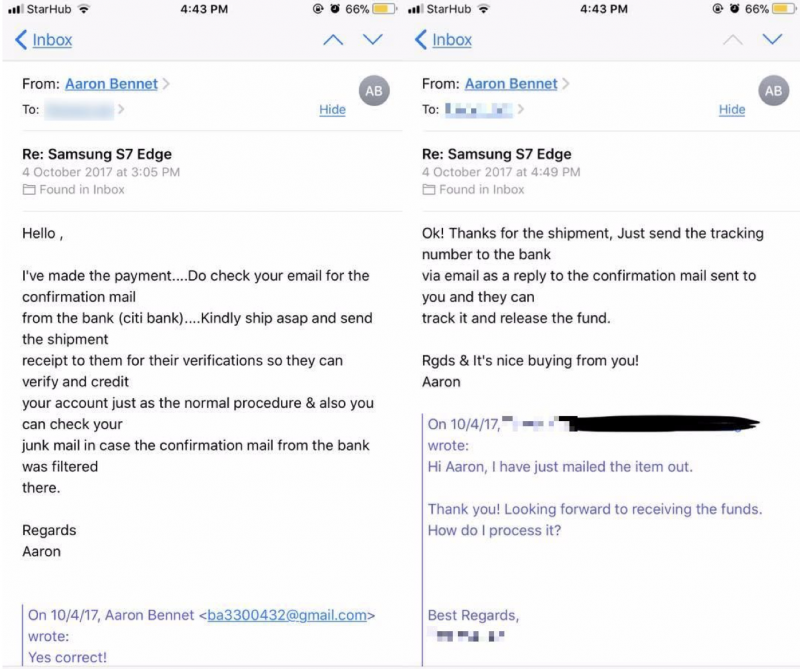 The seller then decided to play along and told the buyer that the phone was shipped out without doing so.
As far as she knows, he's still waiting.
Other scams
This isn't the only scam our contributor has encountered. She received another suspiciously similar email for the phone, except this time the alleged buyer wanted her to send her phone to an address in China instead.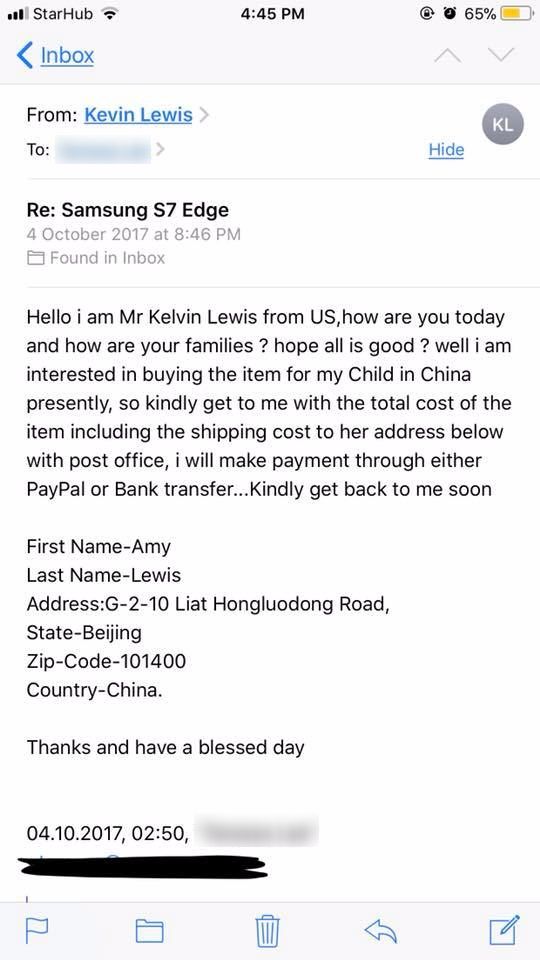 Interestingly enough, when you google the Chinese address, the first link that pops up is about another scam on Carousell instead.
A quick perusal of Gumtree's website shows that other users have encountered scams in the past, although Gumtree does respond to such posts with further instructions.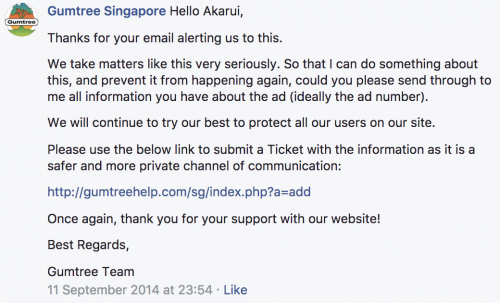 Do remember to exercise caution when doing business online. If something looks and feels like a scam, it probably is. If someone resorts to using fake bank email accounts with bad grammar and brightly coloured text, it almost definitely is a scam.
And if you do encounter such scams on Gumtree, you could try reaching out to them for help.
Related stories:
Top image from a Mothership reader
If you like what you read, follow us on Facebook, Instagram, Twitter and Telegram to get the latest updates.