We all know that Transport Minister Khaw Boon Wan is a very colourful and quotable minister.
One of his best-known would undoubtedly be this, in the context of a parliamentary debate on the Aljunied-Hougang-Punggol East Town Council:
"In Japan, the CEO and board of directors will call a press conference and take a deep bow, and in the good old days, they may even commit hara-kiri."
So we always look forward to hearing from him. And with the latest press conference he appeared at together with SMRT's leadership on Monday afternoon, he certainly didn't disappoint, pulling no punches and pretty much whacking SMRT quite decisively with respect to the MRT tunnel flooding incident.
Khaw, indeed, says things the way he sees them without mincing his words, in whichever ministerial portfolio he has taken, and in this arguably toughest one of all, it certainly looks like he's largely speaking his mind, no-holds-barred.
Naturally, therefore, from his speech as well as the Q&A that followed, we gained a host of new gems, which we we thought would be worth sharing with you:
On how tremendously unforgivable the tunnel flooding incident was
The context: Khaw was making the crystal-clear point that the tunnel flooding incident is a simple thing that was completely preventable and should not have flooded the way it did, especially when its capacity is so much bigger than the amount of rain that entered it on the afternoon of Oct. 7.
1. "Bottom line is: MRT tunnels should not be flooded, full stop. But on Oct. 7, 5.30pm, that stretch of North South Line between Bishan and Braddell did and MRT service had to be suspended."
2. "The flooding problem is not excusable. Because it's so simple. We learn it as engineering students. Engineering 101. I know how to design a pit how to calculate capacities, those are simple stuff. The students can do. You should not have failed there."
3. "I think it is too embarrassing to even talk about it. It is so simple that it should not have happened. What's the Chinese expression, 阴沟里翻船 — the Chinese saying I thought described this quite aptly: that you expect to meet… not that you expect, but if you capsize in an ocean, great turbulence, hurricane, you capsize, okay, people can understand. In a small little drain, calm and so on even then you go and capsize I think that is… meaning it's totally unexpected, it should not have happened, it must not have happened. It may not have happened. And yet it happened. It is as embarrassing as that."
Trying his darndest to explain why he keeps saying reliability is improving despite all the disruptions and delays we've been seeing
The context: Khaw, who is still quite clearly feeling aggrieved by the way the media has been covering SMRT's woes, decided he needed to lecture the media about being responsible and clear in differentiating between the hiccups caused by the re-signalling project happening on the North-South Line and other improvements being done on the newer train lines.
In fact, he even repeatedly said he was willing to stay "as long as you (the media) need(ed)" to respond to any further questions, clarifications or doubts reporters there had. He said, more than once, that he hoped everyone would walk out of the press conference room clear in their minds of exactly what happened.
4. "I know Singaporeans could not relate this significant improvement in reliability because they still hear, 'why sometimes delays here delays there because of the re-signalling?'. And the reason is we are actually doing two major assignments at the same time. We are trying to improve existing lines, and then we are changing the signalling system for North South line. Two projects simultaneously.
So when the two projects are being conflated, so people thought 'what are you talking about? Rail reliability has improved? I still keep on hearing and reading in the newspaper this signalling glitch, that signalling delays in the North South line.'
That's because the two have been conflated."
5. "So even when you evaluate the performance of re-signalling project, we have done well. And that's why I was so concerned when media reports conflate the two and drew, to me, wrong conclusions.
Because I knew what running a huge organisation with many staff is all about. You don't have to use war, battle comparison but it's similar. You go to war, you go to battle, troop morale is extremely important. You demoralise them, no amount of weaponry and good leadership of the general can win the war.
And this is a multi-year effort, and keeping up morale high, to me, is key. And that's why I spent time — I'm not free or whatever, no other things to do, there are plenty of things to do in the Ministry of Transport, I always allocate, spend time to go down to the trenches with the troops. And I think they enjoy my company… 'I think the minister took the trouble to come down. I think we better buck up and do what we can'. That was what I was trying to do."
6. "I hope we will be able to compartmentalise and look at things more clearly in that way. And I look to you honestly as media that you can help us do this educational thing. Because if you yourself are confused and you conflate, then you are going to write in a way which will further confuse the ground. That's what I'm urging. I think just as I said, I'm looking at this whole project as one team, I look to you as part of my team too. I think we are all Singaporeans we want our MRT to be the pride of the world and it can be, and it can be. But I need you too, to work with me, try to explain."
[related_story]
And we saved the best for last — context to the October 7 incident:
7. "So in the past when we say, let's design something for one in a hundred years, one in 50 years, we are beginning to see that hey, you know, this so called one in a hundred years is happening twice during the hundred years, so obviously things have changed.
And indeed, the Bishan anti-flooding system was designed for one in a hundred years. So our study, which is still ongoing, is 'are you sure that's adequate?' But for the incident that happened on October 7, it is much more than adequate, nothing to do with these extremes of weather. It is just poor maintenance.
So as I said, this study is ongoing, but as a result of that study, as part of that study, they have gone into looking at current maintenance, and in fact, at a joint LTA-SMRT meeting on September 29, which is just a few weeks ago, among other things, they discussed and decided we need to replace the pumps in the pits.
So we are late by a few days. Had they proceeded to replace, this thing might not have happened.
But I suppose, that is life."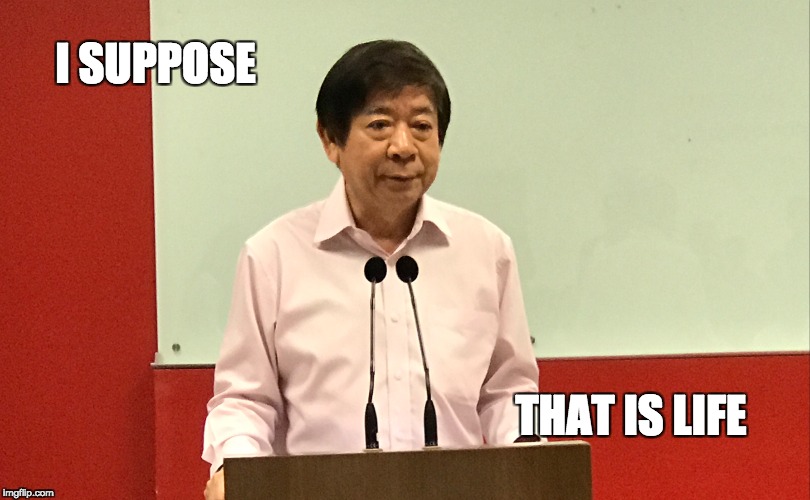 Related articles:
Top photo by Sulaiman Daud
If you like what you read, follow us on Facebook, Instagram, Twitter and Telegram to get the latest updates.