There are a few things I can never leave my house without -- phone, keys, wallet.
Miss out any and I panic immediately, before the other emotions hit me; irritation, exasperation and, well, fear.
Perhaps the most annoying thing is figuring out how to ask people for help. Damn paiseh lah.
But there's been a lot of talk about going cashless, and after a recent incident of me having taken a taxi without my wallet (sorry Uncle), I started to wonder if the insecurity of not having my wallet is now an irrational fear.
So, to put it to a test, I decided to go a day without my wallet.
And no, I didn't borrow cash from anyone. Cashless lah dey.
Wallet-less =/= cashless
Without a wallet, I wouldn't have a single credit/ debit/ ez-link card with me.
My best bet for survival would be a mobile payment app, such as OCBC Pay Anyone, where payments can be made to merchants via NETS QR codes --  circumventing the problem of not having my cards with me.
Also, the app allows me to transfer money to anyone through their mobile numbers, email or even Facebook, which means if I'm at my wits end, I could search for a proxy of sorts to pay on my behalf. Heh.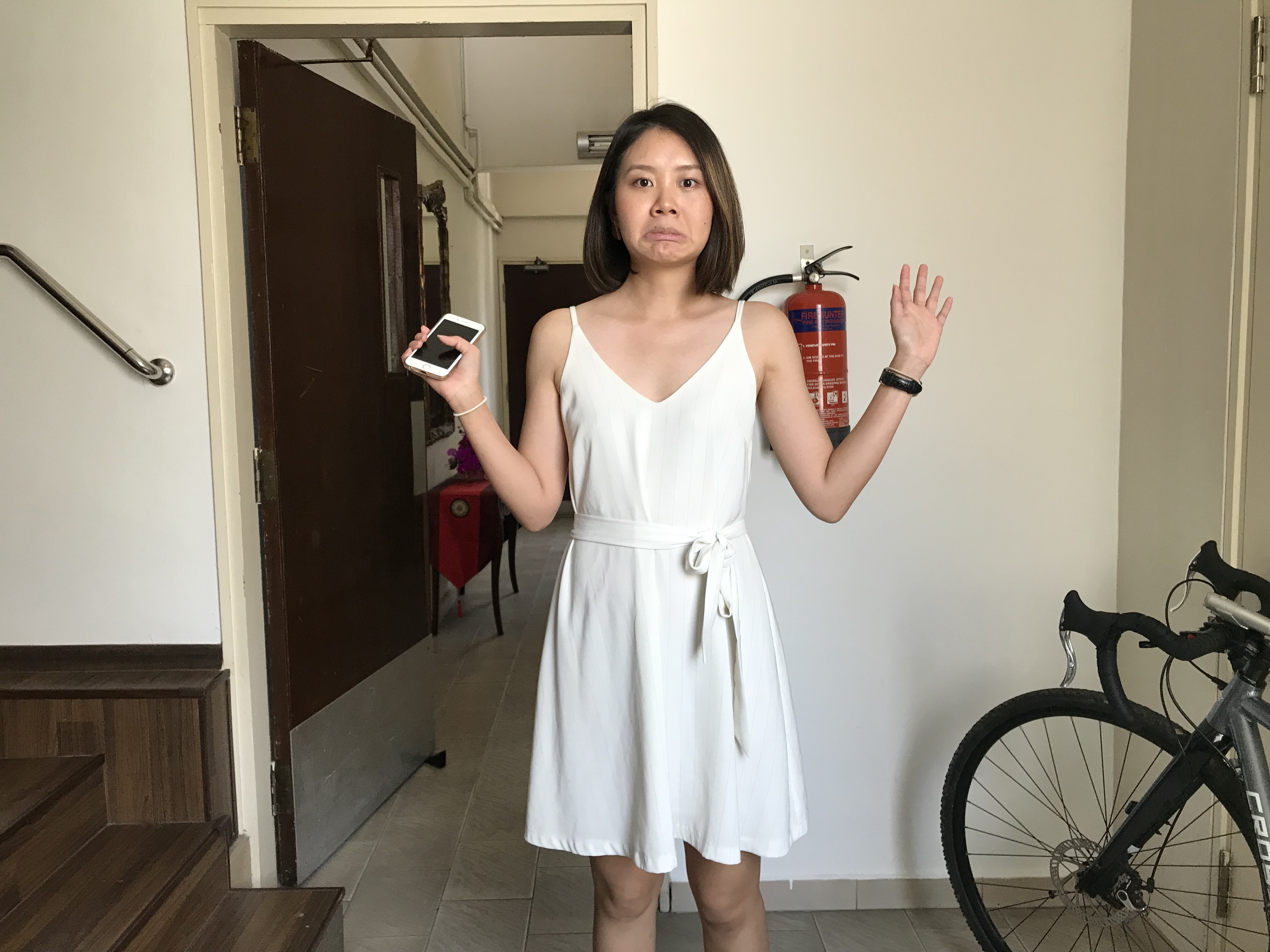 9:00a.m.: Getting a cab
No wallet means no ez-link card, so I had to skip public transport for the day. Not that I complained, because Mondays in a packed train is something I can take a breather from once in awhile.
There was the option of calling a private hire driver, but DID YOU KNOW YOU CAN PAY for taxi rides via QR code? I certainly didn't before this mission, so I decided to try it out.
15 minutes and four curt rejections later, regret started creeping in. When I asked drivers if I could pay by QR code, most of them were stumped; all of them quickly waved me away.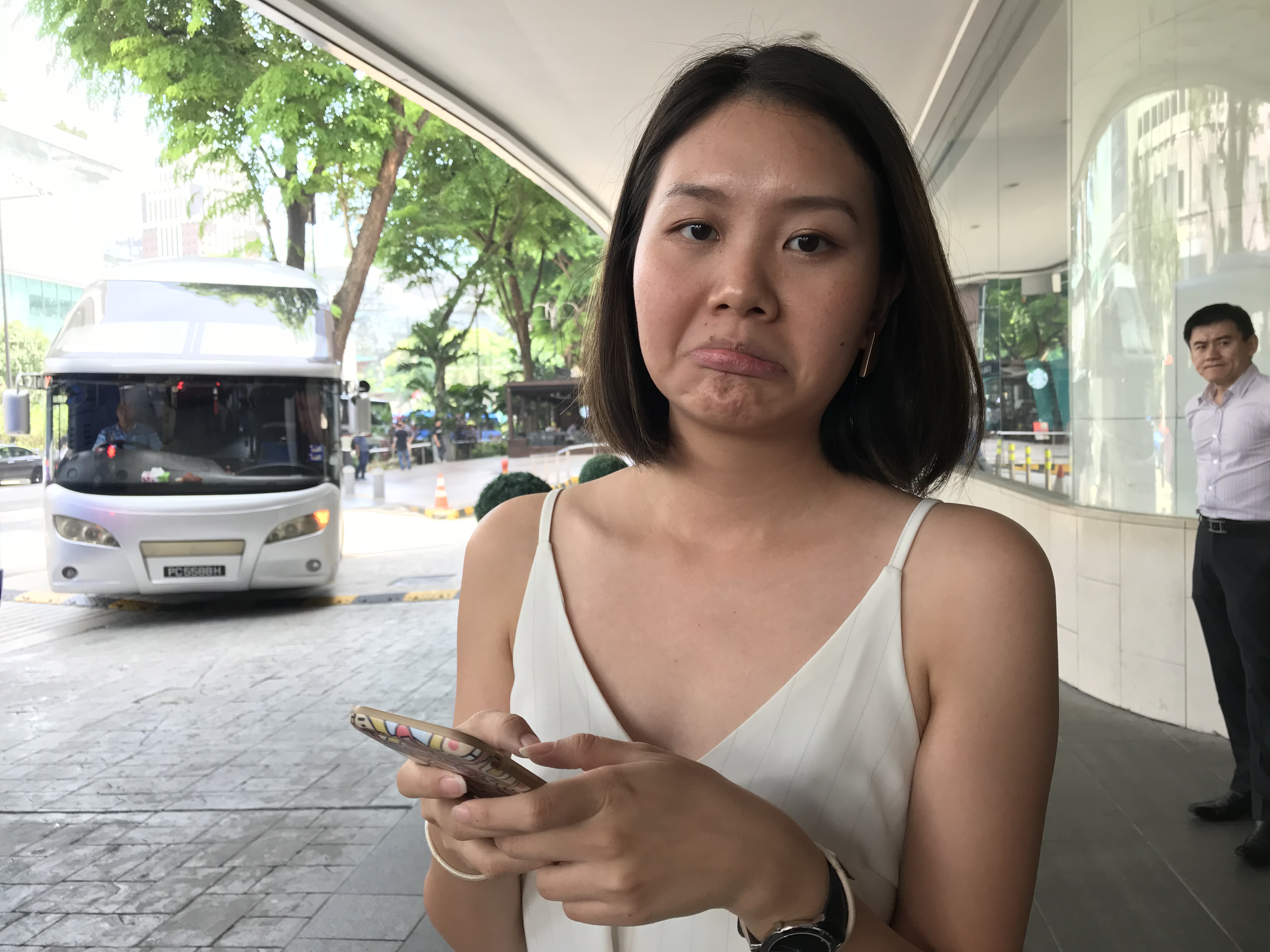 Finally, a Comfort taxi pulled up and the driver didn't scrunch his face up at my question. There was a QR code on his NETS machine. Yes!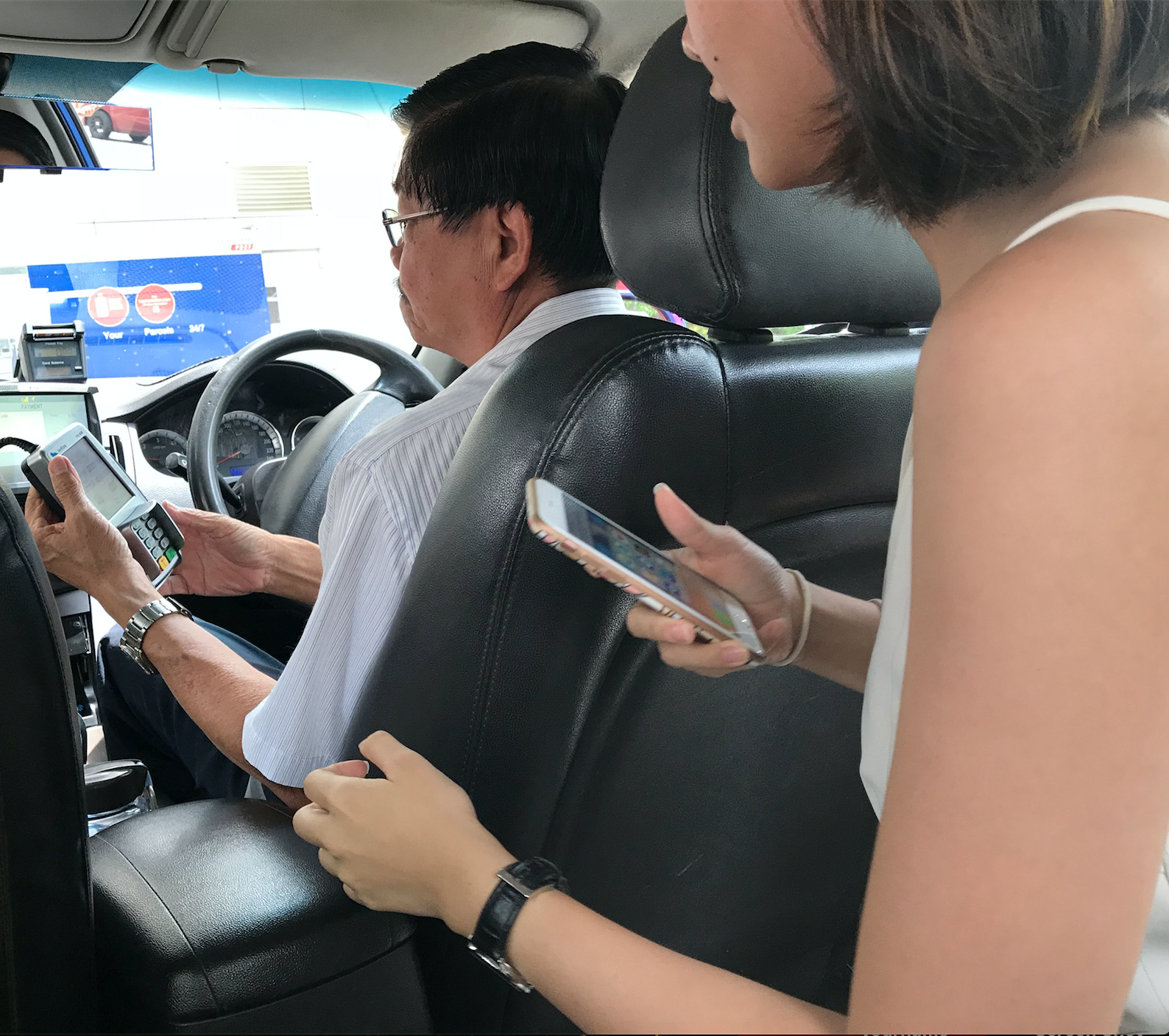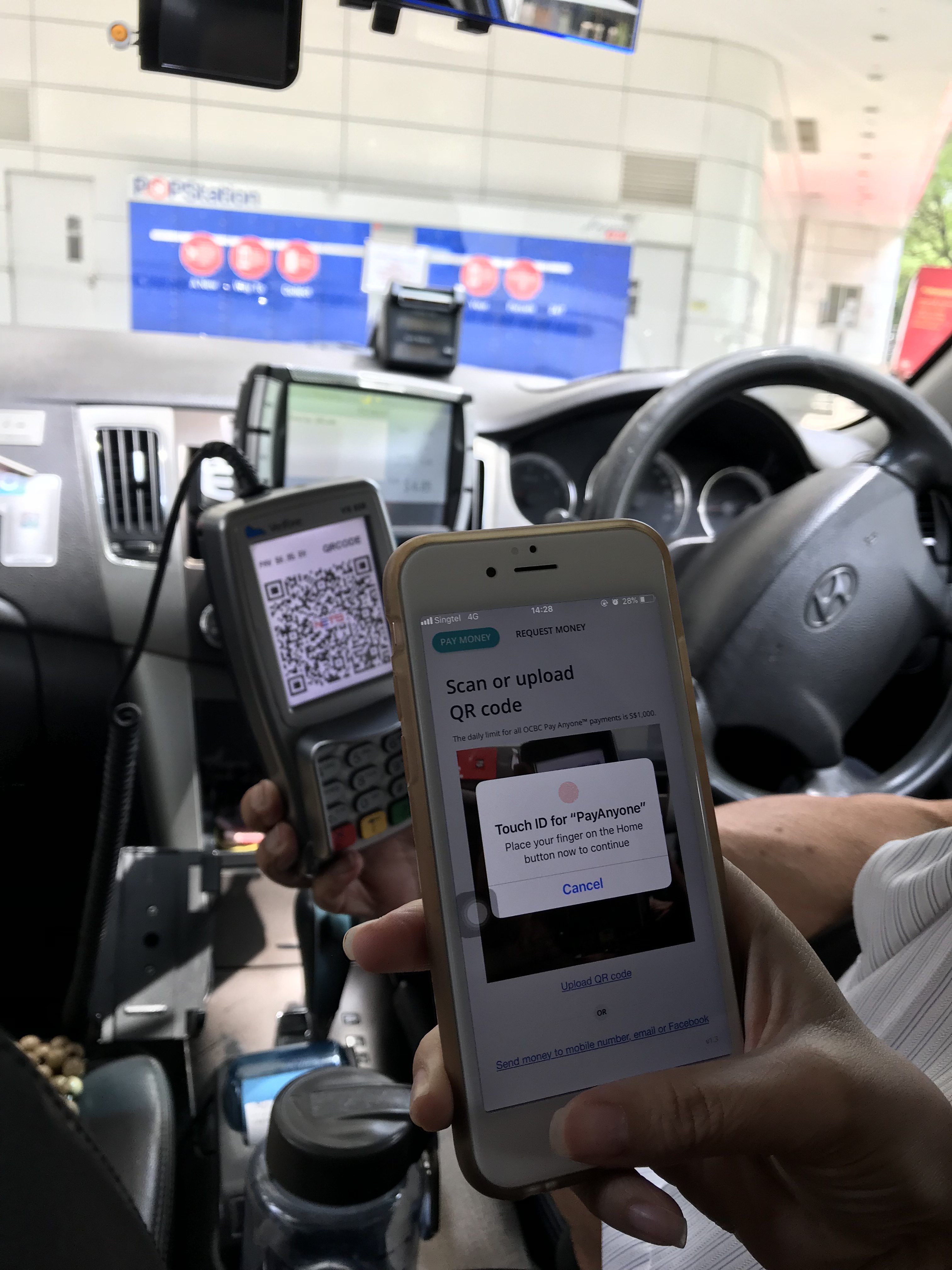 Success! The payment process was speedy; scan, touch fingerprint, and click. The QR reader on the app didn't take a gazillion seconds to read the code, unlike others.
Not too bad for a start.
1.00p.m.: Lunch
Lunch was slightly tricky because currently, most hawker stalls that accept OCBC Pay Anyone QR code payments are at Tanjong Pagar Plaza Food Centre, Yishun Park Hawker Centre and Beo Crescent Market (the number of hawker centres with QR code payment is already growing around Singapore, but none near the office yet), and I wasn't going to a restaurant. Because budget.
So I had a friend buy me food, and transferred her money on the spot -- easy enough to do because all I needed was her mobile number.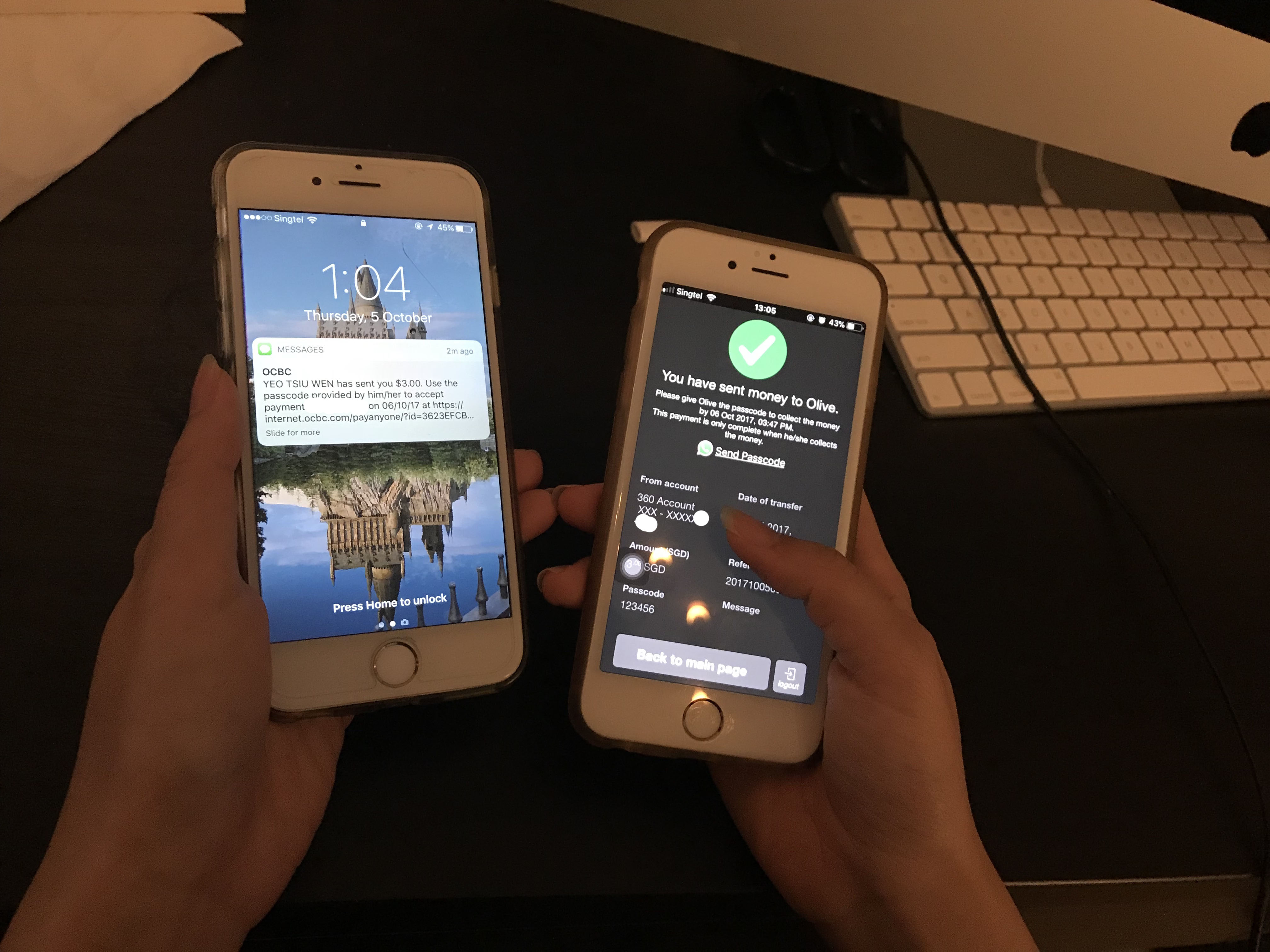 My past experience with mobile wallets haven't been great because they require topping up and, in general, effort on my part to ensure I can use it anytime.
The unconscientious person that I am was pleased with the OCBC app, because any payment is debited into my account immediately. It didn't even matter that my friend isn't a OCBC user, because the app can send money to most banks in Singapore.
Lazy me likes.
2:45p.m.: Buying movie tickets
I must admit I am one of those who still prefer to buy movie tickets in person, just to avoid paying a booking fee. Wallet or no wallet. #cheapass
But just so I won't make a futile trip, I did a quick search and discovered that Cathay Cineplexes accept QR code payments. Yes!
Everything went great, until the time came for me to ask the all-important question.
"Can I pay by QR code please?"
A fleeting look of confusion passed the cashier's face. With a quick smile, she looked down and started fiddling with the NETS machine.
"Do you mean NETS payment?"
"Yes, via the NETS QR code,"
"Erm… we don't have it.."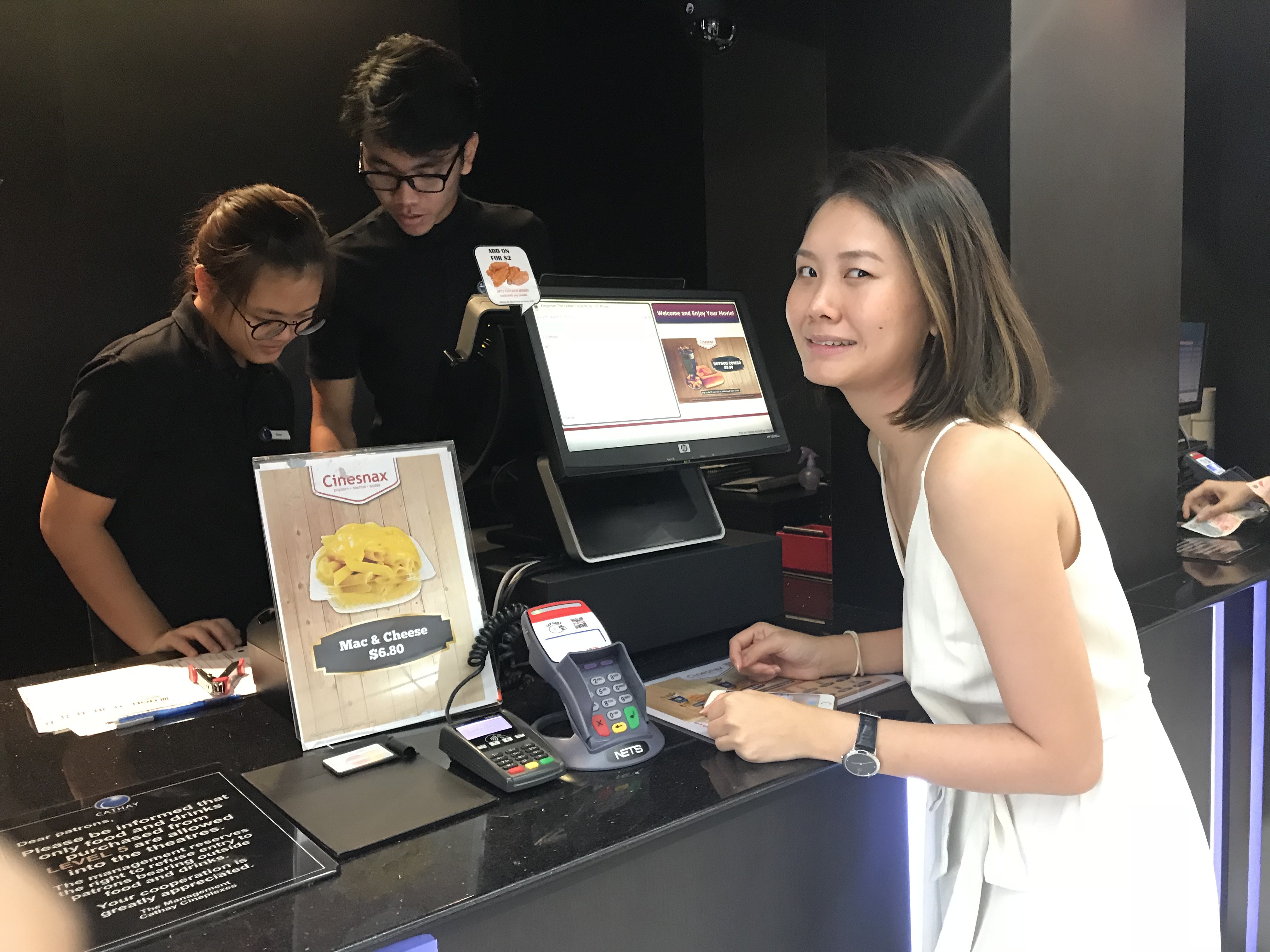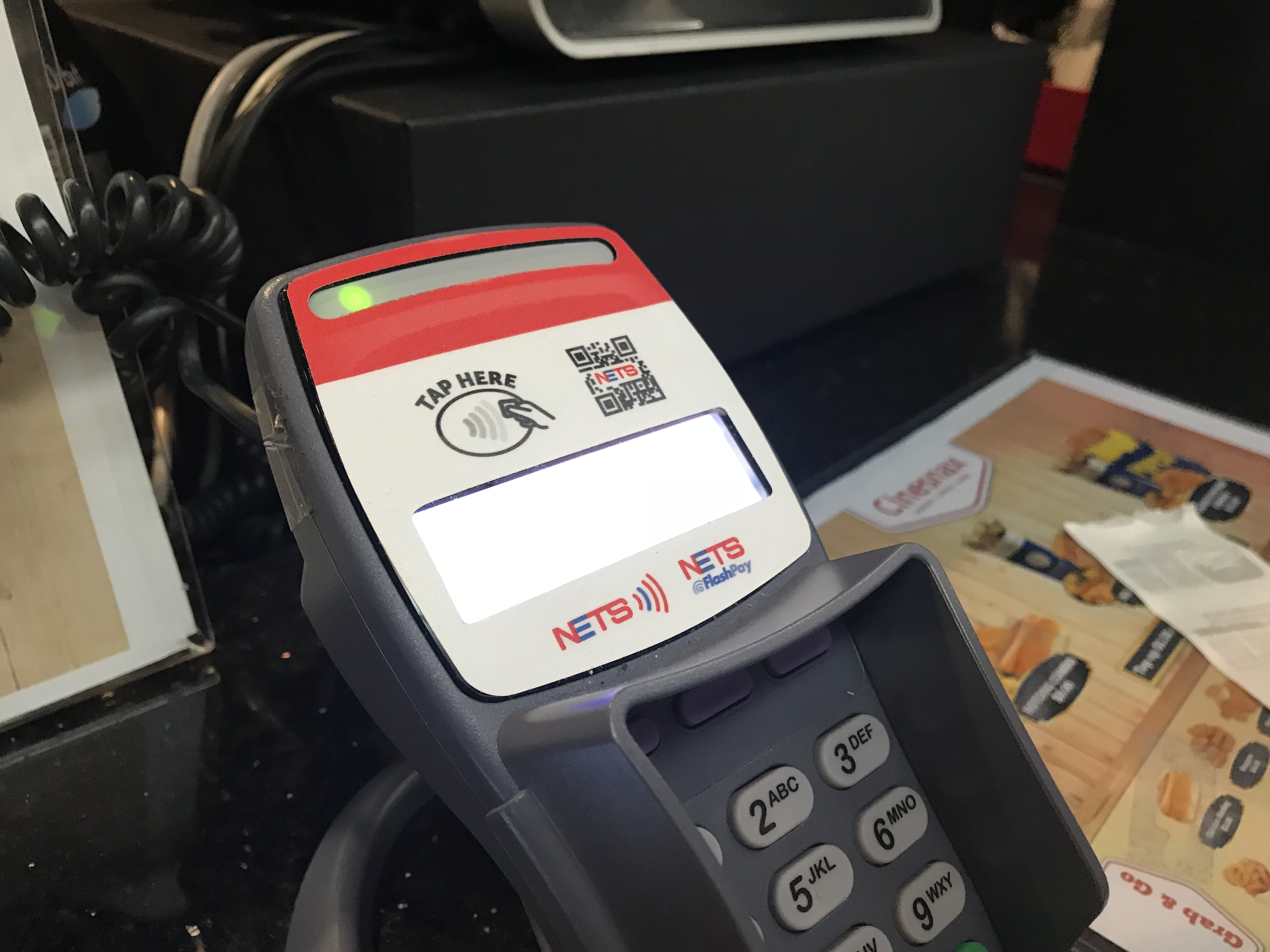 Thankfully, the other cashier stepped in to save us both from that awkward moment. Turns out, they do accept QR code payment, but it is so underused that some of the staff are unfamiliar with it.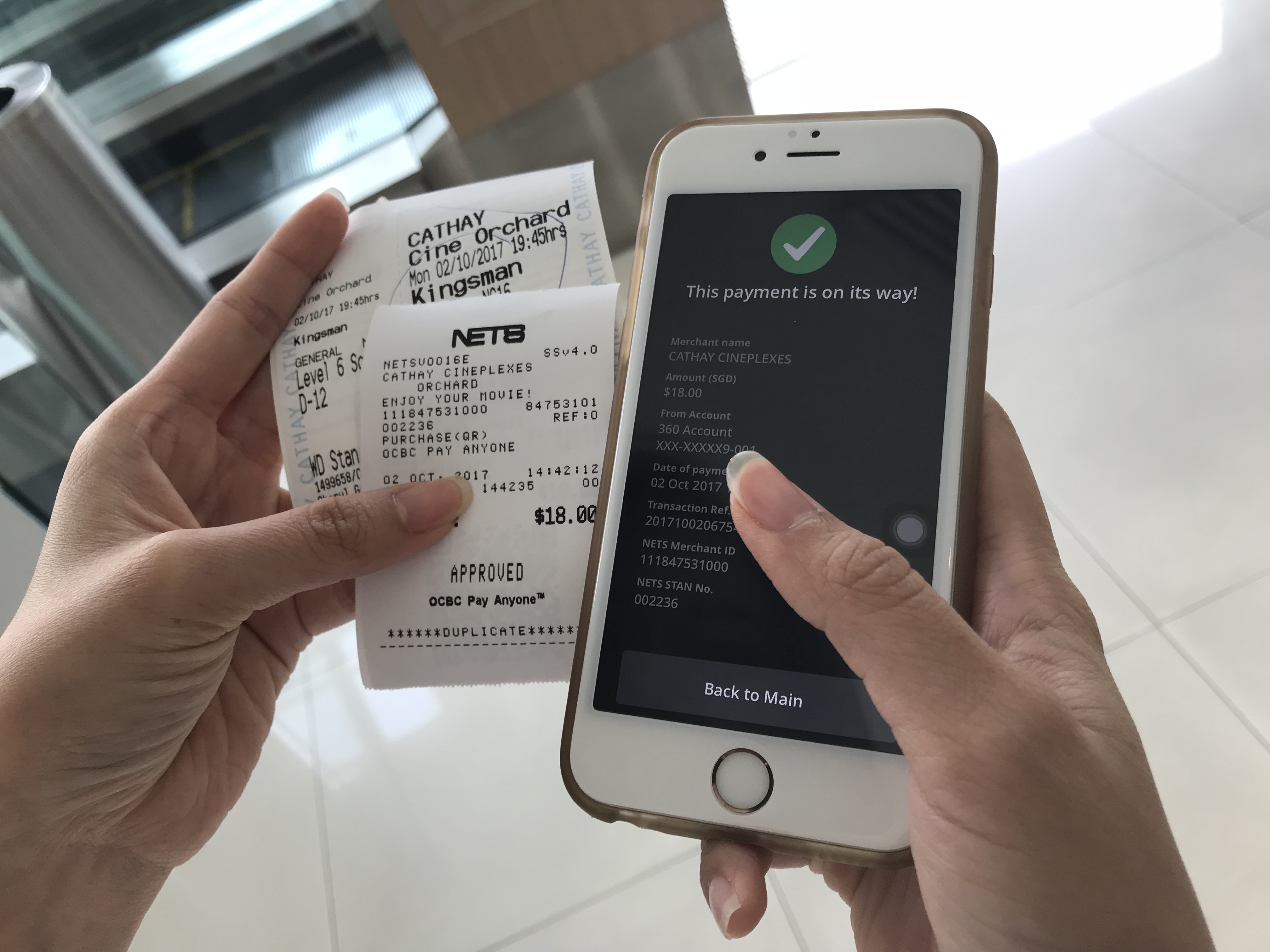 Still, it's great to know that even without my wallet, I can have a great date night.
6:00p.m.: Coffee
After a looooong work day, some coffee is a great release. At least for someone like me who can have caffeine at any time of the day.
Another quick search led me to a Coffee Bean & Tea Leaf store five minutes away, the closest place where I could pay by QR code. Nice.
This time, I wasn't surprised when the cashier gave me a puzzled look at the mention of "QR code payment". Instead, I pointed it out on the machine for him. Like I had been at the beginning of the day, he was surprised at how efficient the payment was.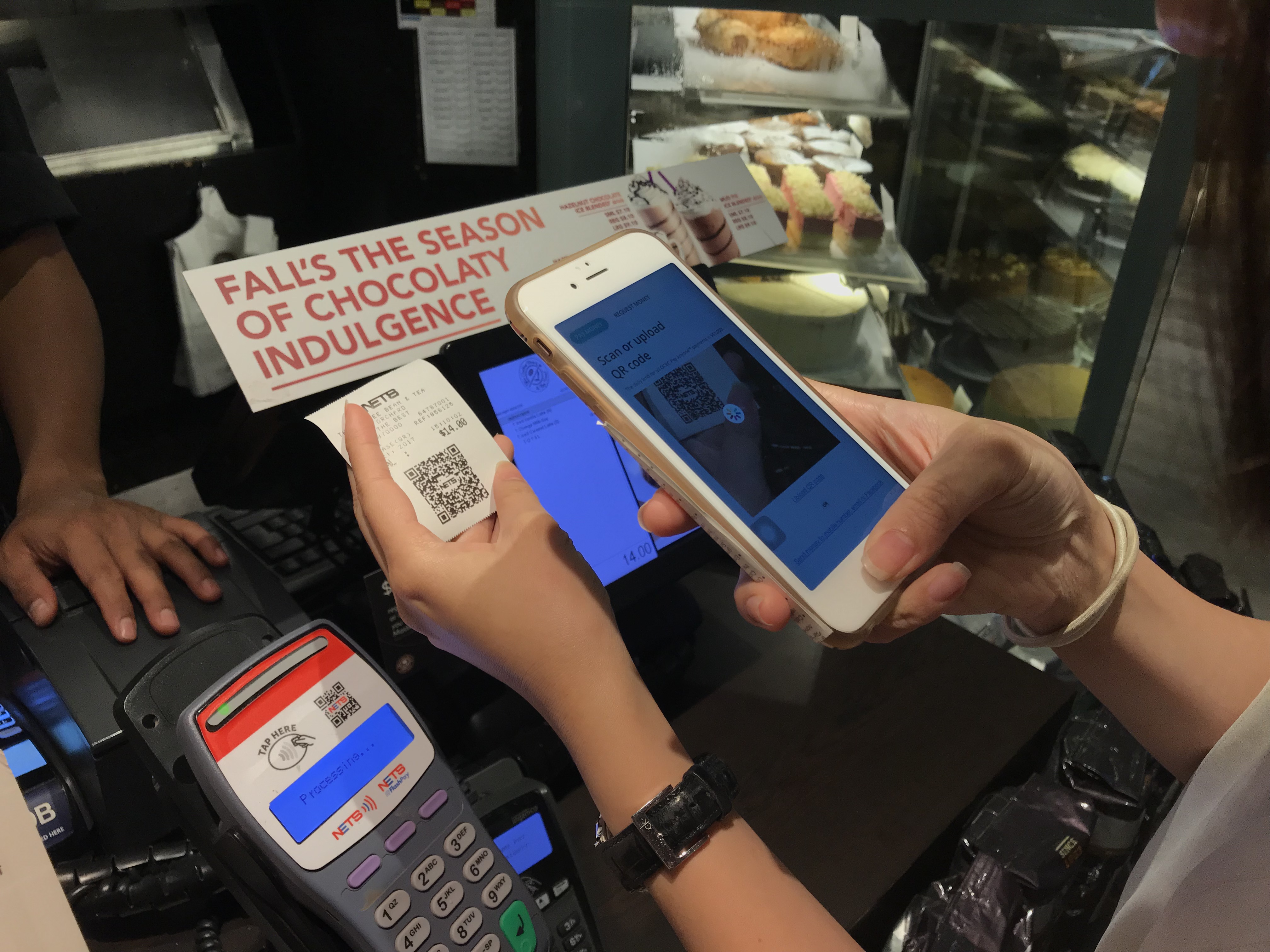 While waiting for my drink, I noticed that his badge said "Assistant Manager". I asked if it's common for customers to request to pay by the NETS QR code. He laughed and said it was the first time in six years that someone ever asked him for it.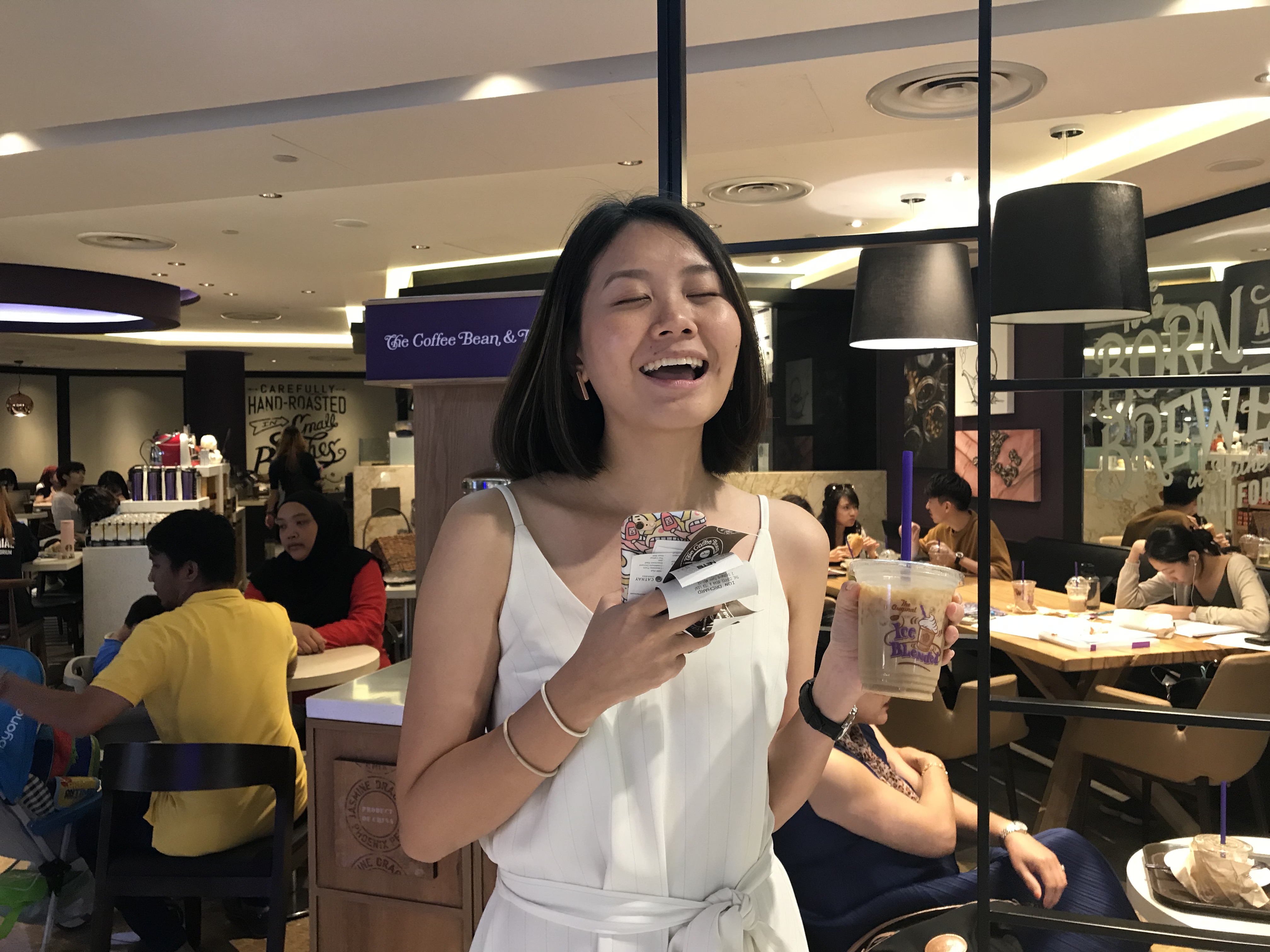 Things I learnt at the end of the day
Yes, it is possible to live without your wallet.

The OCBC Pay Anyone app is ridiculously easy to use.

My thumbprint is very powerful.

I can live with only my phone or only my wallet, but I can never be without them both at once.

Singapore still has some way to go before going cashless, but it is possible.
I could really get used to using this mobile payment app, simply because the payment process is pretty much seamless for all of its functions.
TBH, I was most impressed by the fact that funds transfer can be done with only a mobile number and to any bank in Singapore. There's no need for tokens or long account numbers anymore -- the only one I need now is my own.
(In fact, funds transfer can be done with a personalised QR code too -- anyone can create their own QR code with the app, and payment can be done by scanning each others' personalised codes.)
As for QR code payments, there's just one thing to say -- it is the future.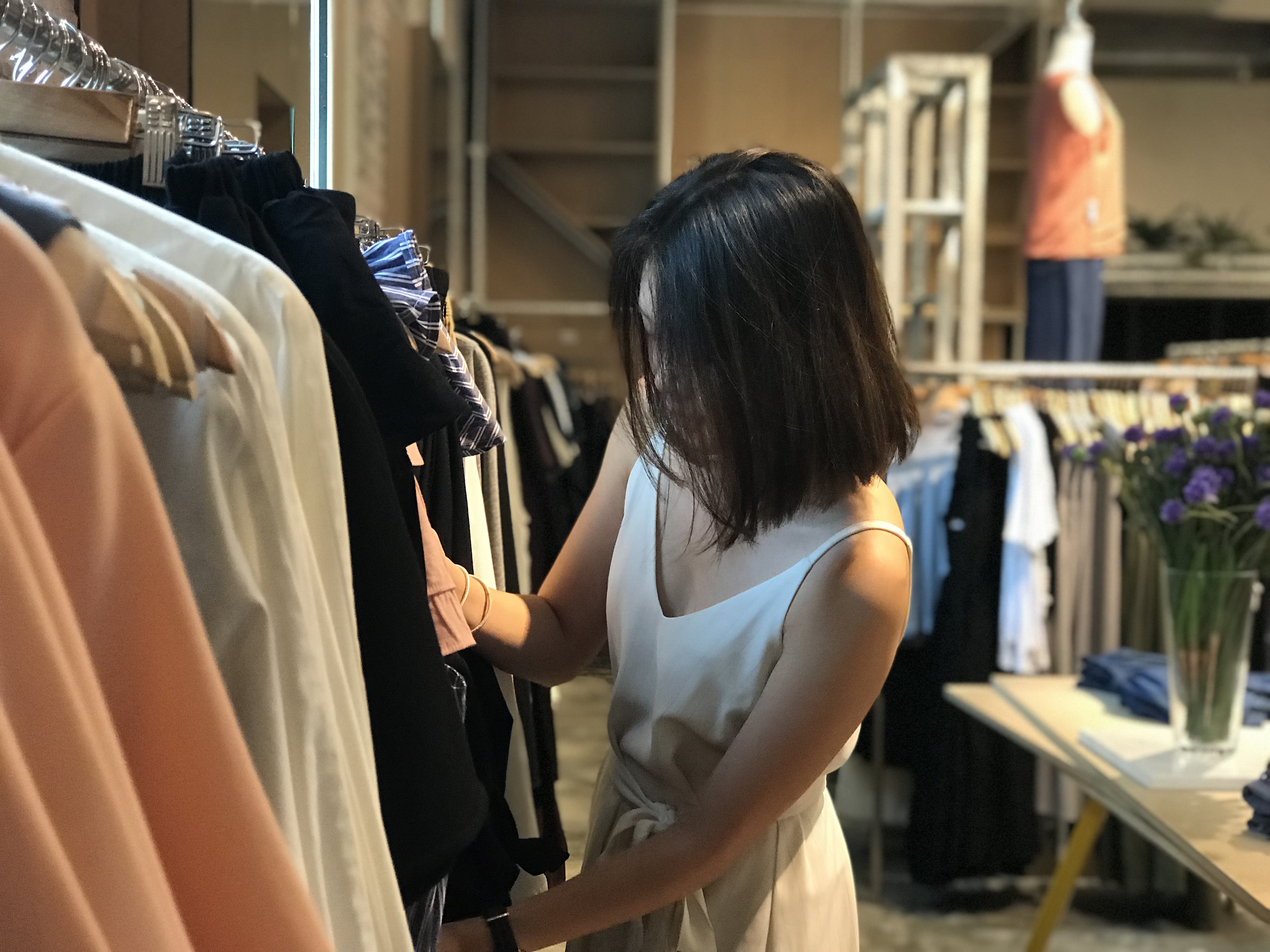 Thumbprint authorisation pretty much eliminates credit card fraud and the risk of you ever forgetting your passwords.
Also, convenience. There's really no effort required on the customer's part, at all, during payment. No more digging for coins or searching for cards.
Of course, our society needs to catch up with the technology. There are still a limited number of merchants available for this payment solution, despite how easy it is to use. Sometimes, the staff may not even be aware that the service exists for customers.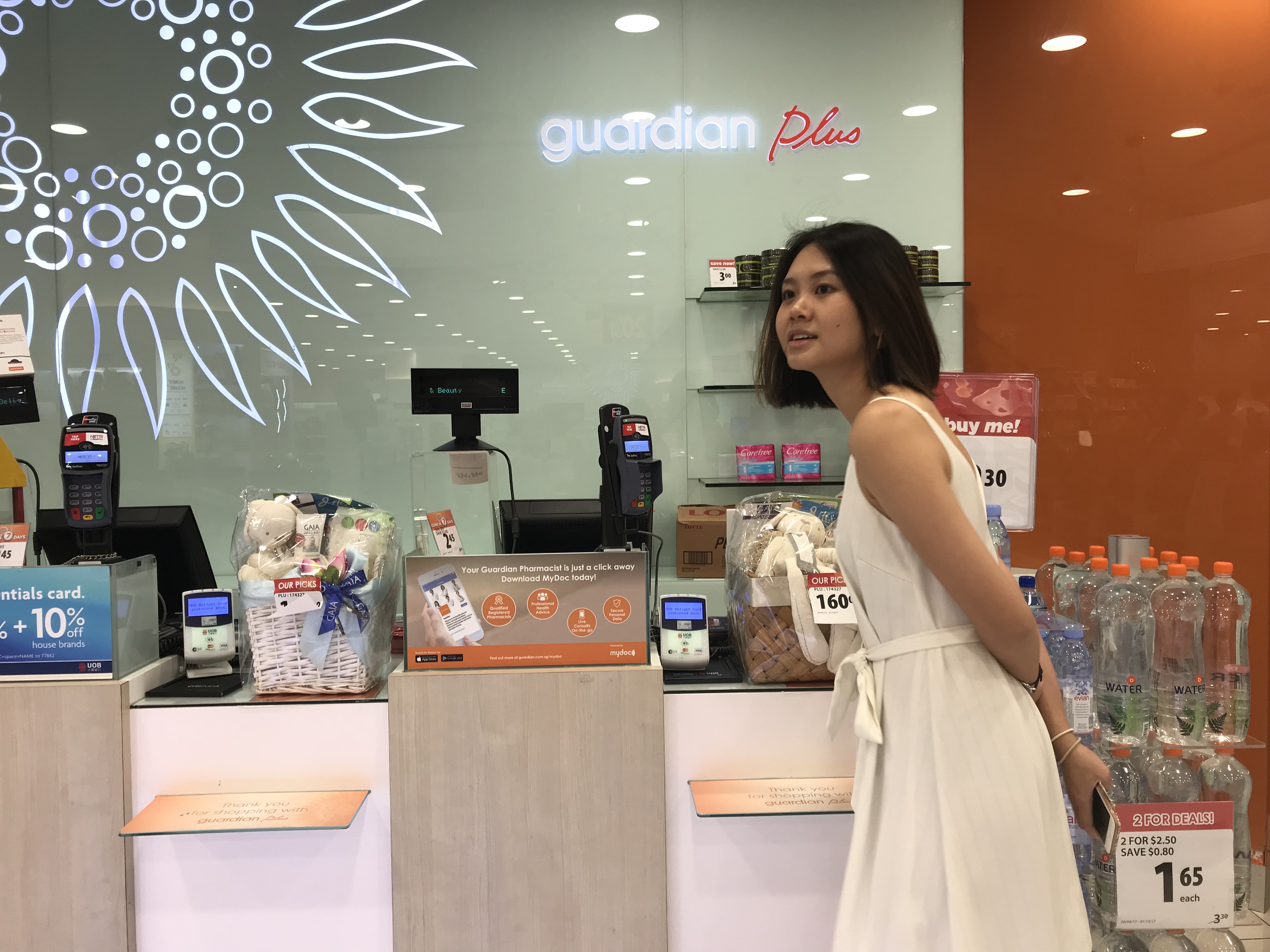 Perhaps this cashless thing is not taking off because people are still reluctant to re-learn instincts they have become so used to.
But after a day without my wallet, I can see the possibilities ahead. At the very least, I know a day will come when I won't freak out when I realise I'm in a taxi without a wallet.
This sponsored post by OCBC Bank made us realise how godly our smartphones are.
All photos by Rachel Ng
If you like what you read, follow us on Facebook, Instagram, Twitter and Telegram to get the latest updates.