Dipna Lim-Prasad has become a gloried name for those interested in Singapore athletics. The sprinter and hurdler most recently competed at the 2017 SEA Games in Kuala Lumpur, where she made history by breaking a 43-year-old national record in the women's 400m race, winning a silver medal.
She also won another silver for her performance in the 400m hurdles, after overcoming injury and illness.
From Sport Singapore's YouTube Channel. The race starts at 3:05.
While Lim-Prasad has taken the plaudits, she's also taken the time to pen her thoughts in a Facebook post following the conclusion of the Games. You can see it below:
Here are some of the key points she made in her post:
1. There is support, but it's really not enough:
"The problems and cracks in our foundation remain. Internal politics and concerns with regards to support, funding and selection criteria are ever present. Securing funding is a constant challenge for every athlete in Singapore. How can we look towards the future if the demons of our past still haunt us in the present?

I have been able to pursue my passion full-time thanks to my sponsors, husband, SAA (internal carding upon SEAG qualification) and SportSG (campaign support). SportSG's campaign schemes have enabled me to participate in overseas training camps and competitions. My coach's travel costs are covered too, should his work schedule permit. This is on top of the sports science and medical support SSI provides to all carded athletes (Physio; rehab, psych, nutrition, biomech, etc). All of these services have kept my body and mind ready to compete year after year. I am luckier than most. I recognise how fortunate I am to have received all that I have. I acknowledge I get more than most. Still -and I say this at the risk of sounding ungrateful- we need more. I am not posting this to complain, but to state a fact: there is support, but it is not enough."
2. Her coach trains her for free and juggles a full-time job, and her day-to-day costs are not covered:
"My coach, like many other coaches, comes down to training after his full time job and trains me pro bono. He takes personal leave to accompany me for overseas camps and races. My day-to-day costs, like the majority of my fellow athletes, are not covered. The support that campaign schemes provide lasts for 4-6 months of the year and comes in the form of reimbursement. The amount of paperwork an athlete has to go through to plan, budget and claim for each trip under a campaign scheme is exhausting; more importantly, it distracts the athlete from the actual goal - to focus on training and races. The funding offsets some costs, but my savings cannot grow, and I am unable to give my parents a monthly allowance. They say they don't mind but it eats at me a little. At 26, 3 years after my university graduation, I do not have financial stability because of the path I've chosen. (Let's not get into lost opportunity costs, career progression, work experience...)"
3. The conversation about funding must not be taboo:
"I know funding is a touchy subject; and that talking money is seen as taboo or crass. But I don't think that should be the case. This is an important conversation which should be discussed more openly so we can understand and learn from each other to grow. We athletes cannot wait for more support - either cash and/or in-kind - to fall in our laps too. We must be proactive, continue to knock on doors and build on our personal brands. We must continue to engage sponsors to show them that athletes are worth the investment - even if the ROI is not as tangible, clear cut or immediate. We must work together and lift each other up. We must share. We must not sell ourselves short. As a community we have to work towards making sport a viable endeavour, if not for ourselves, for our future generations and rising talents."
[related_story]
Champion marathoner Soh Rui Yong backs her up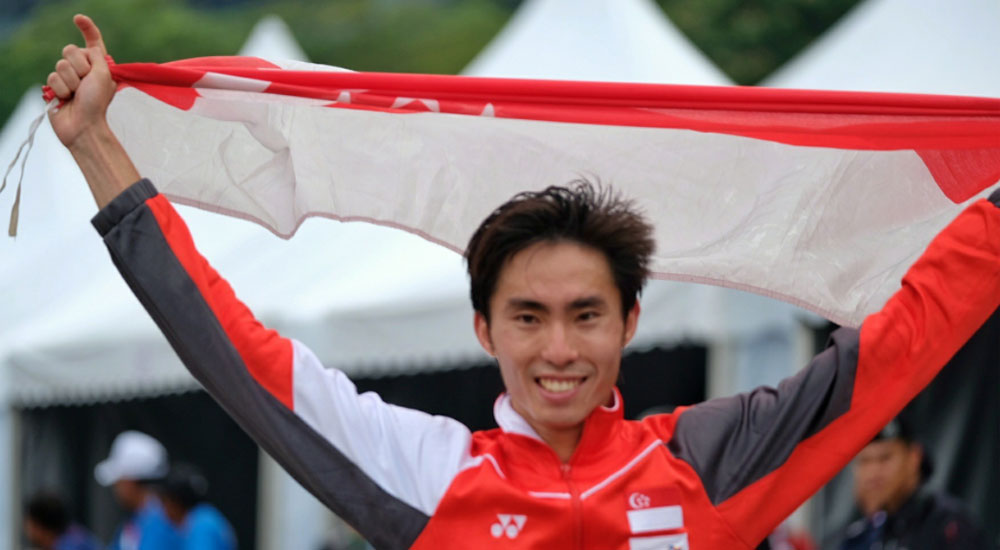 In a comment to her post, SEA Games gold medallist Soh Rui Yong backed Lim-Prasad up, adding that the financial support the athletes receive comes in the form of reimbursements for bills they have to foot themselves first upfront and then file claims for later.
These include payments for air tickets, overseas accommodation, medical bills and payment for coaches, he said.
Unfortunately, he notes, these amounts take between weeks and months to process, and even allowances given to carded athletes are also given out with a two- to four-month delay.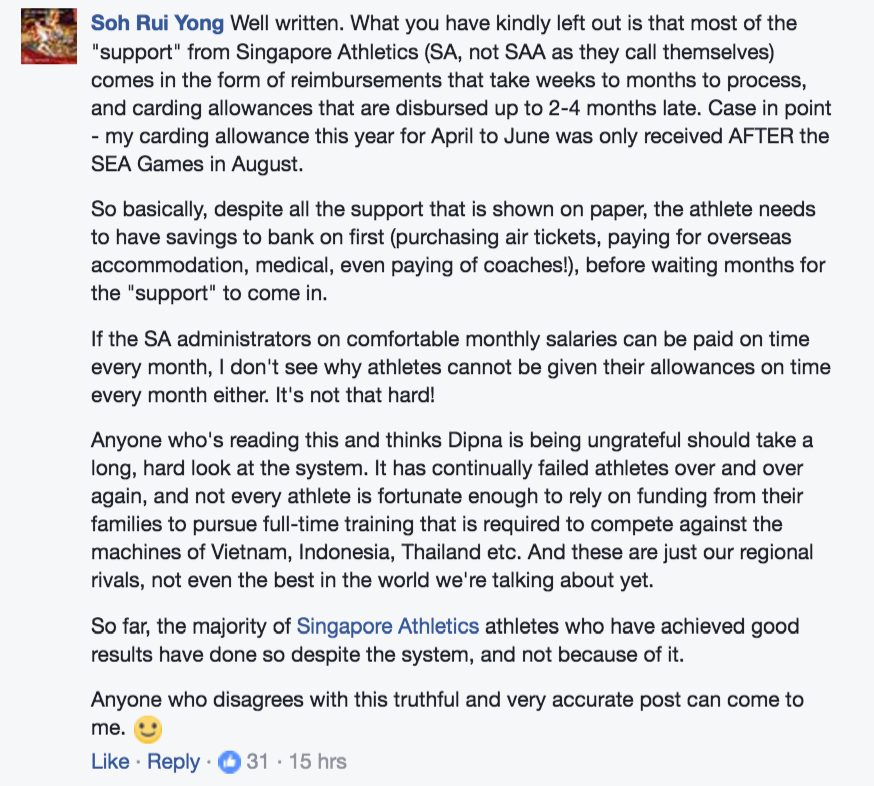 "Anyone who's reading this and thinks Dipna is being ungrateful should take a long, hard look at the system. It has continually failed athletes over and over again, and not every athlete is fortunate enough to rely on funding from their families to pursue full-time training that is required to compete against the machines of Vietnam, Indonesia, Thailand etc. And these are just our regional rivals, not even the best in the world we're talking about yet.

So far, the majority of Singapore Athletics athletes who have achieved good results have done so despite the system, and not because of it.

Anyone who disagrees with this very truthful and very accurate post can come to me. :)"
Lim-Prasad is one of the greatest athletic talents our island has produced, medal-winner, record-breaker and history-maker. Yet even with her talent and fame, she struggles to remain an athlete and compete in a sport she loves, and like many other champions we've seen at the SEA Games this time round, she will be forgotten as soon as the medal ceremonies end and everyone moves on.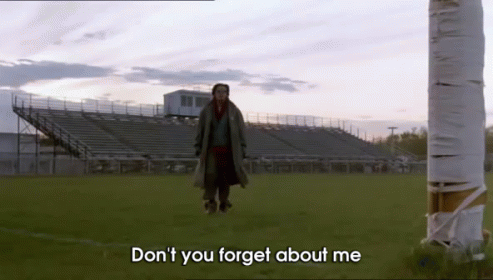 Gif from Tenor.
So many other examples of track & field athletes having trouble
This is not the first time the issue of money and support for our athletes has raised its head at the Games. Soh was not allowed to mention his personal sponsors, as they were not also sponsors of the Singapore National Olympics Council.
Prior to the SEA Games proper, pole vaulter Rachel Isabel Yang also spoke out over various challenges she had with the athletics association — from failure to assist her with equipment from overseas competitions to not even ensuring she had the right attire for the Games.
At the conclusion of the Games, Chief Executive Officer of public agency Sport Singapore Lim Teck Yin also hit out at the politics and infighting happening at the beleaguered Singapore Athletics association:
"We know that the sort of infighting and continuing discord in Singapore Athletics is not doing the sport any favours, and I think they need to take a hard look inwards. The management committee, the affiliates who vote them in, they have to ask themselves, 'is this a sport that Singapore can count on or whether we should be looking elsewhere for our Team Singapore high performance?'"
Lim-Prasad ended her post by saying that she has emailed Sports Athletics and Sports SG with her thoughts.
Here's hoping they listen and start a discussion.
Related stories:
Sports S'pore CEO to beleaguered athletics association: Take a hard look inwards
Female S'porean pole vaulter had to wear male sprinter's speed suit at SEA Games
S'pore marathoner cannot name sponsors ASICS & H-Two-O, so we'll help him
Top image from Dipna Lim-Prasad's Facebook page via SportSingapore.
If you like what you read, follow us on Facebook, Instagram, Twitter and Telegram to get the latest updates.