Over the last weekend, one Punggol resident, Joseph Tan, reported a mischievous lone long-tailed macaque which had been causing a bit of trouble there and around the estates in its vicinity for a while.
The macaque was spotted sitting on residents' windows, showing aggression to people and snatching items that it recognised as food.
Here are some snippets of it in action: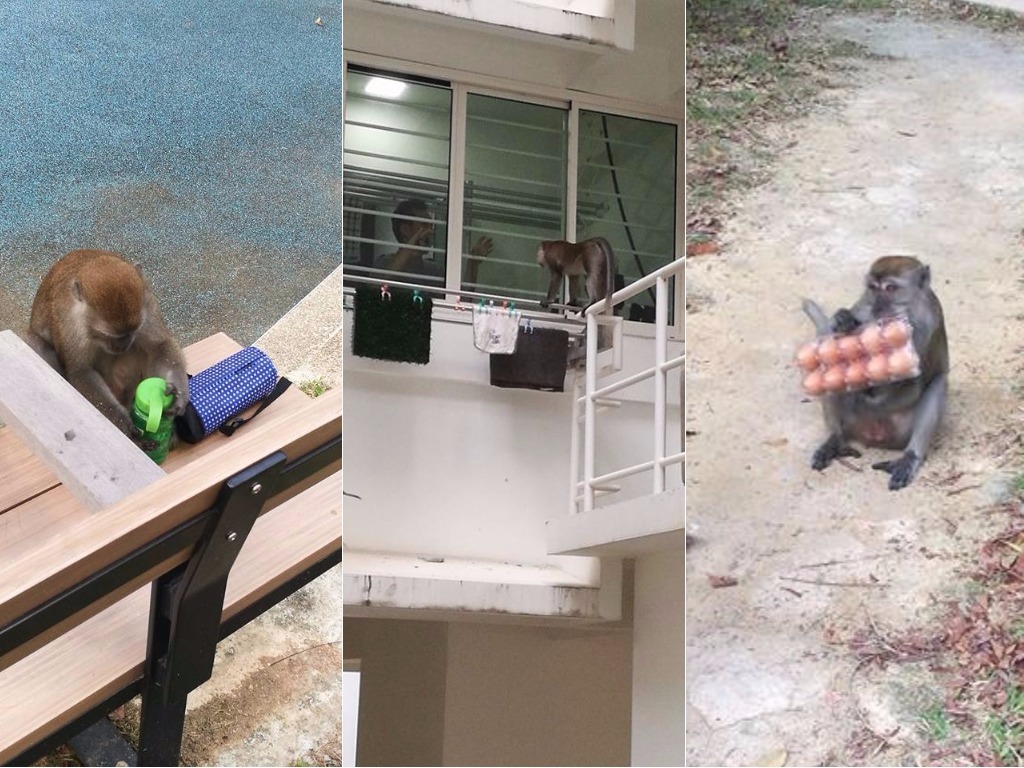 Macaque caught by AVA, subjected to "standard procedure"
This case is pretty similar to another that happened in Segar, Bukit Panjang, a few months ago.
However, unlike the Segar macaque that was caught after two weeks, this macaque was, it seems, not sent for rehabilitation at the Animal Concerns Research and Education Society (Singapore) (ACRES).
According to ACRES on Wednesday, September 6, in a Facebook post, this macaque will be put through "standard procedure" by the Agri-Food and Veterinary Authority of Singapore (AVA), whose officers caught it:
Just in case you can't see the post:
"MACAQUE AT PUNGGOL CAUGHT BY AVA!

For the past week, ACRES has been receiving calls about a lone macaque at Punggol drive. The macaque had been sighted at the HDB residential areas which is near the waterway and park connector. This green space is home to much wildlife and this macaque happened to find her way there. 

We got feedback that people have been feeding the macaque. We immediately contacted the town council to arrange to do a visit to the residential estate to raise awareness about wildlife, including macaques and to address the issues and

what everyone can do to peacefully co-exist with the macaque. Our visits and interactions with the residents also revealed that feeding has been happening frequently in the area. Feeding is usually the main reason for animals to stay in an area and this happened to be the case at Punggol drive as well. 

Unfortunately, as we were trying to reach out to the residents (including through a roadshow there this Sunday), we found out today that the macaque had been caught by AVA today afternoon. When asked about the fate of the macaque, we were told that it will be 'standard procedure'.

Will the authorities look into humane alternatives? Will there be a focus on education, and investigating who is feeding and taking action? Or will trapping be the only knee jerk reaction to public complaining about wild animals?"
(Emphasis ours)
[related_story]
The above might explain a couple of statements from the AVA pertaining to this latest case.
At first, in response to Mothership.sg's query on the specific case over the weekend, AVA provided the following statement:
"AVA's priority in managing the wild animal population is to ensure public health and safety is not compromised. AVA will assess all feedback and determine the necessary actions. For animals that do not pose significant public health or safety concerns, we will advise feedback providers on ways to mitigate the issues. This may include plugging up access points for wildlife or removing sources of food within properties.

For animals that pose significant public health or safety concerns, such as when animals enter premises and destroy property, injure residents or are potential carriers of disease, AVA will work with the relevant stakeholders to explore removal or relocation options where possible.

Monkeys may carry zoonotic diseases that are harmful to public health. Aggressive monkeys are also a risk to public safety. Since 1 September 2017, AVA has received a few pieces of feedback from the public on monkey-related issues at Punggol Waterway. We have been working with the Pasir Ris-Punggol Town Council to monitor and conduct surveillance of the area."
(Emphasis ours)
Following the rather generic-sounding reply, apart from the two sentences we bolded, we sought further updates from the agency.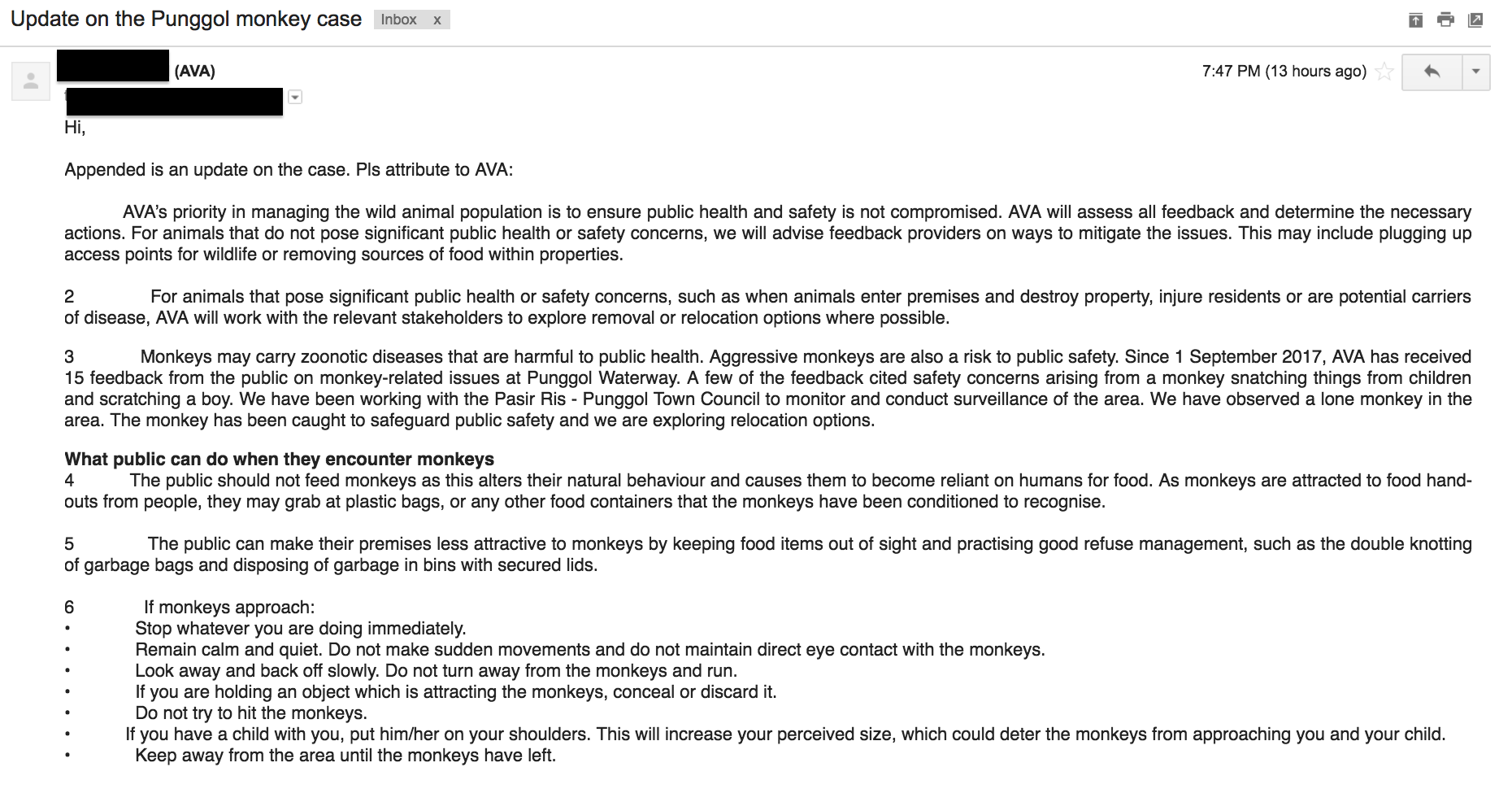 The reply we received looked almost identical to the initial response, and it was only on close reading that we noticed this new development buried at the end of the text from above:
"We have observed a lone monkey in the area. The monkey has been caught to safeguard public safety and we are exploring relocation options."
Now, what exactly is "standard procedure"?
Many Singaporeans, by now, understand that these macaques were not born as hell-raisers, and that if any of them exhibit rogue, aggressive behaviour, it is a consequence of us not practising good wildlife etiquette.
With wildlife returning to or being discovered in our urban city recently (eg. otters and red junglefowl), it is important that the relevant agencies start to take a more humane and science-based approach towards handling human-wildlife conflict.
Now, it's entirely possible that the AVA is really looking for an alternate location to put the macaque they caught, as they told us, but numerous observations of macaque behaviour have shown that relocation is not a sustainable solution.
And a humane and science-based approach to tackling this definitely doesn't include putting them to sleep — which is what several netizens are interpreting from AVA's reply to ACRES: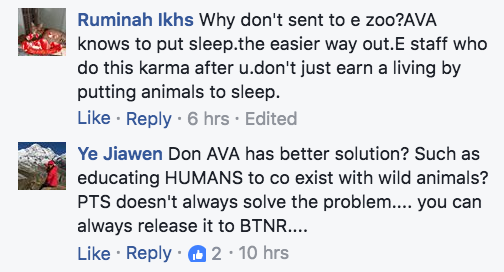 Whelp.
Top photo collage from Joseph Tan's post and screenshots of comments from ACRES Facebook post
If you like what you read, follow us on Facebook, Instagram, Twitter and Telegram to get the latest updates.