Here is a case of using social media to lodge a public complaint only to have it backfire big time.
Lady studying in Starbucks told to leave
A lady in Singapore decided to complain on the official Starbucks Facebook page about how she was asked to leave the premises of one of the outlets as she was studying there.
Her Facebook post in full here:
"Hi, are you studying?"

"Oh cause I am asking everyone who is studying to leave."

Today I was asked by a Starbucks waiter to leave while I was working on an assignment there. I was there for only less than an hour and yet to finish my drink. It was an unpleasant and embarrassing experience. There are many better ways to do this. But what I have experienced today was definitely one of the worst.

Where has The Starbucks Experience gone?
Her gripe
The lady's gripe was that she felt it was "unpleasant and embarrassing" for the Starbucks staff to go around asking patrons to leave the premises, just because they are studying and even though she had purchased a drink.
She also claimed that this "was definitely one of the worst" experiences she has had and she was only there less than an hour.
It was not mentioned at which outlet this incident occurred.
Backlash
The backlash from the public was not only swift but extended.
The lady's post was put up on Friday, Sept. 1, 2017, but was still shared widely on Sept. 3.
And those who responded were not in support of the lady.
A majority of the responses to her complaint expressed incredulity at the extent of her self-entitlement:



With some explaining how seat-hoggers are the ones ruining the Starbucks experience for others:



Some were standing in solidarity with Starbucks:

While some were urging basic common sense: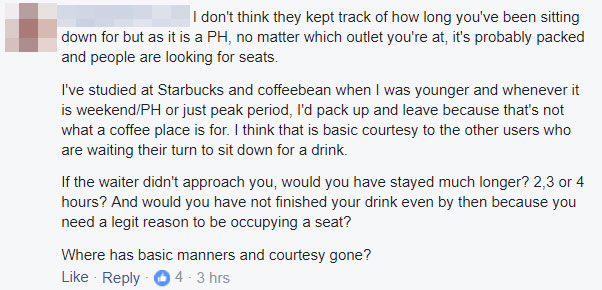 [related_story]
The best response is still this one:
Top photo via Wikimedia
If you like what you read, follow us on Facebook, Instagram, Twitter and Telegram to get the latest updates.