There's this newfangled delivery service offering low-sodium, low-carbs and protein-rich food.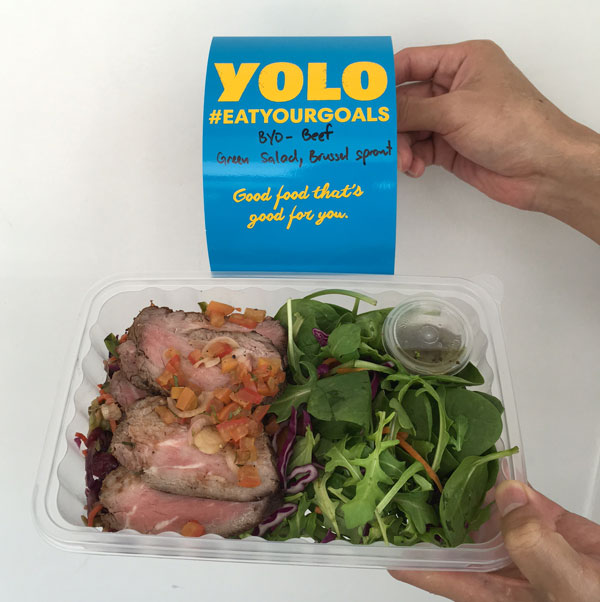 It is called YOLO, and recently, they offered to feed me for five consecutive days, whereby all my calories will be derived from them and nowhere else.
Challenge accepted.
What kind of food?
Each day's meals range from 1,250 to 2,450 calories in total -- so you eat according to your needs.
As a sucker for freebies, I chose to eat up to 2,450 calories daily.
Here's the menu: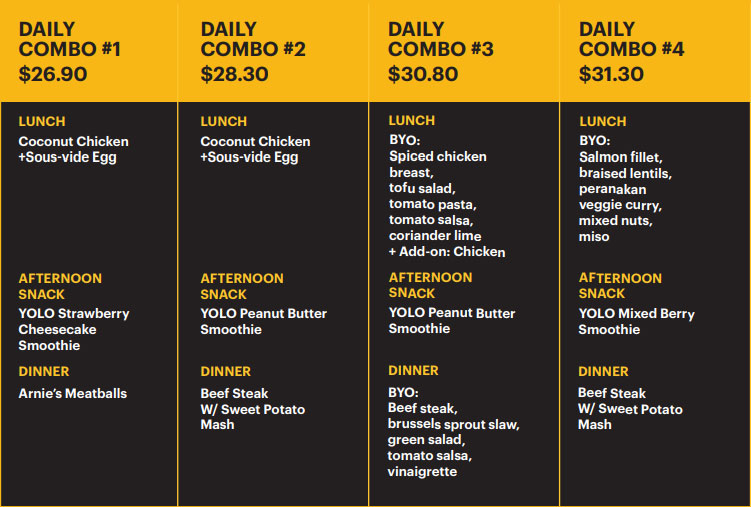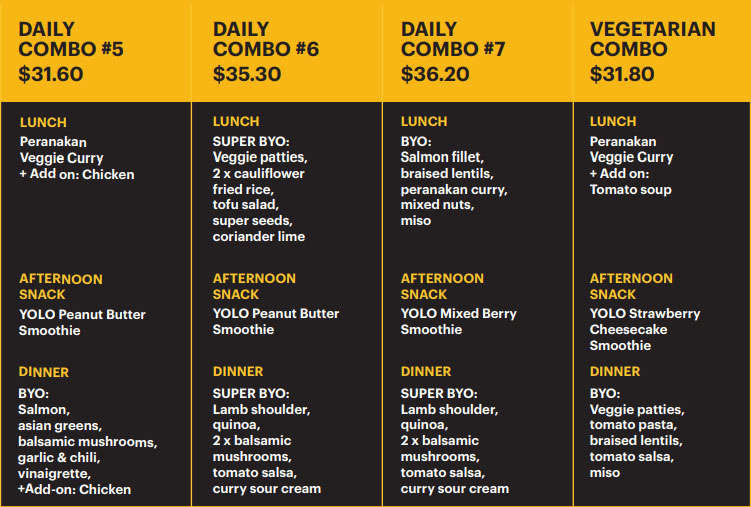 Combo #3, #4, #5, #6 and #7, were delivered to my office for five days -- one combo per day.
And boy, healthy eating sure is a piece of work.
Having had a go at it for five straight days, here are all your queries about YOLO food answered:
1. Is it convenient?
You don't need to move a muscle as food arrives more or less at 12.30pm daily, delivered to your doorstep. Lunch, dinner and the afternoon smoothie snack are served at the same time.
But this means you need access to a fridge to preserve your other servings and a microwave to heat them up later.
The real downside is that if you have to meet friends for dinner after work, you would have got to lug your food container around. And then you have to answer questions about why you are carrying food around. Helps with your social life.
For those who can't deal with planning ahead, combos are sold as daily combos and meals can be purchased à la carte via delivery or at the restaurant just before meal time.
2. Does it taste good?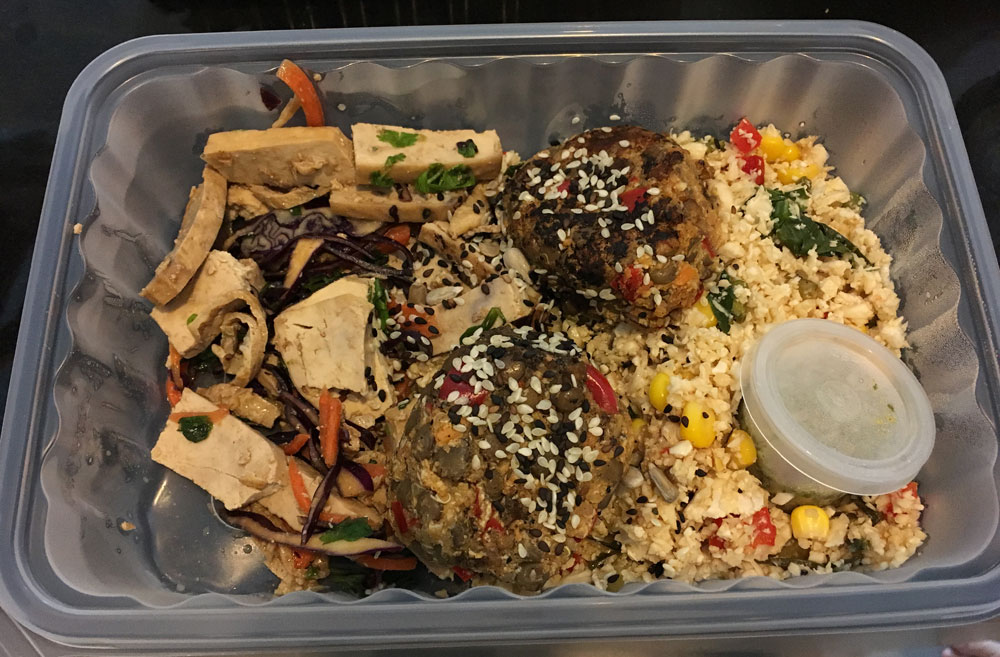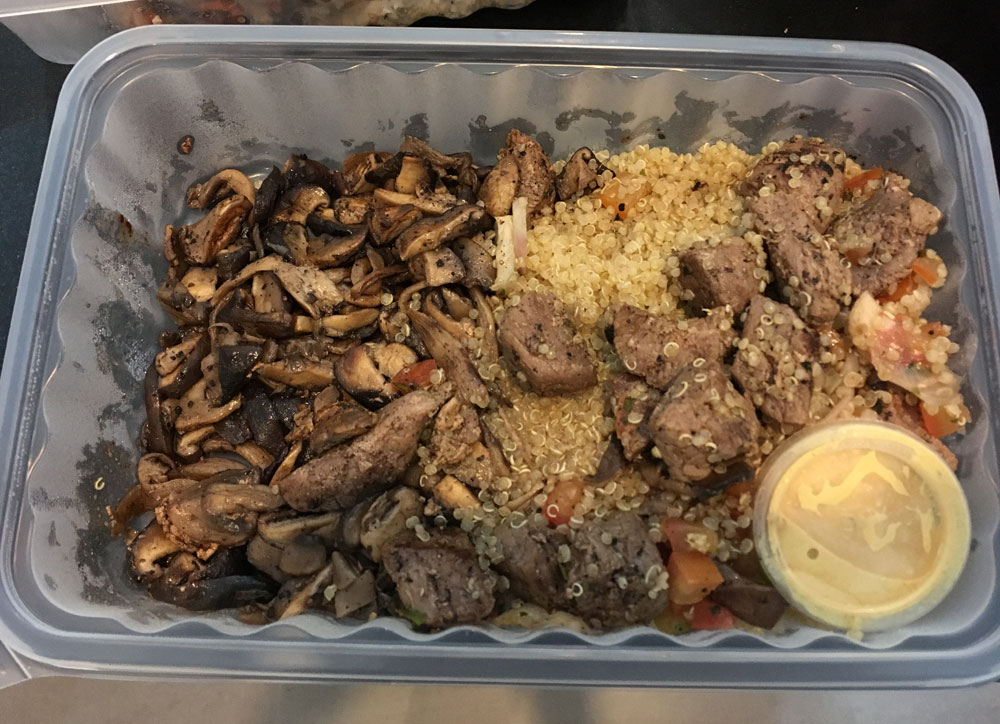 Clean eating is about getting accustomed to working your mouth a bit to get to the nutrients. Low-carbs, protein-rich, lightly-seasoned food, is filled with fibres, pure cuts of lean meat and very, very low sodium seasoning.
Nowhere near hawker fare, for sure.
A lot of chewing is expected and you can consume upwards of 100g of protein a day just from one 2,450-calorie combo meal.
So, your jaws get chiselled after a while.
3. What are the best meals?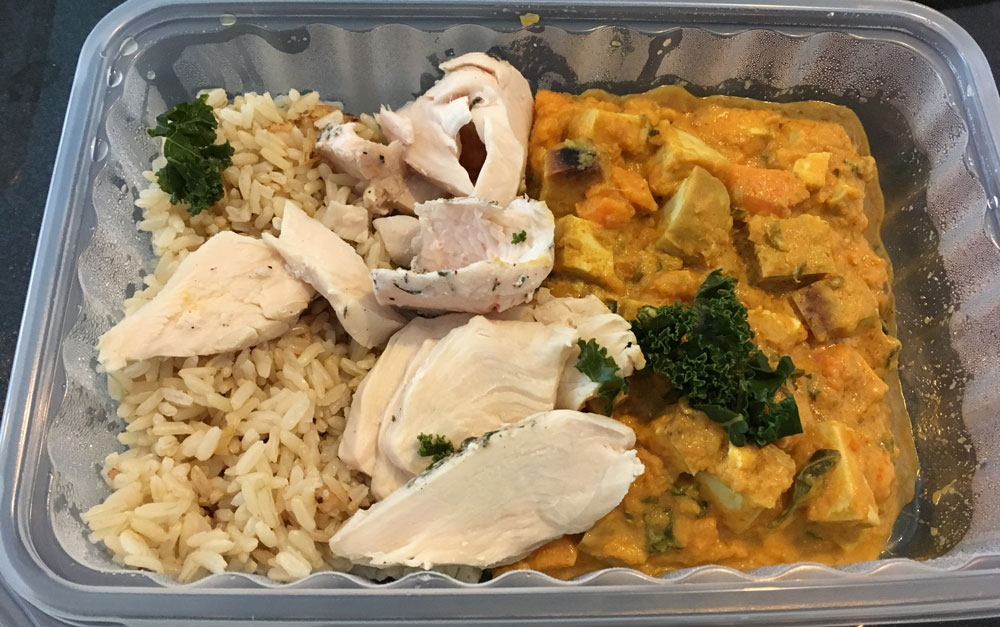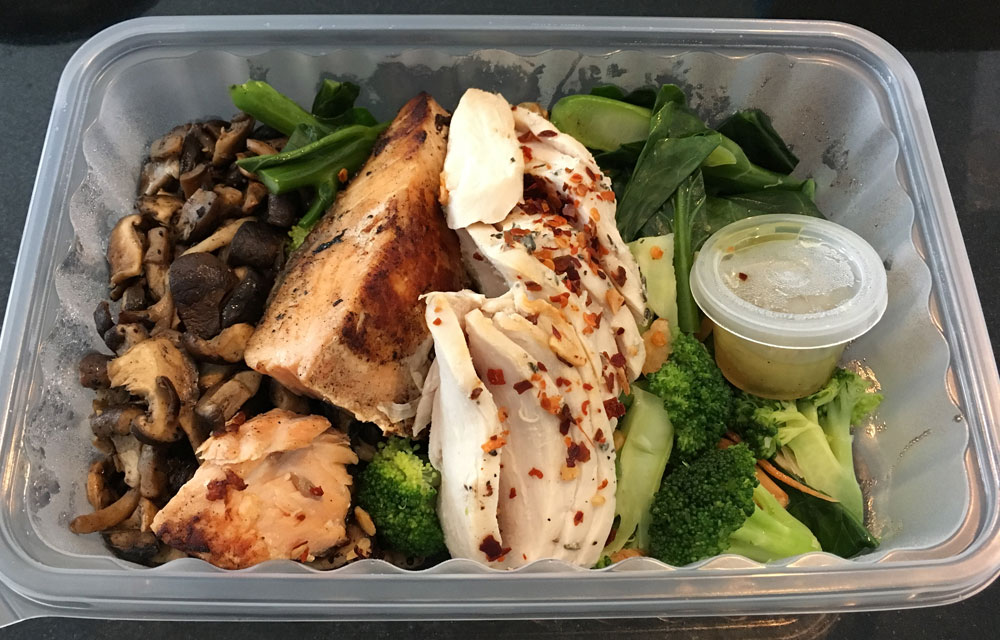 Lamb and salmon were the tastiest, as they probably contained the most natural fat and oil. When cooked, they retain a lot of flavour. Not dry.
Beef and chicken were tough, as the cuts were lean. These are for real men who think of the world in terms of protein, carbs, fat and fibre.
Chicken somehow failed to keep well for dinner. Gets tough when re-heated.
4. How did the shake taste?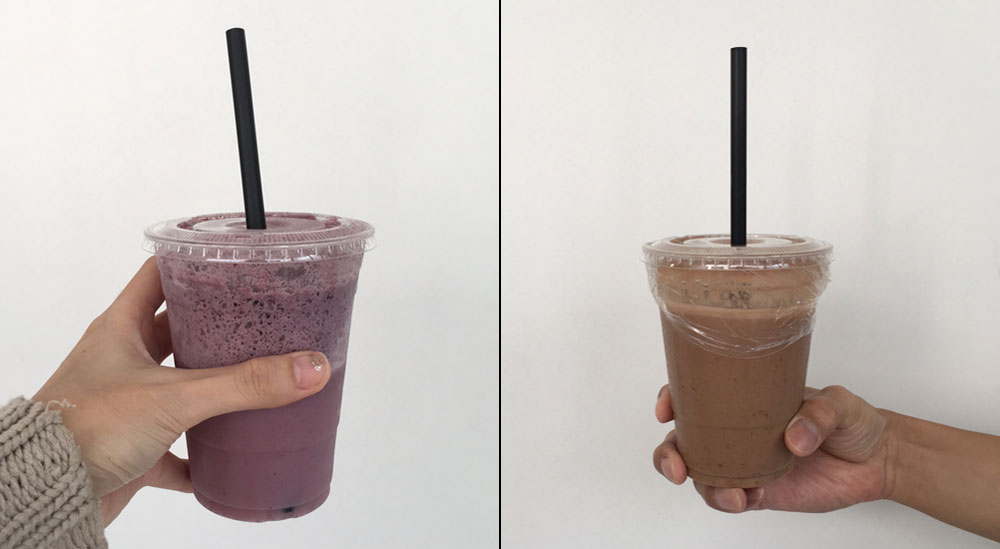 It's got a weird aftertaste, almost like protein shake. But it is made using almond milk, so it's dairy-free and for vegans. Although they come in peanut butter and berries flavour, the moment it goes down your oesophagus, it tastes the same.
[related_story]
5. How did it feel after Day 1 of healthy eating?
Woozy. Probably due to a lack of cheap carbohydrates flowing through my system. And not being used to the feeling of being weaned off hawker food.
Probably a common sensation for people used to eating filling but nutrient-light food.
If you're going to have a go at this combo meals for an extended period of time, you need to commit to the experience.
By day three, the idea of not being able to feast on wanton mee is a bit rough.
6. Who would you recommend this sort of diet?
If you need to fit into your wedding dress in three weeks, this might work as your basic game plan.
Or if it's a Monday now and you need a bit of a shag bod by Saturday, yeah, this is the way to go too.
Calories from this diet can last 16-hour days easily for a grown person. Plus exercise workouts thrown in.
How did it feel after Day 5?
All regular cognitive and motor functions worked as they should have -- even without the mid-day snacking and late-nigh suppers.
To really get used to this sort of diet though? Probably would have had to go on for another two to three weeks to be weaned off hawker food. But that's a tough value proposition.
After a while, feeling easily satiated was becoming an issue. Probably due to the quantity and type of food consumed.
The 2,450 calories combo is definitely way more than a lot of people can handle daily. Couldn't finish the shakes on a couple of days because it was just too much.
8. Lastly, is it worth it?
For the type of nutrition you will be getting? Yes.
But 20 to 30 bucks a day on food is a bit steep for the majority of people. Eating clean requires a lifestyle, mindset shift that takes a bit of work to get into the zone.
Maybe you can consider sharing a combo with a peer so you get one meal a day.
There is a takeaway outlet at 12 Gopeng Street.
If you like what you read, follow us on Facebook, Instagram, Twitter and Telegram to get the latest updates.