Local influencer Melissa Celestine Koh has 235,000 followers on her main Instagram account, and close to 17,000 on another "uncurated" account.
The full-time influencer got married on Aug. 12 at Ritz-Carlton Millenia Singapore to James Chen, who also makes a living the same way as his new spouse.
Their wedding, as one would expect, is heavily sponsored.
Some of these items include the venue, outfits and jewellery, among many other things.
Koh's nine bridesmaids, for example, had a total of 27 dresses tailored for them by designer dress brand Juillet. They are worth around S$5,000.
But wedding sponsorship is not a new practice, as pioneer blogger Xiaxue and food blogger LadyIronChef had accepted substantial sponsorship for their weddings.
Unhappy guests
However, in a report by The Straits Times, some guests who attended the wedding said that were unhappy with Koh's sponsored wedding, as they felt it was "insincere".
"I felt cheated," shared an attendee known only as Min, one of Koh's university friends. "The sponsorships cheapened the wedding, made it insincere, and I felt as though she had made money off me through her wedding."
Another university friend at the wedding thought Koh had "created an ethical problem" by not informing the guests about the sponsorships beforehand.
"I would have given her an ang pow in any case, but changed the amount I put in it," he said.
Taxation issues
Ethical problems aside, such blatant sponsorship and publicity will attract the attention of the Inland Revenue Authority of Singapore.
In November 2016, Iras came up with rules mandating what sort of "non-monetary benefits in kind" have to be declared as part of taxable income.
Essentially, products or services worth more than S$100 received from companies given to influencers must be declared.
Those who flout the rules will have to pay a penalty amounting to double the tax undercharged.
In March last year, Iras even wrote to bloggers to remind them that such benefits must be declared as part of their income. They were to do so by the following filing month.
Iras also emphasised that these requirements are not new and are similar to those for other self-employed taxpayers.
Bloggers who defended their inability to correctly declare the value of goods and services, argued poorly that it is hard to keep track and companies do not always declare the value.
[related_story]
What were some of the sponsorship?
For example, given out at the wedding were Sandome Cura's artisan soaps priced at S$29.90 a piece.
The combined cost of just four soaps would render this one product taxable and requiring it to be declared, abiding by the Iras guideline.
Moreover, social media postings can be used as a form of tallying.
One probable way for the taxman to track influencers is to screen the social media platforms for individuals who may receive such potential taxable goods and income.
Moreover, for this wedding, there were already various social media mentions of the companies that sponsored the couple prior to the big day.
For example, this July 20 Instagram post announced the couple's wedding venue with the hashtag #MelissaCKohxRitzCarlton.
The hotel also replied in the comments: "Thank you @melissackoh for sharing your beautiful #RCMemories! We can not wait to celebrate your special day with you!"
More obvious indications of collaboration with the hotel can be found on another Instagram post dated Aug. 7, where Koh thanked Ritz-Carlton for pampering her and her bridesmaids at a spa session.
And on Aug. 6, Koh posted about wedding cake tasting session with Winifred Kriste Cake:
Chen, who left his job in finance analysis to be a full-time influencer with Koh, also created a post to thank Common Suits for his suit fitting:
Under the "Wedding" tab on Koh's blog, there are also a number of posts dated before Aug. 12, detailing the planning process with various vendors: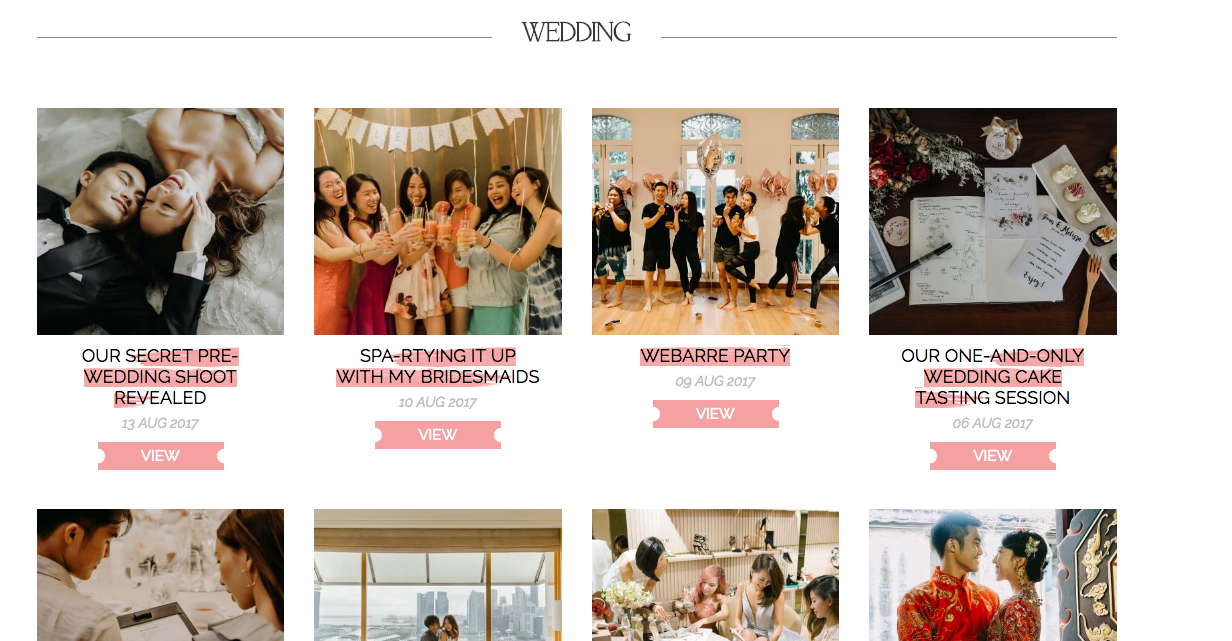 Rules of engagement
Although sponsorship were not stated outright, it is common knowledge that the brands tagged in an influencer's social media posts are usually working in collaboration. This is especially so if the influencer has a sizeable following, as Koh does.
After the wedding, Koh continued to post about various other sponsors, such as a collaboration with crystal brand Swarovski and bridal boutique Vaughn Tan for her gown:
The aforementioned bridesmaids' dresses:
More items, such as her shoes and a photo album, were also given shout outs:
And a list of other sponsors:
Did not profit from wedding
While the sponsorship may amount to a hefty sum, Koh and Chen claimed they did not profit from the wedding, although they declined to reveal the amount spent.
There was also a morning church ceremony, as well as a lunch celebration for the wedding.
Most of the sponsors approached them on their own accord, they said, although they were also seeking sponsors.
Top image adapted from Melissa Celestine Koh's Instagram
If you like what you read, follow us on Facebook, Instagram, Twitter and Telegram to get the latest updates.