Singapore wasn't just bombed by the Japanese during World War Two. It was hit by the Allies too.
If you recall, Singapore fell to the Japanese in 1942 (this year is the 75th anniversary), and endured more than three years of hardship under the Occupation.
The war went on during this period, and the Allies were keen to claw back the territories they'd lost. That meant attacking strategic targets occupied by the Japanese — like Singapore.
By 1944, the tide of the war was shifting against the Japanese, as they were starting to suffer losses against the Allies.
From November 1944 to May 1945, several bombing raids on Singapore were carried out in long-range missions by the U.S. Army Air Forces (USAAF) based in Kharagpur, Northeastern India.
This means the planes had to fly really far to bomb Singapore.
Here's where Kharagpur is, relative to Singapore: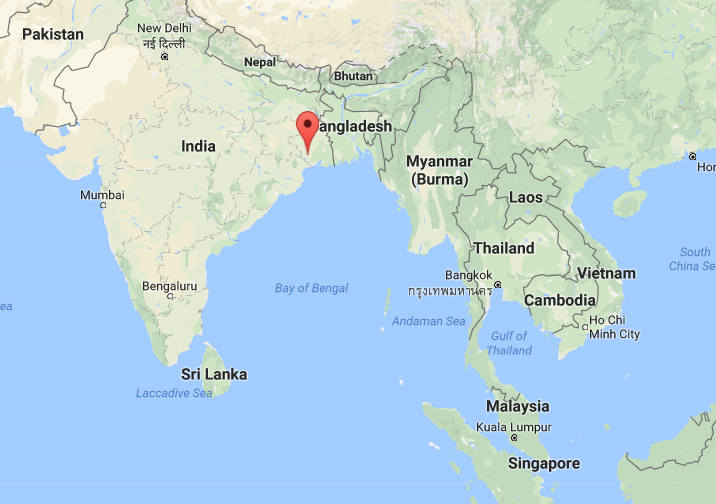 Despite this, seven bombing raids were carried out on us by U.S. B-29 bombers. Most happened in the day.
[caption id="" align="aligncenter" width="804"]
B-29 bomber. Source: Wikipedia[/caption]
The raids had three highly specific targets to hit in Singapore, aimed at preventing Japanese ships from using facilities at our naval base, harbours, as well as to disrupt the conveyance of Japanese supplies. These include:
the King George VI Graving Dock and Admiralty IX Floating Dock at the Naval Base,

King's Dock and Empire Dock at Keppel Harbour, as well as

Pulau Bukom and Pulau Serabok.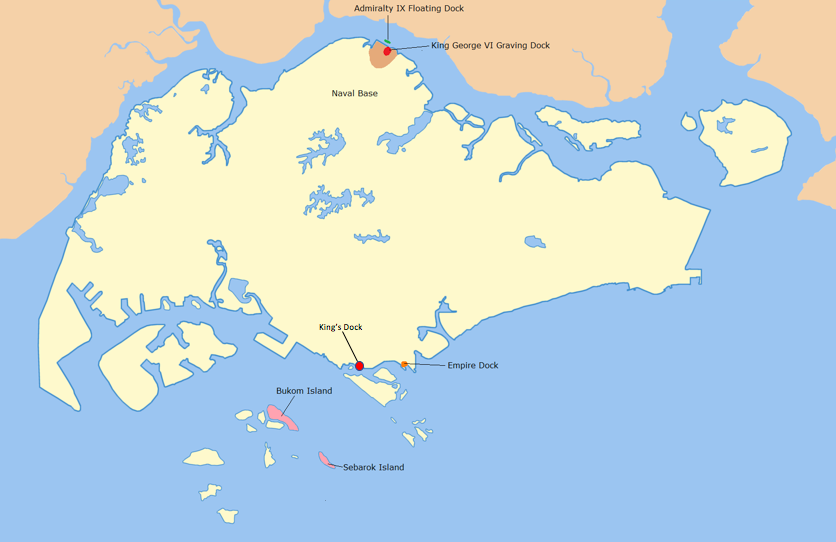 [related_story]
King George VI Graving Dock
The King George VI Dock at Sembawang Naval Base was the largest dry dock in the world when it was opened in 1938.
It was bombed by 53 U.S. planes on Nov. 5, 1944 during a raid on the naval base. Let's just say it wasn't really usable after they were done with it.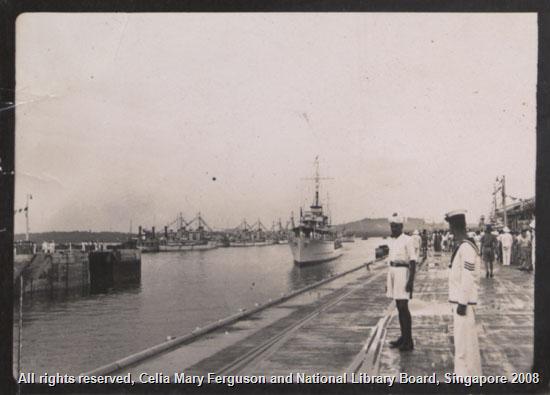 [caption id="" align="aligncenter" width="640"]
Aerial photograph of the American bombing of the Naval Base at Sembawang on Nov. 5, 1944. Source: NAS[/caption]
Admiralty IX Floating Dock
This dry dock, also located at Sembawang Naval Base, was bombed in two separate attacks on the naval base in January and February 1945. It was sunk in the second attack.
[caption id="" align="aligncenter" width="450"]
Admiralty IX floating dry dock at Sembawang. Source: Wikipedia[/caption]
King's Dock
During the first raid on Admiralty IX Floating Dock in Sembawang in January 1945, some planes also bombed King's Dock at Keppel Harbour.
[caption id="" align="aligncenter" width="742"]
King's Dock at Keppel Harbour. Source: NAS[/caption]
Today, King's Dock is part of Keppel Bay.
[caption id="" align="aligncenter" width="585"]
Image via www.keppellandlive.com[/caption]
Empire Dock
The Empire Dock and its surrounding area at Keppel Harbour was hit by bombs from more than 100 planes on February 24, 1945.
Warehouses were destroyed and if Singapore's wartime publication, the Syonan Shimbun newspaper, is to be believed, 396 people were made homeless by the attack (it printed pro-Japanese propaganda).
[caption id="" align="aligncenter" width="713"]
Empire Dock at Keppel Harbour. Source: NAS[/caption]
But in 1989, the Empire Dock was filled for the development of Tanjong Pagar Container Terminal.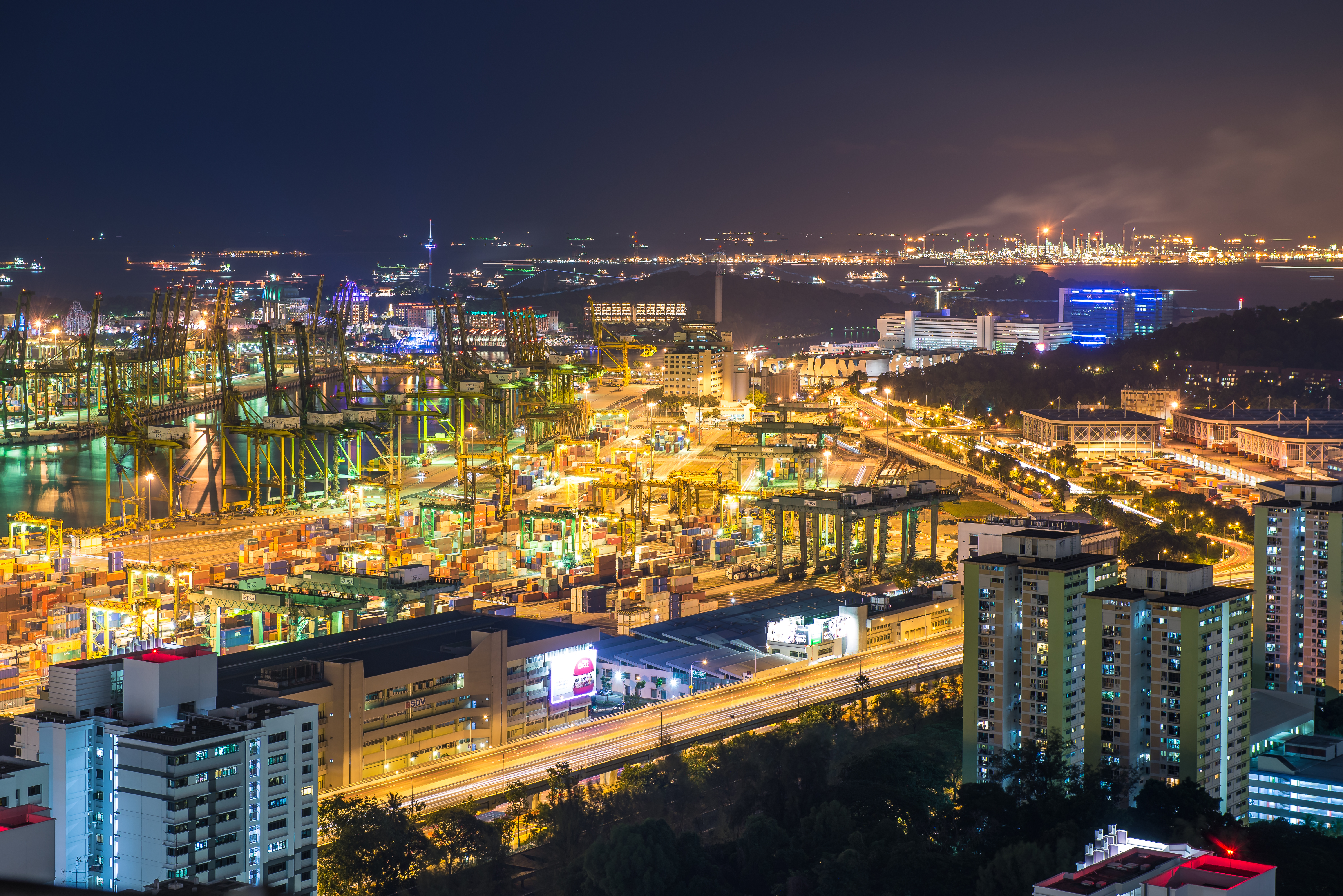 Pulau Bukom and Pulau Sebarok
The oil storage facilities on these islands were attacked in raids on March 12 and 30, 1945. Both attacks caused little damage to the facilities though.
The islands are still used for the oil industry today. Bukom has an oil refinery, while Sebarok remains an oil storage facility.
[caption id="" align="aligncenter" width="800"]
Bukom Island. Image via Shell Singapore[/caption]
[caption id="" align="aligncenter" width="900"]
Sebarok Island. Image via Association of Dutch Business People[/caption]
Mixed results in the aftermath
Aerial bombings ceased after March 30, 1945, but the British Royal Air Force took over by laying mines in the sea off Singapore till May 1945.
The results of the attacks were mixed. While the docks and naval bases were considerably damaged or destroyed, the oil facilities on Bukom and Sebarok only suffered minor hits.
During the campaign, only nine U.S. planes were shot down due to weak air defences put up by the Japanese on Singapore.
The crew aboard these attack planes that were shot down met varying fates. Some were captured and taken prisoner or executed, while others managed to link up with anti-Japanese resistance fighters.
Overall though, the American attacks did raise the morale of the civilian population, giving them hope of liberation from the Japanese.
And sure enough, later on August 15, 1945, Japanese Emperor Hirohito announced that Japan had surrendered to the Allied forces, after the dropping of two atomic bombs on Hiroshima and Nagasaki, bringing an end to the war.
Top image adapted from Wikipedia and NAS.
1819 is a labour of love by Mothership.sg where we tell stories from Singapore's history, heritage & culture. Follow us on Facebook, Instagram and Twitter!
If you like what you read, follow us on Facebook, Instagram, Twitter and Telegram to get the latest updates.