Automated teller machines (ATMs) first came to life in 1967, when the world's first ATM was put into service by Barclays Bank in London.
Some 12 years later, in 1979, the first ATM was set up in Singapore by The Chartered Bank (you'd know it today as Standard Chartered Bank).
[caption id="" align="aligncenter" width="960"]
Image via Standard Chartered Singapore Facebook.[/caption]
ATMs hailed as big deal
It is unimaginable how something so common these days were such a big deal when they were first launched.
In an article on Feb. 10, 1980, the Straits Times heralded the arrival of the "age of electronic banking" on Oct. 15, 1979 with the introduction of Singapore's first ATM.
The machine, which could dispense up to $1,000 in multiples of $10, had basic operations similar to present day ATMs.
As ST noted:
"What triggers off the Auto Teller is the 'Charter-card' and a secret code number known only to the current account holder."
However, it also had its quirks that may leave you scratching your head today.
For example, the ATM was situated inside the bank's office at Raffles Place, and had fixed operational hours: 9am to 4pm on weekdays, and 9am to 12pm on Saturdays.
We can only imagine what it was like if one needed to access cash urgently outside these hours, or on Sundays.
[related_story]
Technological shift
After the first ATM was introduced, Singapore's banking sector began to change, as other banks also adopted and introduced ATMs of their own.
POSB offered ATM services in December 1979, which it called "Cash-On-Line".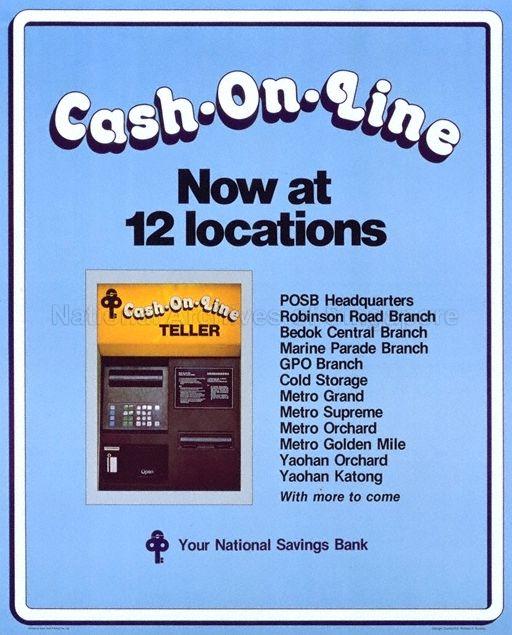 The ATM was such a novel piece of technology that the bank even put out ads on how to use them.
But things moved quickly, and on Dec. 17, 1982, Singapore's first fully-automated bank branch opened. Located at the Fullerton Building, it was opened by POSB.
Could ATMs someday become extinct?
Quite a crazy thought, considering how ubiquitous the ATM has become, and how so many of us continue to depend on them all the time, round the clock.
But yet, who knows? This year's National Day Rally saw Prime Minister Lee Hsien Loong calling for Singapore to go cashless as part of our nationwide Smart Nation drive.
As various cashless payment options are becoming widely available in Singapore, we might truly see the ATM's decline in the years to come.
And perhaps at some point, they might become as antiquated as the public phone.
Top image from Getty Images.
1819 is a labour of love by Mothership.sg where we tell stories from Singapore's history, heritage & culture. Follow us on Facebook, Instagram and Twitter!
If you like what you read, follow us on Facebook, Instagram, Twitter and Telegram to get the latest updates.