Time flies and 25 years have passed since legendary grunge rock band Nirvana came to Singapore on a promotional visit.
In case you're too young to know Nirvana, you should probably get yourself checked out listen to their classic hits like Come As You Are, and the all-time favourite Smells Like Teen Spirit.
Back in 1992, lead singer and guitarist Kurt Cobain, bassist Krist Novoselic, and drummer Dave Grohl landed at Changi Airport on the night of Feb. 10.
According to a Straits Times report on Feb. 14, 1992, they came as they were to a screaming crowd of 60 fans, which the band had not expected. One fan had even asked Novoselic to lick her Nirvana poster.
[caption id="" align="aligncenter" width="720"]
Kurt Cobain (first from left foreground), Krist Novoselic (second from right), and Dave Grohl (first from right) at Changi Airport. Image via Pinterest[/caption]
But actually, they probably should have expected the warm reception because they were the hottest band in the world at the time, having just released the now classic album Nevermind, which they had come here to promote.
[caption id="" align="aligncenter" width="300"]
Nevermind album cover. Source: Wikipedia[/caption]
The band had even been outselling the likes of Michael Jackson and U2. No mean feat in the day, even though we look back on it now and think: "But of course, they're Nirvana!".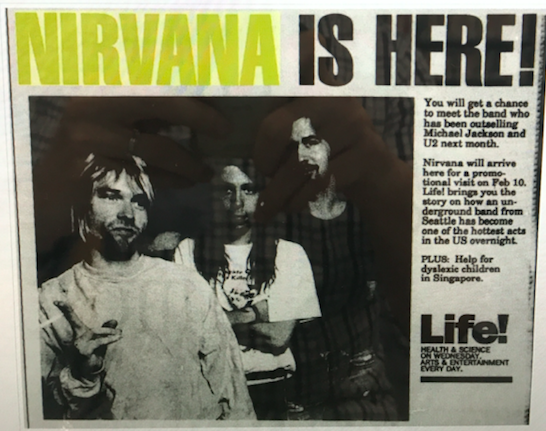 In an interview with ST, the band was reportedly down-to-earth with no rock star attitude. Grohl was quoted saying:
"We're not out to be a big Guns N' Roses money machine. We're just a band and we put out records, and if people like them, then that's great."
When asked to describe Nirvana's music, Novoselic joked that it was "garbage".
The band was pretty cheeky too during a press conference held for them. The New Paper reported on Feb. 12, 1992, that Grohl opened in jest by asking the media present if they had any gum. Singapore had just infamously banned chewing gum a month before, in January 1992.
[caption id="" align="aligncenter" width="564"]
Image via Pinterest[/caption]
Nirvana was actually keen to hold a free concert in Singapore on this visit, but they didn't due a miscommunication by their Los Angeles manager, who'd somehow said Nirvana wasn't keen on performing here prior to the visit.
Their music label, BMG, tried to organise a last minute impromptu show in a park because fans were probably going "here we are now, entertain us", but BMG failed to get the appropriate permits for it.
But Nevermind.
[related_story]
They made the most of their time here doing pretty normal things. ST reported that they checked out the "Chinese New Year carnival near Funan Centre", which probably refers to the River Hongbao carnival held along the Singapore River that year.
It was the Year of the Monkey in 1992, so the band would've seen this on the Singapore River.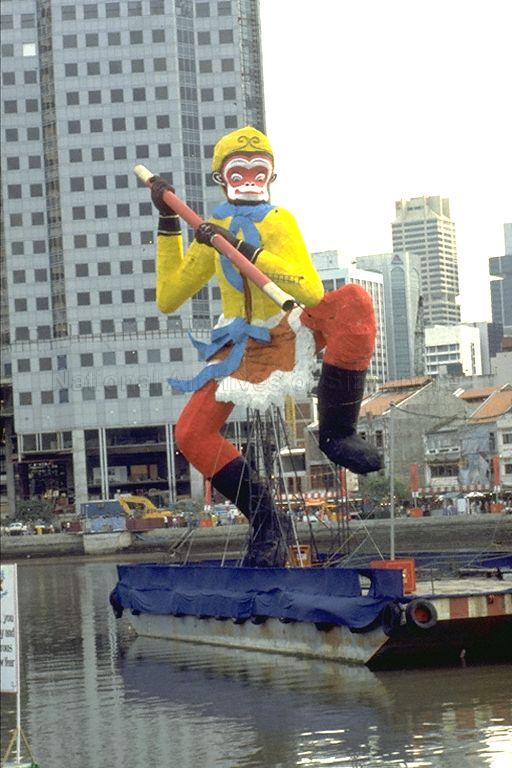 And this was what River Hongbao 1992's cultural carnival looked like.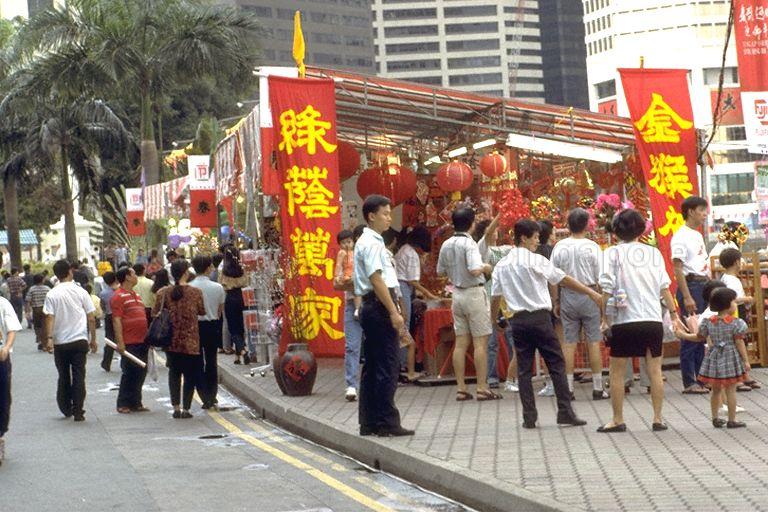 The band also reportedly visited temples and went shopping.
Funan Centre, which has been demolished and currently being rebuilt, was one of their stops. They went into a CD shop (yes, CDs were still in then!).
[caption id="" align="aligncenter" width="564"]
Nirvana in CD shop in Funan. Image via Pinterest[/caption]
Plaza Singapore was one of their shopping stops too, and here's Cobain sharing a smoke with Ronald McDonald. Notice the old school Ponderosa Restaurant's sign in the background, by the way.
[caption id="" align="aligncenter" width="564"]
Image via Pinterest[/caption]
And here he is violating Colonel Sanders in Singapore.
[caption id="" align="aligncenter" width="465"]
Image via Pinterest[/caption]
We'll leave you with that on their visit here.
Cobain would commit suicide two years later in April 1994.
Top image via Pinterest.
1819 is a labour of love by Mothership.sg where we tell stories from Singapore's history, heritage & culture. Follow us on Facebook, Instagram and Twitter!
​[related_story]
If you like what you read, follow us on Facebook, Instagram, Twitter and Telegram to get the latest updates.