The word, "millennial" is often found in the same sentence as phrases like "strawberry generation" and "too sheltered". People from the older generation feel that youths these days aren't able to withstand hard work or social pressure, and that we aren't as tough as we should be.
But we all know it's bad to generalise. Touch your heart and tell me you don't see plenty of youths who are doing loads in contributing to society. There's even proof of it.
The recent National Youth Survey 2016 conducted by the National Youth Council (NYC) on youths aged 15 to 34 years old shows that young Singaporeans these days are more on the ball, and more active in their social groups and civic activities. Many of us take the initiative to kick-start causes, and even get people around to participate as well.
Statistics don't lie, so here are five findings from the survey that attest to the coolness of Singapore's millennials.
1. We are more informed about things around the world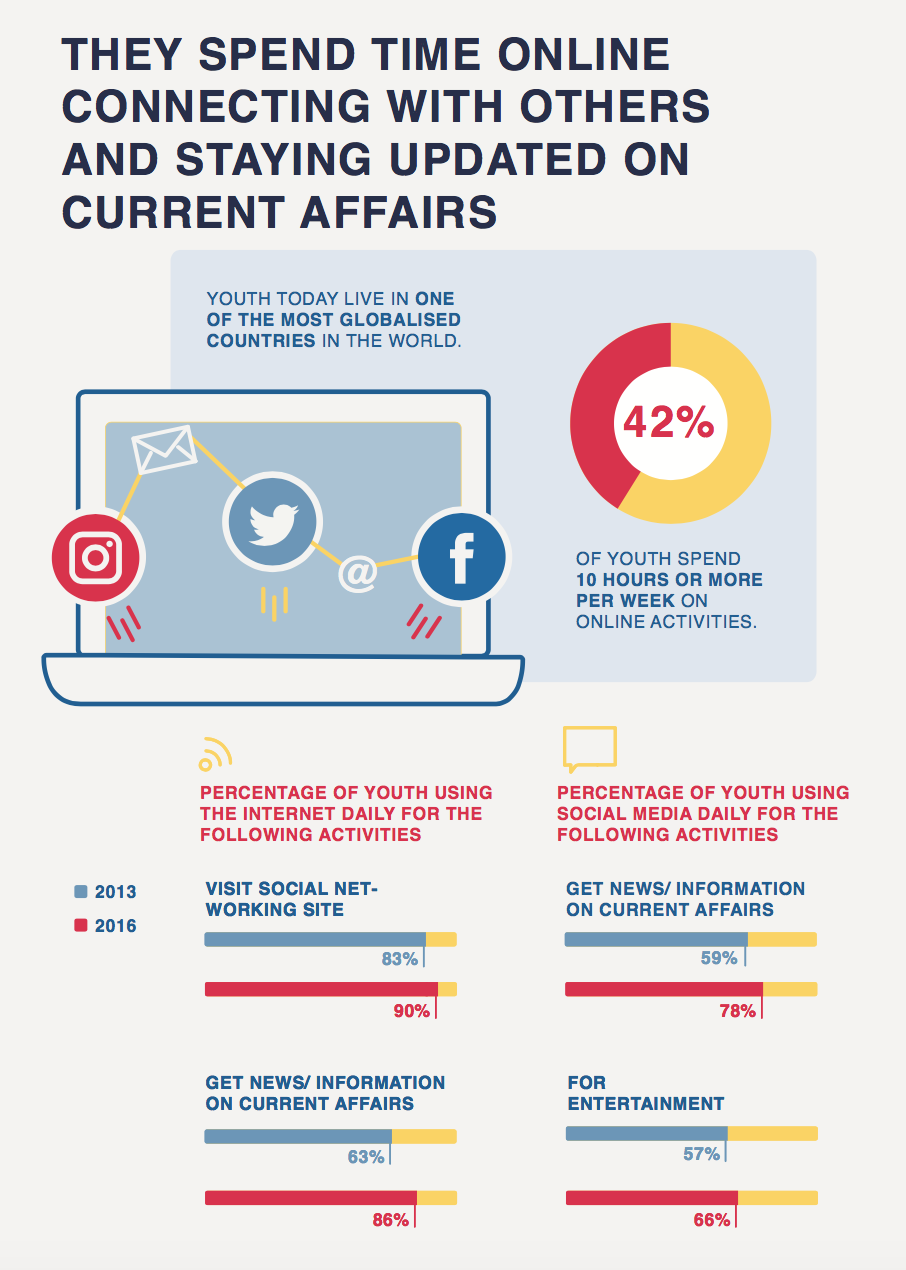 Gone are the days when our parents would limit us to an hour's use of the Internet per day -- 42% of youths today spend 10 hours or more of their leisure time in online activities weekly. With the Internet increasingly accessible now (no need for someone in the family to get off the phone), youths are more aware of things happening around the world.
Not only do we socialise and consume news online, we are also pursuing our interests online -- like gaming. And some of us sure are doing well at these online games.
One such person is 16-year-old Amos Ker, who represented Southeast Asia in the Vainglory World Championship, and managed to secure five podium finishes in a year. Currently, he  helps out at SCOGA's Esports Academy by nurturing other potential talents, and is also leading his team in preparation for the 2017 World Championship.
All this while he's still a student at River Valley High School.
2. We are more accepting of diversity
Singapore has come a long way since the 1960s in being socially-integrated. In the past, distinct racial walls existed, and most people only mixed with those from the same ethnic group.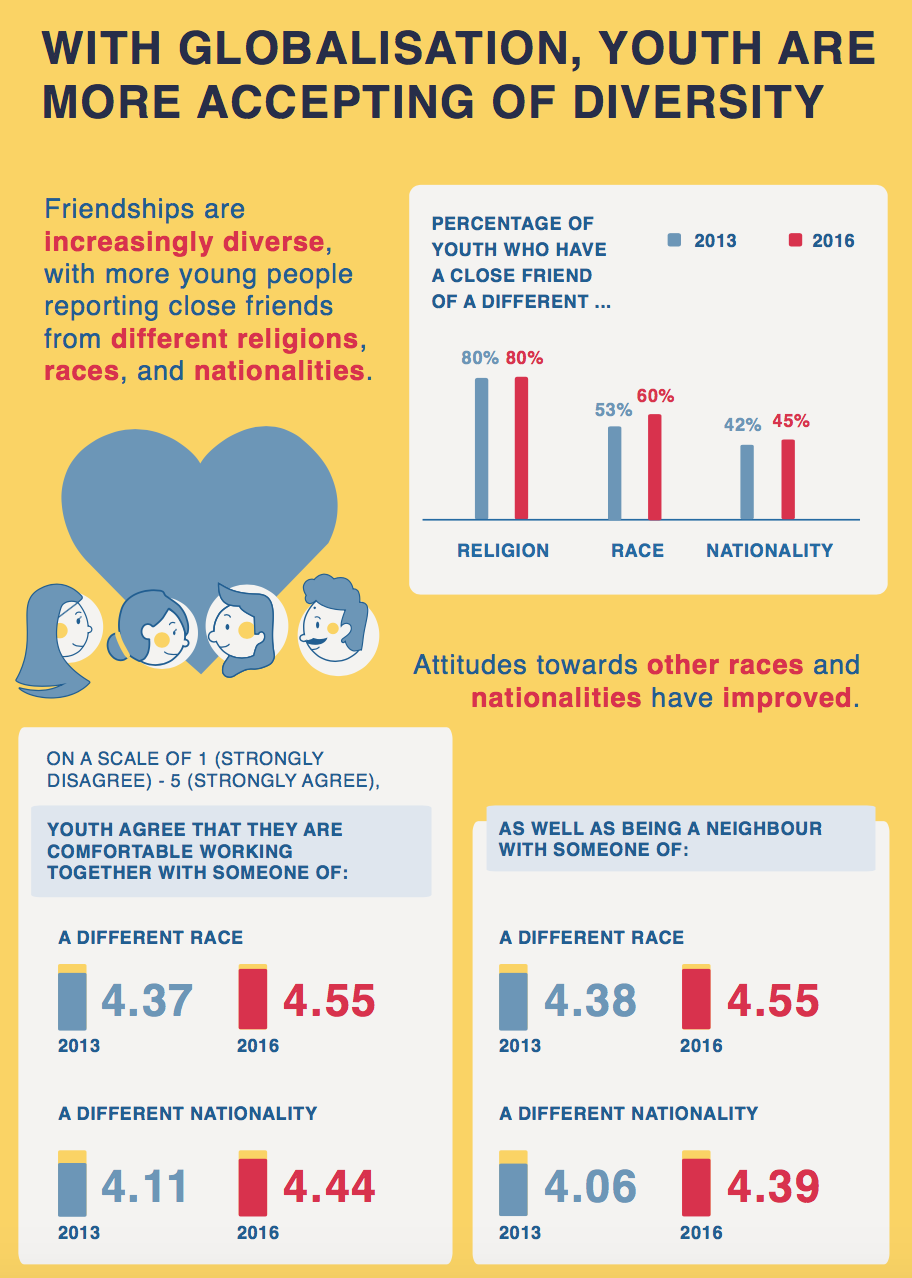 Nowadays, youths are way more accepting of diversity, with many of us having close friends of different races and religions. In fact, there's even a spike in the numbers from three years ago.
According to the survey, 60% of youths in 2016 have close friends of different races, up from 53% in 2013. We are also becoming more open about working together with someone from a different race or nationality.
Besides our own efforts in mingling with people from all walks of life, it's also thanks to individuals who have been actively promoting racial integration that are making a difference, like Lewis Liu.
Lewis is a young man who's passionate about getting the community to discuss current affairs and challenging issues. Earlier this year, he hosted More Than Just, a ground-up initiative of a series of dinner conversations that centred around race and racism.

Source: http://www.morethanjust.sg/
It turned out to be a successful event where participants from diverse backgrounds explored the topic of race in Singapore, and discussed what they could do to bring the country to a common ideal state.
3. We are more engaged in civic and social activities
A lot of people think that millennials are apathetic towards social issues, but the fact is that many of us do take part in contributing back to the community.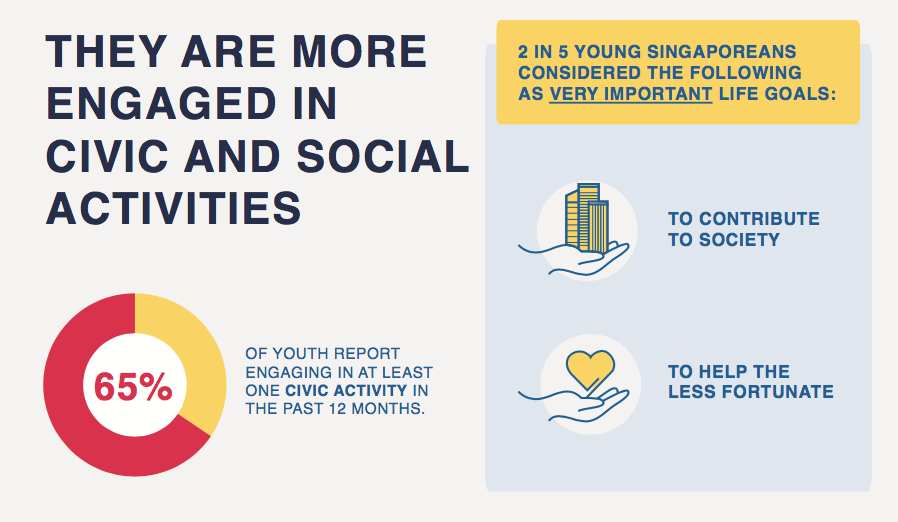 Two in five young Singaporeans feel that helping the less fortunate and doing their part for the society are very important life goals. And they don't just feel that way, they act on it as well.
At just 19, Ernest Wong has volunteered in countless campaigns to help the needy. He is one of the project directors of Ngee Ann Polytechnic's community service club, Leo club, and a co-founder of Camp Hiro, a social enterprise that generates awareness, empathy, and ownership of social issues amongst youths.
And if that's not enough, he was part of a 7-month long project that promoted the Kampong spirit among families living in Stirling Road rental flats.
You gotta give it to this teenager for spending so much of his time volunteering at various causes -- especially at an age where most of us were just bumming around.
Another two youths, Lin Xun Jian and Ong Zhi Lei even travelled to Sabah recently for a three-week student volunteer mission with Youth Corps Singapore, a national institution that supports youths who are keen to serve the community.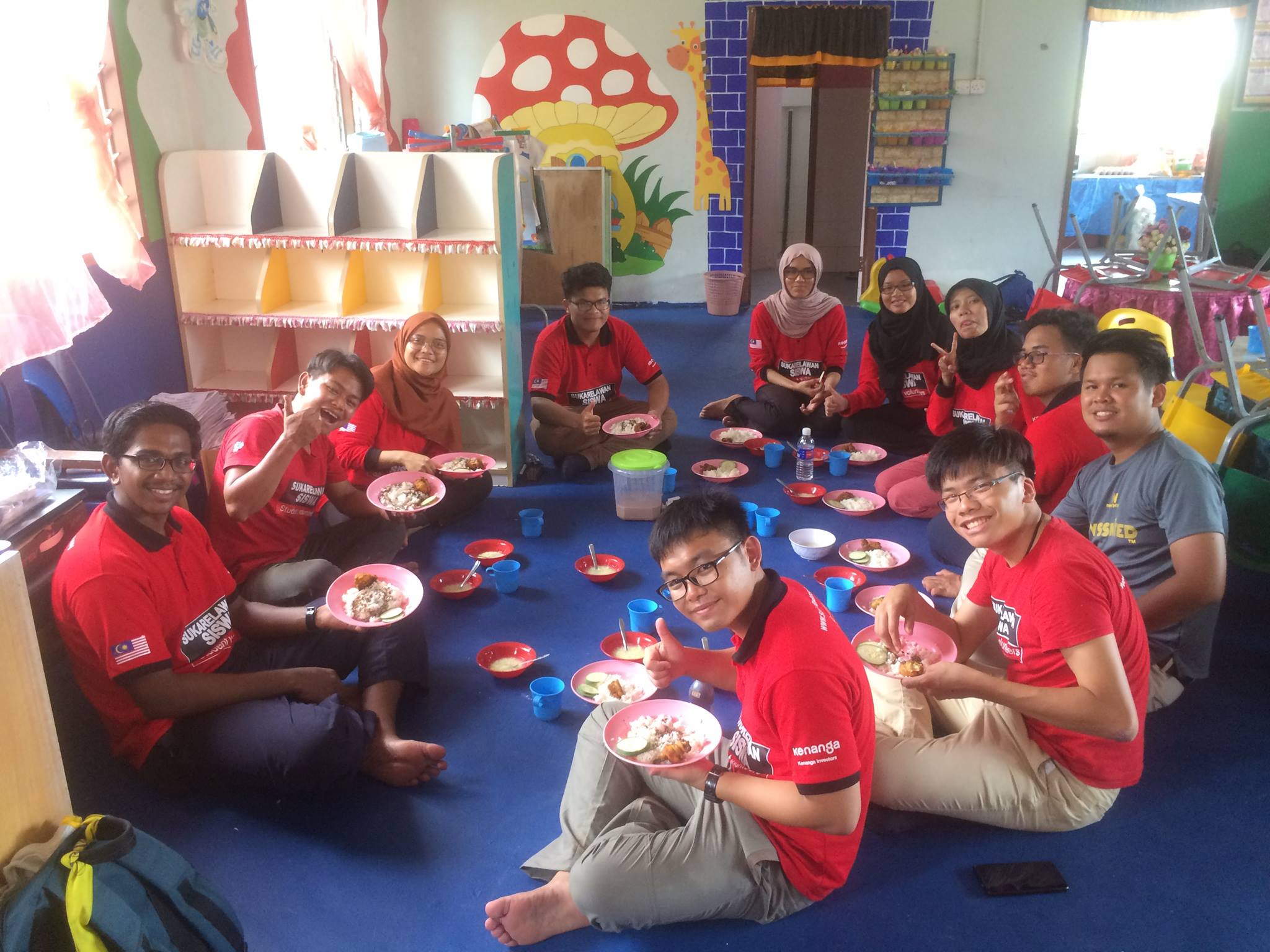 Xun Jian and his team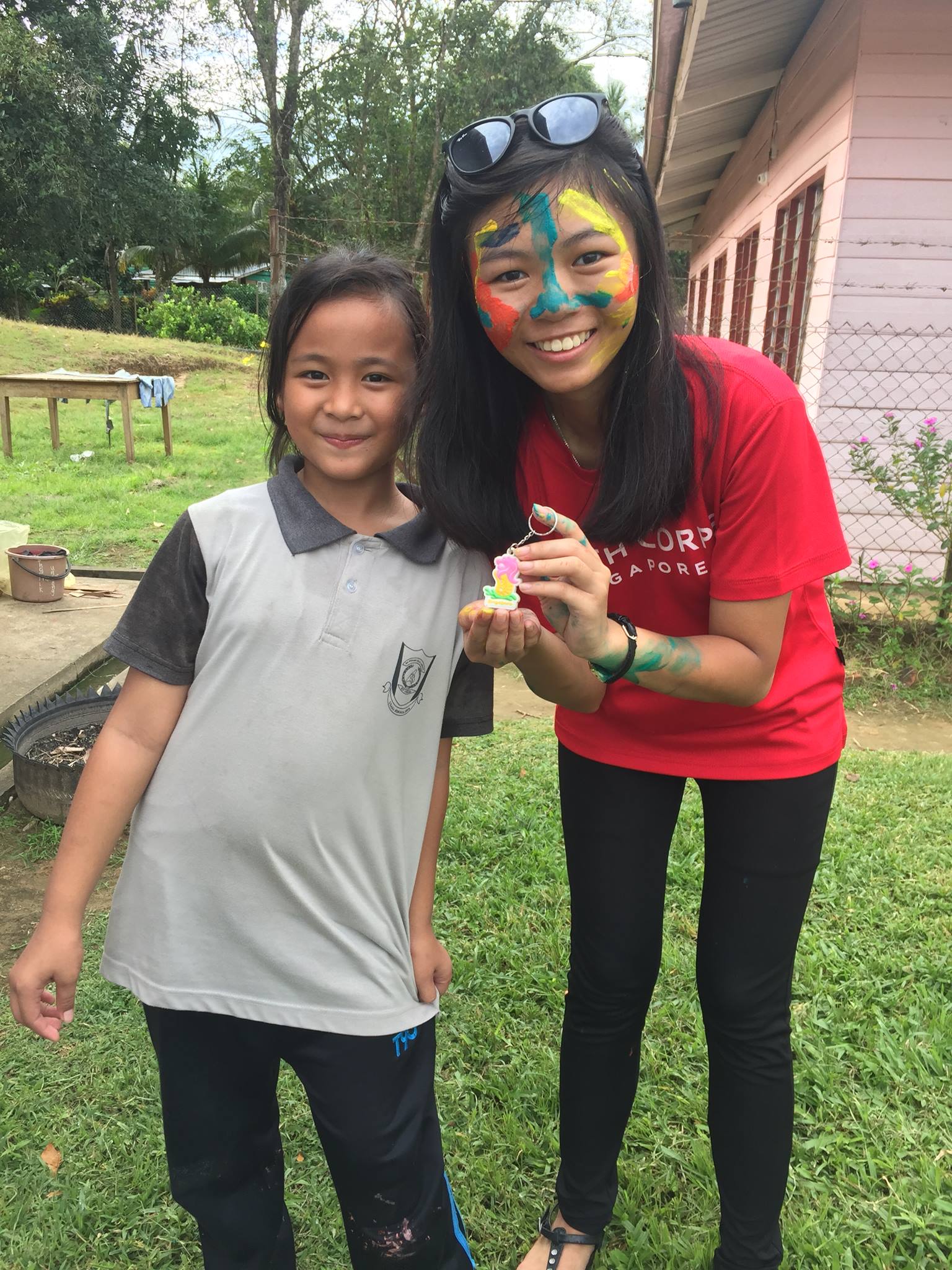 Zhi Lei interacting with a local child
4. We are more rooted as Singaporeans
Many people think that there's a lack of national pride within millennials in Singapore because we grew up in an era where everything was fine and dandy, where we didn't have to fight for independence.
However, the survey shows that there's a strong sense of belonging in young Singaporeans, along with the sense that they have a part to play in developing and supporting the country.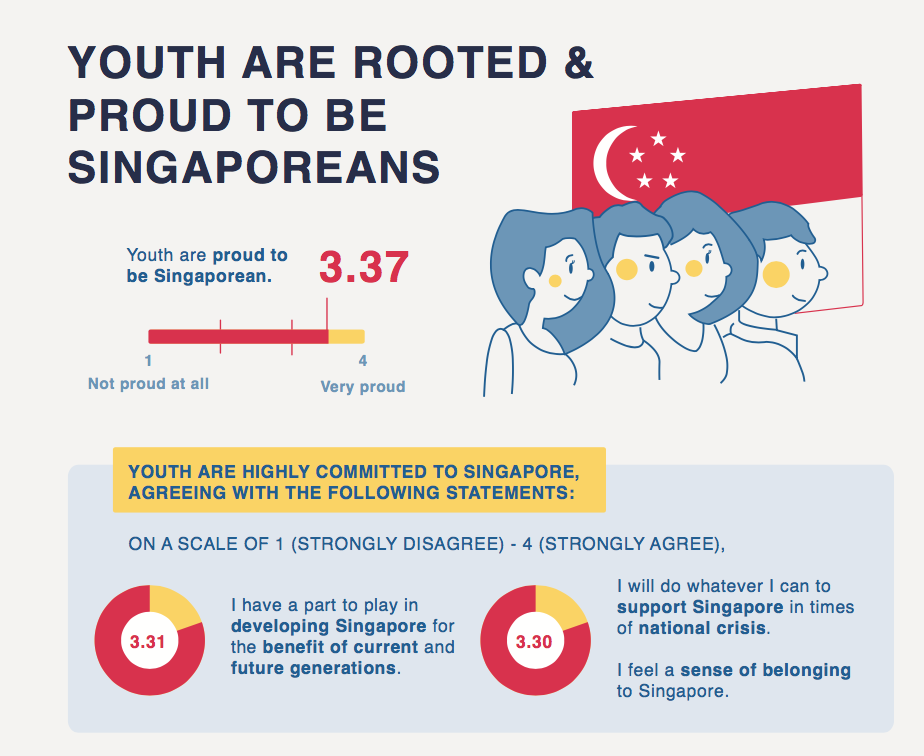 The majority of us will even do whatever we can to support Singapore in times of national crisis. Yes, "whatever we can." Talk about being loyal to our land.
5. We have strong family values
With increasing globalisation and exposure, you'd think that youths today would have very different life goals and aspirations. But when presented with different options related to life goals, the majority of us think maintaining strong family relationships and having a place of our own are more important than things like earning lots of money.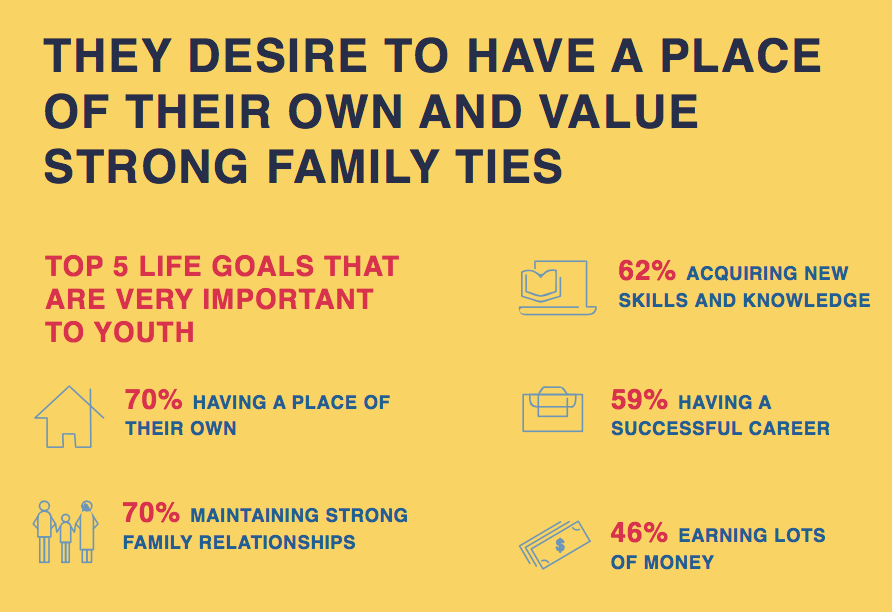 If this survey proves anything, it's that millennials are all-rounded people who are eager in making the society a better place.
More details of the survey will be released on NYC's website soon, so stay tuned.
Top image via pixabay.
--
This sponsored post makes Mothership.sg's writers think that the "strawberry generation" should be renamed to "durian generation" instead, because we are tough on the outside and soft on the inside.
Questions or comments? Reach out to the National Youth Council here.
If you like what you read, follow us on Facebook and Twitter to get the latest updates.
If you like what you read, follow us on Facebook, Instagram, Twitter and Telegram to get the latest updates.