News broke on August 4 that Huang Jing, a member of faculty at the National University of Singapore's Lee Kuan Yew School of Public Policy (LKYSPP), has been stripped of his permanent residency in Singapore, after being identified as an agent of influence of a foreign country.
The China-born U.S. citizen, a professor in U.S.-China relations, who the Ministry of Home Affairs says has been sharing "privileged information" on the pretext of influencing and trying to get Singapore to change its foreign policy toward the undeclared country he is said to be representing, has denied all charges levelled against him.
Unfortunately, he and his wife, whom the Ministry says knew about his illicit activities and has therefore also become branded a "prohibited immigrant", will have to leave the country and, in all likelihood, not come back.
You should know, though, that this isn't the first time the government has outed somebody here as an agent of influence of a foreign country.
Singapore in the Cold War
To help you understand this better, we must first set the scene — it's the 1970s, and Singapore, alongside the rest of the world, is in full-swing Cold War (you know, the period where the U.S. and Soviet Russia were in a tense race to exert control over the rest of the world using their rival systems of capitalism and communism respectively) mode.
For Singapore, in particular, our leadership was wary of communism, and so were quick to align ourselves with the U.S. and Britain — British bases and some US$200 million in annual injections to maintain them buoyed our economy until 1971. At around the same time and thereafter, U.S. military procurements for its war in Vietnam contributed to as much as 15 per cent of our national income, with American investment by both government and private corporations like Lockheed increased by a crazy US$100 million per year.
During this time, of course, plenty of things needed to be encrypted and coded, especially messages containing vital security information that were sent between allied countries.
That's where there were these devices called cypher machines — these took in messages and coded them specially before sending them out to receiving parties overseas. And of course, we needed people to work these machines, people who knew the codes and with sufficient security clearance to process the confidential information, put the messages into the machines and send them to the right recipients.
And this is where the main character of our story comes in: a cypher officer named Alan Wee Kheng Soon.
[related_story]
Seduced by a Russian spy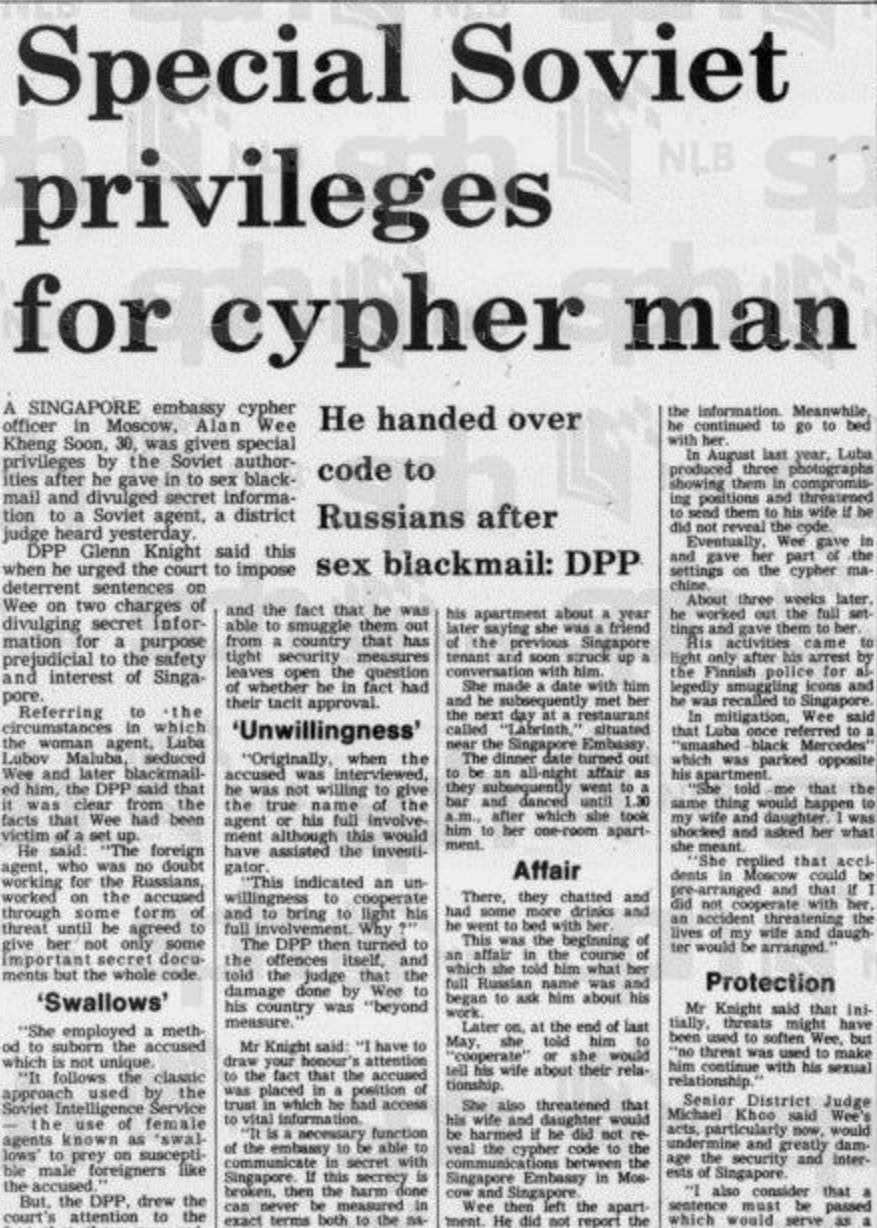 In 1978, four years after he started work as a cypher officer, Wee was posted to Moscow as a cypher officer with his wife and daughter. There, a female Russian agent contacted him under the guise of a friend of the previous Singaporean tenant.
The agent called herself Luba Lubov Maluba.
The pair met for a dinner at a restaurant called "Labrinth", near the Singapore embassy. Subsequently, they went dancing and drinking until 1:30am, and ended up in bed at the agent's one-room apartment.
A year-long affair, then blackmail
In the course of the case's trial, state prosecutors mentioned that Luba employed a "classic approach used by the Soviet Intelligence Service" where a female agent, called a "swallow", preys on susceptible men to obtain classified information otherwise, obviously, inaccessible to them.
Wee was seduced into an illicit relationship with Luba for about a year, during which Luba would ask him about his work. It came to a point where Luba warned she would tell his wife about their affair, also telling him that, in Wee's words, "an accident threatening the life of (his) wife and daughter would be arranged", unless he gave up the cypher code to the communications between Singapore and its embassy in Moscow.
Initially, Wee tried to hold her off by passing her transcripts of decoded messages from the embassy's strongroom. He met her at a subway station near his home to pass these to her.
All this, by the way, while continuing to have sex with her.
The Final Blow
But Luba was losing patience with Wee, and in August 1979, she produced photos of them in compromising positions, and repeated her threat to reveal the affair to his family, unless he gave her the cypher code.
In the end, Wee succumbed and gave Luba part of the settings on the cypher machine. Three weeks later, he gave her all of them. (Fail.)
In the end, Wee was caught by Finnish authorities. He tried to seek help from Luba but naturally, she did not offer an escape.
And that's the story of how a Russian swallow took down a Singaporean cypher officer.
You can read the entire Straits Times report the case on NewspaperSG.
Top image adapted from NewspaperSG and NationalInterest.org.
1819 is a labour of love by Mothership.sg where we tell stories from Singapore's history, heritage & culture. Follow us on Facebook, Instagram and Twitter!
If you like what you read, follow us on Facebook, Instagram, Twitter and Telegram to get the latest updates.