With National Day just around the corner, Singaporeans are reminded of various motifs of national belonging. One ubiquitous but often-overlooked symbol of belonging is the NRIC (which stands for National Registration Identity Card).
Upon hearing the word 'IC', one immediately imagines a pink or blue credit-card sized card. If you are someone currently serving National Service (NS), the IC is probably a beautiful sight.
Our identity card had to go through several changes over the years before it reached its present form.
National Registration Ordinance (1948)
Although the IC has become associated with a sense of belonging (and citizenship) to post-independent Singapore, it was actually conceived in the 1940s.
In 1948, the first IC was introduced by the colonial government. Under the National Registration Ordinance, every person above 12 years of age had to be registered and issued an IC.
The move was made to weed out communists, illegal immigrants, and other undesirable characters in Singapore.
[caption id="" align="aligncenter" width="820"]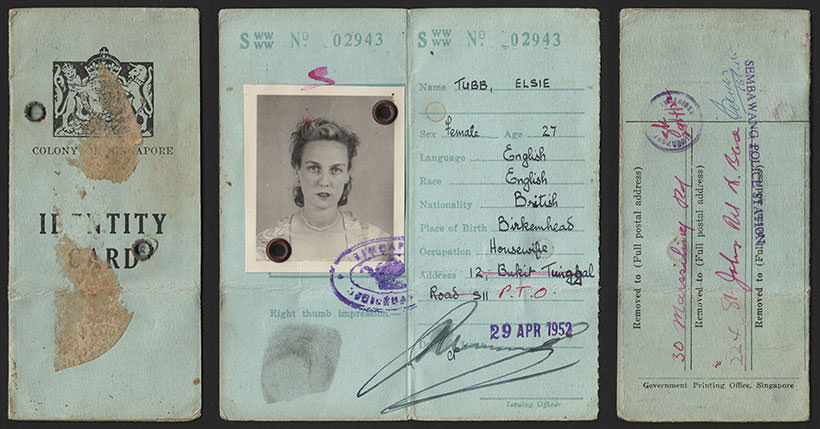 Image via[/caption]
National Registration Act (1966)
In 1966, the National Registration Act was enacted. This required all citizens and permanent residents to register or re-register for their ICs.
Compared to the paper ICs previously issued, ICs from this period were laminated. They were also colour-coded - Singapore Citizens were issued pink cards while Permanent Residents were issued blue cards.
This version's biggest improvement was its enhanced security feature. To guard against forgery, the ICs had unique identification numbers for every individual that would be retained for subsequent IC replacements.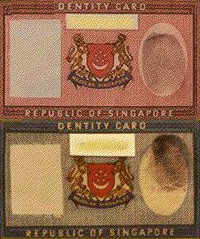 The IC had a photo of the individual in the left rectangle, a thumbprint in the oval, and a unique identification number above the coat of arms.
[related_story]
Our current IC is pretty awesome, especially to those serving NS
An IC conversion exercise took place from 1991 to 1997 to update the one from the 1960s. New credit card-sized ICs made with a polycarbonate material were issued. This material and size made the IC more convenient and durable.
The security features of the ICs were also upgraded to include a barcode number, an electronically captured thumbprint and photo, as well as a changeable laser image of the lion head logo and IC number.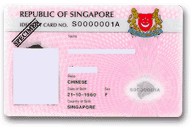 Due to medical advancements that allowed for the quick testing of a person's blood group in medical emergencies, the individuals' blood group was no longer indicated in ICs after 2002.
The mystery behind the IC number
While our IC numbers look completely random, there is actually a logic behind the letters and digits:
For people born before 2000, they have IC numbers starting with the letter 'S'. This is because 'S'

 is the 19th letter in the English Alphabet, denoting that the IC number was issued in the 20th century (1900-1999). After 2000, their IC starts with the letter 'T', referring to the 20th letter and the 21st century (2000-2099).

For people born in 1968 and after, the first two numbers of the IC is the year the person is born in.

The rest of the numbers relate to the number of people born/registered for citizenship in that year (starting from 00000).

The last letter is determined by a formula based on the digits.
Unlike most of us ordinary folks, some people have numerically significant IC numbers assigned to them. For instance, Yusof Ishak (the first president of Singapore)'s IC number was S0000001I and Lee Kuan Yew's IC number was S0000003E.
Treasure your ICs, especially those of you serving NS out there.
Here are totally unrelated but equally interesting articles:
This is cereals news: BreadTalk to launch new cereal floss bun, available for 8 days only
One of Us: Nothing to see here, it's just a bowling alley supervisor turned kickass club DJ
Top image collated from ICA.
1819 is a labour of love by Mothership.sg where we tell stories from Singapore's history, heritage & culture. Follow us on Facebook, Instagram and Twitter!
[related_story]
If you like what you read, follow us on Facebook, Instagram, Twitter and Telegram to get the latest updates.