Legendary ex-Beatle John Lennon came to Singapore in 1976, went shopping at Metro Golden Mile
It was his second time in Singapore.
By Henedick Chng |
July 16, 2017
Nomadic Art Caravan
24 March 2018 - 25 March 2018, -
Ang Mo Kio
The Secret Garden exhibition
24 March 2018 - 01 April 2018, 12:00-18:00
28 Temenggong Road Singapore 098775
John Lennon is a legendary singer, songwriter, and musician best known for being a member of the Beatles. 
He is widely recognised as the man who formed the Beatles in 1960, and for being one of the two main creative forces of the group. Together with fellow bandmate Paul McCartney, he was in one of the most (if not THE most) successful  songwriting partnerships in history.
As a Beatle in the 1960s, Lennon was credited for being the main writer of classics such as Come Together,  Strawberry Fields Forever, I am the Walrus, and Across the Universe. 
As a solo artiste after the breakup of the Beatles in 1970, Lennon wrote hits such as Christmas favourite Happy Xmas (War Is Over), (Just Like) Starting Over, and perhaps the most famous one of all, Imagine.
On July 2, 1964, Lennon and the Beatles landed in Singapore for a 55-minute stopover at Paya Lebar Airport, while on their way back to London after a tour of Australia and New Zealand. Lennon was asleep on the plane throughout the stopover, and Singaporean fans never got to see him then.
Unfortunately, that was the only time Lennon ever came to Singapore as a Beatle.
But at least he came back.
In 1976, six years after the Beatles split up, Lennon returned to Singapore.
Singapore in the 1970s was very different from 1964. It had become independent, and had embarked on its rapid pace of development that would see it eventually move from Third World to First in later years.
Just like it was in 1964, Paya Lebar Airport was Singapore's civil international airport, and Lennon might have arrived and flown out of Singapore through it. Lennon's airline of choice is not known, but Singapore Airlines was merely four years old in 1976.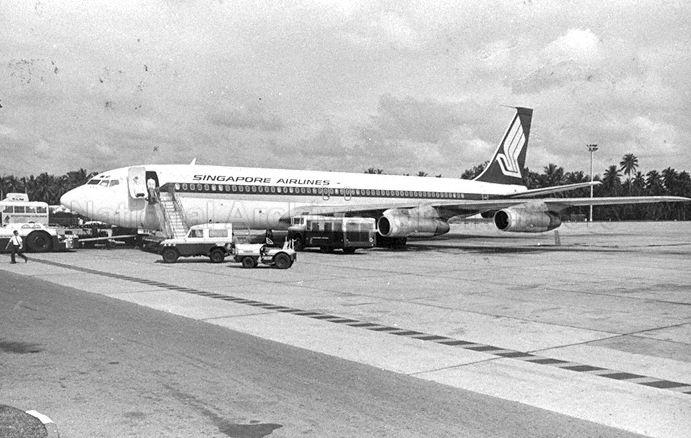 The President of the day during Lennon's visit was Benjamin Sheares, and the government was helmed by the late founding prime minister Lee Kuan Yew. General Elections would be held on December 23 that year.
For Lennon, who was a successful solo artiste by then, 1976 saw him gaining his permanent residency in the U.S..
It was fortunate that Lennon had kept his hair short enough to enter Singapore, as the country had a campaign against men with long hair back then. Other artistes, such as Kitaro and Led Zeppelin were denied entry, unless they got a haircut.
In Singapore, Lennon was keen on shopping, it seems. He spent five days here on a private visit checked into the Hyatt Hotel under the pseudonym "John Girskin". 
While he was shopping at the old Metro Golden Mile department store, he was recognised by a Singaporean fan. The department store, which was located along Nicoll Highway, no longer exists today.
The female fan named Jzenea Foo approached Lennon, had a picture taken with him.
Since he was on a private visit to Singapore, Lennon signalled to fans that Hey, You've Got to Hide Your Love Away.
Lennon's encounter with Foo was reported in an article in the now defunct New Nation newspaper on December 11, 1976:
The Day a Singapore girl 'caught' Lennon shopping at the Metro…

'He was so nice and agreed to pose for a picture – Jzenea'

Recognise him? Yes. It's John Lennon, the former Beatle who posed for this picture with airgirl Jzenea Foo in Singapore last month.  

Lennon was "caught" shopping at Metro Golden Mile by Jzenea, a Singapore airline flight stewardess.  

"I was shopping with a friend when I saw a tall man at one of the counters.  I thought he looked extremely familiar, so I went up to him and asked him if he was John Lennon," said Jzenea.     

"When he said 'yes' I was so excited."  

"I almost lost my voice, but very quickly I asked my friend, who was carrying a camera, to take a picture of us. He was very nice about it and obliged by going to a corner for a photo," she said.

"Later when he was going down by the escalator, my friend and I were behind him. He turned around and asked, 'are you following me?'"  

"I think he was afraid of being seen by the public," said Jzenea.

Lennon was later traced to the Hyatt Hotel where he had checked in under the name of John Girskin. He was alone and stayed for five days.

According to a source in the hotel, Lennon gave strict instructions not to disclose his stay here to the press.

He said he was on a private visit and did not want to be disturbed."
Tragically in 1980, four years after visiting Singapore on his own, Lennon was shot and killed in New York by Mark David Chapman, bringing an end to any hope of him ever returning to Singapore to perform.
Well, take it this way from the man (from In My Life by the Beatles which Lennon wrote most of):
There are places I'll remember
All my life, though some have changed
Some forever, not for better
Some have gone and some remain
All these places have their moments
With lovers and friends I still can recall
Some are dead and some are living
In my life, I've loved them all
Top image screenshot from YouTube.
Related article:
The Beatles came to Singapore in 1964, went Hello, Goodbye & left very quickly like Lucy in the Sky
1819 is a labour of love by Mothership.sg where we tell stories from Singapore's history, heritage & culture. Follow us on Facebook, Instagram and Twitter!
If you like what you read, follow us on Facebook and Twitter to get the latest updates.