BK Tan is a die-hard Singapore Airlines fan.
One would be hard-pressed to think otherwise, judging from a quick glance at his Facebook page, for starters: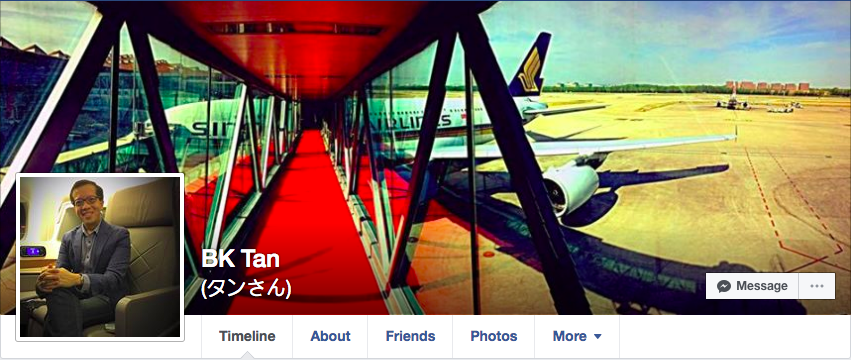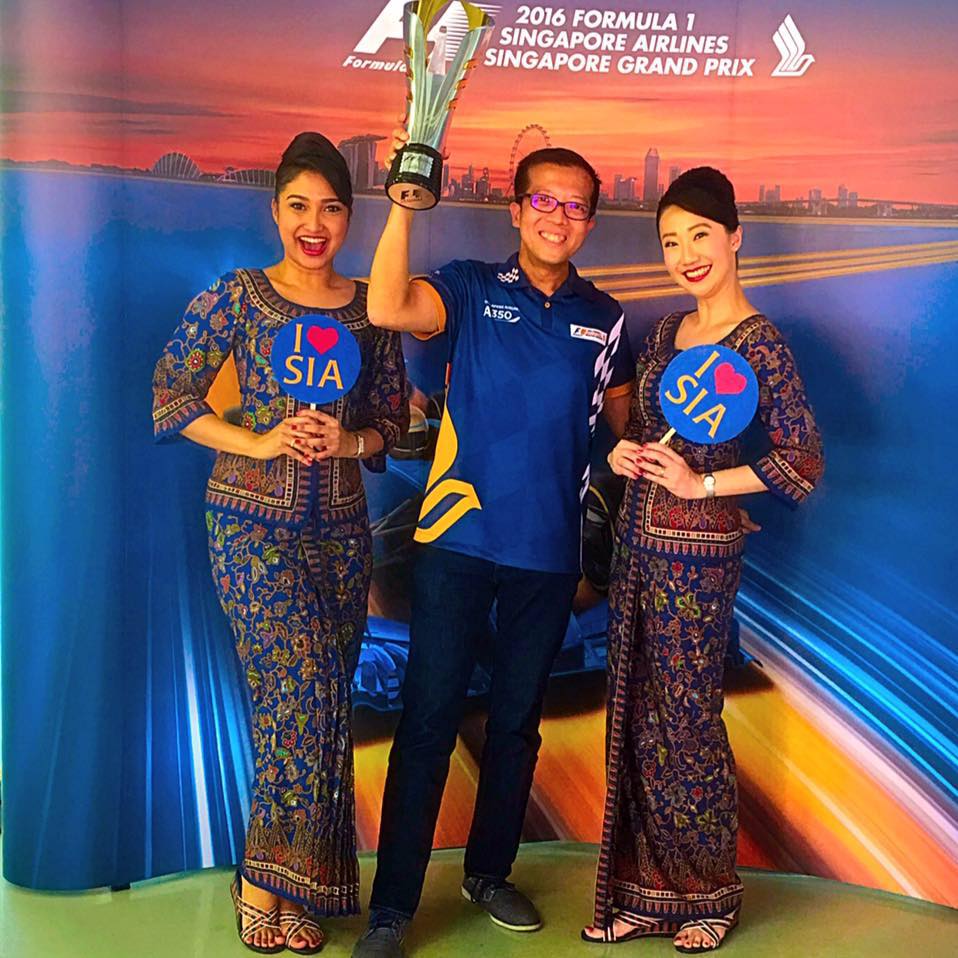 He's even had a story written about his 200 plane models and fandom on SilverKris magazine, the Singapore Airline's in-flight publication.
One-man campaign
It's interesting, therefore, to discover that Tan has systematically been petitioning the airline to review its single biggest taboo topic that received some exposure online earlier this year: its cabin crew MC policy.
He started on Valentine's Day, with a post to SIA's Facebook wall in the wake of stories following the untimely passing of Vanessa Yeap, a stewardess who died before she was supposed to turn up for a flight to Singapore from San Francisco. This triggered a lengthy correspondence between him and the airline in the comments:
'>
And on May 1, Tan penned
a lengthy post
in commemoration of SIA's 70th anniversary — its first flight as Malayan Airways Limited took off for Kuala Lumpur on May 1, 1947 — noting the strong reactions on the part of the public, and
stories from former cabin crew
who opened up on Facebook.
Here's an excerpt:
"Hence, a reasonable duty of care, expected from the airline, goes beyond ensuring the safe passage between Point A and B. It is reasonable to expect that the traveling public's health will not be compromised, as a result of prohibitive and restrictive corporate policy, where staff elect to report for duty, when unwell — due to possible demerits that may be awarded for conditions assessed as "non-casual", thereby challenging assessments professionally accorded by decree...

As part of the Temasek Group, the national airline should perhaps endeavour to lead by example, embracing the Government's efforts that encourage employers to instil better, fairer and progressive employment practices."
And it looks like he did receive a reply from the company, based on a comment he added on his Facebook post:

A refresher: here's what the MC policy entails
Tan tried again roughly a week later, on Vesak Day, with a letter that more specifically referred to details of SQ's categorisations of MCs as "Casual", "Casual Exempt" and "Non-Casual".
Here's a screenshot of the policy, highlighted in a cabin crew blog post from earlier this year: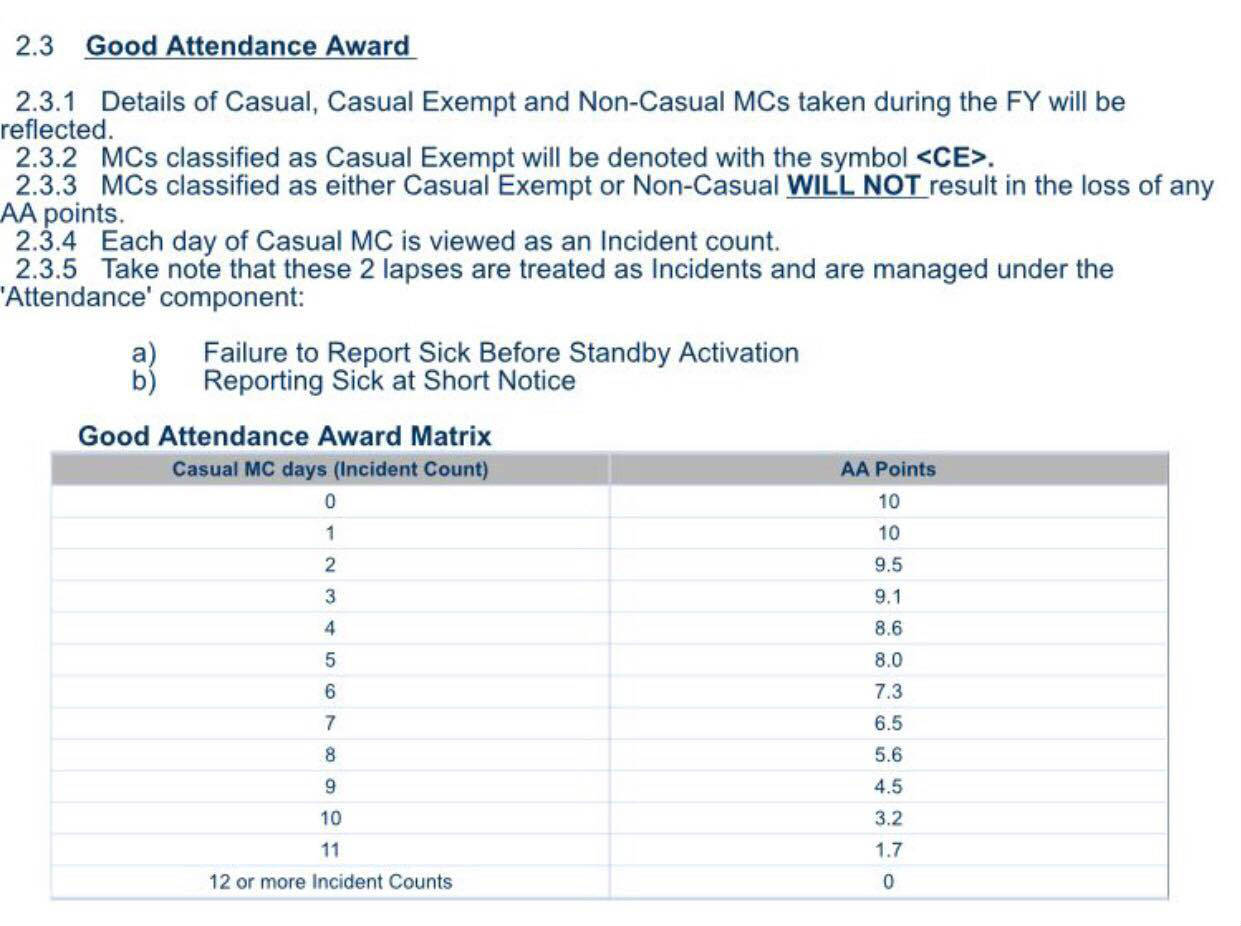 With this excerpt from the blog post detailing what constitutes a "Casual" MC:
"So what qualifies as "Casual" medical leave?

Well, essentially everything, except for chicken pox, measles, cholera, typhoid, shingles (herpes zoster), mumps, paratyphoid, hepatitis, scabies, prolapsed invertebral disc, otitis media, fracture and / or ligament tear, bells palsy, paralysis, hand foot and mouth disease, gout, dengue fever, wisdom tooth surgery, chikungunya, tonsillitis; as well as those that require hospitalization, chemotherapy; or are the result from work related injuries.

So, if you're suffering from flu, fever, diarrhoea or conjunctivitis, you're gonna get penalised if you file for absenteeism."
In an earlier Straits Times report, crew members "told The Straits Times anonymously that employees have incentive points that are docked when they submit a medical certificate for common ailments such as cold and cough."
Tan's campaign, continued
Most recently, Tan submitted an article to publish on a Facebook page called "Airline Secrets Exposed", on Sunday, May 21, bringing up this issue again.
This is where he shared parts of his May 10 letter to them, which he says was ignored by the company.
Here's a summary of the remainder of the points Tan makes:
1) Legitimate issues should be addressed coherently, not avoided for convenience.
Tan notes that SIA's management opted to wait for the "heat" to extinguish. He pointed out how in their public statements as well as in an internal staff memo issued to its cabin crew, SIA did not commit to look into changing their existing policies.
2) This may inadvertently encourage cabin crew to turn up to work even when they are sick
Tan points out that SIA's MC policy for its cabin crew was not only about staff welfare — the health and physical safety of passengers flying with the airline also hinge on the alertness and full physical health of cabin crew.
Despite SIA stating that turning up for work while on MC was a disciplinary lapse, Tan said that given the existing policy of tracking casual MCs taken which in turn affects staff appraisal, cabin crew "are pressured to waive a doctor's consultation or seek rest and pass up requesting for a medical certificate"
3) Put in place a dedicated, external and independent task force to fix these problems.
On this, he writes:
"They should have the credentials and qualifications to review and recommend up-to-date and competitive Compensation and Benefits; tasked to improve and update existing company mandates, to have these better aligned to current day standards."
In response to Tan's latest piece, a Singapore Airlines spokesperson told us the following:
Singapore Airlines regards the safety and well-being of its staff and customers as paramount. Our staff are our most important asset, and we will do all we can to safeguard their well-being.

While we are not able to provide specific details on our HR policies, we can share that crew members who are given medical leave are encouraged to rest and recuperate at home. Operating with a MC is a disciplinary lapse. As with all other businesses, employee productivity and attendance at work are important for a successful airline operation. Although crew attendance is a component in the performance management process, we would like to emphasise that crew performance is measured across many other factors. We also work closely with the union to proactively address concerns raised by our crew, as well as review all practices and policies across the Company.

With regard to the suggestions raised by Mr Tan, we appreciate and value the fact that our customers take the effort to raise them. Whenever we see a value add in these ideas, we do try to see if these suggestions can be implemented appropriately.
Will Singapore Airlines acquiesce, if at least to one of their biggest fans and customers? We can only hope. Meanwhile, Tan leaves us with this comment on his latest essay:

Top photo via Singapore Airlines Facebook page / Singapore Grand Prix
If you like what you read, follow us on Facebook and Twitter to get the latest updates.