While primary school questions are gaining a reputation for being challenging, here's a new one (from primary six) to rack your brains over: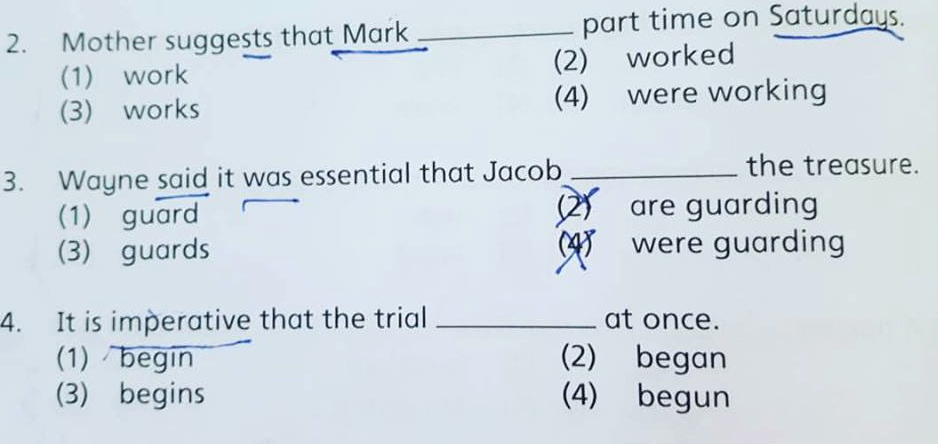 So what are your answers for the three questions?
Most of us might instinctively choose option (3) for all three questions.
However, the correct answer should have been (1) for all of them.
The questions are potentially misleading because of the Subject-Verb Agreement rule, which states that a singular noun (in this case Mark, Jacob, and trial) should be proceeded by a singular verb (works, guards, begins).
However, the verbs in question express hypothetical, conditional, or imaginary situations (i.e. Mother suggests), which means that the subjunctive mood is applicable instead.
As one Facebook user explains in the comments: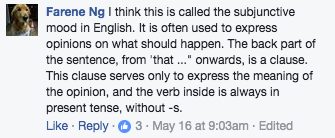 Other verbs that invoke the subjunctive mood include ask, demand, determine, insist, move, order, pray, prefer, recommend, regret, request, require, suggest, and wish. Such verbs are also often found in a clause beginning with "if". (source)
A link posted on the same thread gives further examples of the subjunctive mood:

The verb "were" follows "if", and expresses a conditional situation.


View the post here:
If you like what you read, follow us on Facebook and Twitter to get the latest updates.
If you like what you read, follow us on Facebook, Instagram, Twitter and Telegram to get the latest updates.