Bangkok's famous flea market Artbox arrived in Singapore with a bang to coincide with the Good Friday April 14 to 16 long weekend.
The event is organised over two consecutive weekends, the next one from April 21 to 23.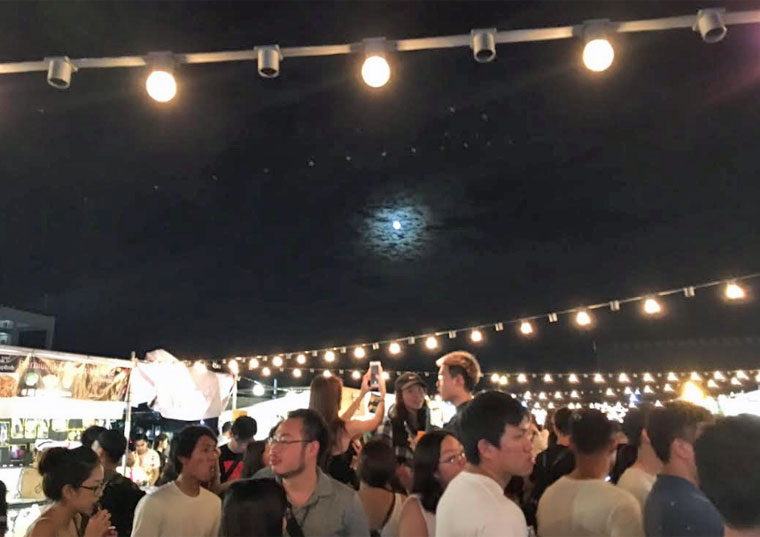 And boy, were Singaporeans pissed on the first day when it kicked off.
Getting dissed left, right and centre on Facebook and Instagram, the main gripe so far is that the event is oversubscribed, the crowds just keep coming and the rain did not help by washing out the good cheer and festivities.
Is Artbox Singapore overcrowded because it is simply too successful? Is the hype justified? Should you make a trip down? Will you hate yourself if you did?
With the first day over and five more to go, we help answer these burning questions along with others and then some.
1. Why are so many people going to Artbox Singapore?
Because it is the long weekend and Singaporeans stuck on this island have nothing else to do. If they aren't in Bangkok, this is the next best thing. Or so they believe.
2. But seriously, how come it's so crowded?
The long answer is because the hype is real. This event has been promoted and talked about for weeks on end in various media big and small.
There is also the novelty factor and Singaporeans' affinity with all things Bangkok. The pretty lights and seemingly endless rows of stalls help obscure the fact that this might just be a pasar malam. But in the CBD.
And the organiser is well aware that a lot of people will show up. They predicted some 400,000 people will visit the event in six days.
3. Is the venue of the event too small?
Yes. Some 320 stalls with various other shipping container units and stage are squeezed into a space that is 50,000 sq ft big. It's at that tiny lot beside MBS.
As comparison: 50,000 sq ft is equivalent to the size of one football field.
Imagine putting, at any one given time, 10,000 to 15,000 people into that space with music, lights, smell of food and humidity turned up the nines.
4. Is it anything like the Bangkok event?
In Bangkok, the stalls are housed in shipping containers.
In Singapore, due to costs constraints, the stalls are housed in metal scaffolding covered with PVC canvas. If you imagine you are in Bangkok, you might succeed if you close your eyes and cover your ears.
So yeah, it's a bit of an imitation.
5. How cheap is the food?
You can get Thai milk tea for S$2. But you need to queue for 15 minutes or more.
The prices of various other food items are no different from what you would expect to pay at other events held in the same venue, such as iLight previously. Ration about S$10 to S$15 per pax.
But be prepared to wait up to two hours for the colourful Talad Drink.
6. Should I queue for food there?
Only if you believe patience is a virtue.
Because there is nothing sold at this event you cannot find on a regular day in Singapore.
You might find some fanciful stuff though:
But nothing you cannot find on a regular day in Singapore.
7. Should I bring children or the elderly?
The short answer: No.
The long answer: You can try. Especially if you are into the whole, "A family that suffers together, stays together" maxim.
8. Is there space to park?
The car park right beside the event, URA Bayfront Car Park, will be packed. You will wait in line and wonder why you came.
Then after you've park, you will walk into the event space and it will be packed, you will wait in line and you will wonder why you came.
9. How long will it take to finish walking the grounds?
About 15 minutes if you can't squeeze past the crowd and finish walking just one gridlocked lane and give up.
About 30 minutes if you get bored easily and don't want to stand next to sweaty people.
About one hour if you can squeeze past the crowd and make your way around.
10. What if it rains?
You'll get wet. Because the event is outdoors.
11. When is a good time to go?
The later you show up, the better the odds are that it will be less crowded. As the event lasts from 3pm to 11pm, showing up at 10.15pm onwards might do the trick as the crowds might have dispersed for the day. Might.
12. What other things are there besides food?
Clothes. Photo-taking booth. Trinkets. Art stuff. Live music. Beer. Corny quotes on make-shift walls. A lot of sweaty people.
And when the organiser says there will be regional vendors, bear in mind that societies all over the world are converging and monoculture is becoming a real thing. What can you reasonably get in Bangkok you cannot get from Taobao?
Yeah, there will still be unique and cool and funky stuff going for S$10.
And the next weekend's vendors are supposedly going to be different.
13. Is it hot?
Of course. It is freaking humid.
14. Why are the lanes gridlocked?
People stop and gawk and there are queues for things all over the place. Not to mention the lanes are narrow.
15. How's the crowd control?
It could have been worse, but no, it is getting pulled off reasonably okay given the constraints.
This is considering that this event is held in a public space with no admission fee, so no one should expect military-grade crowd management. This is not NDP. This is not government-backed. This is a private sector affair.
Even late into closing time on the first day, there were still queues for food and drinks, proving that the F&B stalls were sufficient and prepared to meet demand throughout the day and night.
The other scenario that could have easily happened was that the food and drinks ran out at 5pm.
Therefore, if it is known that it will be crowded and you still show up and bitch about how crowded it is, you are a terrible person.
Remember: 400,000 people are going to show up in total.
16. What can be improved?
A much bigger space will help. The extension of the event all the way to the The Promontory would have been ideal. This will give people all the space the whole bay area can afford.
And if such events take place more frequently, say, once a quarter, there won't be such a scramble for everyone to show up at the same time.
17. The million-dollar question: Is it, at the very least, even comparable to Bangkok?
Well, the night market scene in Bangkok is highly mature and has hit some sort of saturation point resulting in more diversification and upping of standards to remain attractive.
Singapore, unfortunately, lacks the good vibe night markets bring.
Because this is something that needs to be said: For Singaporeans in the know, Artbox in Bangkok is ranked rather low as a night market. Sad but true.
This is due to the exorbitant prices of its fare compared to other night markets in Bangkok on any given night and the selection of food and other knick-knacks can be borderline pretentious.
One reason why it does well could be because of the impression it makes: All its fancy-pants art installations and corny quotes that people like to take photos of and put on Instagram.
And it is a concept that has proven to be exportable with just some fidelity to the original.
Because in Bangkok, Talad Rot Fai Ratchada is perhaps the leading night market there.
Talad Rot Fai is awesome due to its array of cheap and good food and really hot hawkers: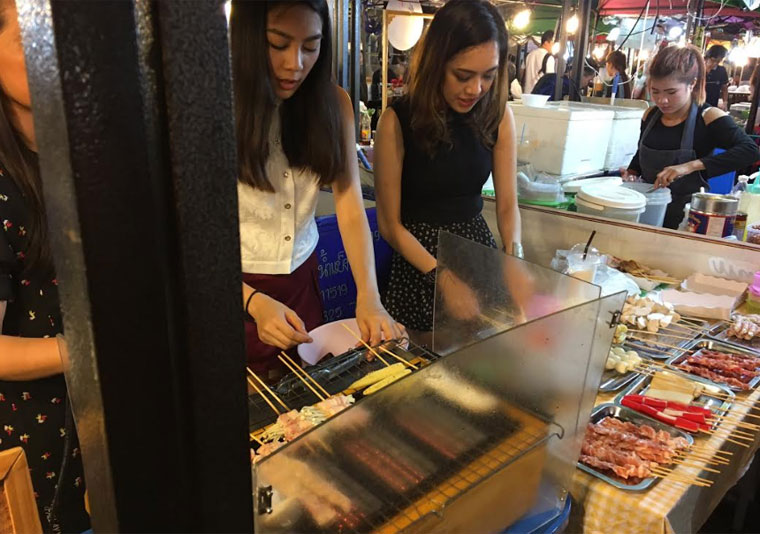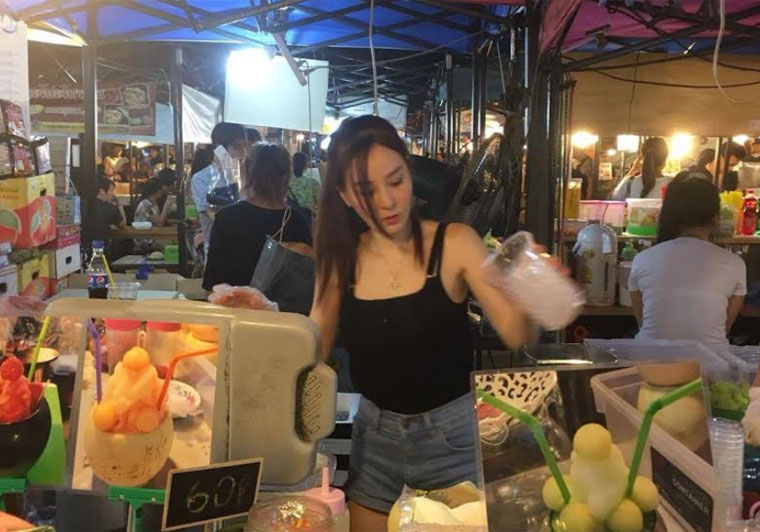 There is that element of "Is it a dude or a lady?" that makes it even more appealing.
The other Bangkok night market that provides a well-rounded experience is Neon Talad.
Neon Talad is also known for its food and insane number of stalls selling an insane variety of things.
Given that the entire cost for the set-up of Artbox in Singapore is S$200,000, this should provide a ballpark figure for the next event organiser to up the ante.
Talad Rot Fai or Neon Talad next in Singapore, anyone?
Artbox Singapore
Location: Bayfront beside Marina Bay Sands The Shoppes
Nearest MRT: Bayfront MRT Station
Date: April 14 to 16 and 21 to 23, 2017
Time: 3pm to 11pm
Since you're here why not check this article out:
All the times bank ads don't say it like it is and make us vomit blood
5 valuable life lessons everyone who went to OBS learnt
If you like what you read, follow us on Facebook and Twitter to get the latest updates.
If you like what you read, follow us on Facebook, Instagram, Twitter and Telegram to get the latest updates.