Social media is powerful in its pervasiveness and ability to persuade.
As such, many of us have taken to posting our personal experiences online - especially complaints about unsatisfactory businesses or business owners we have encountered. Or unreasonable customers if you happen to be a business-owner (though this usually backfires).
Start-ups or public figures that rely heavily on word-of-mouth and reputation are often the subject of such complaints, and it becomes necessary to defend oneself on such an open platform.
One such complaint by disgruntled cake customer Nicholas Luo about involves local start-up - Shiberty Bakes - owned by self-styled social media influencer Jessica Loh has escalated into a 4,355-word he-said-she-said.
Here's the low down:
1) It started when customer Luo wrote about his unhappy experience with the bakery on Facebook.
Long story short, his complaints of the $475 cake include:
- Unsmooth finishing on the buttercream cake which includes a fissure on the bottom tier of the cake;
- The cake appeared to be sagging when Luo was collecting it;
- Staff at the shop tried to rectify the cake by using a vinyl-gloved hand to fix the unsmooth cake;
- After being told to come back the next day to collect the rectified cake, Luo was unhappy that he had to make a second trip and demanded for the cake to be delivered, Shiberty Bakes did not accede to this request initially as they said they were unable to do delivery; Luo hinted that he would take legal action if demands were not met;
- Luo said that when his wife messaged the owner of Shiberty Bakes that should video evidence of how the cake turned out were released, it would be "disastrous" if she tagged Shiberty Bakes. Luo claimed that Shiberty Bakes responded by saying they were owned by social media influencers and to "please go ahead and tag us."
Read his full post here:
He has also uploaded screenshots of his WhatsApp conversation with the bakery:
2) Owner Jessica Loh comments on the post itself and recounts the saga on her Dayre
She offered her apologies to Luo and said that she "would not have felt the need to respond & defend my brand, had you posted on Facebook that the cake was not what you expected, you did not receive quality service from us, and that you won't be patronizing us again, because these are your own opinions, and you are certainly entitled to them."
She continued by saying, "However, it is rather dismaying, to know that despite our best efforts to resolve the problems, this post still came about, and may I add, specifically worded in a way to sensationalize the whole story, with certain details being left out and other things worded in a biased manner, offering a very one sided view to the whole thing."
She asserted that the allegations were unfair and told her side of the story, namely:
- She said that when Luo raised his voice at her shop in front of customers about the cake melting and threatening to topple that it was "quite a bit of dramatization";
- She said the staff smoothening the cake with a gloved hand "the fastest way to fix any unevenness in the cream";
- She explained the crack at the bottom tier of the cake was expected as buttercream turns hard when chilled and massive cake weighed considerably, and it could be fixed by smoothing the cream out;
- She claimed that Luo's wife used vulgarities at her business partner and "threatened to "disastrously tag us on Facebook"";
- Regarding Luo's claim about Shiberty Bakes saying they are "social media influencers", Loh claims what was said by her business partner was "You know that Jess and myself are social media influencers, and we wouldn't want our reputation to be ruined over a cake." Loh added that at no point did her business partner ask Luo's wife to "go ahead and tag us";
- Loh said they eventually delivered the cake and waived the $40 delivery fee.
She also attached screenshots of their conversation.
Read her Facebook post below and her Dayre post here.
The proof of the cake is in the eating?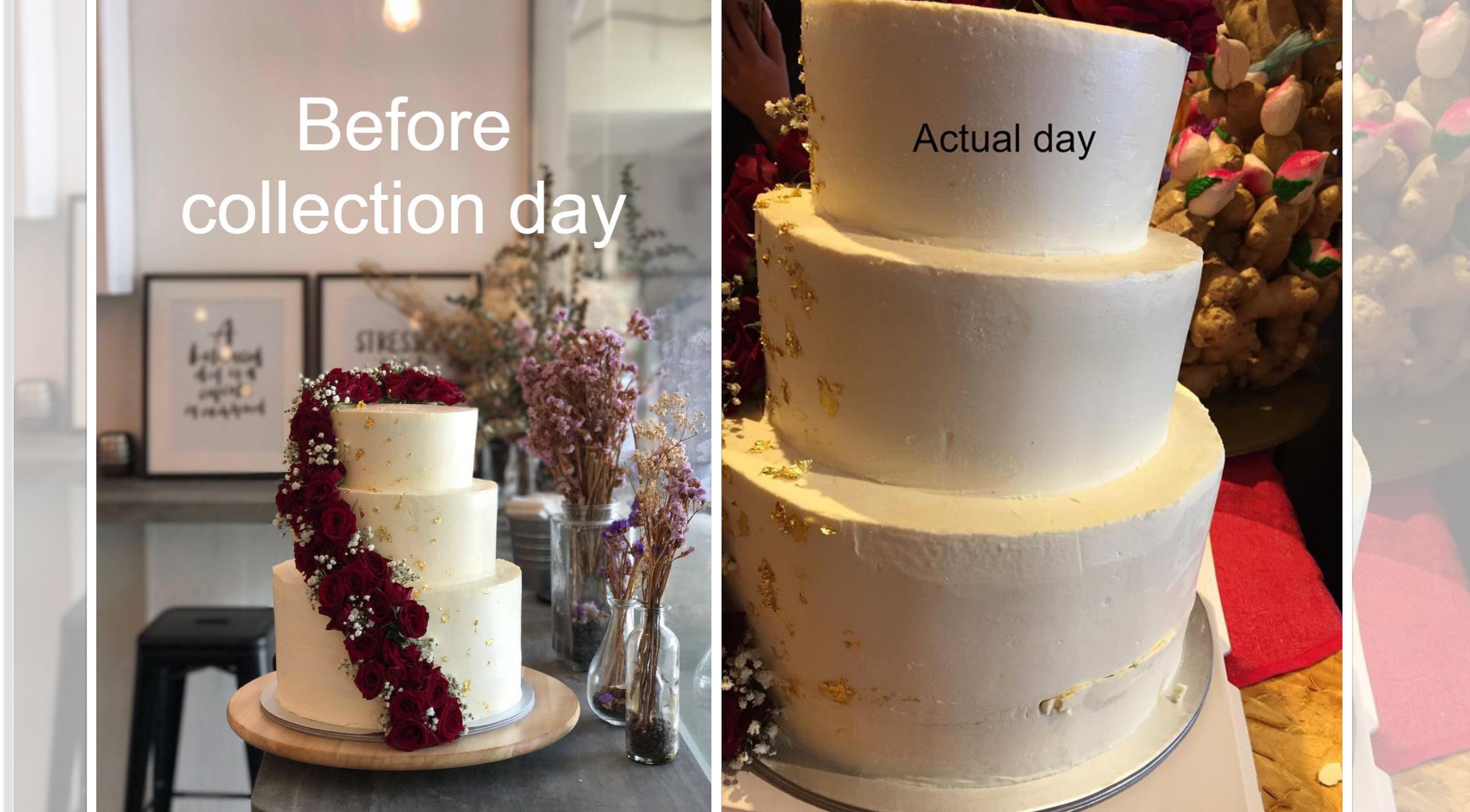 The photograph on the left was sent by Shiberty Bakes to Luo. The subsequent photograph supposedly taken on the day of delivery, it was uploaded in the comments thread of Luo's post.
Elsewhere on the internet, netizens questioned the merit of paying $475 for a cake. One user even pointed out using fresh flowers on a cake may not be ideal:

If you like what you read, follow us on Facebook, Instagram, Twitter and Telegram to get the latest updates.