For those who have gone through heartbreak, the process is quite self-explanatory.
Decide to break up, break up, get sad, get slightly better, and then get completely better.
The process usually involves either solitude, or intense hanging session with friends, or in the case of two S'porean YouTubers, an intensive confessional session through the medium of social media.
Ridhwan Azman, a Singaporean YouTuber, who is known for his role in Jack Neo's Ah Boys to Men, got together with Nicole Choo, another Singaporean YouTuber back in 2016.
Their relationship came to an end recently through a series of very public, extremely detail-oriented posts.
The drama is gripping but long, so we've summarised the best bits for you:
Girl explains why they broke up.
Choo wrote a blogpost on Feb. 2 detailing the reasons for their break-up.
1. It was an abusive relationship
Our relationship has been rocky and abusive mentally and physically, both ways, therefore no one should be pointing fingers about Ridhwan's past because I had a part to play as well, I also did hurt him the way he hurt me.
2. She started seeing someone during a break
According to Choo, they went through a break in December, last year.
It was during that time, that she started seeing another guy.
Then, things got worse again, I said I wanted out in the relationship in LATE December and it was mutual, therefore I did like someone after that BREAK UP.

Some might think it's okay to like someone after a break up and some might think it's not, it depends on oneself but I was already having this mindset of wanting out for the longest time because I couldn't take what was in my hands. Ridh tried to get me back shortly after and I stopped talking to that guy, then after things got violent once again and I said I REALLY WANTED OUT but he tried every way to convince me to go back once again AND ME, a soft hearted person, went back once again but my heart already said no, i didn't want it.
And Ridhwan found out that, even when they had patched up this year, she was still talking to that person.
In this process, I did continue talking and seeing that someone, which was unfair for Ridh, therefore this part was my fault. He found out about it and I told him, hey okay I apologize, I really have no idea how to feel because things are already so sour for us and I really wanted OUT long time ago.
3. Nudes
Choo also attributed the end of their relationship in part due to Ridhwan asking another girl for nudes (naked pictures).
I then found out a few days later that he asked these girl for nudes in September and saw the conversation in January 2017 with her, it wasn't very pleasing but I wouldnt blame him for the one this year because I myself, did him wrong too.
She ended off the post wishing Ridhwan well.
Perhaps a bit unconventional in placing such a personal event so squarely in the public sphere, but hey, no harm no foul, right?
Nope.
The other side
This is when things take a turn for the dramatic.
Ridhwan responded to Choo's blogpost with 3 Instagram posts.
And he elaborated on a lot of the points that Choo had touched on.
1. Abusive relationship
Ridhwan claimed that the abuse went both ways, which, to be fair to Choo, was something she had also acknowledged.
But his post went into even greater detail over the specific instances of physical abuse.
How I had to persuade to the police and civil defence to cover your ass about your abusive ways. How I never bled so much from being beaten by anyone.

How I went to the hospital cause my head was badly hurt but you told me I was pretending. You kept all the pictures of your bruises but never let me kept mine. You guys may think "just dodge, avoid and block".

How her knees would be on my arms and she will be punching my face repeatedly. How when I am tired in the cab and she would be stabbing her heels at my throat...
Choo commented on the post herself, explaining at the very least, the heels portion of the abuse.

She had struck him with her heels because he had whispered "bitch" to her.
2. She started seeing someone during a break
Just as with Choo's post, the presence of another individual appeared to play a part in this whole fiasco.
But unlike Choo's post, Ridhwan was a bit more graphic in his description.
I counted down to your birthday and found out you been having sex with someone behind my back, letting him climb over your window when your parents are out for work in the morning when you asked me to give you space since December. You told me "it's just a kiss" but I gave you time to tell me the truth but you didn't.
He also talked about his reaction after finding out about the incident.
While holding equipments before your birthday shoot, I cried on my knees asking if it is true and boastfully said yes.
3. Nudes
This is the only point of factual contention within their 3 main grievances.
While Choo claimed Ridhwan requested nudes from a girl on September 2016, he claimed otherwise, insinuating that the girl he allegedly requested nudes from was from Estonia.
Wtf, you are f*cking someone behind my back and you take someone's words from Estonia (Never means before in my whole life) saying I have not been loyal and asking nudes?
It doesn't seem like they are headed for any sort of amicable ending anytime soon


Takeaway
Perhaps the main takeaway for the online community, though, was this.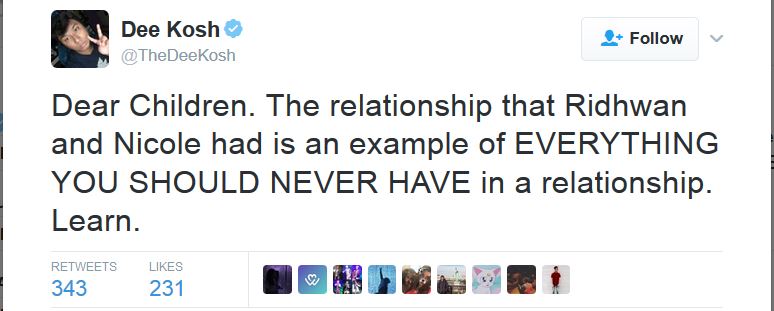 Totally random video:
Totally random article:
8 unconventional ways to make your ang pow money work for you this CNY
Top photo from Twitter
If you like what you read, follow us on Facebook and Twitter to get the latest updates.
If you like what you read, follow us on Facebook, Instagram, Twitter and Telegram to get the latest updates.